40 Incredible Mother's Day Crafts for Preschoolers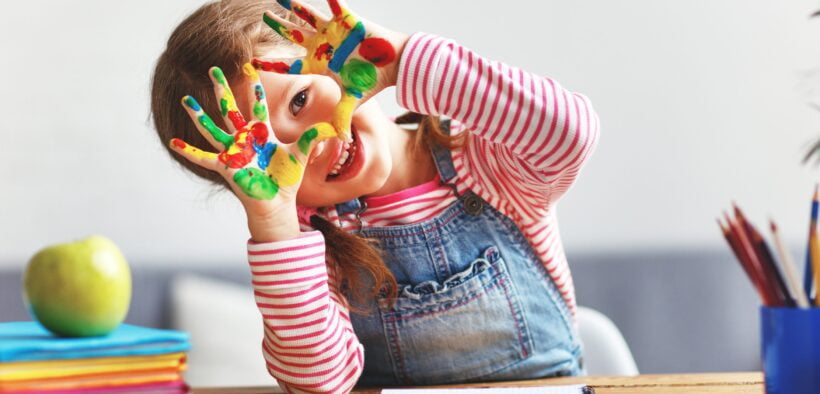 Every child gets really happy when they gift something to their mothers on Mother's Day. It not only brings smiles to their moms' faces but also gives the kids a sense of accomplishment.
However, making cards and giving them to mums has now become old news. Making Mother's Day crafts is easy and a creative outlet for these little kids.
In this article, we take you through 40 Mother's Day crafts ideas that you can help your little one make and help them celebrate Mother's Day in the best way possible.
1. Heart Necklace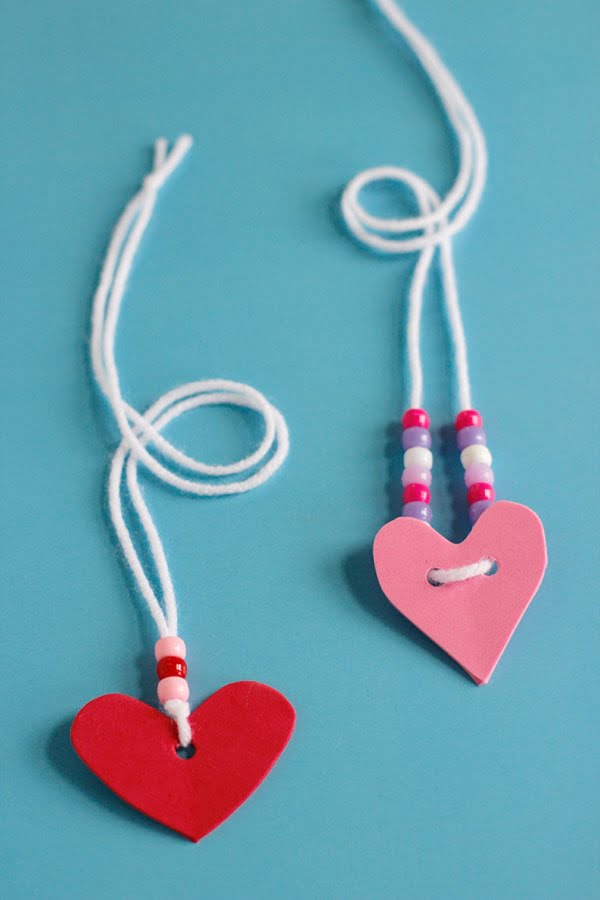 There is no better gift than something that someone can wear. All kids love it when their mom wears something they have made. An easy DIY for Mother's Day crafts is a homemade foam heart necklace.
To make this, first things first, cut a small square from your foam sheet. This square should be about 2×3 inches in size. Fold it in half. Now, either trace half heart or draw the half heart. Cut out this heart.
Punch about 1 or 2 holes in the center top of your heart. This should be about ¼ inches from the top. Put a thread of 2-3 foot long piece of yarn through these holes. Add some beads to the yarn and tie a knot. Your necklace will be ready. Give it to your mom and look at her face light up.
2. Button Bouquet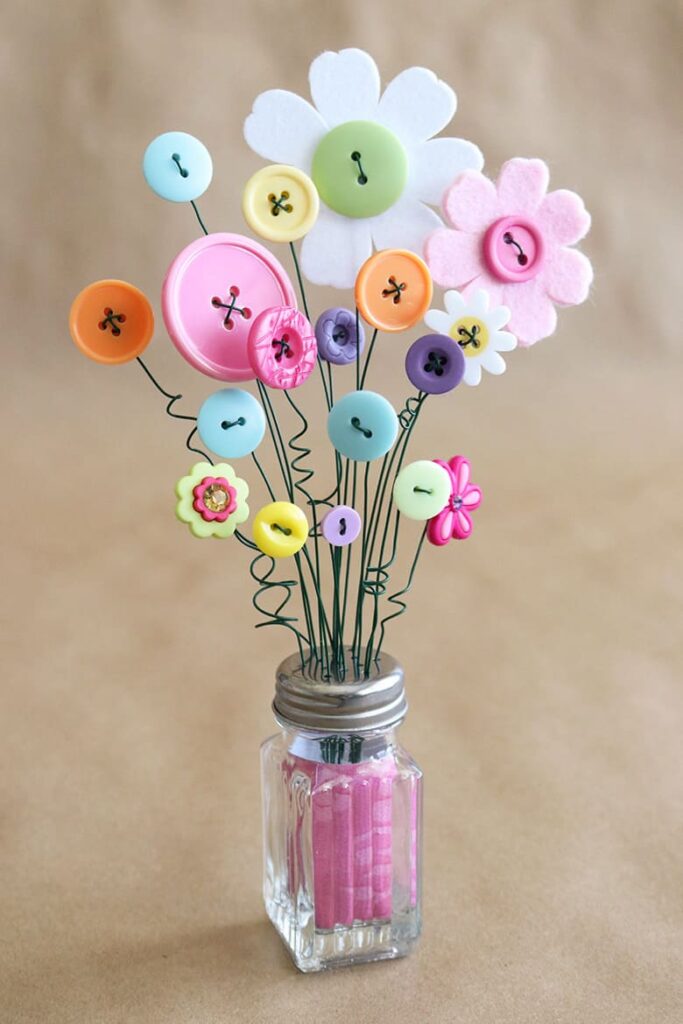 Your pre-schooler can easily make a button bouquet using material found across the house. It is a great DIY for Mother's Day crafts. For this, choose a color scheme for your bouquet. Also, choose the buttons that work best for you.
You can also cut felt flowers to make your bouquet even more fun. Then, attach the buttons to your stem. Put the wire through the holes and twist it. Wrap a little wire on this to make sure it is secure. Now, cut the excess wire. Once it is cut, add small circles of felt to your buttons and flowers. This will make it look cleaner and make it safe.
It's time to make the flower bouquet. It is time to use the salt-pepper shaker and make a vase out of it. Decorate these bottles. You can either spray some paint on it or, using glue, add some ribbon. You can also cut some shapes from your scrapbook and stick them around on your salt-pepper shaker.
Also, cut a foam sheet that almost covers the inside of your salt-pepper shaker. Push it inside. Then, start putting and assembling the flowers. Fill the salt-pepper shaker with your flower stems. Finally, trim the stems with the wire cutter, depending on what height suits you. It's time to gift your mom this beautiful bouquet.
3. Felt Flower Bookmarks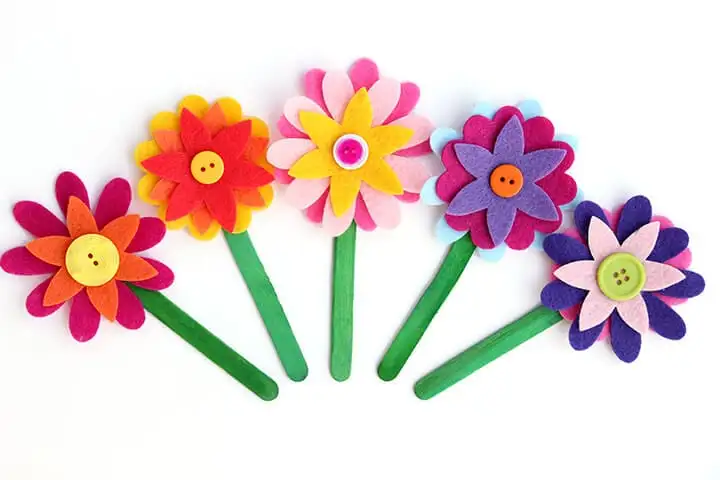 For any book-lover mom, felt flower bookmarks are a great Mother's Day craft. They are super quick and easy and make a perfect gift. To make this, collect different sizes and shapes of felt flowers. Using glue, layer these flower cuttings one over another to get beautiful flowers. Now, add the buttons in the middle of the flower layering to give it an even more fun look. Once your flowers are ready, stick these flowers on the craft stick using glue. Viola! Your bookmarks are ready.
4. Heart Thumbprint Necklace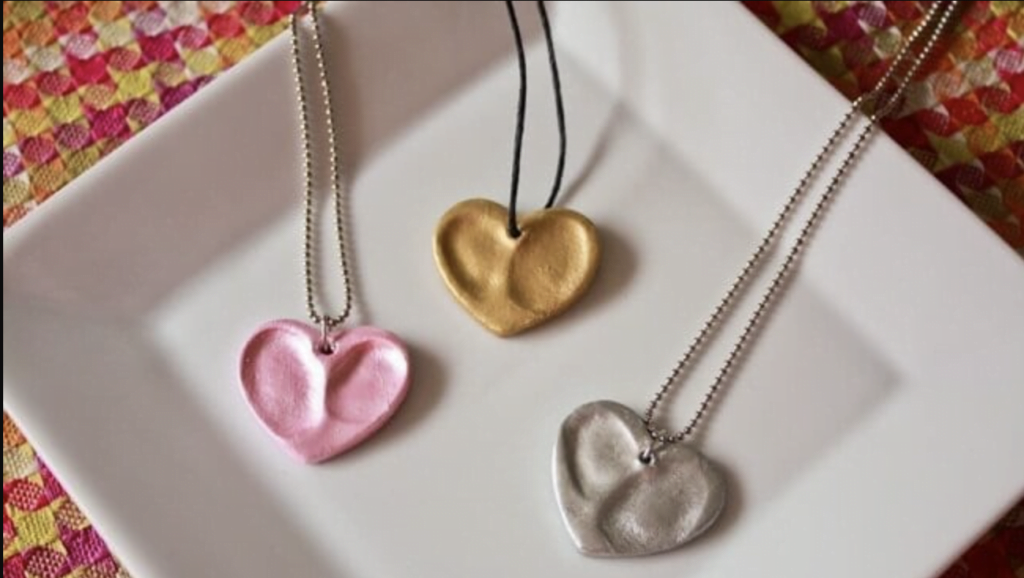 Another heart necklace that makes up to be a great Mother's Day Craft is a thumbprint necklace. For this, cut chunks of clay and roll them flat. Place your child's little thumbs on the clay in a V shape. Then, use the cookie cutter and cut the heart. Make sure the thumbprints are in the middle of the cutter. Remove any excess clay and create a hole in the jewelry using a bobby pin.
Let it dry. You can also bake this. Once the heart has dried, color it using metallic colors. Add a jump ring and thread to the necklace. You can also add a charm to it, and now your necklace is ready to gift any mom.
5. Heart Thumbprint Bookmark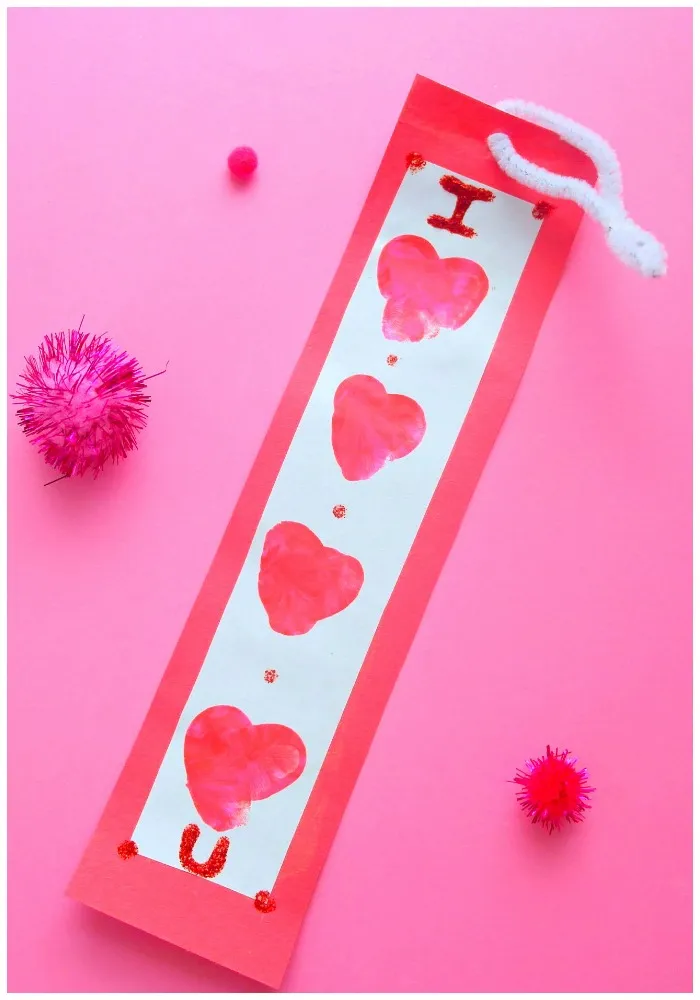 Heart Thumbprint bookmark is a great, easy-to-make gift for your mom. To do this, Cut a rectangle of about 6-8 inches long and 3 inches wide on your red cardstock. Then, cut a white piece about 3-5 inches long and 2 inches long and stick it on top of the red strip.
Using the punching machine, push a hole in the top middle of the cardstock. Cover your child's thumb with the red or pink color and press them on the white paper. Make it in an angled position. This should be in a way that it makes a heart. With this, your bookmark will be ready.
6. Egg-Shaped Coasters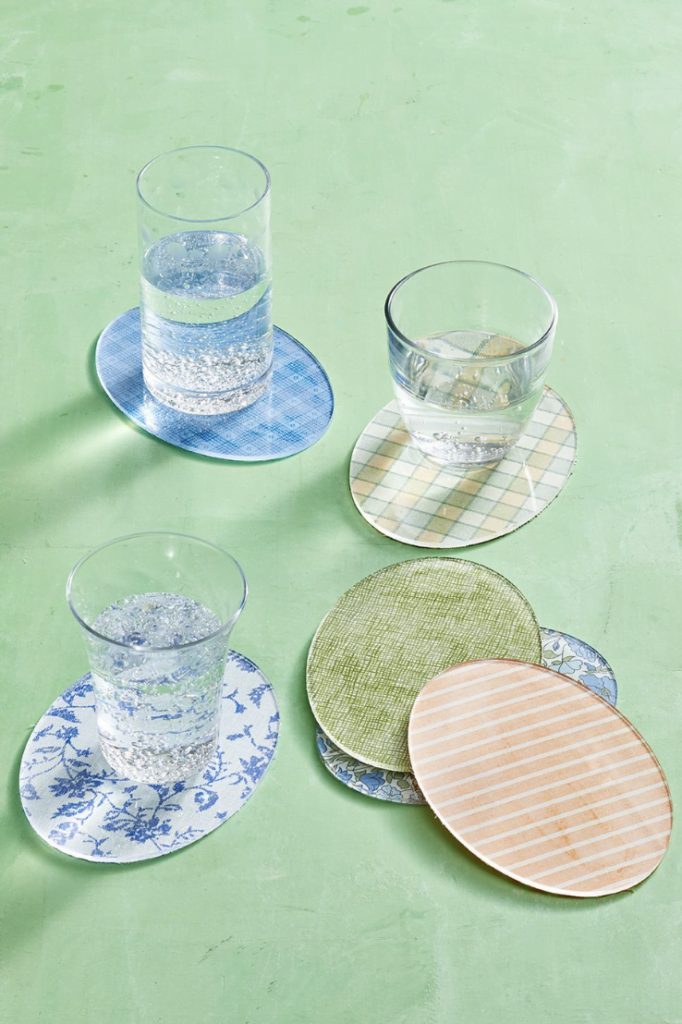 Moms will be impressed when their preschoolers give these coasters to them. To make these coasters, Cut the fabric 1 inch bigger than your glass in an egg shape. Take a generous amount of Mod Podge on one side of the glass and lay it on the fabric. Now, smoothen the wrinkles or any air bubbles. Cover the glass with a heavy book and let it dry. Once everything is dried, trim the excess fabric with scissors, and you are done.
7. Rainbow Popsicle Stick Frame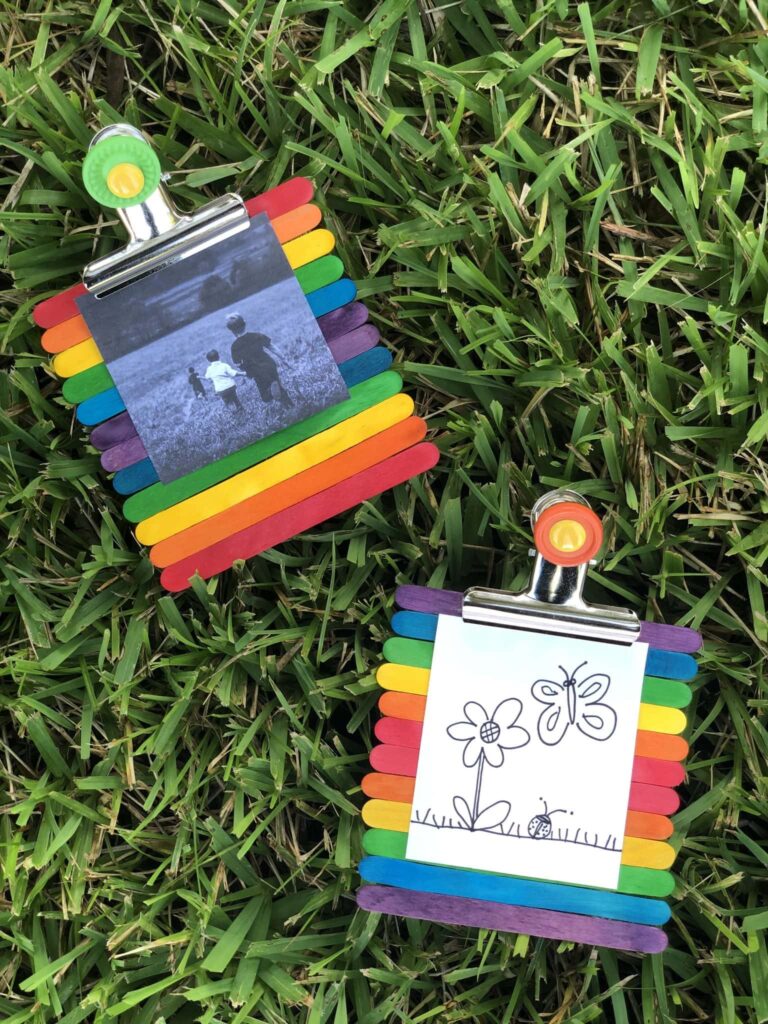 Have fun while making these popsicle stick frames with your kids. To make this frame, line up 12 craft sticks in order and stick them together. You can put them in the rainbow order. Attach them using glue. Once the glue has dried, attach a metal binder clip to the top center of this trap using more glue. Let it dry. Then, Attach magnets to the back of this binder clip using a glue gun. Add some buttons to the front, and you are done. Now, you have to put your pictures on the frame using a binder clip, and you are good to go.
8. Crown for Mom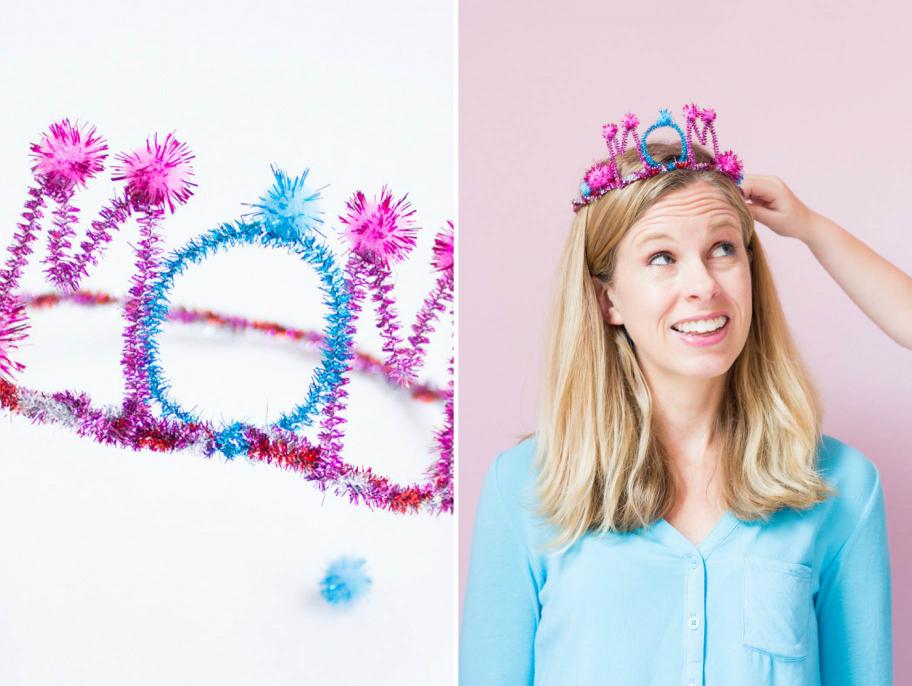 Another great Mother's Day Craft is this very easy-to-make crown. To make this, The first thing to do is twist two chenille stems together. You have to help your child to do it long enough that you can wrap it around your head. After this, Braid three long Chenille Stems that had been braided in step 1.
Make the base of the crown using this. Now, make a circle by twisting the ends. Cut other chenille stems into smaller pieces and make two M's and one O. Leave the little extra length at the end of each letter. This will help you wrap them around the base of the crown. Secure each letter to the base of the crown. Add more glue and secure them together. Finally, add some acrylic glitter to this crown, and you will be done.
9. DIY Fingerprint Heart Key Ring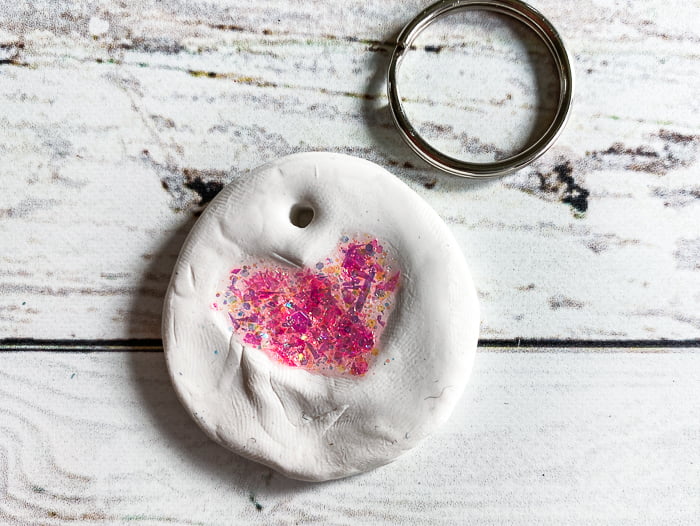 This is a very inexpensive and easy-to-make Mother's Day craft. However, your pre-schooler might need the help of an adult with this DIY. To make it, Take a block of clay and knead it into your hands. Let the little ones do it.
After kneading it, form a circle out of this. Then, using a circle cookie cutter, cut a perfect circle. After this, help your little one to make an impression on this circle with your fingers. Make a little heart with it.
Then, add a small hole with a toothpick in this. Now, place the clay in a foil and bake it in the oven. Once the clay is cooled, paint over the fingerprints and allow it to dry. Add a ring and complete this keyring. It will make it a great gift for your mom.
10. Fingerprint Heart Keepsake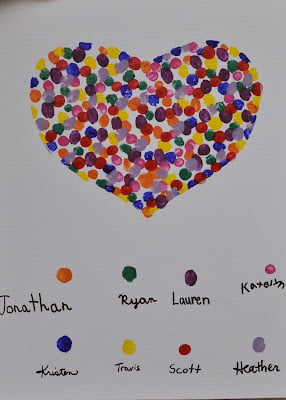 Making this fingerprint heart keepsake is easy. They make up great Mother's Day crafts, and with little supervision, any child can make them. To make this, cut a little piece of sticky black plastic paper that is the size of your mini canvas.
After that, using a heart-shaped biscuit cutter, draw a heart in the middle of the paper. After that, cut it out. Now, stick the sticky paper onto the canvas. Make sure you press the edges of the canvas very well. Then, ask your child to dip a finger in the paint and fill the cutout shape with the fingerprints.
You can use as many colors as you want. Once the color dries up, remove the sticky plastic, and all you will have is a clean heart with fingerprints. Now, you can write or paste a printed poem onto your canvas or leave it just like this. Gift it to the mom and see her be filled with joy.
11. DIY Pot Holders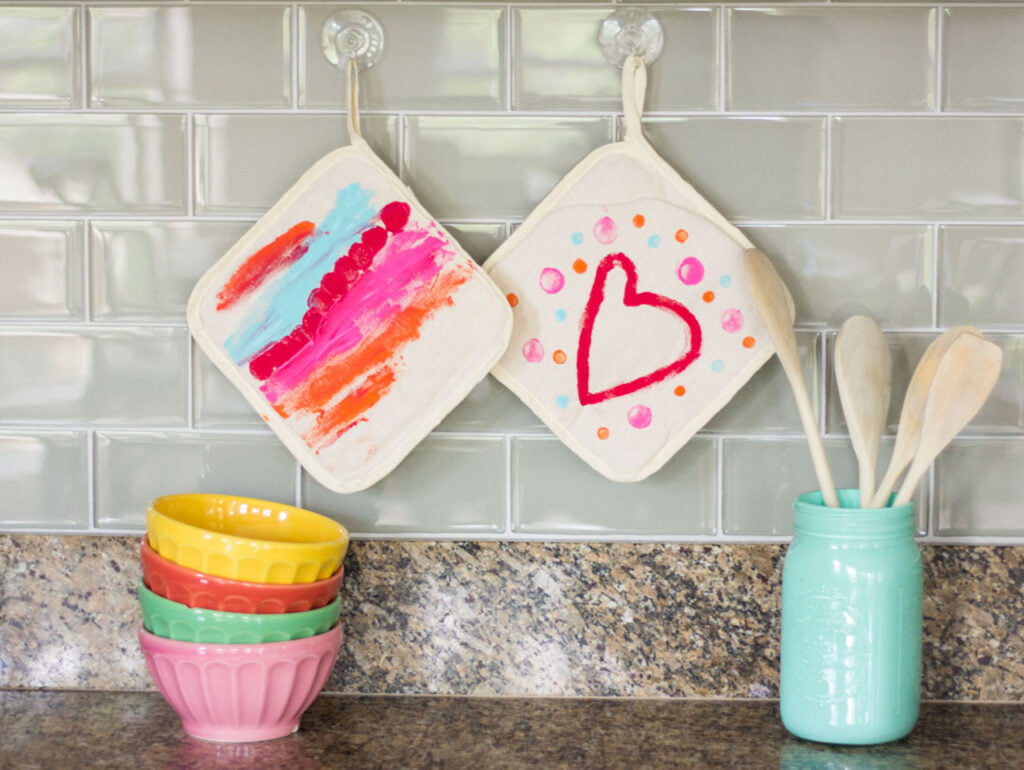 A sweet and very useful DIY. These adorable pot holders are very creative and also give your moms and grandmas the perfect reason to smile every time they look at them. The first thing to do is set up a craft space. This will give your child space to show their creativity without ruining all other surfaces. Also, squeeze a little paint on the color palette to give your child so that they can start painting.
Then, using circular brushes, let them blot on the canvas pot holders. You can also ask them to dab it on a plate before putting it on the holders. This will help you get rid of any excess color. After that, let your kids show their creativity. They can do anything and paint anyway. Once they are done, let these canvas pot holders dry completely. When done, they will look absolutely adorable and will be ready to gift.
12. Mother's Day Craft- Painted Rocks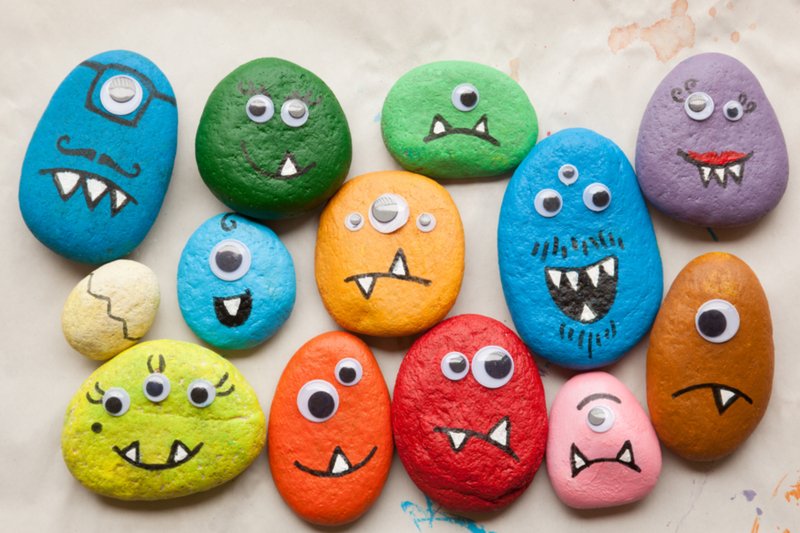 This is a DIY Mother's Day craft that little kids love making the most. All they have to do is take some pens and show their love and creativity for their mom on the rocks. It is very easy to make your own rock craft. Firstly, pick the rocks that you need.
You can get these rocks anywhere. Once you find them, clean them well and let them dry. When picking the stones, make sure these stones are big enough to paint and put fingerprints on. Once your rocks are dried, your kids can choose their favorite colors and make different patterns on the rock.
They can do anything: make fingerprints using acrylic paints or draw using paint pens. After you are done with it, apply some Mod Podge on the rock to make sure the ink and the paint stay on for a long time. Just let it dry then, and it will be good to gift.
13. A Flower Tote Bag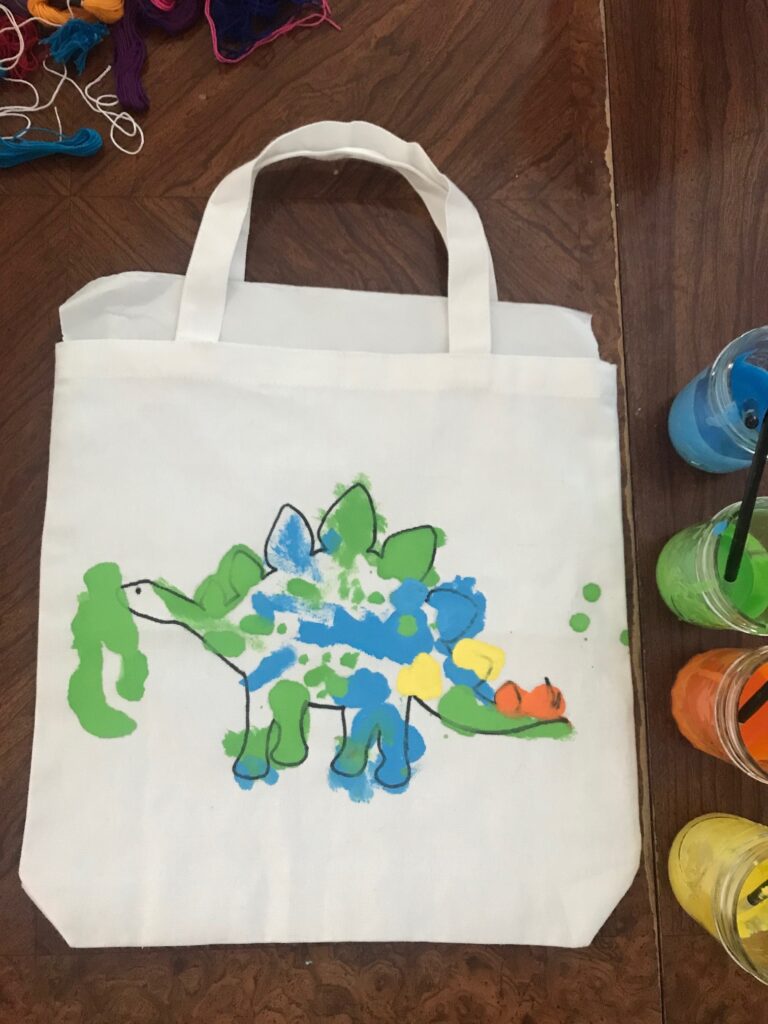 Your pre-schooler can also make a beautiful tote craft for their moms very simply. They are easy to make and a great Mother's Day craft. All your kids have to do is pick a light-colored plain canvas tote bag. After that, using your fingers or paintbrushes, start drawing and painting. You can encourage your kid to do anything, paint a flower, or let them make some abstract art. After that, you have to let it dry. Now your mothers's Day gift is ready.
14. Marbled Mugs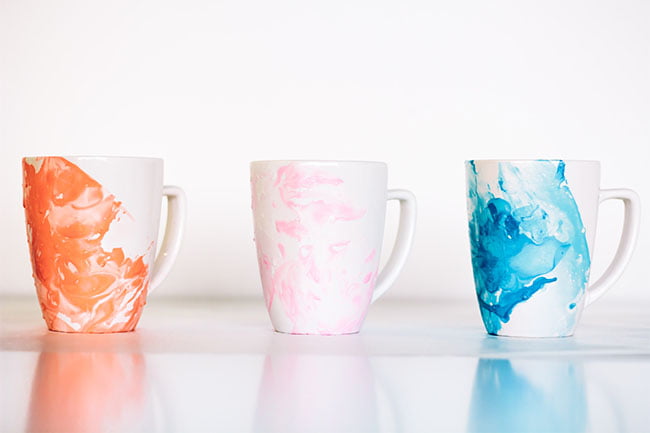 Another great DIY for Mother's Day craft is this marbled mug. They are easy to make and will give your mom's mugs an instant new look. All you have to do is take a big container and fill it with water. After that, pour some nail polish into it, using a toothpick, and swirl the nail paint around. Now, dip the bottom part of your mug in this. Make sure you cover the lower parts around the mug. This is a very fast thing, and now you will have to wait and let it dry. Once done, they make up to be a great gift for Mother's Day.
15. DIY Candle Art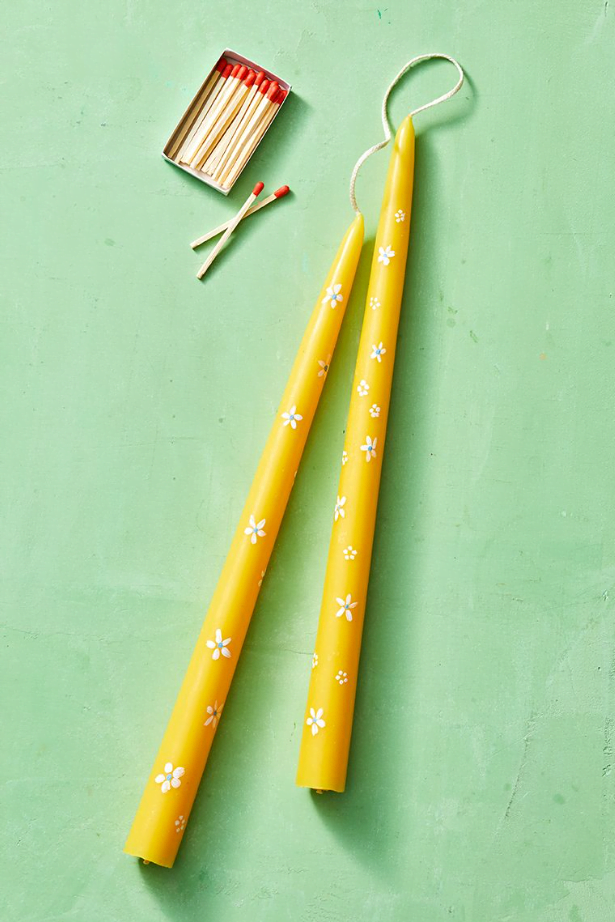 Creating beautiful candle art is fun and easy. It is also a great Mother's Day craft. To make this DIY, cut a piece of tissue paper of the size that you can wrap around the candle. Once it is cut, get your child to draw something on this tissue paper. Let them show their creativity. However, make sure that the paper does not tear apart.
After that, place this tissue paper around the candle and wrap the candle. Also, add wax paper. Now, this step should be done by an adult. Wear gloves to protect your fingers. And now, using a heat gun or a hair dryer, melt the wax onto the candle.
Make sure it's not too hot that the whole candle starts dripping. As soon as you see a color change in the candle, your job is done. This will transfer the drawing on the tissue onto your candle. And you would have made a great gift to give your mom.
16. Rainbow Painted Flower Pots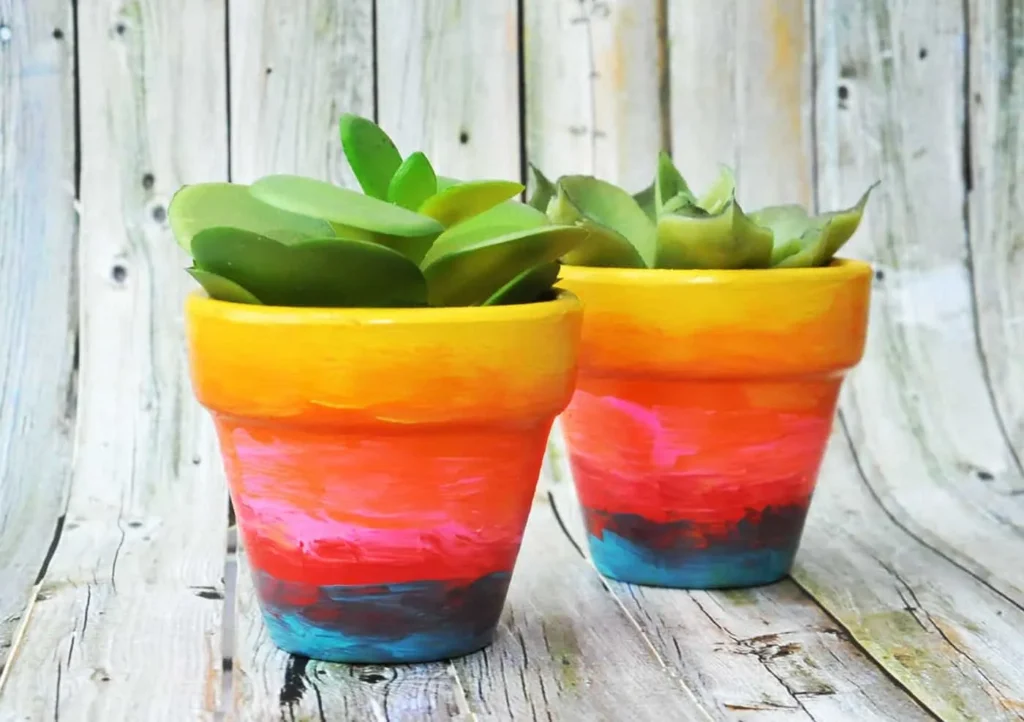 Is your mom also a plant mom who loves little green plants? Then this is a great Mother's Day craft. It is so easy that it makes up to be a great craft, even for preschoolers. All you have to do is get some terracotta planters, pants, and paintbrushes.
Give your child colors and the paintbrush, and ask them to paint the planter whatever color they like. It would look really good if you could supervise them a little and give this planter a rainbow shade by putting one color after the other, but you can also give your pre-schooler the freedom to do anything they want with it. Once done, you just have to let it dry, and it will be ready to be gifted. You can also get your preschooler to plant their mom's favorite flower
17. Floral Perfume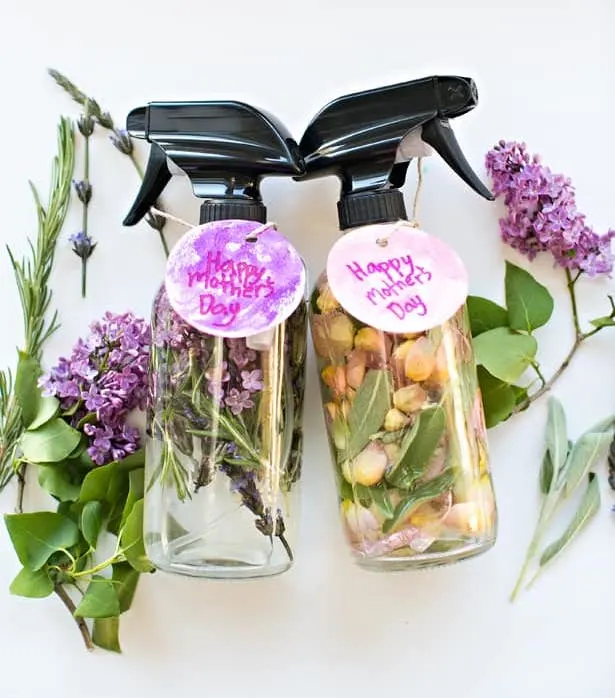 You can help your mom smell the best on her special day with this floral perfume that your pre-schooler can easily make at home. For this, you need just a few things. This includes your mom's favorite essential oil. This could be anything: lavender, lilac, rosemary, or sage. Now, in a spray bottle, add some flowers and herbs to give a nice look to the bottle. After that, add a little essential oil to it. This can be any essential oil. Use about 8-10 drops of it. After that, add filtered water and give it a good mix. Now you can make it more beautiful by adding some beautiful happy Mother's Day tag or something along those lines and gift it to your mom.
18. Colorful Tumblers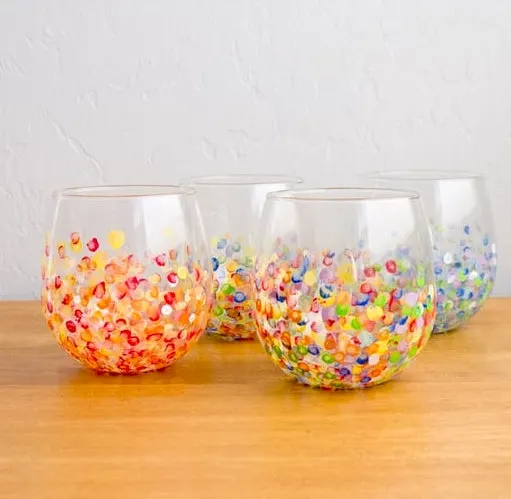 All moms love crockery. Your preschooler can give the crockery a new look with this Mother's Day craft DIY. All you need for this is enamel acrylic paint of different colors. Some glass tumblers, paper towels, cotton swabs, sheet pan, and parchment paper.
Start by bringing all the material together. Now, on a folded sheet of paper, squeeze out some paint. You can use any color you like. On a sheet pan, lay down some parchment paper and keep the glasses upside down. Use the end of a cotton swab and get your child to make small dots around the base of the glass. Make dots of one color, and then let it dry.
Once dried, add more dots of different colors on the tumbler. Continue doing so until you feel like it's enough. After that, let these glasses dry. Once it's done, an adult should bake these glasses for about 30 minutes to make sure that this color won't get off. Let it cool, and now they are ready to be gifted to your mom.
19. Handprint Aprons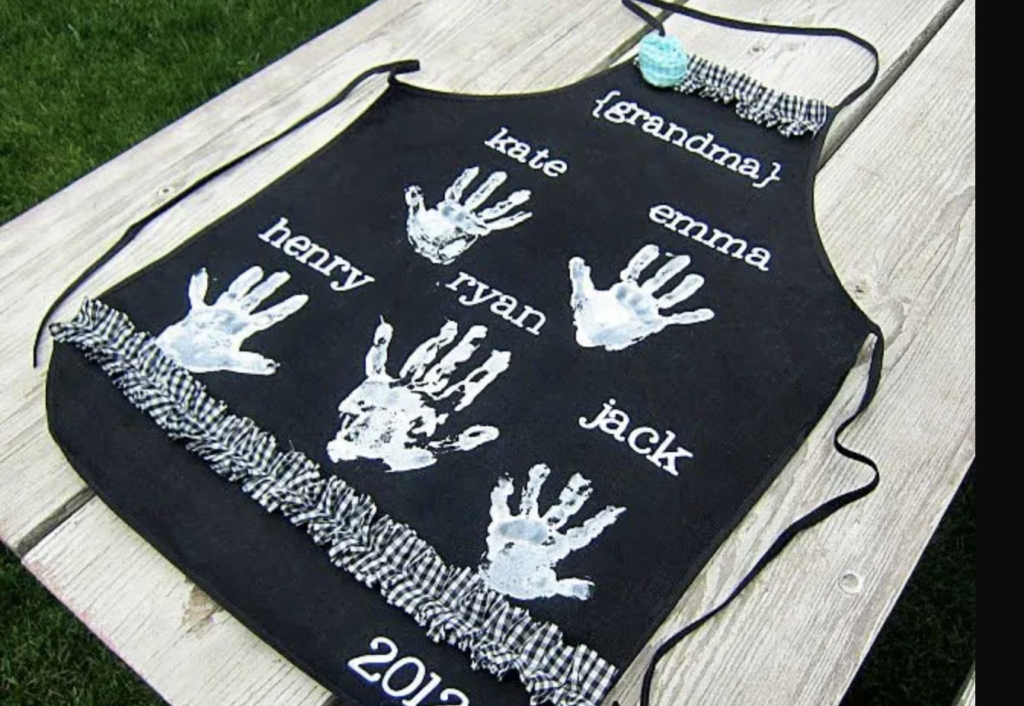 Giving your mom's aprons a new look is a great idea. This also makes up to be a great Mother's Day craft. For this, you do not need a lot of things. A few things that you will need include- a canvas apron, fabric paint, matching thread, fabric, and heat transfer.
To make these aprons, paint the pre-schooler's tiny hands with different colors. Once painted, make impressions of hands on the apron. Now, let them dry, and once they have tried, print the names of the kids and the mom on a transfer sheet. Now, using a heat transfer, transfer it on the apron; now, your apron is ready.
20. Handprint Flower Pot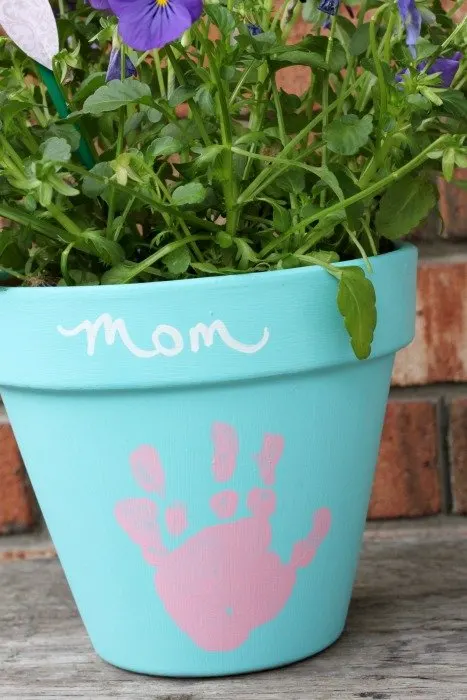 Another very easy Mother's Day craft to make is this handprint flower pot. Just like all other DIYs, you do not need a lot of things to make this DIY. All you will need here is a terracotta pot, some acrylic paints, foam brushes, and a plant.
Now take a terracotta pot and color it in your mom's favorite color. Use the foam brush to do it. Once done, let it dry. After the pot dries, put some paint on the child's hand and ask them to make a hand impression on the pot.
If your child is a little older and can write, get them to write a sweet message on the pot. After that, plant your mom's favorite flower in the pot and gift this very beautiful and fun DIY to her.
21. Pasta Necklace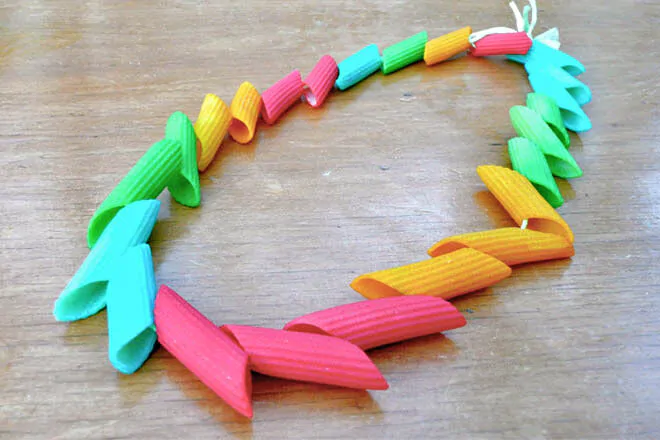 While this isn't the best Mother's Day craft on the list, it is still one of the easiest and most fun, creative gifts for any mother. Any and all mothers would wear this, knowing that their kids made it. There are a few things you will need to make this necklace. The list includes pasta, rubbing alcohol, food coloring, ziplock, paper towels, and yarn.
For this, In a ziplock, add some pasta and some food coloring mixed with rubbing alcohol. Shake it vigorously, but be very careful with it. We do not want to break the pasta, right? Once your pasta is colored, let them out and keep them dry. Make sure you color your pasta in two to three colors that you can use to make the necklace.
Now, using these different types of pasta, string them in yarn. Now tie the knot of this yarn and cut any excess. Viola! Your necklace is ready. They are a lot of fun, and makeup is a great Mother's Day gift indeed.
22. Felt Flower Wreath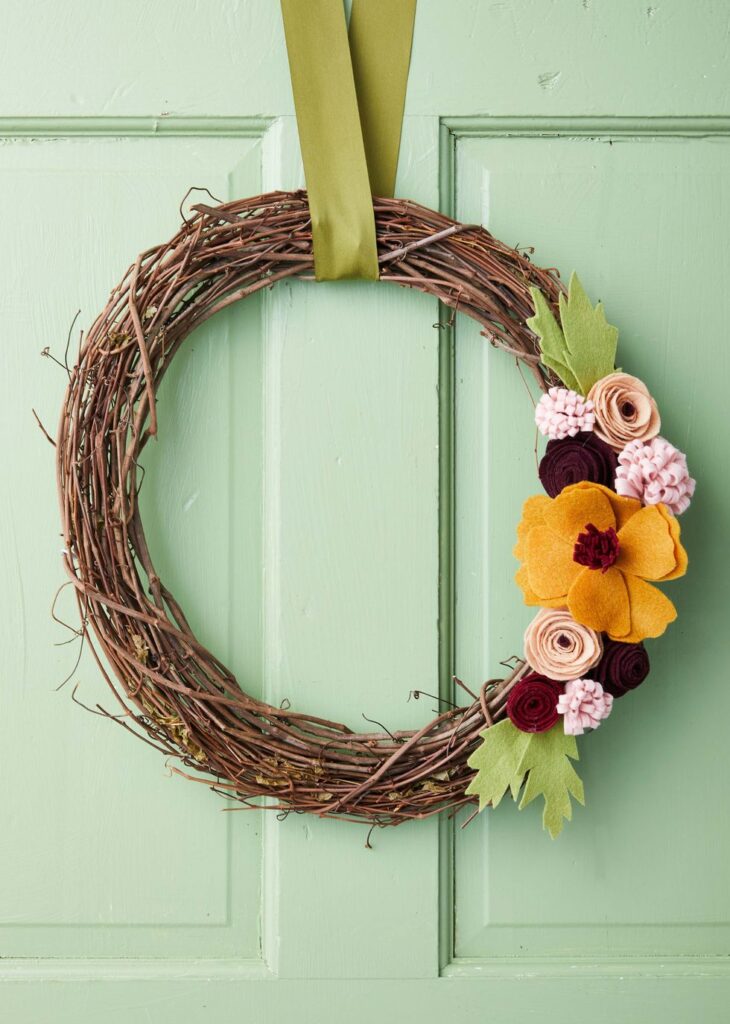 Your pre-schooler shall help an adult to make this DIY. All you have to do with this DIY is buy some felt flowers and leaves.
Now, using hot glue, stick all of them in a pattern on the grapevine wreath. Also, add a little ribbon to the wreath and hang it on your front door. They make it a great accessory on your front door, and it will be something that your mom will be able to show off to all her friends and guests.
23. Handmade Garden Stakes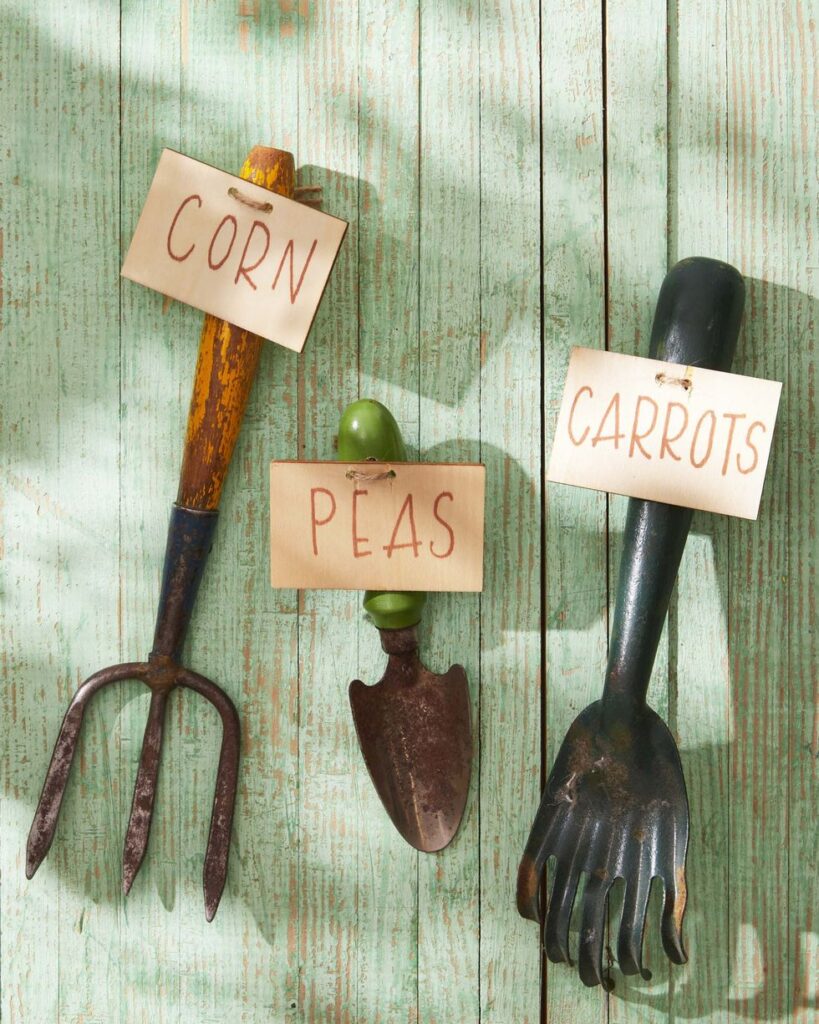 Another great DIY Mother Day craft is this handmade garden stakes. You will need help from an adult to make this, but it will be all worth it. Ask an adult to drill small holes in the wood handles and tie them to the garden stakes. Now, using a pen, you can write names on the wooden tags, and yay, just insert the pointy tips in the soil. Your mom will be very happy when she goes farming and finds this cute DIY gift waiting for her.
24. Flower Brooch Wreath
Forget the traditional way of gifting flowers to your mom; opt for this flower brooch wreath instead. To make this, wrap a small wreath with a white ribbon. After that, attach brooches using pin backings on the ribbon. You can also put a bow made with sparkly ribbon to give it an even better look. Gift this to your mom on Mother Day and see her face glow up.
25. Stitched Paper Cards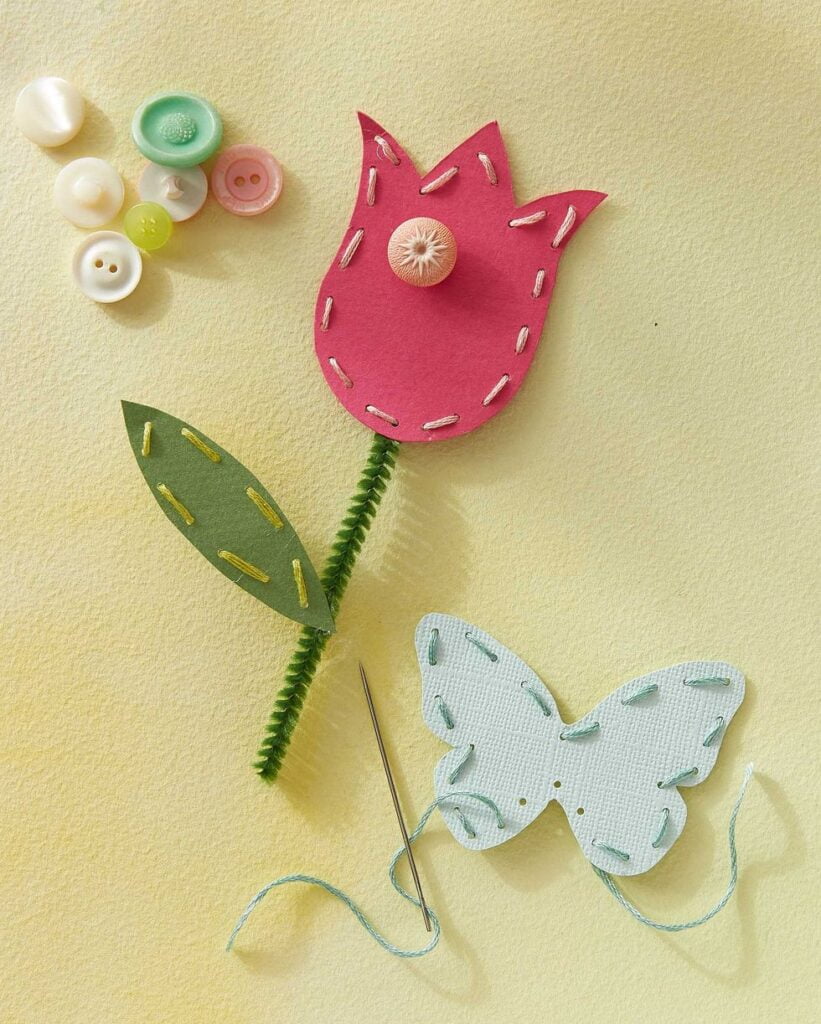 You can show your mom your sweet, sweet love with these hand-stitched cards. For this, cut simple shapes out of cardstock medium thick paper. You can draw and cut out any shape, like a flower or an animal shape. After cutting, punch holes along the border. Punch holes at a little distance. After that, stitch using embroidery floss or yarn. Put it through these holes and give it a good stitched look. With this, you are good to go. You can also elevate the look of this by adding more elements like a pipe cleaner as a stem to a flower and a pretty button. Whatever you do, make sure you stick it properly.
26. Painted Mason Jar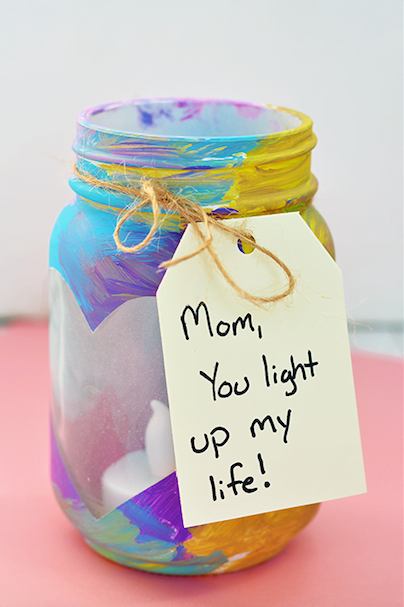 Very easy to make and very beautiful to gift, this painted mason jar is a great gift for your mom this Mother's Day. For this, all you need is a mason jar, some acrylic paints, and a battery-operated tea light. Paint stripes on your mason jar using the acrylic colors of your choice. Let it dry, and once it's done, place a battery-operated tea light in it. Now screw the lid and decorate it with a colorful ribbon. It is ready to be gifted to Mom and make her smile.
27. Photo Coaster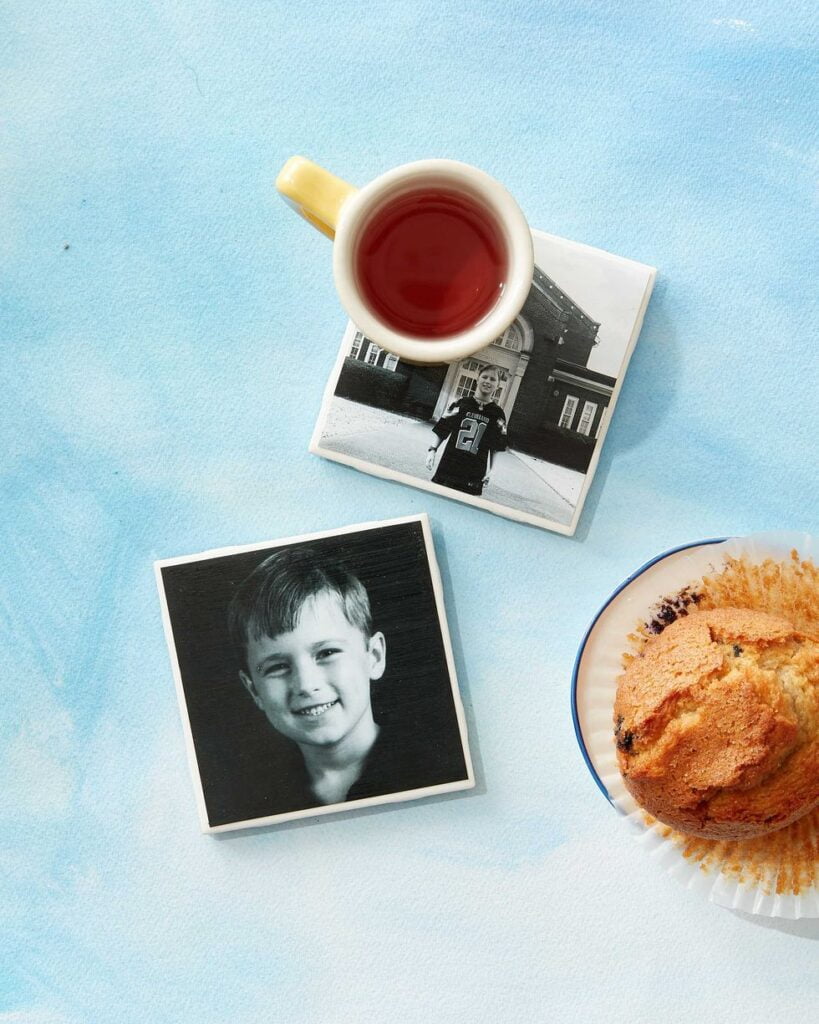 Your mom will be very happy when she gets to see her little baby's picture on the coaster every day when she drinks her morning coffee. It is very easy to make these coasters. All you need are coaster white tiles, a Mod Podge, and a picture of you. Ask an adult to get a picture of you printed. Once done, cut that 1/4th smaller than your coster tile. Now put enough Mod Podge on the back of your picture and paste it on your tile. Make sure you have pasted it in the center. Now, let it dry. Once it is all dried up, layer it with a Mod Podge. Not only will it protect the photo from external factors, but it will make the use of it very simple.
28. A Relaxing Pouch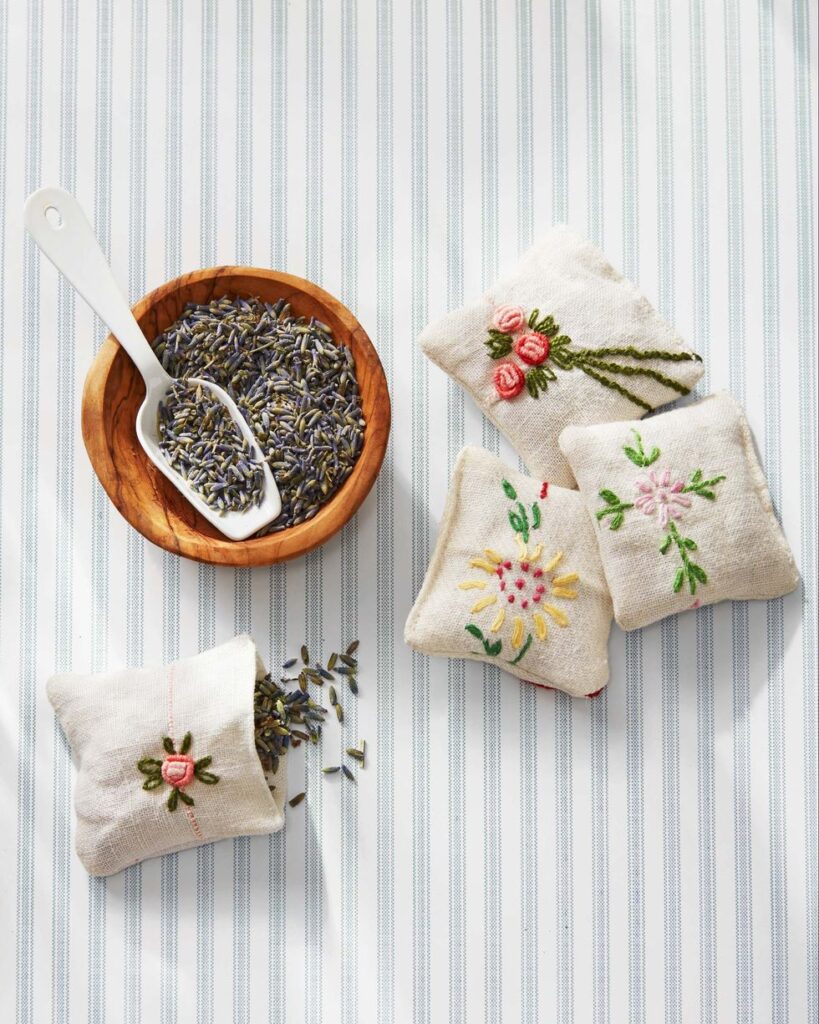 Give your mom some relaxation. With assistance from an adult, cut a 2×4 inc rectangle from a handkerchief. Fold it in half, making sure that whatever pattern is there on the cloth faces inward. Now, with assistance from an adult, stitch the two sides of this cloth. Make a pouch out of it. Then, it's time to turn the pouch inside out. Lastly, fill it with dried lavender and give it to your mom. She will feel very relaxed when she has it in her room or around her. She will thank you for it, indeed.
29. Turtle-Themed Mother's Day Card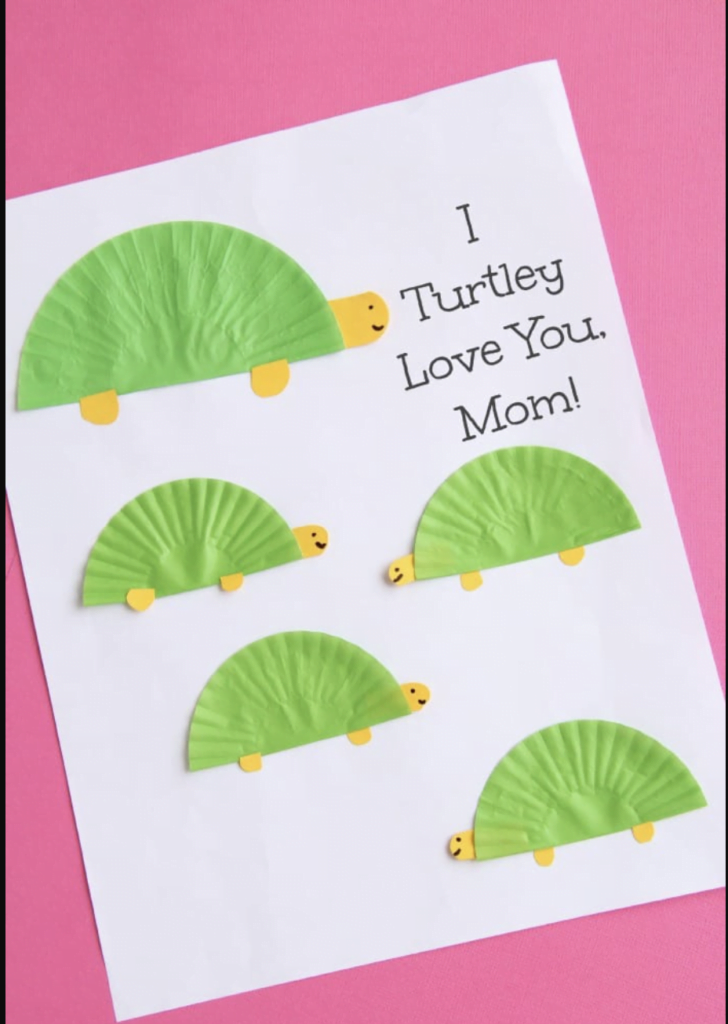 Give your momma turtle a turtle-themed card for Mother Day. You only need a few green-colored cupcake liners for this. For this, take two different-sized cupcake liners. Flatten them and fold them in half. Add a little bit of glue on the inside and stick them together. They will start looking at the turtle shells. Now, using yellow card stock, cut some heads and feet for each turtle and join them with the folded liners. Draw some smiles on the faces and write a phrase like "I Turtley Love You, Mom," and your cards are ready.
30. A Mason Jar Spa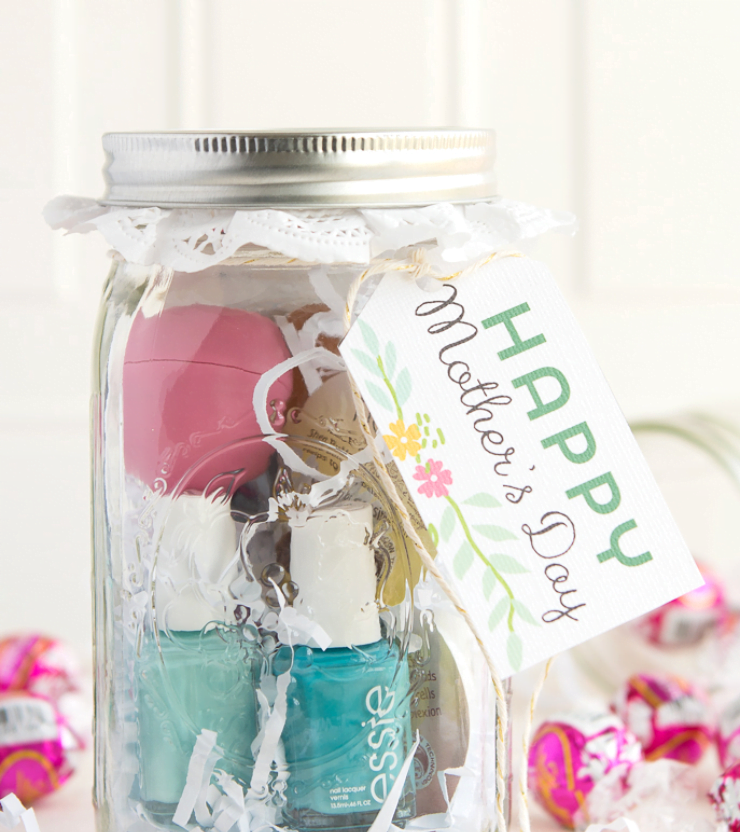 A great Mother Day craft for those fashionista moms, take a mason jar and add some nail spa things like a hand scrub, nail polish, cotton swabs, and a nail cutter. You can also add a chocolate or two to this, and your mom will be very happy with it. You can also add a tag on the mason jar for Happy Mother's Day, and you will look at your mom smiling ear to ear after receiving this gift.
31. Popsicle Sticks of What We Like About You for Mother's Day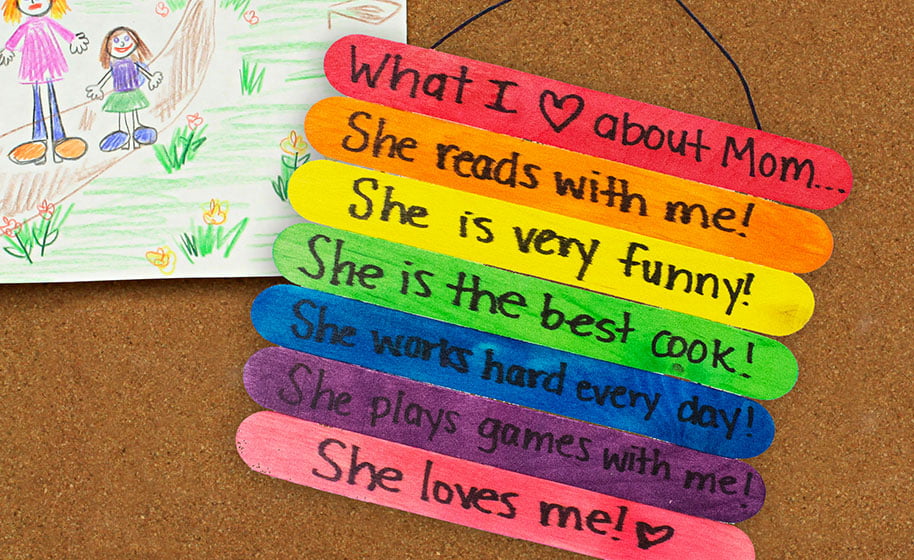 Another great gift for your mom on Mother's Day is this popsicle stick for Mother's Day hanging. All you have to do is buy colorful popsicle sticks. Stick them one after another and make a hanging with them. Add some yarn to it. If the kids are older, get them to write what they love about their mom, and if you have a toddler who cannot write, ask them to tell you and write them for them. This is a great personalized Mother' day craft that any mom will appreciate.
32. Mother's Day Hand Print Towel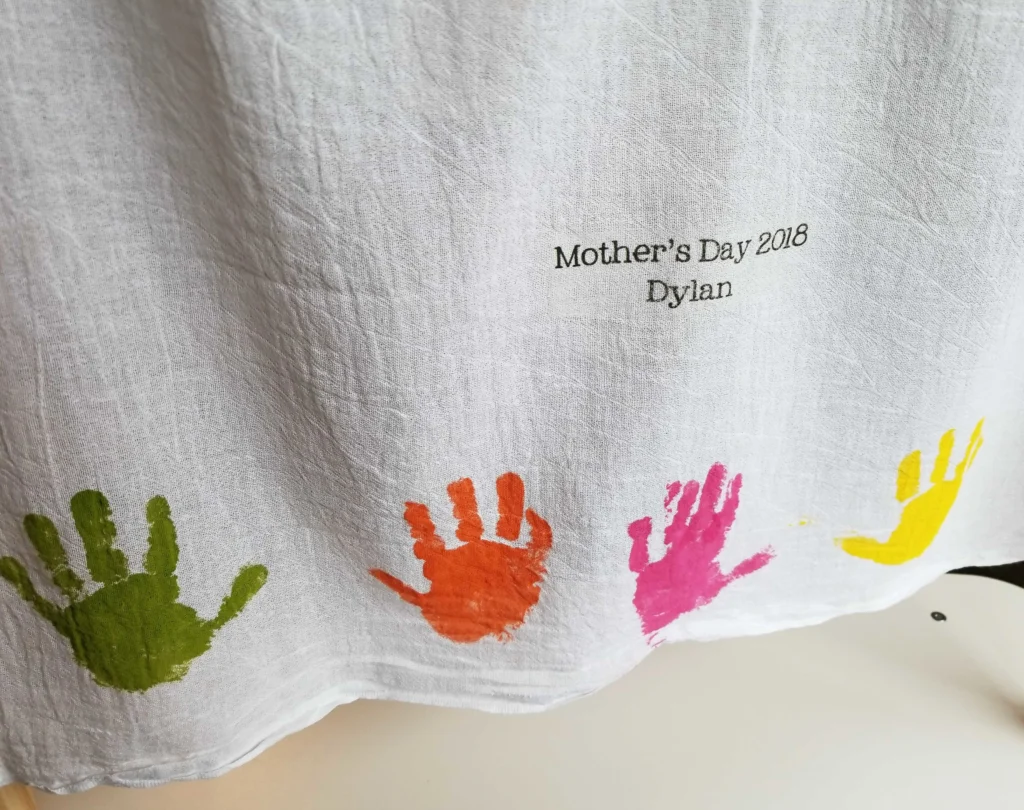 Yet another hand-print Mother's Day craft, this one is very easy for even your toddler to make. All you need is a few white hand towels and fabric paints. Paint your toddler's palms and get them to make their hand impression on these towels. Once they dry, they will be good for gifting. These are the easy gifting options that almost all moms love.
33. DIY Homemade Sugar Scrub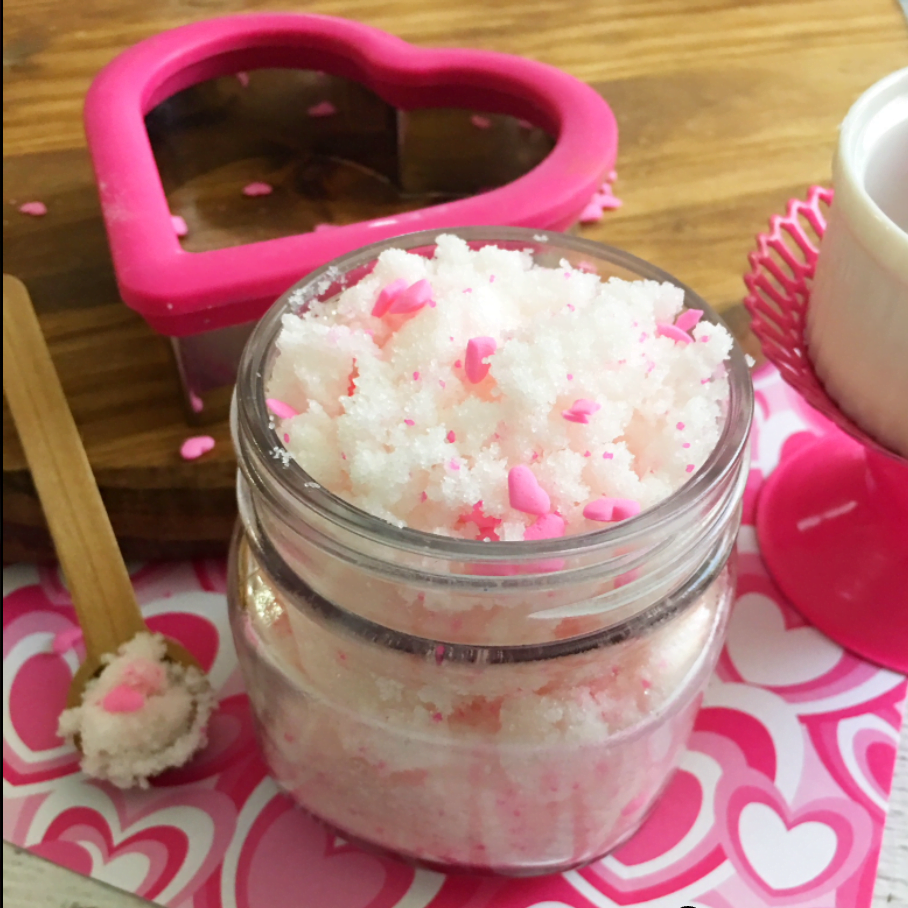 Gift your mom a luxurious homemade sugar scrub that is a great Mother's Day craft. For this, you have to get some granulated sugar, about 1 cup. Take ¼ cup organic coconut oil and heat it. Be careful and assist your toddler with this hot oil. Once heated, add 6 drops of vanilla essential oil to this. After that, mix it with the sugar. Also, add ½ teaspoon of pink sugar sprinkles and mix it all very well. Add some heart sprinkles and shift it to a mason jar. Add some beautiful ribbon and a Mother's Day tag.
34. DIY Lavender Bath Salt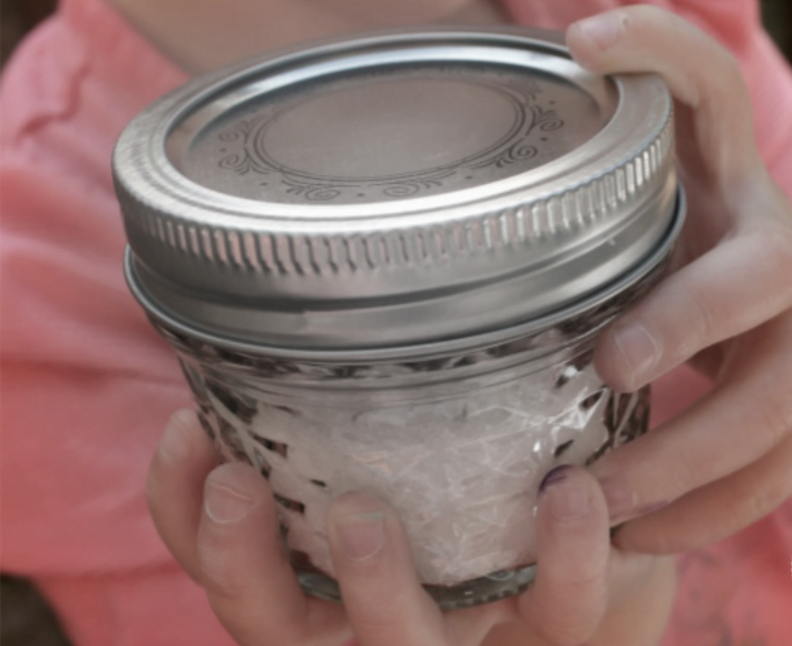 For any mom who loves a relaxing bath, this DIY Lavender Bath salt makes up to be a great Mother's Day gift. All you need is Lavender essential oil, small jars, ribbon, and Epsom salts. Put Epsom salts in small sandwich-sized plastic bags. Now, ask your toddler to hammer the chucks. Once it's broken up, add it to a big bowl. Now add 5 drops of lavender essential oil it and fill your jars with it. Add a ribbon to this jar and tag it. Viola, you will be done and ready to gift it to your mom.
35. Keepsake Metal Keychain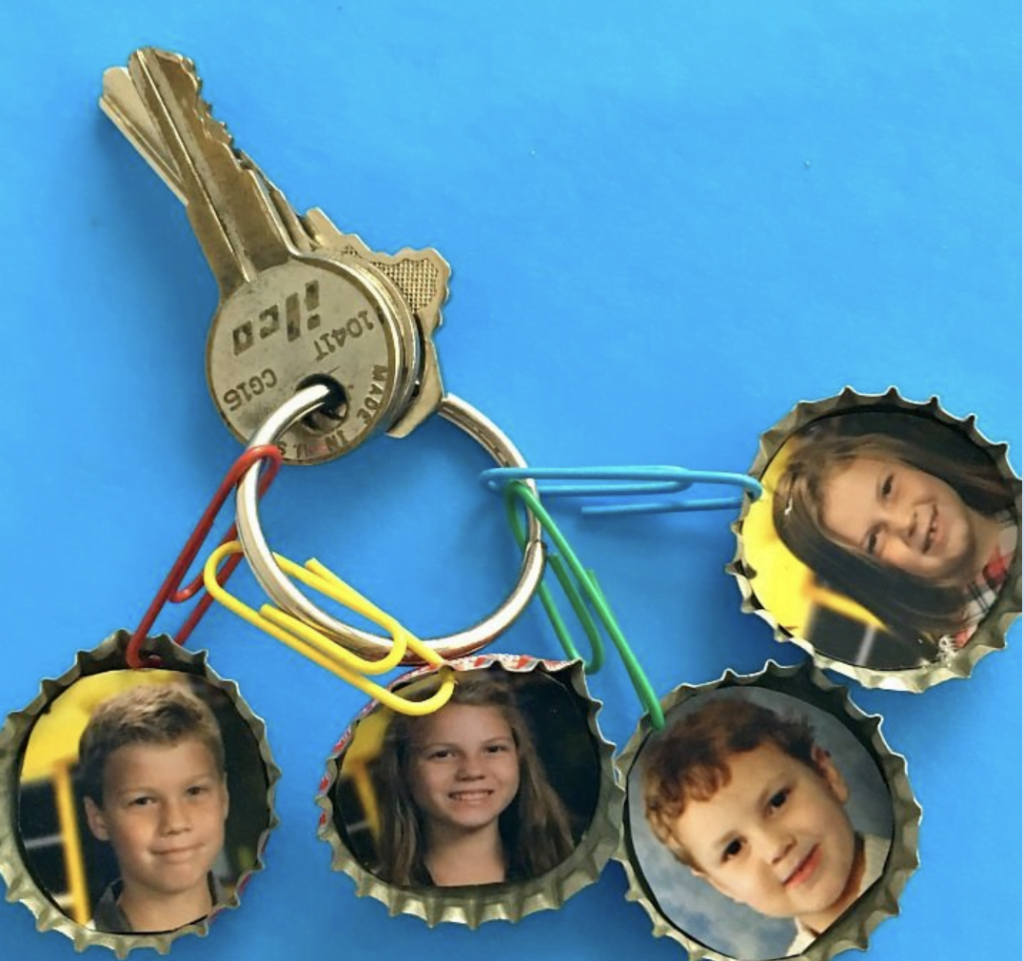 A very sweet Mother's Day craft; all you need for this craft is bottle caps, photos of your kids, paper clips, a hole punch, glue, scissors, and a key ring. Using a hole punch, make one hole in each bottle cap. Now, trace the kid's face with the bottle cap. Cut the kids' faces from the photo and glue them to the inside of the bottle cap. Now, slide a paper clip in the hole. Attach these to the key ring. These will make up to be a great Mother's Day gift for your mom.
36. Wood Bead Heart DIY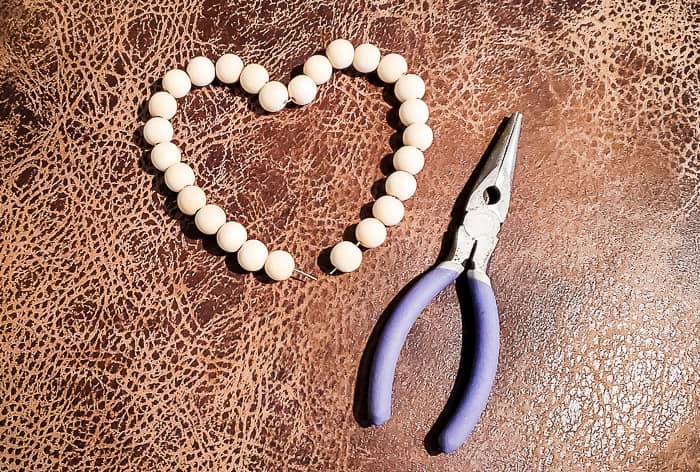 A wood bead heart DIY is a great Mother's Day craft that your mom can keep on their dressing table or side table. It makes up to be a good Mother's Day gift, too. It's very easy to do it. Take a wire and cut it long enough to make a heart out of it. Make the shape and add the wooden beads of the same size in it. After that, twist the ends of the wire, and it will be done.
37. Twig Wrapped Flower Pots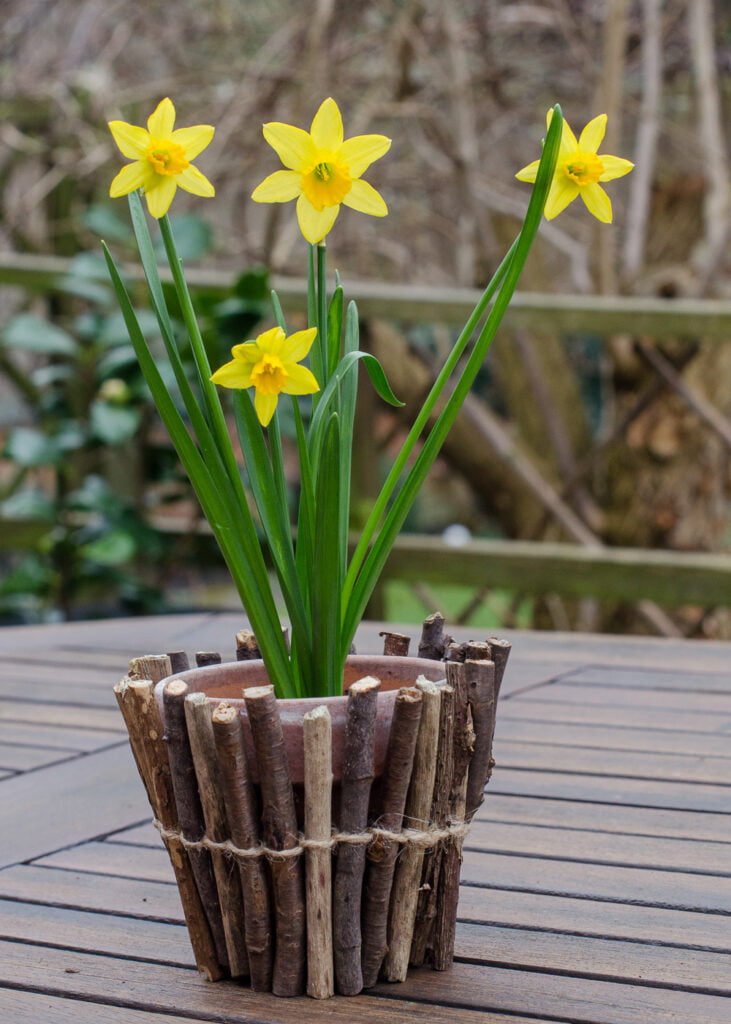 Perfect for nature-lover moms, this Mother's Day craft is very easy to gift your mom. All you have to do is, take the pot and create a length of tied-together twigs. First, measure every stick against the height of the pot and cut it the size of the pot height. Once cut, tie the strings to the twigs. Now, carry this twig and make it long enough to wrap around the pot. This can feel a little unstructured at the start, but soon you will find the rhythm. Once done, wrap them around the pot. Secure it with a double knot, and now pot a plant in it. You will be done, then.
38. Twig Canvas Art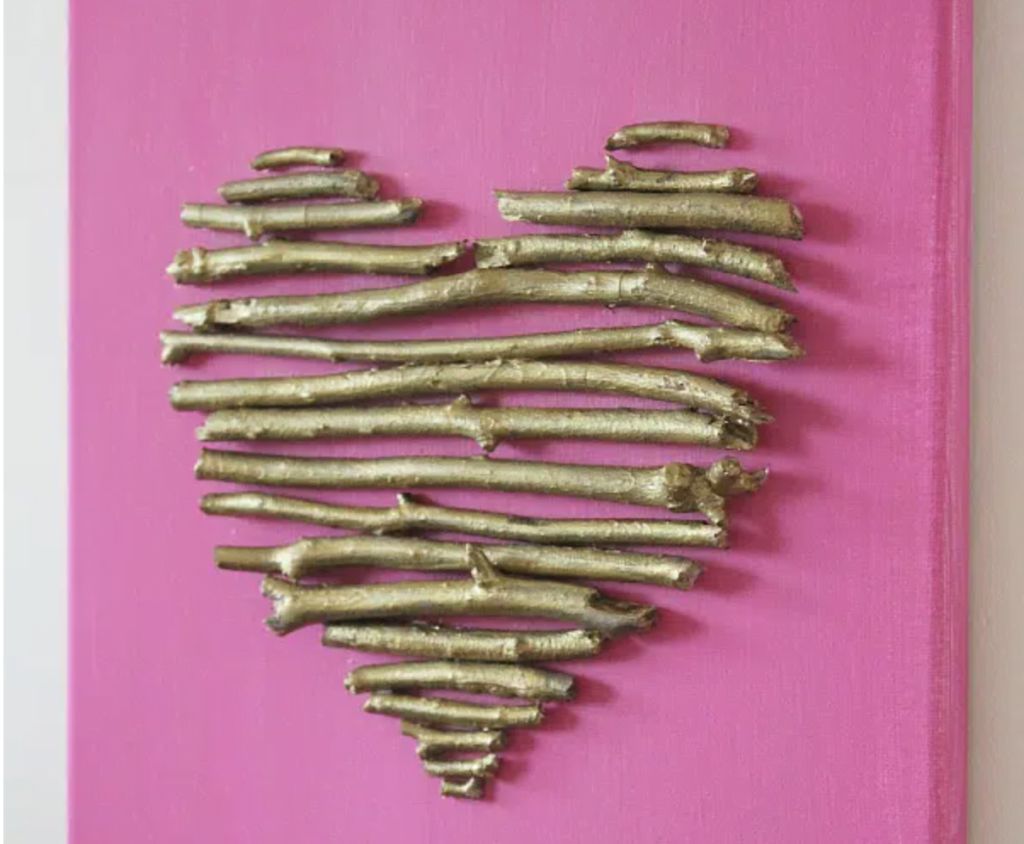 Give your mom a beautiful gift this Mother's Day. Take a small canvas and paint it, coat it twice to get good coverage, and set it to dry. After that, use a heart-shaped template and draw a heart on the piece of paper. Cut the paper out. Taking the twig sticks, plate them on the heart-shaped paper and stick these twigs on the paper. Once you are happy with the arrangement, add some gold effect to it. Finally, add the paper template to the canvas and, using some glue, stick it to the canvas. Your piece of artwork will be ready.
39. Handprint Canvas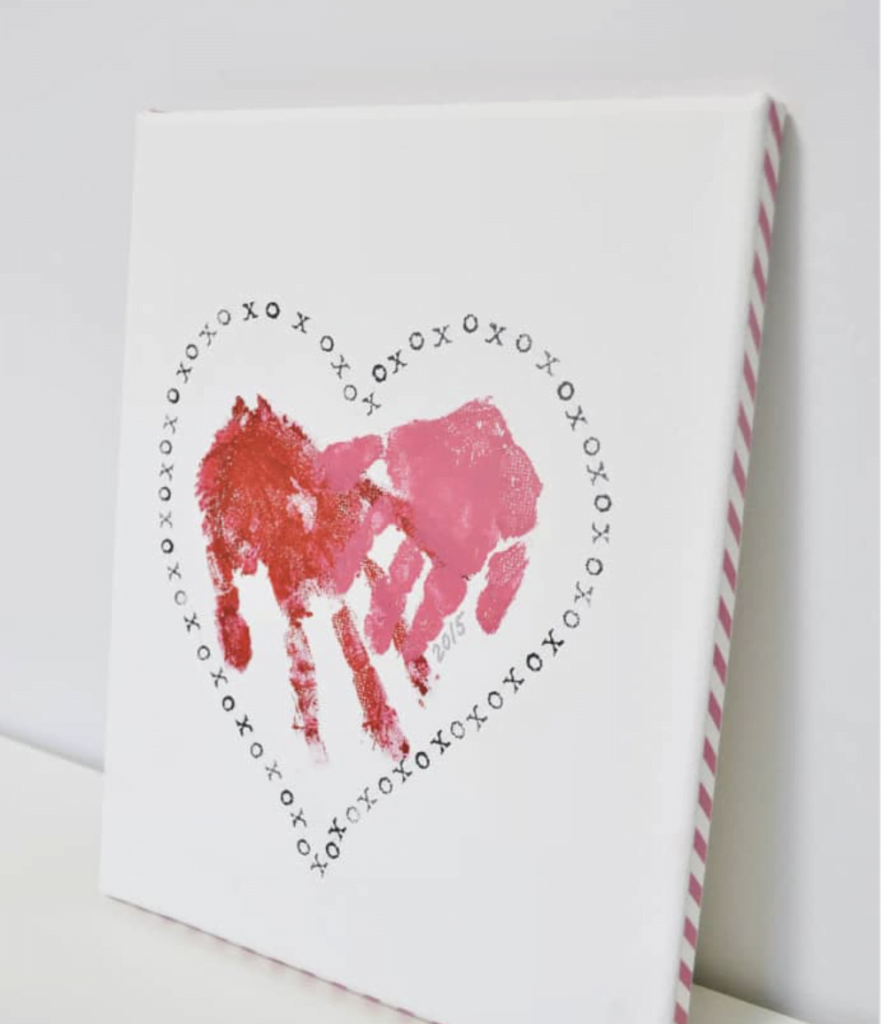 Make a personalized handprinted canvas heart for your mom. For this, all you need is a small canvas, a fabric paint of your color of choice, a marker, and your little pre-schooler. Take the canvas and draw a big heart on it using the marker. After that, take some paint on a plate and cover the palm of your pre-schooler with this color. Now, make an impression of their hands in this heart. It would be great if you get your pre-schooler to make two impressions at an angle of the heart. Let it dry, and you will be done. If you want, you can also get your child to write a message on it for their mom.
40. DIY Bath Bomb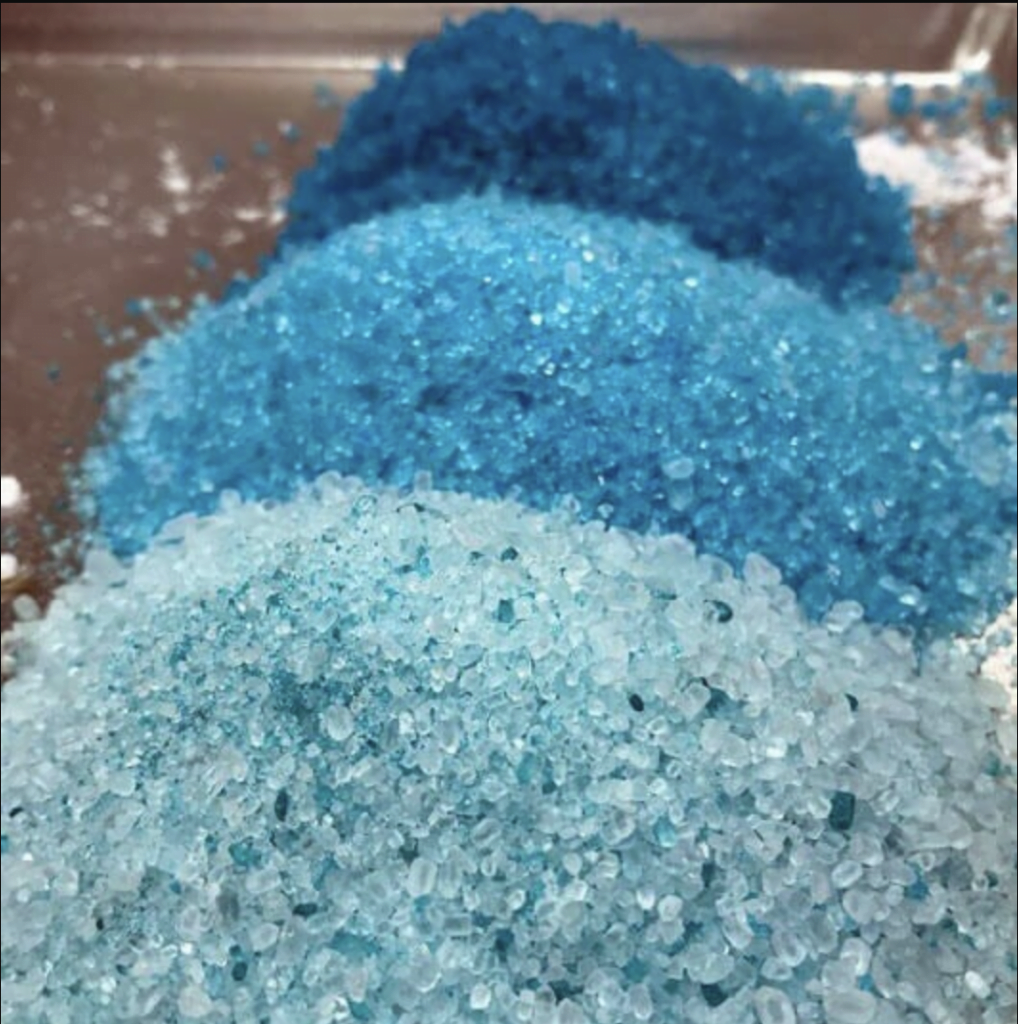 The last thing on your list of Mother's Day Crafts for preschoolers is this bath bomb. However, you will have to help your child with this DIY. In a mixing bowl, add 2 cups of baking soda. Add ½ cup Epsom salt in it. Also, add 3 tbsp cornstarch and a few drops of food coloring. You can also add essential oils to it. Mix all of this together. Now spray some water in it, and you will see these ingredients sticking together. Make sure not to add too much water. After it starts to stick, press it in a mold and let it take shape. Now, let it dry for about 5-6 hours. Once it's dried, they will be ready to gift.
The Last Word
While many of these Mother's Day crafts are very easy, you must keep in mind some of them may need assistance from elders.
When using tricky objects like a scissor or a glue gun, it is always good to help your child. Other than that, making these DIYs and bringing a smile to your mom's face is pretty easy.
So, don't wait up. Make Mother's Day extra special with these handmade gifts just for your mom.