25 Easy Protein Ball Recipes for Kids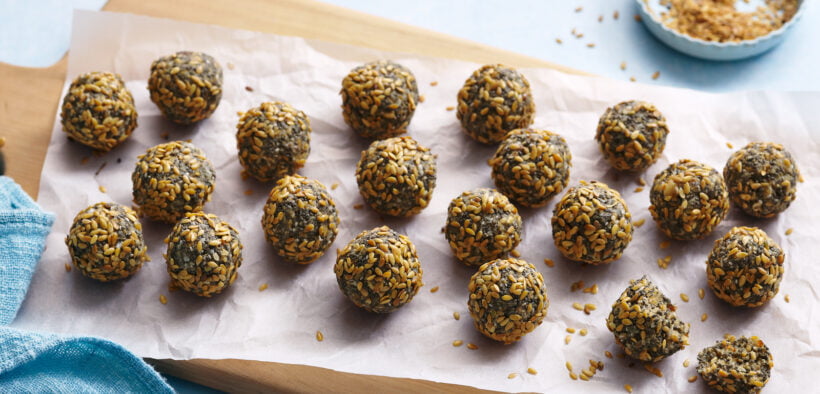 Are you looking for healthy snacks for your kids to help them deliver the key nutrients and curb their appetite? Energy balls can be the best guilt-free treats your kids can enjoy anytime to keep their tummy full and energized all day.
They are easy to make, flavorful, and full of vital nutrients your kids need to meet their developmental goals.
And the best thing is that energy balls can serve as on-the-go breakfasts, mouth-watering desserts, and mid-day snacks. They are so easy to make that you can even ask your kids to roll the balls and mix the ingredients.
You can keep a batch of energy balls in different flavors in your fridge, and your kids can enjoy them whenever they want. From chocolate to almond butter and granola to cookie, you can customize the flavor of the energy balls as per the liking of your kids.
So, let's look at 25 nutritious, mouth-watering energy ball recipes your kids will love to relish. 
Energy Ball Recipes with Tutorials to Enjoy Anytime
We bring to you 25 nutritious, tasty energy ball recipes that are easy to make and will satisfy your kid's cravings.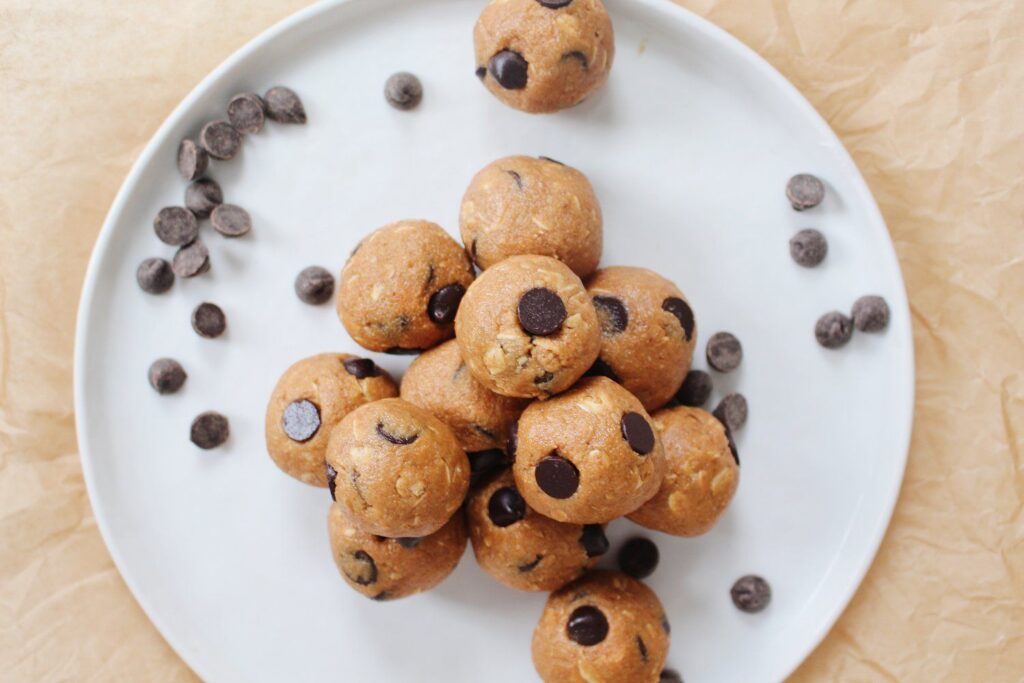 If your kid is a fussy eater, then the cookie dough energy bite can be the perfect snack for them. These chewy, round balls are delicious and packed with tons of nutrients that your kids need during their growing stage.
To make them, you'll have to place oats, salt, almonds, and walnuts into a food processor and pulse them finely. Add agave and vanilla to the ground mixture and combine everything. Now, fold in chocolate chips and roll them in your desired shape.
Freeze them for about an hour, and the power-packed tasty energy bites are ready. Once your kids will have them, they will ask you to make them again and again.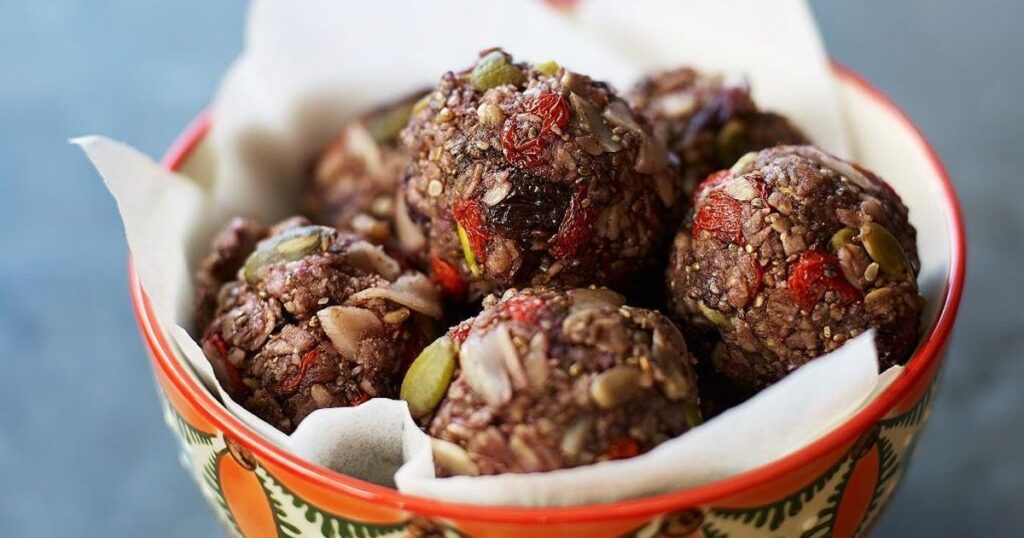 Replace the store-bought snacks with fruity granola balls that are packed with fiber and protein and are perfect for school lunches and in-between meal munching. Since fruits have been used to make this recipe, you don't need to add artificial sugar or stevia.
If you're using old-fashioned oats, blend them in a food processor and make a fine powder. Now stir together cinnamon, a pinch of salt and oats, sunflower seeds, dried mangoes, cranberries, and peanut butter.
Mix all the ingredients well and make small balls in a circular shape. Refrigerate for an hour or two and serve them to your little ones.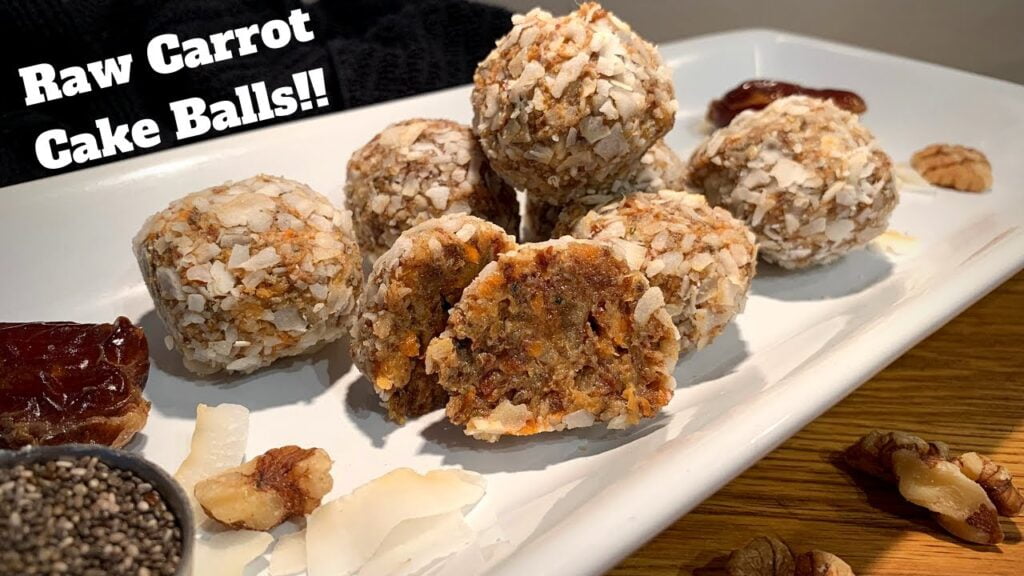 Carrots contain beta-carotene and vitamin A, but most kids do not like to eat them. If your kid refuses to eat carrots, no-bake carrot cake balls will make your little ones fall in love with them. To make this recipe, you must shred carrots or chop them finely and transfer them to a big bowl.
Add walnuts, oats, nut butter, and dates to this mixture for crunch, flavor, and natural sweetness. Pulse everything together in the food processor and roll them into balls.
If you want to make the carrot balls more sweet, you can increase the amount of dates and oats. Refrigerate and let your kids enjoy them without hinting that it contain carrots.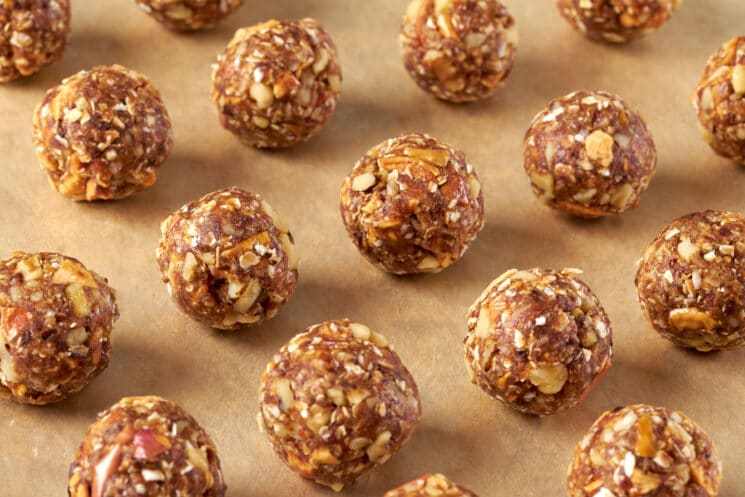 Does your kid fuss over eating fruits, and you're finding it hard to incorporate them into your little one's meal? Try the apple cinnamon energy balls as your kid's mid-morning or breakfast snacks, and we bet your child won't be able to say no to them.
For this recipe, you must add unsalted almonds, pitted dates, protein powder, grated apples, rolled oats, ground cinnamon, and honey to a food processor.
Blend until it forms a soft dough and shape into balls. You can also top it with dry fruits to make it look appealing. Refrigerate for about 30 minutes before serving them to your kids.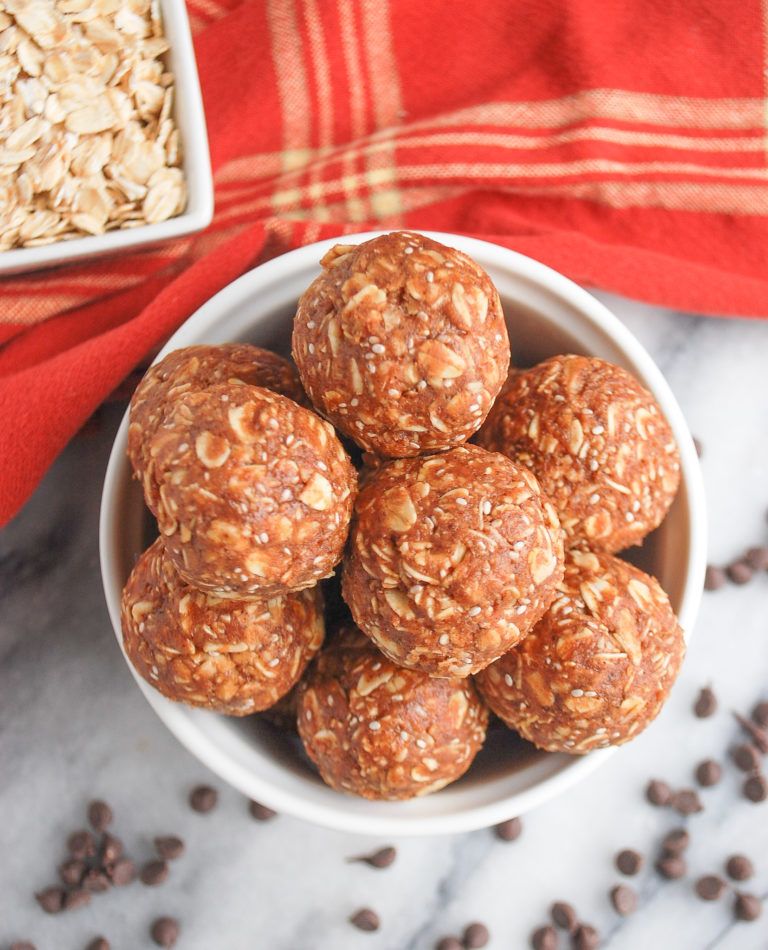 Whether you're looking for a healthy after-school snack or something that you can carry during road trips or soccer games for your kids, peanut butter protein balls can be your go-to choice.
Nutty, chewy, and supremely satisfying peanut butter protein balls are a delicious way to serve up desserts to your kid in a healthy way. These no-bake energy balls are gluten-free and full of fiber and protein. In a bowl, combine chocolate chips, peanut butter, maple syrup, and oats, and roll the mixture into equal-sized balls.
Refrigerate for thirty minutes, and the descendant dish is ready to be enjoyed. You can store these protein balls in the freezer for up to two months. 
6. Strawberry Cinnamon No-Bake Balls (Read this Tutorial)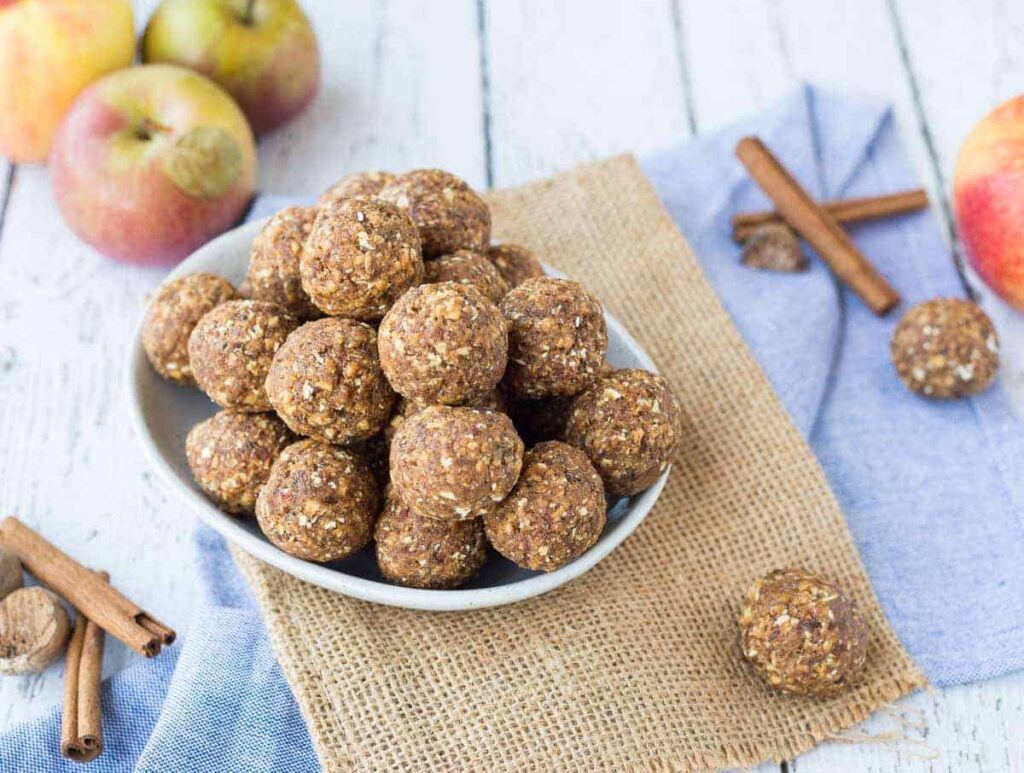 Are you looking for an indulgent dessert for your little one without sugar content and harmful ingredients? Strawberry cinnamon no-bake balls double up as a breakfast treat and a dessert and can make snack time more fun.
They are crunchy, smooth, and sweet, and when you serve them straight out of the refrigerator, they taste like strawberry crushed ice cream. To make this recipe, you'll need dates, freeze-dried strawberries, cinnamon, coconut, cashews, and vanilla extract. Blend all these ingredients in the food processor until you get a soft dough.
Add shaved coconut from the top and place the dough in the fridge for half an hour. Scoop up the dough and roll it into balls of the same size. Dip the balls in the strawberry coconut mix, and your healthy dessert is ready.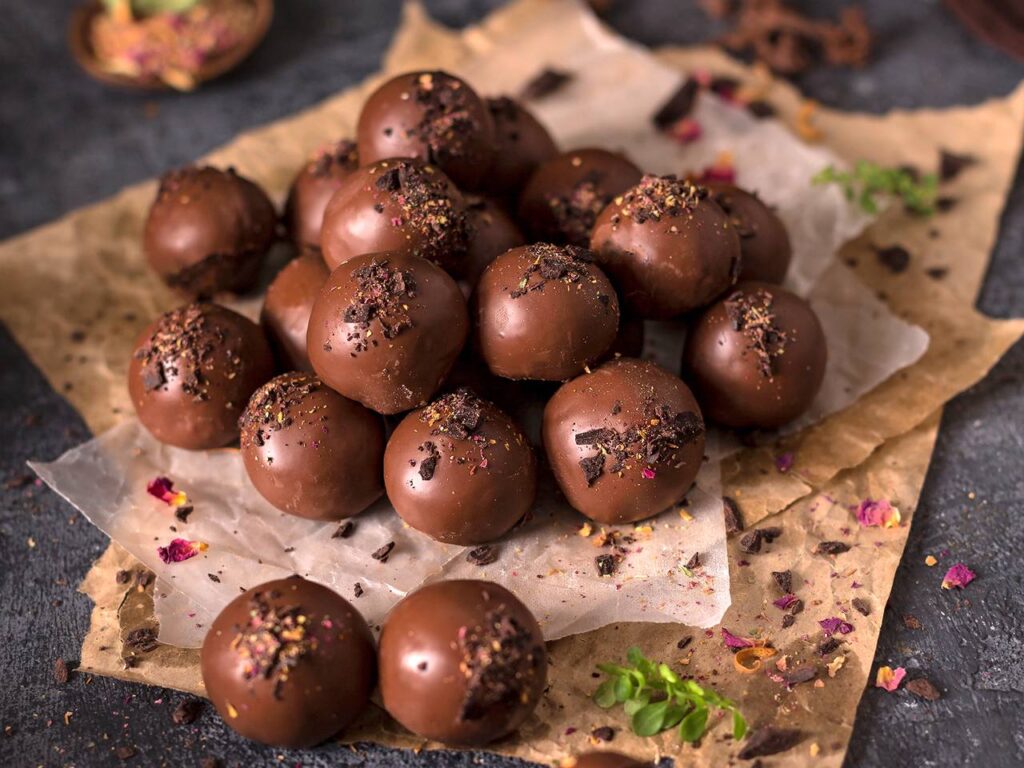 If your child loves gorging on chocolates, the chocolate date energy balls can be a healthy substitute to satisfy their cravings. This dessert is tasty and packed with vitamins, minerals, and antioxidants.
Chocolate and date pair beautifully and taste much better than conventional chocolate bars. Start preparing this dish by processing the nuts and dates together until they form a crumbly meal. This will ensure no large chunks of dates in the recipe.
Add the remaining ingredients, like cashews, almond butter, milk, and sea salt, and mix them in the food processor until they clump together. Roll the mixture into equal-sized balls and serve them chilled. 
8. Cranberry Chocolate Chip Energy Balls (Read this Tutorial)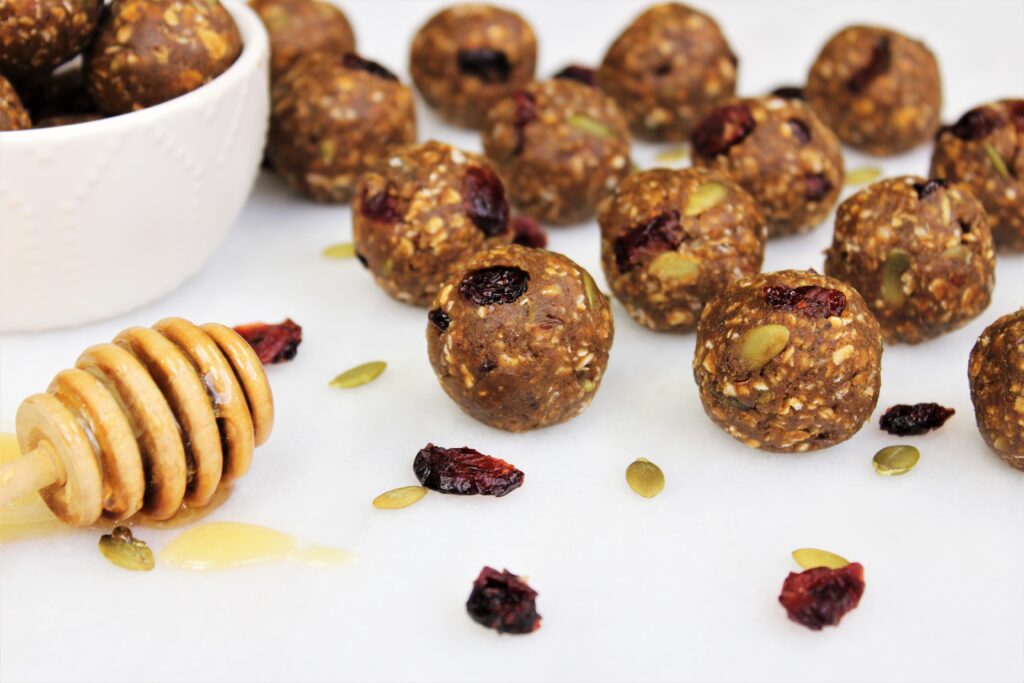 If you haven't tried the heavenly combination of chocolate chip and cranberries, you're missing out on something mouth-watering. These energy balls have a chewy and soft texture with an awesome flavor of sweet chocolate and tart cranberries.
Mix dried cranberries, old-fashioned oats, honey, shredded coconut, peanut butter, and chocolate chips in a medium-sized bowl as desired.
Slightly dampen your hand and roll the mixture into tiny balls. You can serve them to your kids immediately or refrigerate them for half an hour and then enjoy them.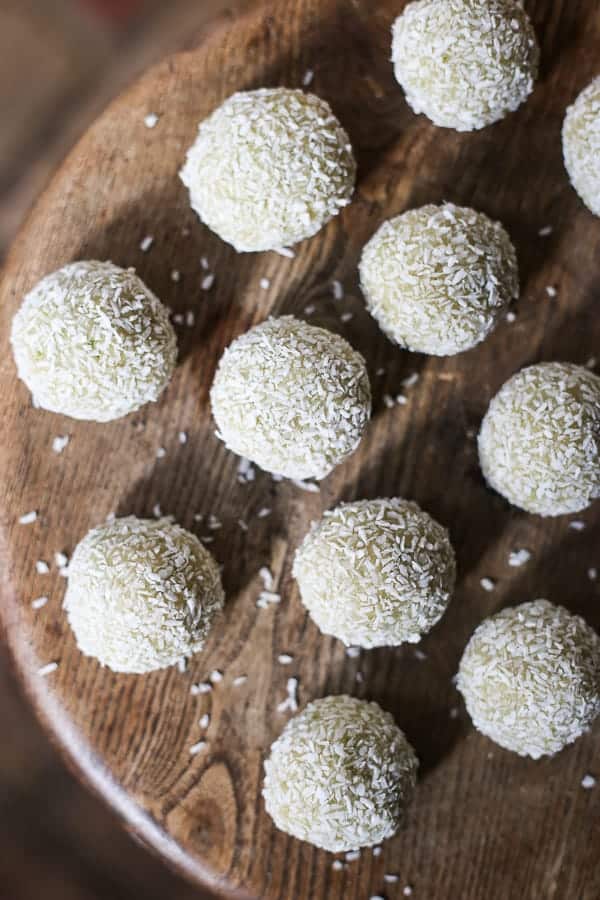 Coconut Lime Energy Balls have all the ingredients to power your kids up through their day. They are satisfying, have high nutrition quotients, and can satisfy any sweet tooth cravings that your little one might have.
When your kid eats them, they will feel like eating a key lime pie without the added calories. Place the cashews and almonds into a blender and pulse to chop them finely. Add salt, lime juice, zest, and dates and blend until the mixture clumps together.
Form round balls and roll them in the coconut flakes to enhance their flavor. Store in an airtight container in your refrigerator for an hour and serve them chilled to your kids.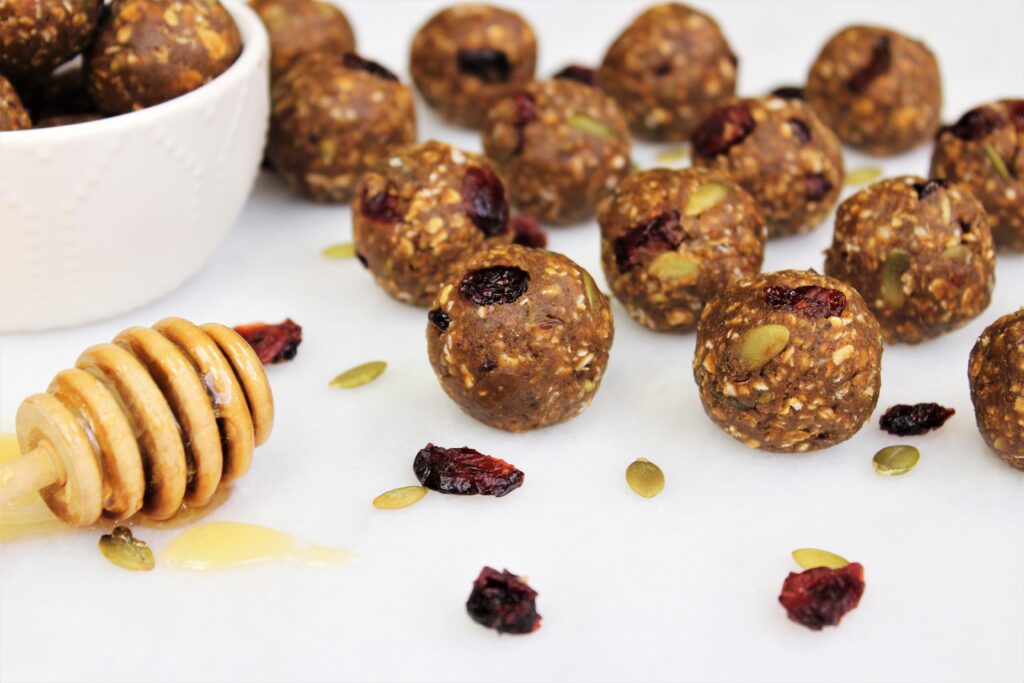 Go beyond the traditional pumpkin pie this fall and try this yummy energy ball recipe that your kids will love. It can serve as a treat for a holiday and can even add a fall feeling to your kid's breakfast.
And with the extra sweetness from the pumpkin, your little one may not even realize it has no sugar or artificial sweetener. Start making these gently spiced energy balls by mixing all the dry ingredients like chocolate chips, chia seed, grounded flaxseed, cinnamon, nutmeg, and old-fashioned oats.
Add pumpkin puree, vanilla extract, butter, and honey until you get a thick dough. Roll the mixture into balls using a cookie scoop or your hands. Place them in the refrigerator, and you'll always have a healthy treat. 
11. Peanut Butter Fudge Protein Energy Balls (Read this Tutorial)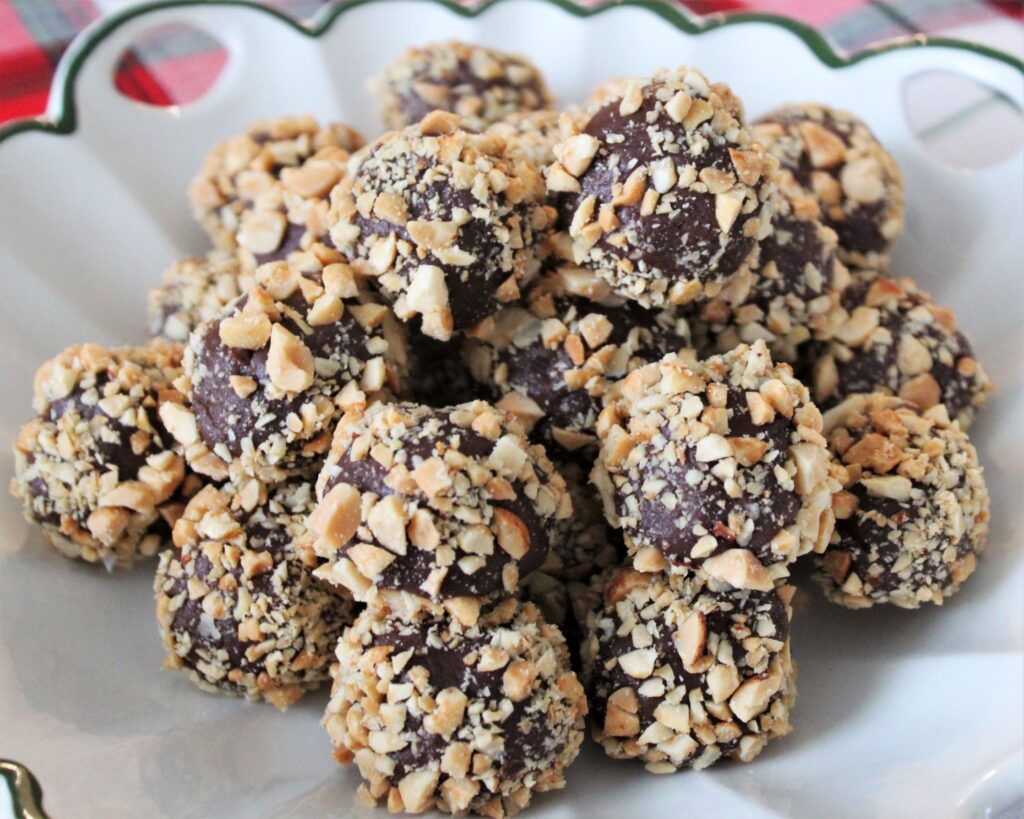 Is your little one yearning for delicious fudge? Then, the peanut butter fudge protein energy balls will satiate their cravings with their amazing taste. This tasty and decadent dessert is salty and sweet at the same time and has all the melt-in-mouth flavor that makes fudge so delectable.
This high-energy snack can be prepared with whole grain-rolled oats, sunflower seeds, cocoa powder, and dates. Blend them in the blender or food processor until they form a fine powder.
Knead the ingredients and roll them between your palms to form a smooth dough. You can store them in your fridge or eat them with your kids at room temperature. 
12. Oatmeal Raisin Cookie Energy Ball (Read this Tutorial)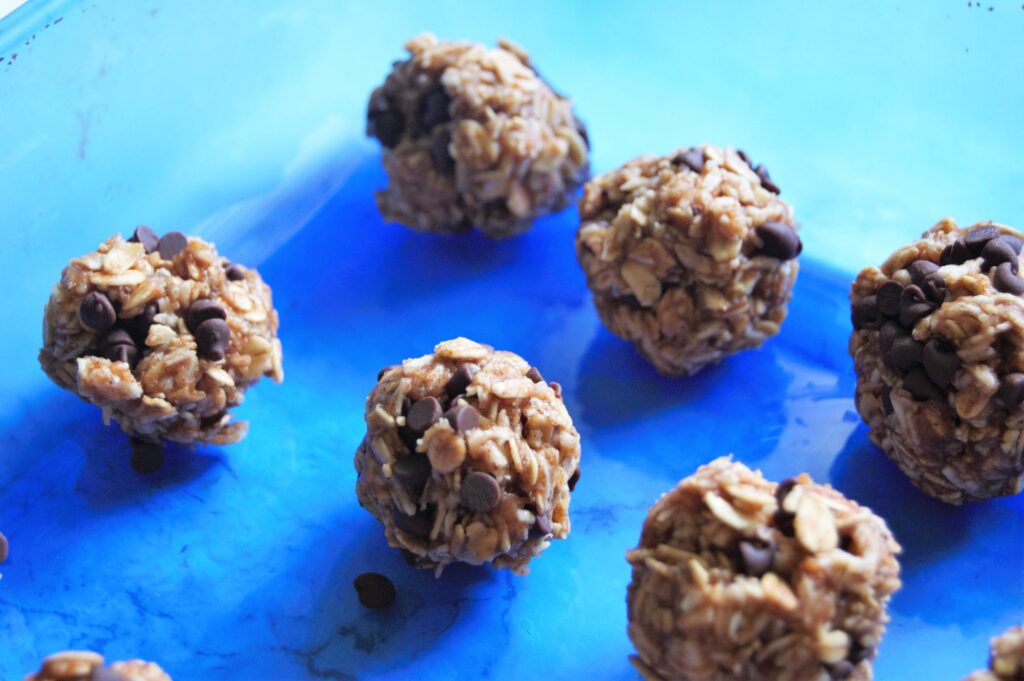 Oatmeal raisin cookie energy balls can be a welcome addition to your kid's lunchbox. Your kids are guaranteed to smile when they find these melt-in-mouth energy balls in their lunchbox or the fridge while looking for a treat.
In a large bowl, add powdered flaxseed, salt, cinnamon, chia seeds, cocoa nibs, and oats. Melt the almond butter in the microwave for a few seconds and add vanilla and honey.
Pour over the oat mixture and combine everything well with a spatula or your hand. Add the raisins and make small balls. You can top them with sprinkles or leave them looking plain. 
13. Ginger Cookie Healthy Energy Balls (Read this Tutorial)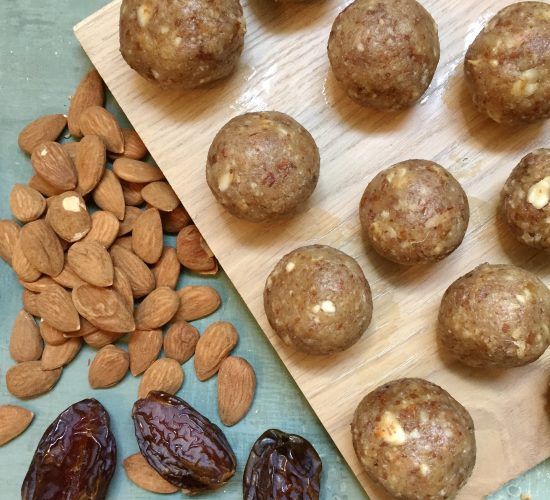 When your little one's sweet cravings are out of control, Ginger Cookie Healthy Energy Balls can be a lifesaver. As you make this energy ball, the smell of nutmeg, cinnamon, and ginger wafting through the house will make everyone feel like you're making a Masterchef recipe.
These energy balls are high in healthy fats, antioxidants, and fiber and are perfect for your kid's skin and hair. To prepare it, add oats, coconut, almond butter, flaxseed, maple syrup, sesame seeds, cinnamon, salt, ginger, and cloves to a mixing bowl.
Stir with a wooden spoon until the mixture is sticky. Place the bowl in the fridge for 10 minutes to make it easy to shape. Shape them as you like and serve these delicious desserts to your bundle of joy.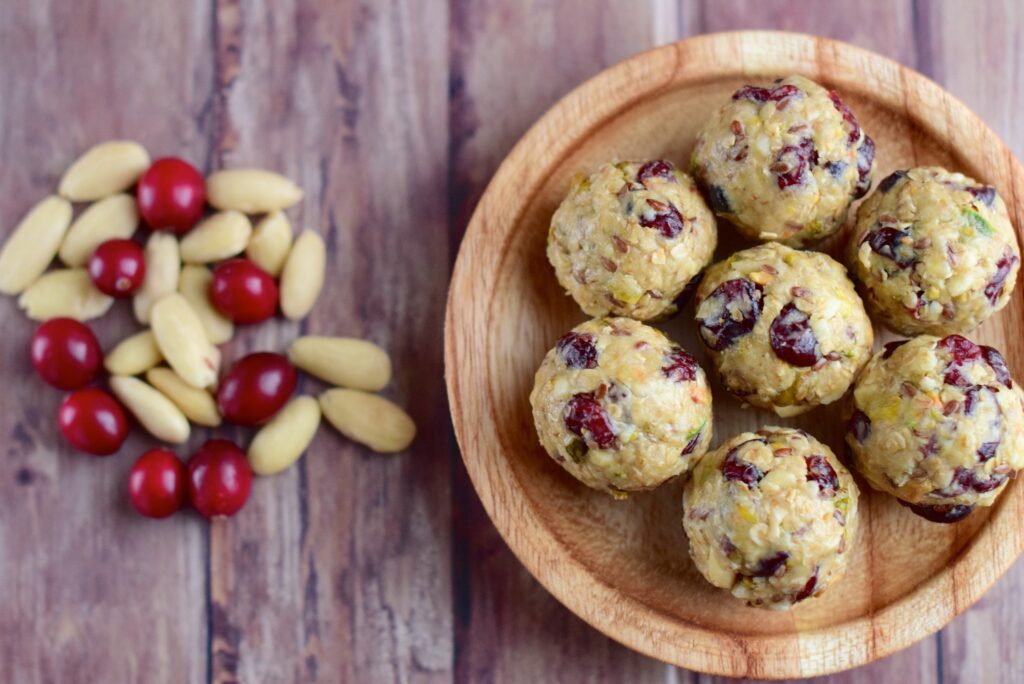 Are you looking for a guilt-free treat for your little one? Try out cranberry orange energy balls that are healthy, mouth-watering, and bursting with flavors. Your kids can have them whenever they want to boost their energy, as they have all the good ingredients required for your child's growth.
Start making this dish by placing the chopped craisins and dates into a food process and processing until crumbly. Add protein powder, orange zest, almonds, and combine everything well.
Pour in melted coconut oil until the mixture forms a sticky ball. Form small balls and roll them in vanilla protein powder. Enjoy the energy balls with your family, chilled or at room temperature.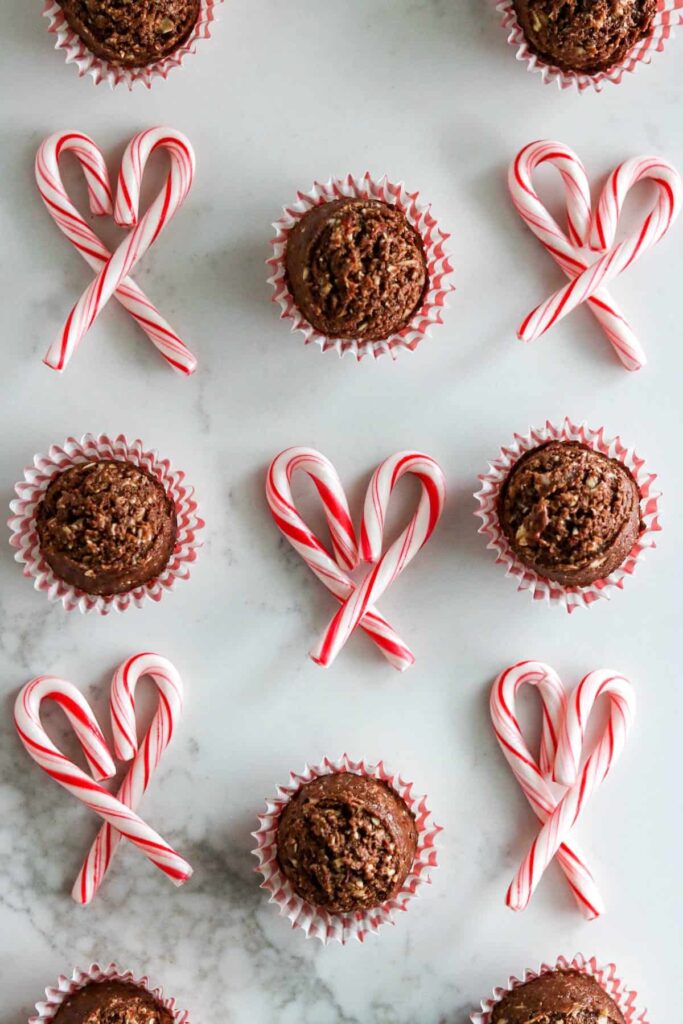 Surprise your kids with the candy cane cocoa power balls that are not only tasty but also packed with wonderful ingredients. This recipe is inspired by the traditional Christmas candy that both kids and adults like to enjoy.
You need old-fashioned oats, cashew butter, melted coconut oil, raw honey, cocoa powder, chocolate protein, finely crushed sugar-free candy canes, sea salt, and peppermint extract. Mix all the dry ingredients in a mixing bowl.
Once you have mixed everything, add the wet ingredients and give a good mix. Once the mixture turns into dough, form balls using a cookie scoop or your hands. Set balls on a parchment-lined cookie sheet and refrigerate for an hour.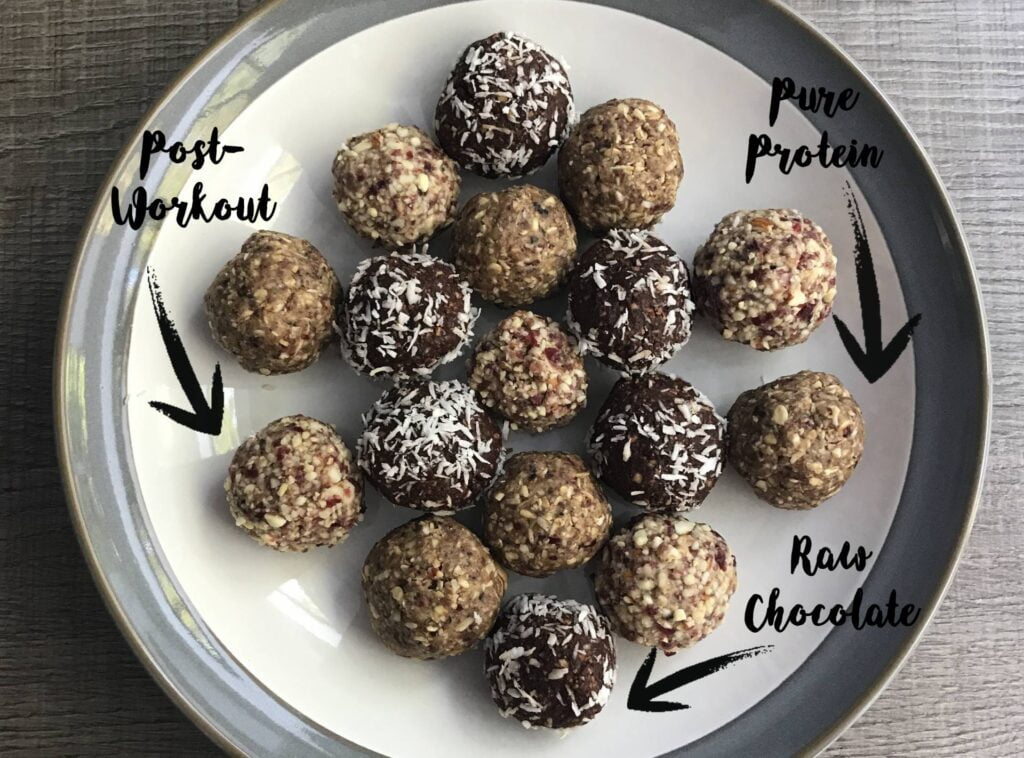 Snack time can be challenging for mothers as the kids mostly refuse to eat healthy items and want to enjoy junk all the time. But with the raw superfood balls, you can curb your kid's junk food cravings as they are insanely delicious and super healthy.
You can even customize them as per your kid's taste palette. Place hemp seeds, oats, pumpkin seeds, pecans, and cacao nibs in a large mixing bowl. Fill a small bowl with warm water and place goji berries until it softens.
Place vanilla extract, dates, water, and salt in your food processor and give them a good mix until partially chunky. Add the rest of the ingredients to the food processor and mix everything until you get a dough-like consistency. Make rolls or bars and sprinkle shredded coconut on them.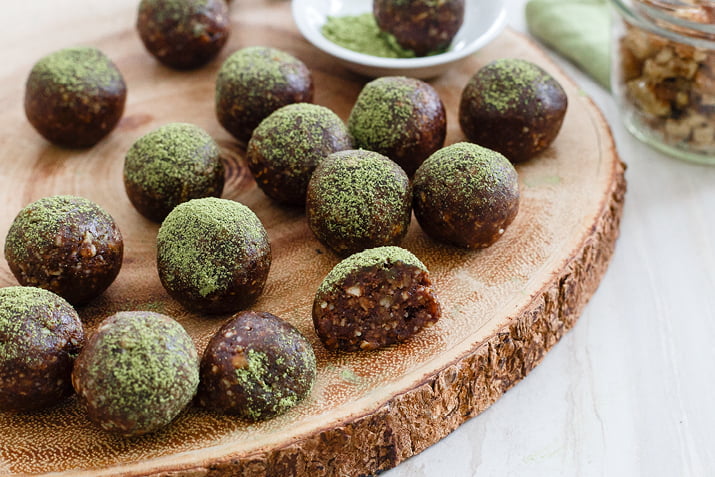 If your kids swoon over creamy matcha lattes, then they are going to like chocolate matcha energy balls. Matcha is a superfood that makes a wonderful addition to desserts, and especially when combined with chocolate, your kids are bound to crave this dish repeatedly.
For this snack, you must place dates, matcha, cocoa, and almonds in your food processor. Blend them until they combine and form a thick consistency.
Add maple syrup and vanilla extract and blend them again. Roll the mixture into small balls and enjoy them as it is, or store them in your refrigerator.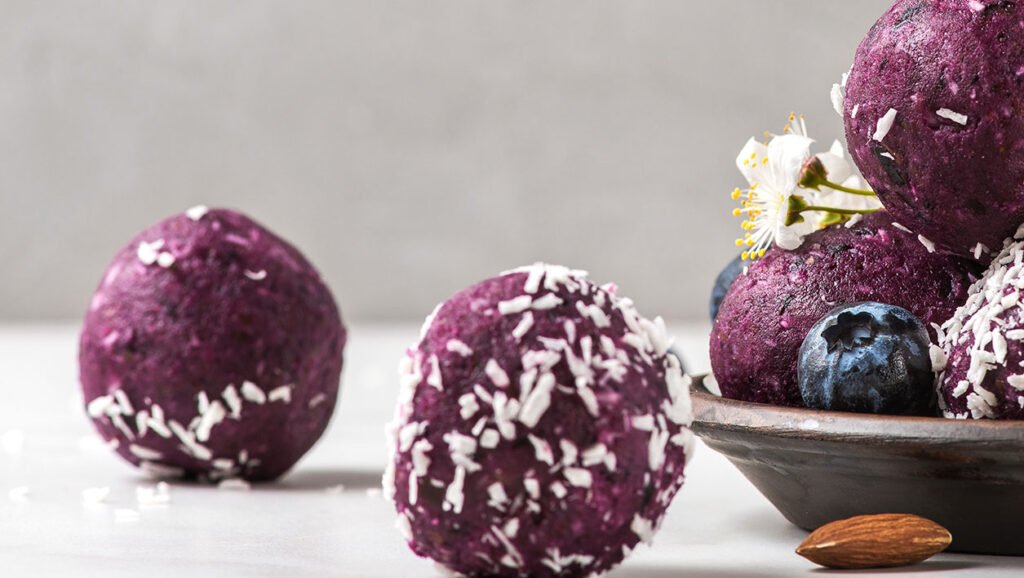 Are you searching for a healthy yet tasty blueberry recipe for your kid? Try out the blueberry energy balls that do not have any added sweetener yet provide a nice dose of energy. Add them to your kids' lunchboxes or carry them for an enjoyable after-sports snack.
To prepare it, mix maple syrup, almond butter, chia seeds, and ground flax seeds. Vanilla extract, lemon juice, and almond flour in a mixing bowl until you get a soft, sticky dough.
Now put in the dried berries and mix everything again lightly. If your kid likes the chocolaty flavor, you can also add cocoa nibs. Scoop the dough from the bowl and roll it into small balls.  
19. Vanilla Peanut Butter Bliss Balls (Read this Tutorial)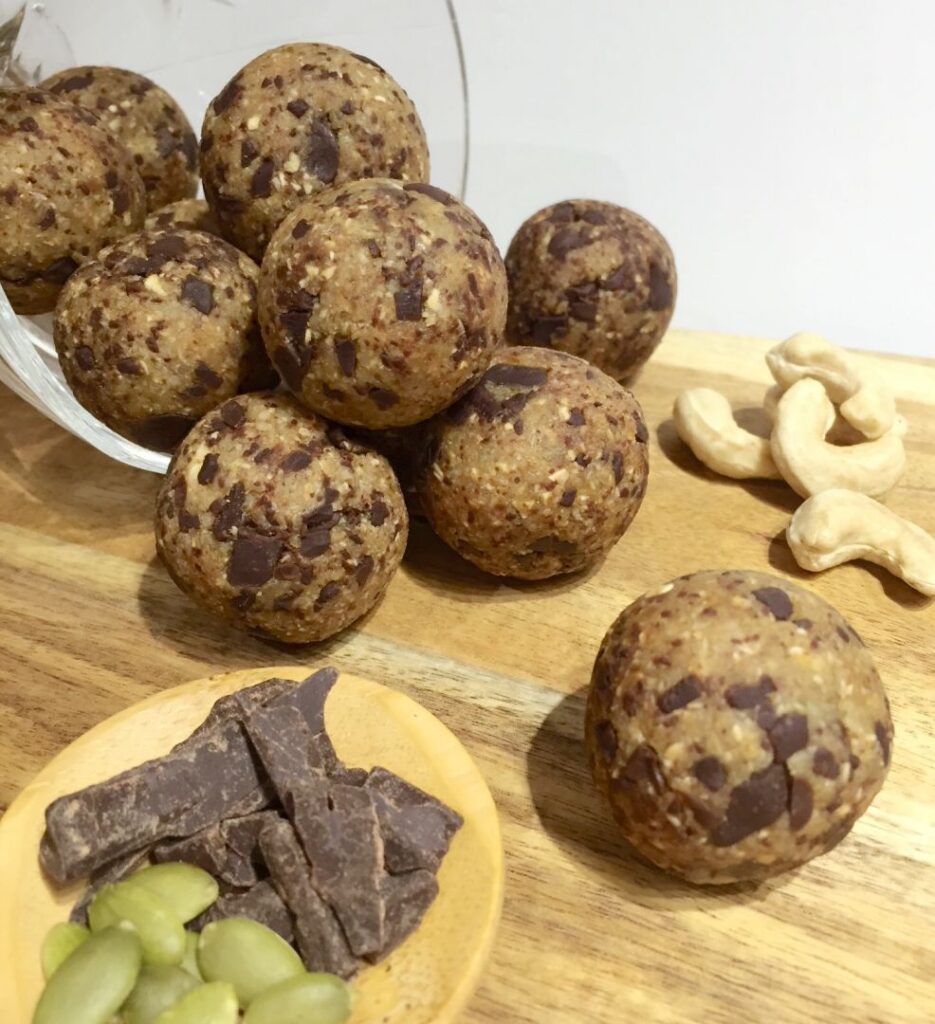 If you give peanut butter to your kid only in spread and shakes, then it's time to try something new with the vanilla peanut butter bliss balls. This go-to snack has a chewy and soft consistency and contains nutrients, fiber, and protein.
You can give them to your kid as a healthy dessert or consider them a go-to snacking option between meals. The ingredients you'll require to make these energy balls include honey, hazelnut meal, protein powder, nuts, and nut butter. Pulse cashews in your food processor until they become coarse.
Add the remaining ingredients and combine them until they form a dough. Scoop out the mixture and use your hands to make small bowls. Lay them on a baking pan and freeze them for an hour. 
20. Puffed Quinoa Date Energy Balls (Read this Tutorial)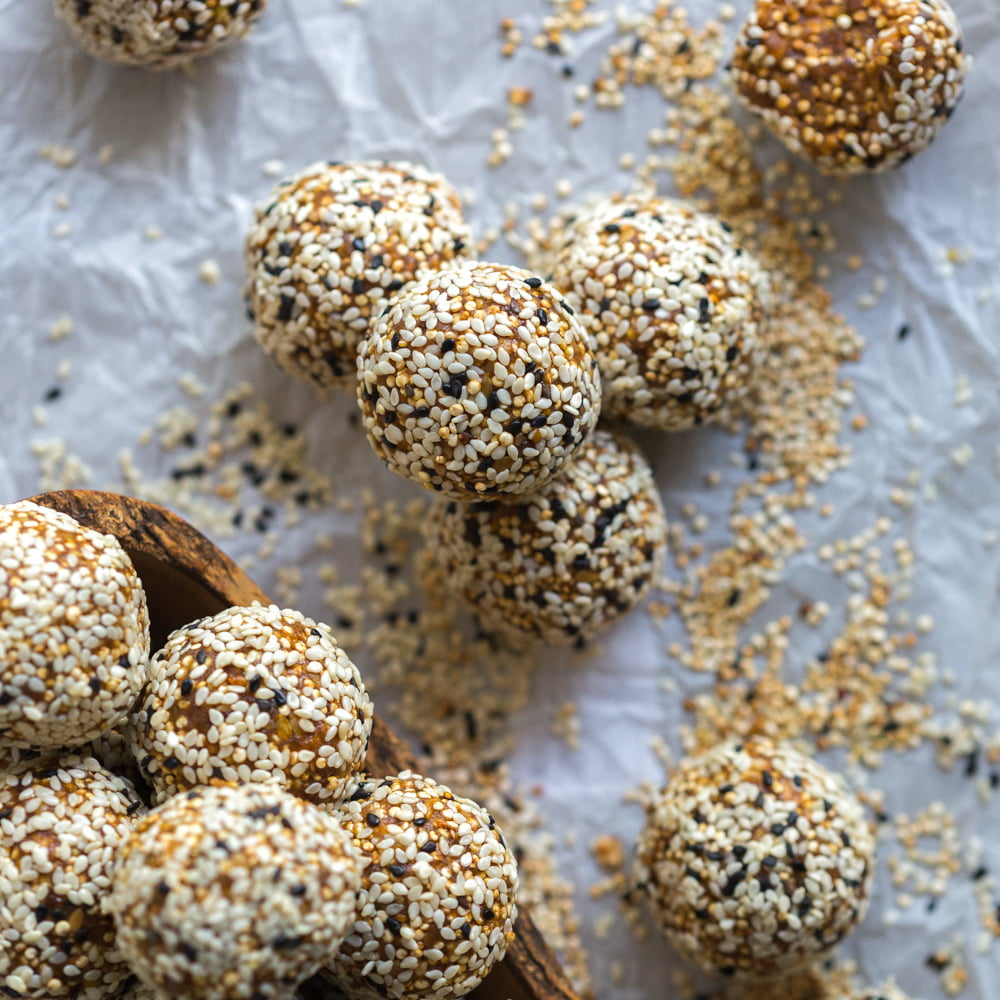 This crunchy quinoa snack will give your kids an instant energy boost and keep their tummy full for a long time. Combining quinoa and date packs a punch of protein and other healthy nutrients. These energy balls do not require any baking and are very easy to make with the ingredients available in your kitchen pantry.
Combine chocolate, dates, and oats in your food processor and blend them until they form coarse crumbs. Stir in puffed quinoa in a mixing bowl and transfer the crumbled mixture.
Combine honey and almond butter in a saucepan until the mixture combines well. Pour into the mixing bowl and mix everything. Once the mixture cools down, make small balls and chill in the fridge for an hour. 
21. Peanut Butter Banana Energy Balls (Read this Tutorial)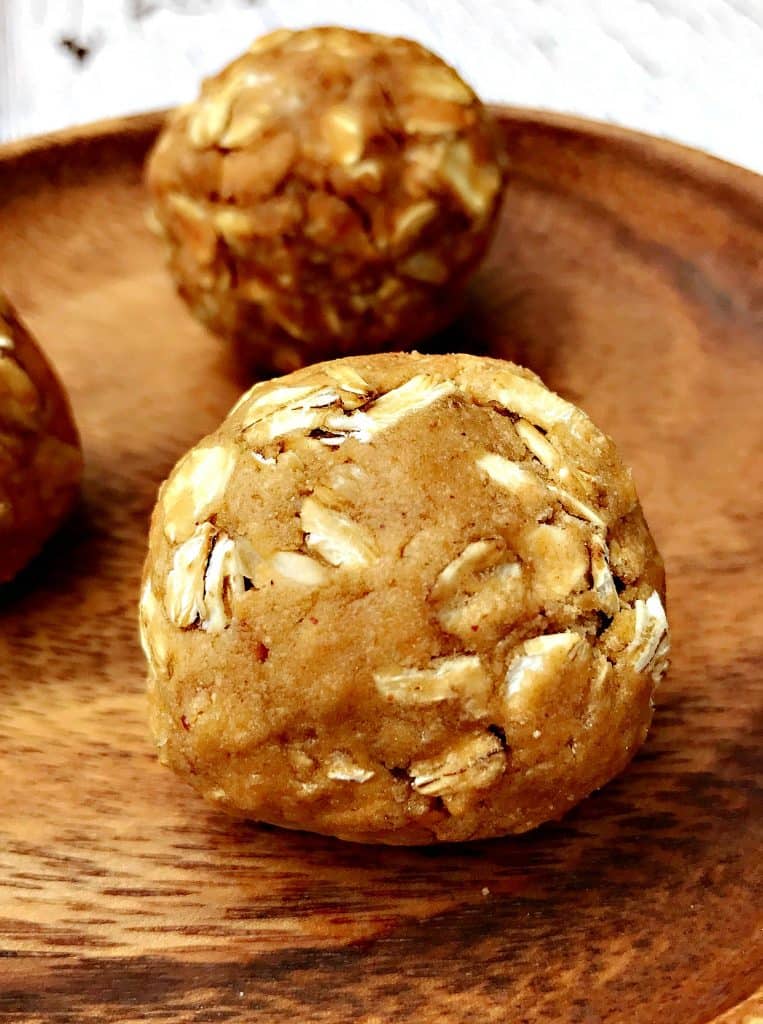 Peanut butter banana energy balls are a wholesome snack that your kids will like to have at any time of the day. This is an easy way to incorporate fruits into your kid's meal, and we bet even the pickiest eaters will eat them without throwing tantrums.
They are packed with creamy peanut butter, roasted oats, a sprinkling of chocolate, and ripe bananas. Combine the chia seeds, chocolate chips, and oats, and in another bowl, add the peanut butter and honey. Melt the peanut butter slightly and add mashed bananas and vanilla extract.
Mix peanut butter and oat mixture and chill the bowl in the refrigerator for half an hour. Form small balls and serve them chilled to your kids.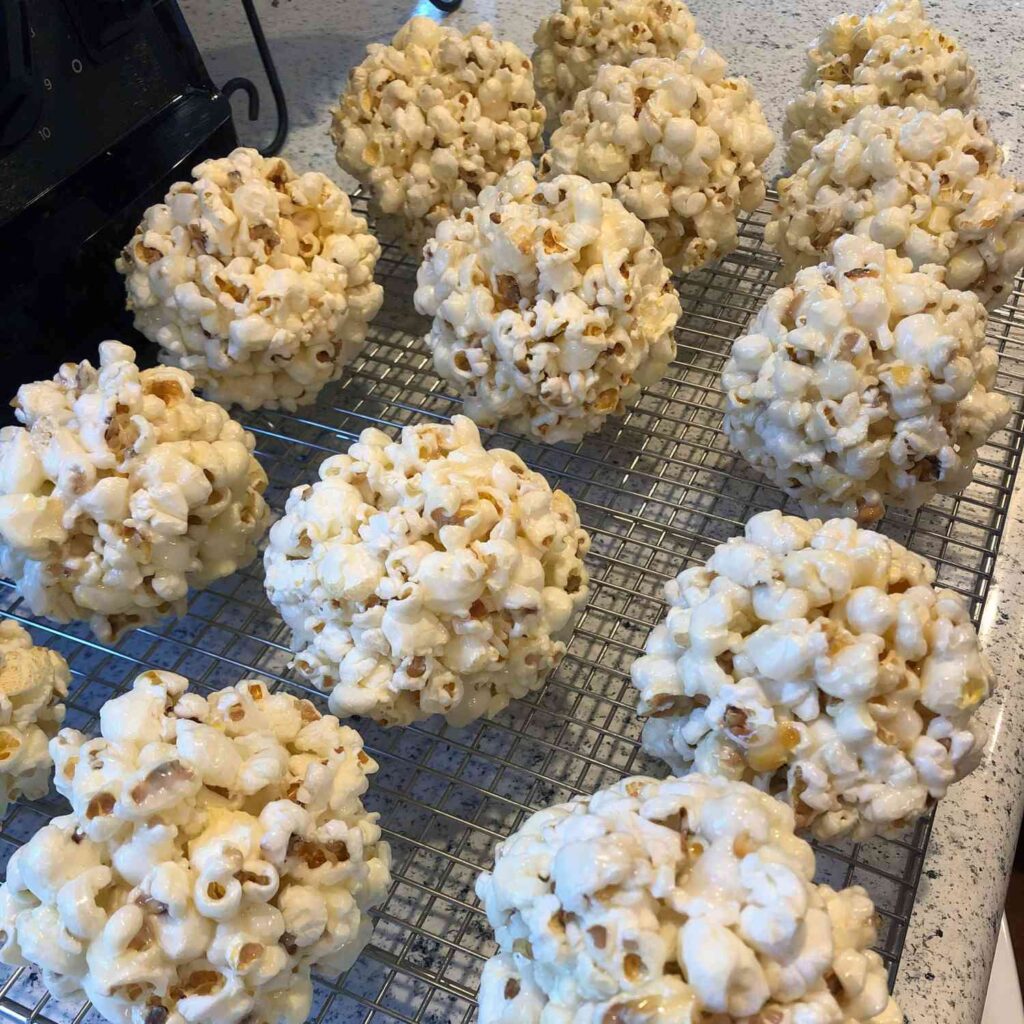 From peanut butter popcorn to ranch-style ones, popcorn is an all-time favorite snack of the kids. But you can give this snack a new twist by making popcorn energy balls loaded with tons of nutrition and health benefits.
To make this snack, line a parchment paper on a baking tray and pulse apricots in your blender. Add maple syrup, almond butter, coconut oil, ground flaxseed, almond milk salt, and vanilla, and pulse until you get a paste. Add popcorn and pulse a bit.
Transfer the mixture to a bowl and evenly mix with the help of a spoon. Scoop the mixture onto the baking sheet and shape it into balls. You can also roll in the popcorn bits and coat them evenly to enhance the crunch. Keep it in the freezer to store it for a long time.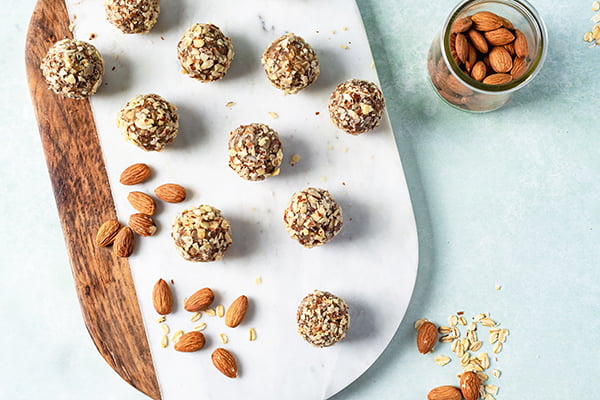 Skip the boxed chocolates and cookies and make this incredibly delicious homemade version of the vanilla almond energy bars. They do not contain any added sugar and are the perfect dessert to satiate your little one's mid-day cravings.
Let's start preparing this delicious recipe! Soak dates in hot water and, after a few minutes, transfer them to a food processor and blend until semi-smooth. Add this mixture and the other ingredients like vanilla extract, crushed almonds, almond butter, and rolled oats in a bowl.
Roll this mixture into small balls and place it in the refrigerator to let it set. Your kid can have them as a replacement for the store-bought energy bars. 
Chia seeds are high in omega-3 fatty acids, protein, and fiber, but kids do not like to eat them because of their intense flavor. If you want your kids to get the goodness of chia seeds, then offer them chia seed energy balls.
These little balls of goodness are tasty and healthy and will keep your kids fueled until the next meal. To make this snack, you'll have to combine chia seeds, vanilla, rolled oats, peanut butter, and honey in a mixing bowl. Refrigerate for half an hour so that the dough becomes firm.
Shape them into balls and decorate them with sprinkles to make them attractive. Once your kids have it, they will not look for other snacks to satiate their cravings. 
Made with dried cranberries and crunchy nuts, trail mix energy balls will help your kids get the most out of the superfoods. When you have these energy balls in the fridge, it will become easy for your kids to resist less wholesome temptations.
They will leave your little ones energized and light rather than grumpy and bloated. Place unsweetened peanut butter, trail mix, maple syrup, ground flaxseeds, and oats in a food processor.
Roll into small balls and keep them in the freezer for an hour. To add in some extra omega-3 and fiber, you can incorporate ground flaxseed in this dish.
Conclusion 
Kids love to nibble on store-bought snacks and desserts full of unhealthy items and artificial sugar. They can adversely affect your kid's health in the long term. So give them homemade energy balls that are power-packed with healthy ingredients and are very delicious.
From vanilla almond to cranberry orange and strawberry cinnamon, you can make different variations of the energy balls. Your kids can munch on them anytime they need energy or are hungry.
You can check out the energy ball recipes above to make your kid's snack time more delicious and healthy. All these recipes are easy to make, full of vital nutrients, and will keep your little ones' tummy full for a long time. 
Frequently Asked Questions
Why Should You Give Homemade Energy Balls to Your Kids? 
Homemade energy balls are easy to make and packed with all the vital nutrients required for your kid's growth and development. You can customize the flavors and ingredients to your kid's liking. They also do not contain artificial sugar and other unhealthy ingredients, unlike store-bought snacks and desserts. 
Can You Customize the Homemade Energy Balls?
Yes, you can customize the homemade energy balls and add the ingredients that your kids like. If your kid doesn't like any particular ingredient, you can also avoid adding it to the dish. You can make the energy balls more nutritious by adding nuts, seeds, and other healthy ingredients.