Top 20 Movement Songs for Preschoolers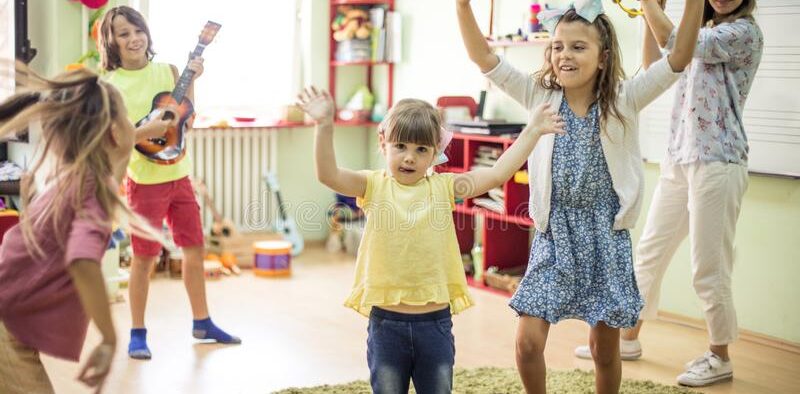 Singing and dancing is an excellent way to get your kid moving. We are not saying your kid is lazy, but we are saying this for a very different reason. Practicing dancing and singing on a regular basis has loads of benefits for the young ones. For one, they give the growing kids a much-needed break from learning and concentrating.
Second, they make the kids feel happier because movement in a rhythmic manner is known to release endorphins- the happy hormones. So whenever you see your young kid brooding or losing interest after long hours of study, just get them to dance. Also, kids tend to easily put on weight as they eat a lot and don't exercise.
Now, to get the preschool kids and toddlers moving can be quite a task. For that, you need something very appealing and interesting. That's why we bring you movement songs for preschool kids and toddlers.
Amazing Movement Songs for Preschool Kids
Here is the complete list of movement songs for preschoolers that promise loads of fun break time together.
1. Wheels on the Bus
Let your little one imitate the motions of the bus in this fun movement song. Wheels on the Bus has a catchy tune with actions that young ones will thoroughly enjoy doing.
2. Freeze Dance
This unique movement song for preschool kids is great for parties and celebrations. Gather all the toddlers, play Freeze Dance, and let the kids have loads of fun dancing and freezing in turn with the tune.
3. Hello, Hello!
This cute song is great to sing along with. It helps the young ones be more open to interacting with their schoolmates. It is also a good start for kids to develop their communication skills.
4. Going on a Bear Hunt
An adventurous movement song for preschool kids that will surely make the toddlers move and sing along. It has a grooving beat and a good tune. The storyline hooks the young kids, satiating their curious minds and educating them about going on an adventure-filled trip.
5. Floor is Lava Song
This is a fun interactive game song that the kids will love. It makes the kids learn about following instructions and boosts their brain activity through the theme of dancing and jumping off the floor alternatively.
6. Baby Shark
The catchy tune will definitely make even the shiest of kids start tapping their feet and shaking their shoulders. This song talks about different sharks in the sea, which are different members of a family. It makes kids aware of different family members and their relationships with them.
7. If You're Happy and You Know It
This movement song for preschool kids is very cool. It makes the kids learn and do different movements and actions. It makes the kids aware of expressing their feelings through different emotions and actions.
8. Tooty Ta
This song is a combination of dance and exercise. It encourages kids to move each part of their body like stretching their hands, bending their legs, and moving their hips. With this movement song, your preschool kid will understand their capabilities and limitations when it comes to body movements.
9. Head, Shoulders, Knees, and Toes
This song helps the young ones identify their different body parts. Its tune is very nice and starts very slowly for the toddlers to understand the words and identity them with their body parts properly. Then it starts taking pace, allowing the toddlers to remember the names of their body parts easily.
10. Action Song
Let your kids learn different movements and actions through lively music. This movement song for preschool kids allows kids to dance and sing while making them learn about different actions.
11. Ring around the Rosie
This classic movement song for preschool kids will never get old. This song makes kids understand the importance of doing things together and enhances their sense of community. This song should be played during all kids' gatherings.
12. The Ants Go Marching
This song is great for counting. It's a simple song with a catchy tune which is highly enjoyable for kids. Though it's not a dance song, kids can sing along and tap their feet in tune with it.
13. Hokey Pokey
This is one of the best movement songs for preschool kids that wakes them up and energizes them. It involves a lot of bodily movement and also teaches the kids about different body parts, following directions, listening, and more.
14. Old McDonald
This nursery rhyme is a very feel-good movement song for preschoolers. It's about a farmer and his day-to-day activities in his farm. It introduces kids to farm life and various animals, complete with animal sounds.
15. Stomp and Clap
This song offers an excellent break time for kids with its energetic music and action-based dance moves. This movement song can serve as a brain break or get-together activity or as an exercise routine for kids.
16. Shake and Move
This is a slow dance song that teaches young kids to identify their different body parts and move them in different ways. The soothing voice of Patty Shukla and the engaging song make it inviting for the kids, encouraging them to sing along with it and do the actions as instructed it.
17. Simon Says
This classic game is a hit among kids. Making the game into a song is even more interesting and makes break time for preschoolers extra fun. It's a great way to learn, have some fun, and enjoy a good get-together with fellows.
18. We are the Dinosaurs
Let the little ones act like dinosaurs in this fun dance song for preschoolers. This song is quite different from other movement songs for preschool kids as it has a unique theme, more variations in tune, and creative dance moves. This can be played during celebrations or to re-energize the young ones before restarting school work.
19. Play with Me
This movement song for preschool kids lets young ones do various actions with their hands and legs and also teaches them how to follow instructions. It has a slow pace and gives kids enough chance to pick up the lyrics and dance moves.
20. Rock-A-Bye Your Bear
This movement song for preschool kids is great for partner dancing and singing. It teaches kids about collaboration and partner work which will benefit them when they are working together on their school projects.
Benefits of Dancing to Movement Songs for Preschool Kids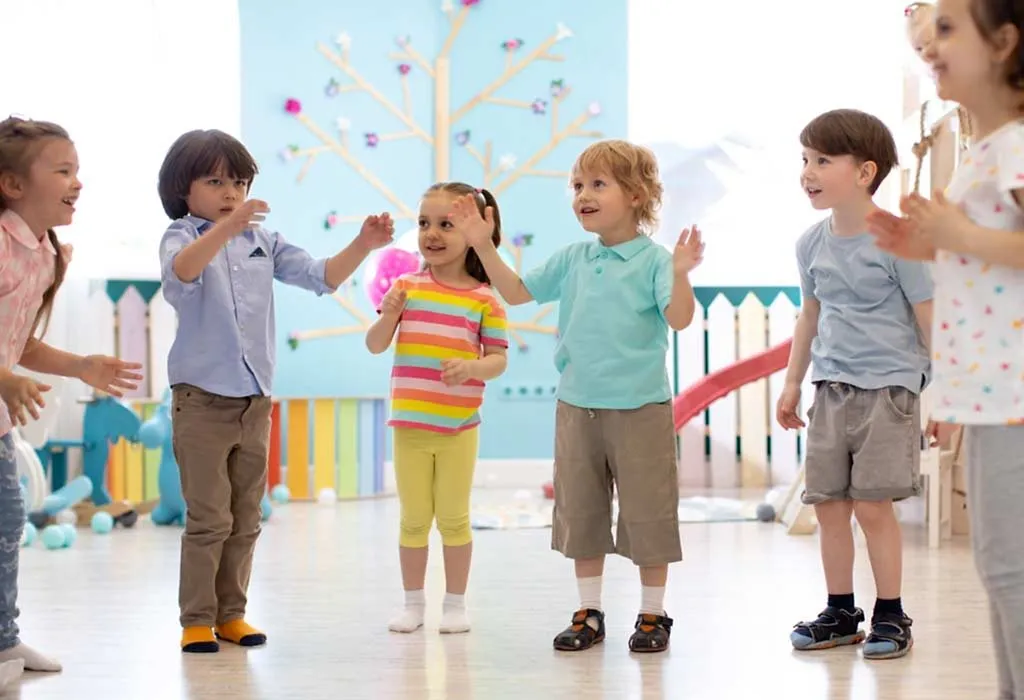 There are loads of benefits of movement songs for preschool kids. We talk about some of these benefits below.
Better physical skills: Young kids are still trying to find their balance and do all the everyday things. Movement songs for preschool kids help them enhance their physical or gross motor skills through different movements in different parts of the body. For example, moving shoulders, and head, jumping, going back and forth, etc.
Improved memory: Movement songs for preschool kids aim to improve the brain function of toddlers. Any kind of music awakens all parts of the brain and sharpens all the functions associated with memory. Regular use of movement songs will improve the kid's concentration and learning power.
Increased Attention span: Short attention span is plaguing our young ones because of technology and lack of enough tools to help one stay focussed on one thing for a long time. Listening to movement songs for preschool kids helps them improve the timing of their attention span as the songs are engaging and require them to dance and experience them at the same time.
Increased Learning Power: The repetitive words and rhythm in movement songs help kids learn new words quite easily. They can pick up different sounds associated with different words better, too, when played in songs as opposed to just saying them.
Creative expression: Movement songs for preschool kids encourage kids to imagine and create their own versions of the songs. This creative expression of songs through singing and dancing liberates a child's mind to think in multiple ways and express themselves fully.
Final Say
It is scientifically proven that kids who indulge in movement songs at regular intervals for some time daily are known to have more flexibility, better social skills, and developed language skills. These songs are designed to expand the creative abilities of a child at a young age and make them more open to imagination.
These movement songs for preschool kids have been selected on the basis of their actions, lyrics, tunes, beats, etc. But most importantly, the lesson they want to impart to the kids.
Many of these movement songs are about teaching kids how to follow instructions, count their numbers, learn new words, and emote their feelings of joy, etc.
We hope your kid will love singing and dancing to these movement songs and have a fruitful time away from studies yet learn things that will be useful in shaping their mental and physical well-being.