Top 10 Full Fat Yogurt with Health Benefits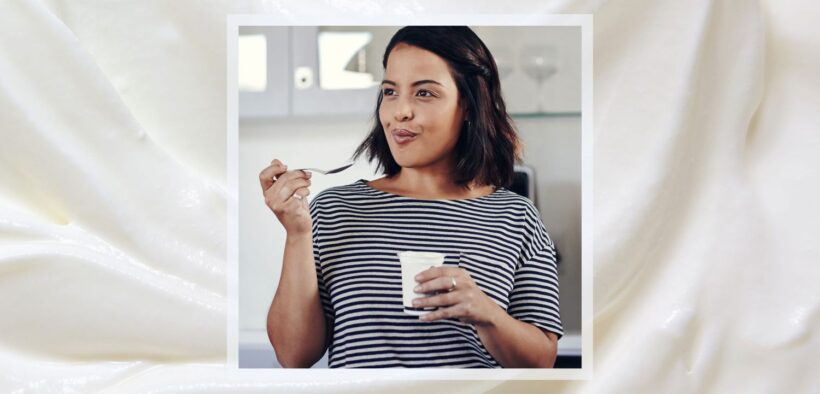 Do you like yogurt? If yes, plain yogurt or flavored yogurt? We have a variety of yogurt available in the market, full-fat or low-fat yogurt. Full Fat Yogurt is packed with proteins, calcium, and probiotics and is considered one of the best foods for weight loss and general health.
Eating full-fat doesn't make you fat. Whole-milk yogurt is protein-packed and has less sugar than its leaner versions. The best yogurts have a sugar-to-protein ratio of about 1:1. Full-fat yogurts are higher in protein and lower in sugar.
Full-fat Greek yogurts have double the protein amount and half the sugar content.
List of Best Full-Fat Yogurts
1. Fage Total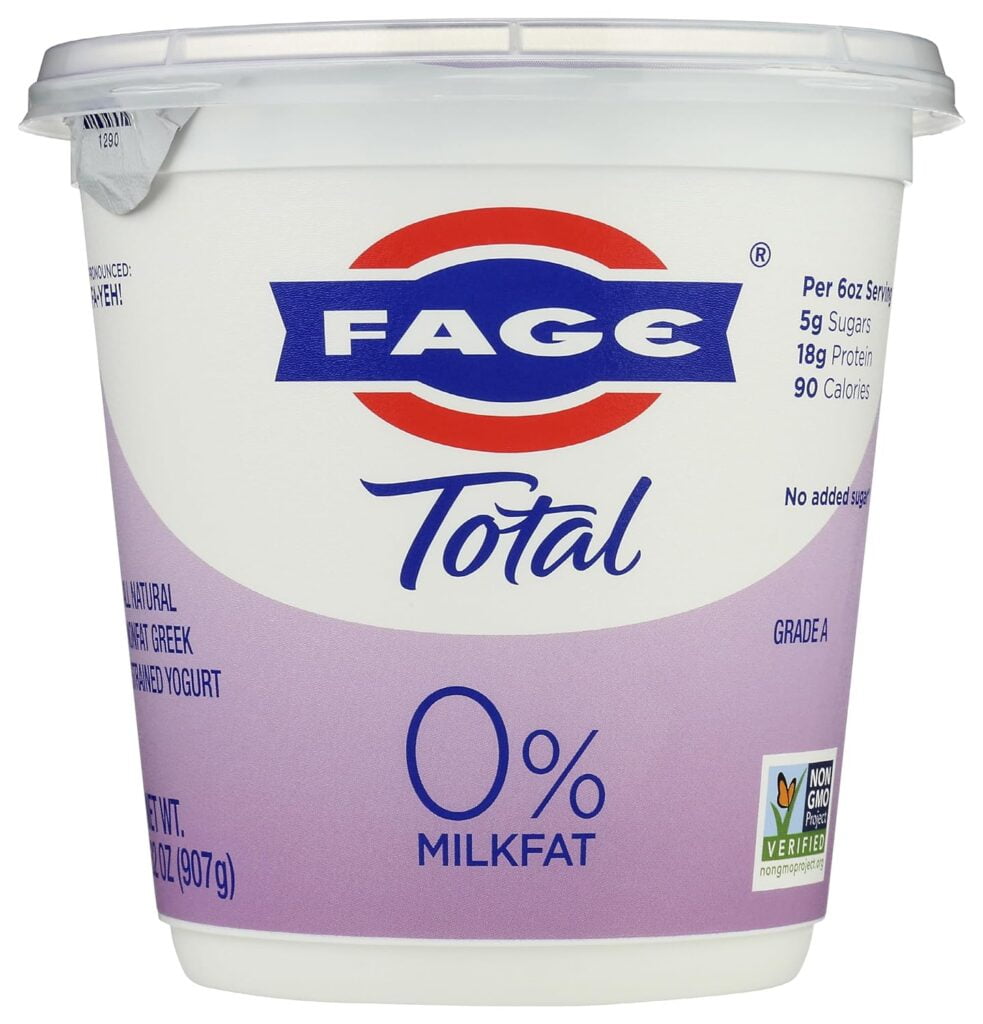 In the Fage Total, per 7 oz container, there are 190 calories. The 7 oz yogurt container contains 10 g fat, 7 g sat fat, 8 g sugar, and 18 g protein. It is packed with proteins without sugar. The plain version of the Fage Total is perfect for blending with fat-blasting fruits.
2. Maple Hill Creamery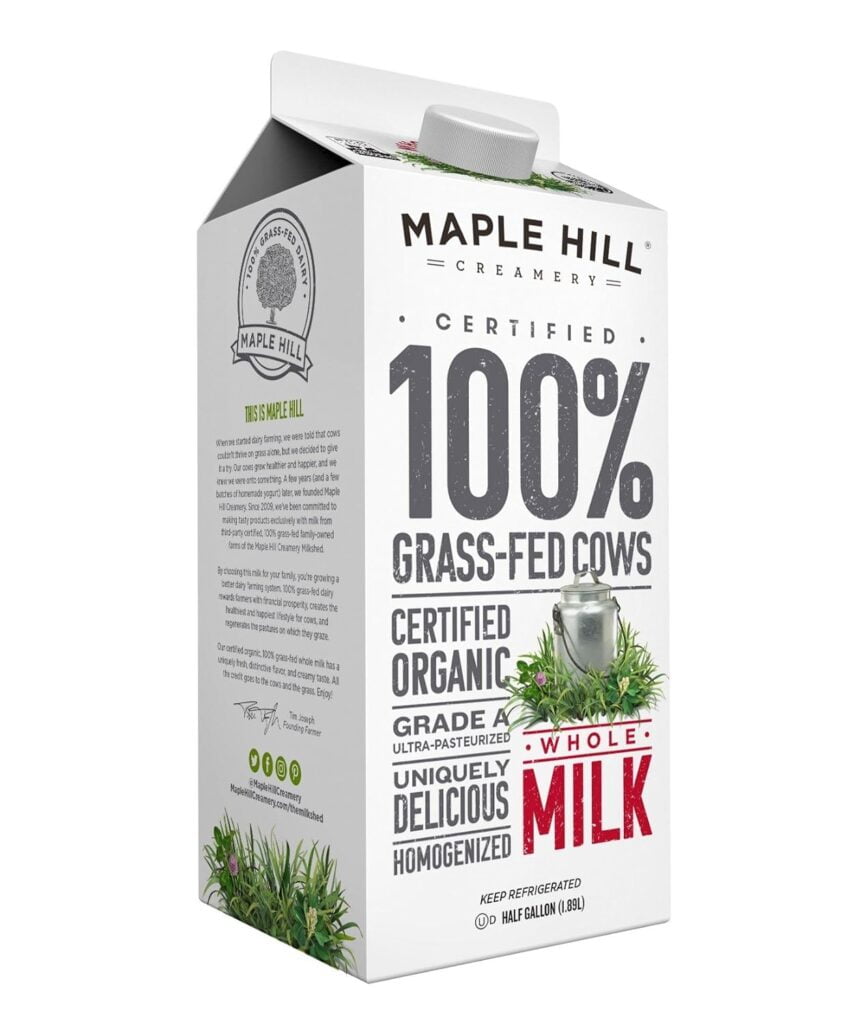 Maple Hill Creamery contains healthy fats. The 6 oz container of Maple Hill Creamery contains 8 g fat, 5 g sat fat, 8 g sugar, and 6 g proteins. Maple Hill makes full-fat yogurts with only organic milk from grass-fed cows. It contains more fat-fighting omega-3s and less inflammation-promoting omega-6s.
3. Siggi's Mixed Berries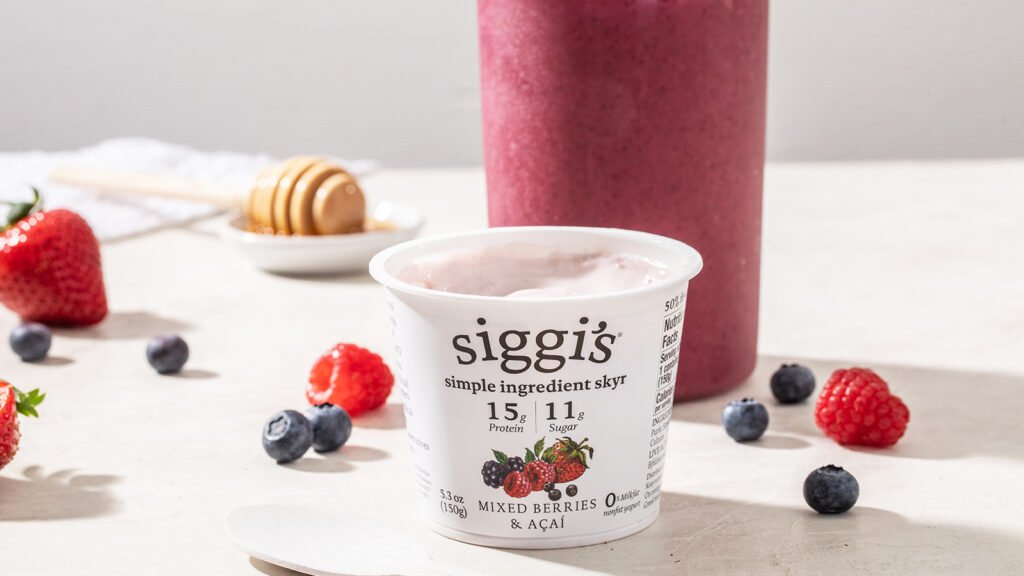 Siggi's Mixed berries yogurt with 4% whole-milk Skyr is a fruit yogurt with a low-sugar twist. The 125 g container of this yogurt contains 120 calories with 5 g fat, 3 g saturated fat, 8 g sugar, and 10 g proteins. It is the traditional yogurt of Iceland made by incubating milk with live active cultures. Then, it is skimmed away by the watery whey that floats to the top. This leaves the yogurt creamier than other varieties.
4. Stonyfield Organic Greek Whole Milk Yogurt-Plain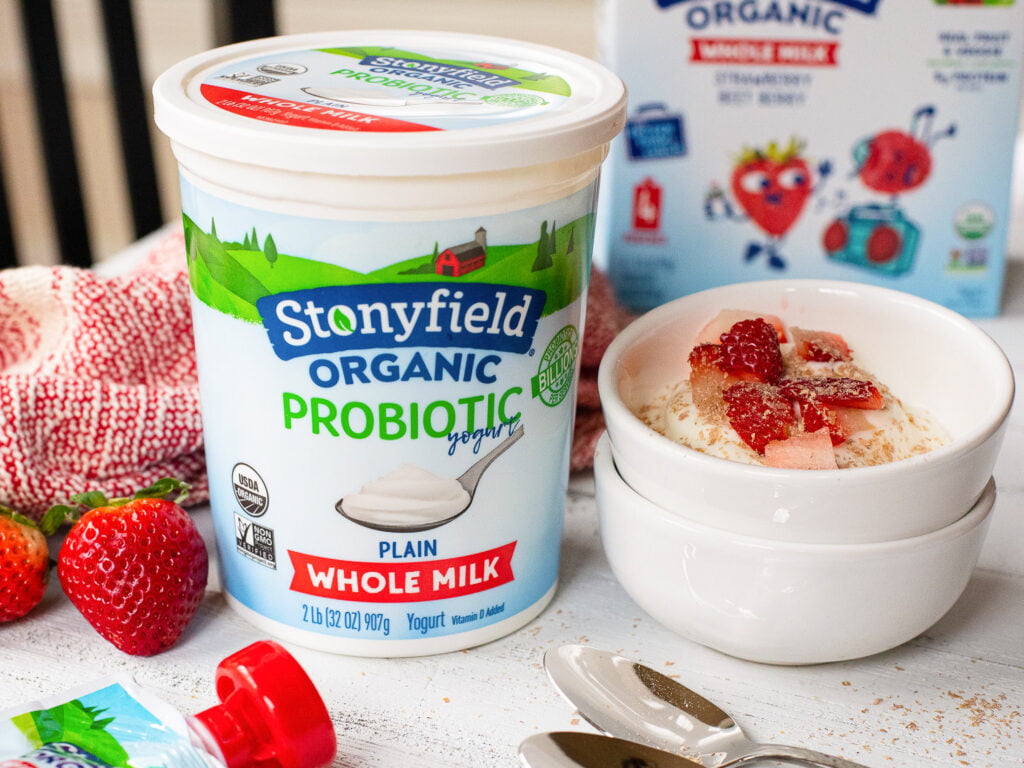 The Stonyfield Organic Greek Yogurt of 30 oz quantity contains 150 calories. The nutrition in this serving contains 16 g proteins, 7 g carbs, 0 g fiber, 5 g sugars (0 g added sugar), 6 g fat (3.5 g sat fat), and 65 mg sodium. This full-fat yogurtstands out among consumers with a creamy yet light texture.
5. Lifeway Whole Milk Kefir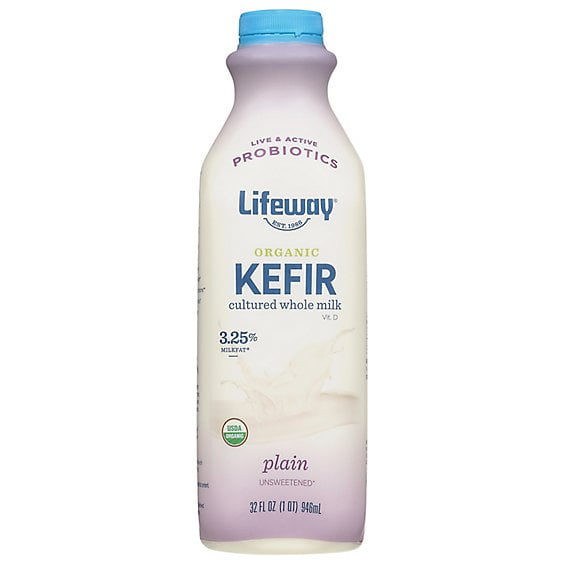 One cup of Lifeway Whole Milk Kefir contains 190 calories. This yogurt creates 8 g fat, 5 g saturated fat, 20 g sugar, and 10 g proteins. It makes the probiotics convenient. It is organic and GMO-free, a drinkable yogurt that delivers 12 probiotic cultures.
6. Stonyfield Yogurt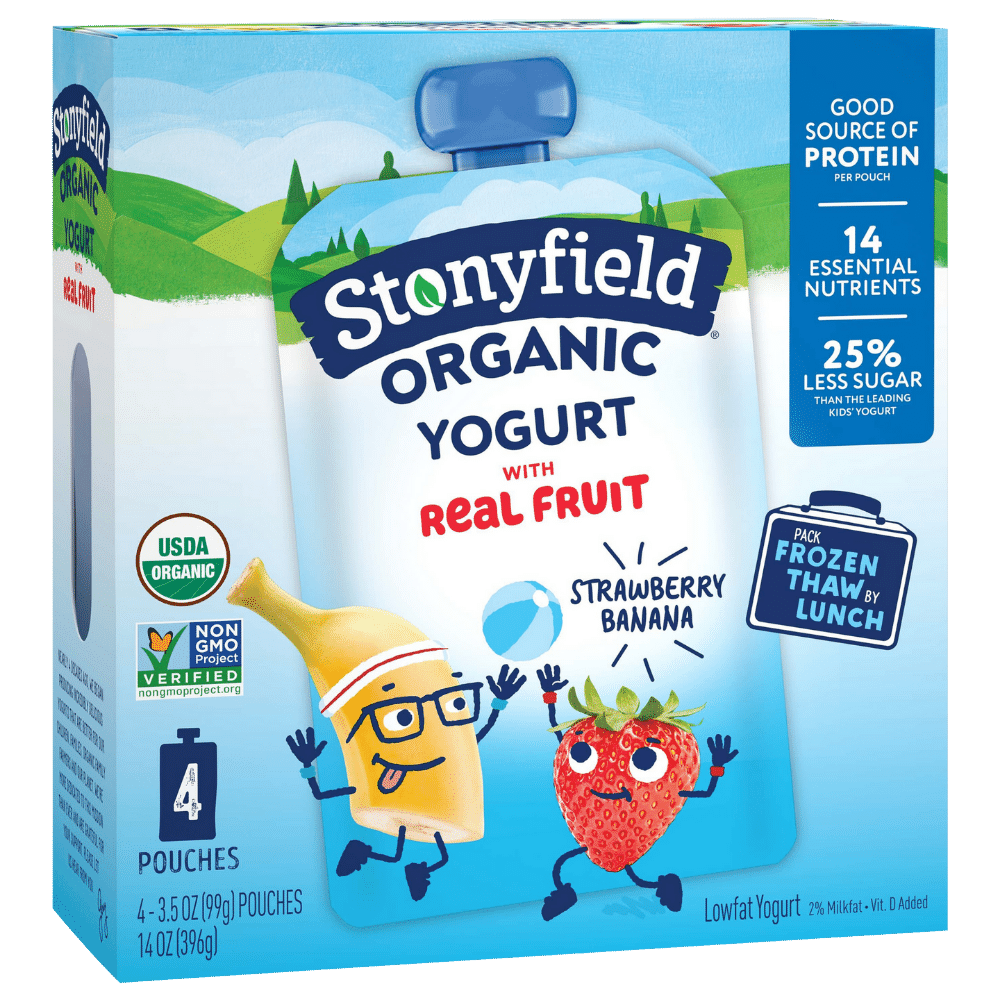 Finding difficulty making your kids eat yogurt? Stonyfield Yogurt is known to satisfy kids without sugar. YoTot pear spinach mango squeezable packs have a healthier sugar-to-protein ratio of 2.5-to-1. This yogurt gives 110 calories to your kids with 3-5 g fat, 2 g saturated fat, 12 g sugar, and 5 g fat.
7. Awafi Full Fat Yogurt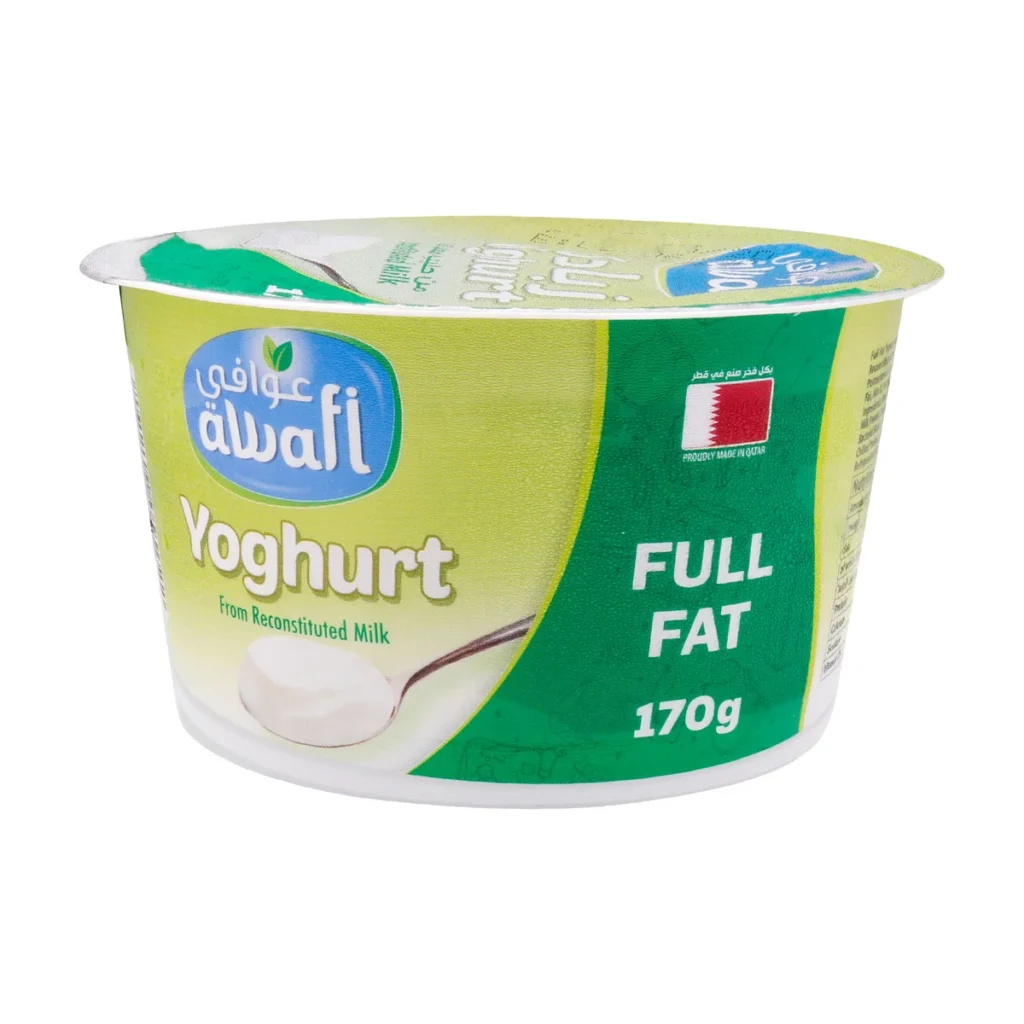 This full-fat yogurt comprises reconstituted Cow's Milk Powder that is pasteurized and homogenized. It has a minimum of 3% fat. The ingredients of this full-fat yogurt are purified water, reconstituted Cow's milk powder, stabilizers, bacterial starter culture, and Vitamin D3. Once opened, it needs to be refrigerated from 2*C to 5*C.
8. Dannon Plain Yogurt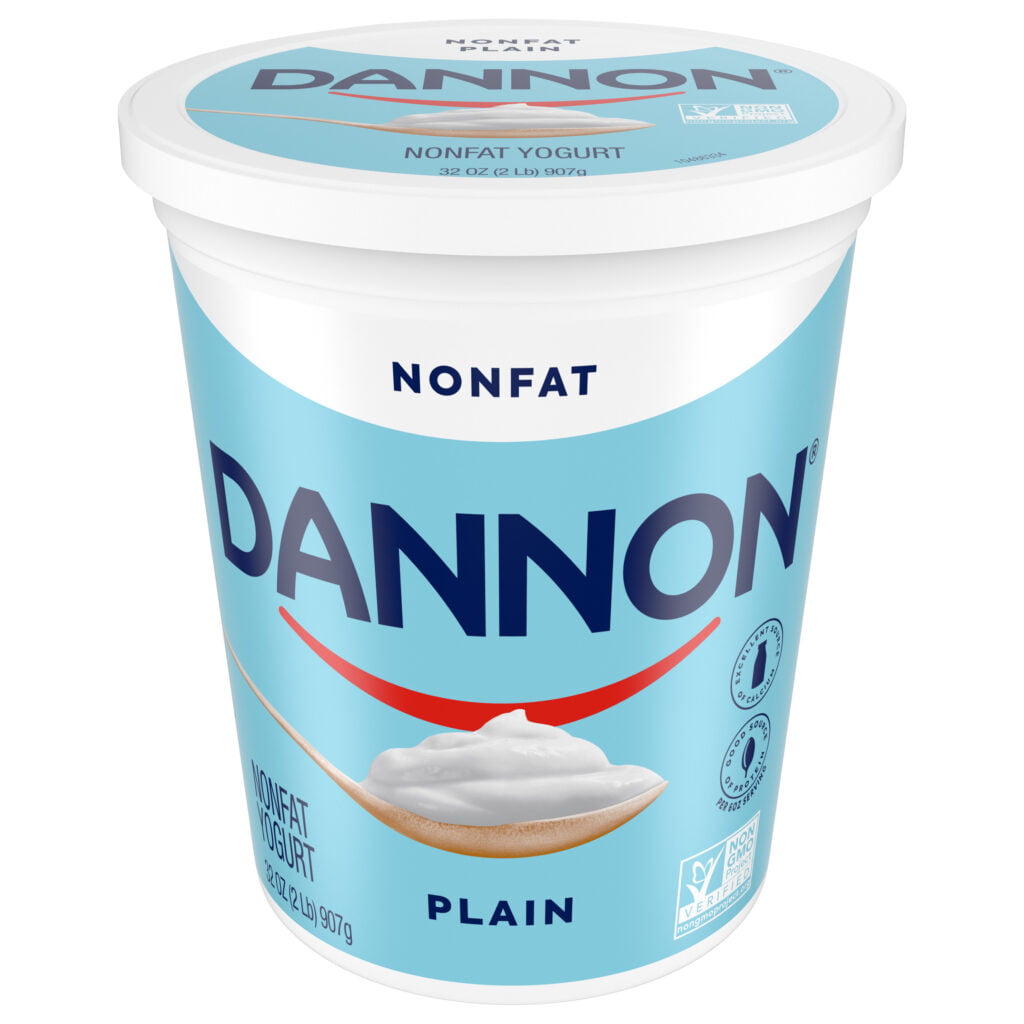 This is a whole milk yogurt with many benefits. This is an excellent source of calcium and is certified to be gluten-free. A 170 g serving of this yogurt contains 110 calories. It has 6 g of protein and 7 g of sugar. The total fat content in this yogurt is 6 g, with 4 g of saturated fat.
9. Great Value Whole Milk Plain Yogurt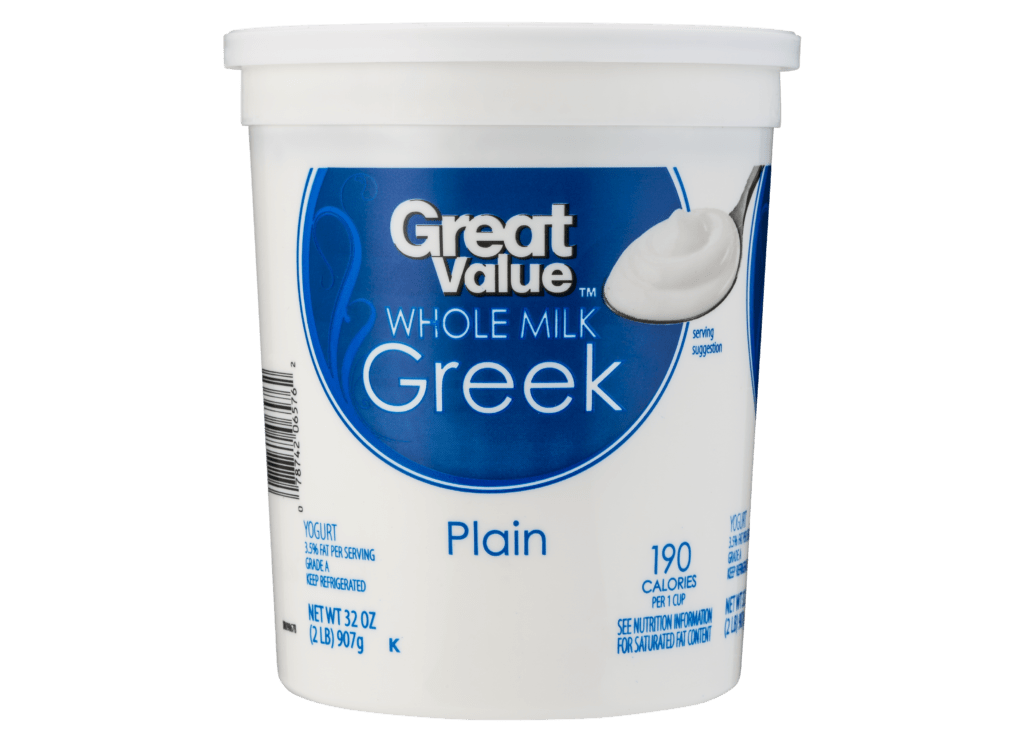 This whole milk plain yogurt contains cultured pasteurized Grade A milk. A normal serving size is 170 g, which contains a total of 140 calories. The total fat content in Great Value yogurt is 6 g, while 4 g is the saturated fat. It contains a total of 7 g carbohydrates and 16 g proteins. It is a great full-fat yogurt option widely available in Walmart or online.
10. Greek Plain Whole Milk Yogurt- Good & Gather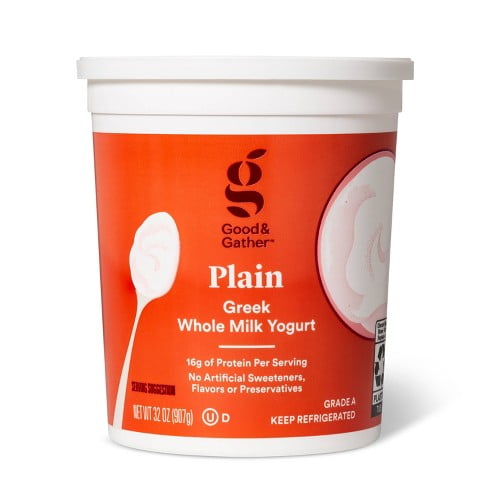 This whole milk yogurt contains cultured pasteurized Grade A Non-fat milk with cream. It comes in 32 oz quantity, which has 5 servings. Each serving contains 150 calories with 7 g of total fat. It has a high protein quantity of 16 g and has no preservatives, no artificial sweeteners, no artificial flavors, and no added rBST. The milk fat percentage is 4 percent with 5 g sugar content.
Benefits of Consuming Yogurt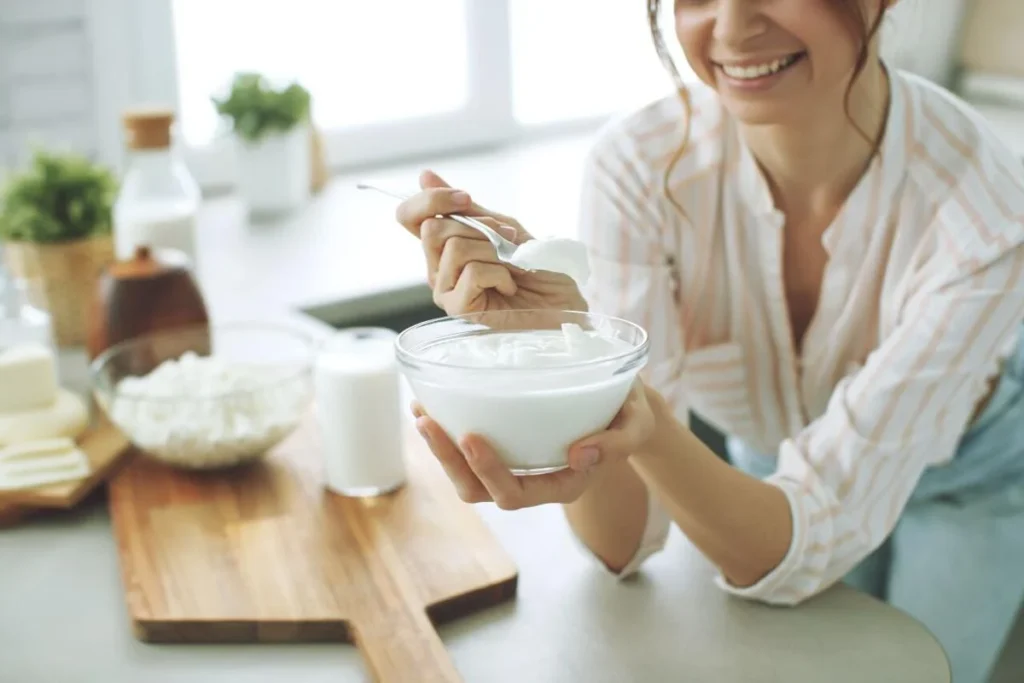 Plain Yogurt is packed with nutrition and protein. The six science-based benefits of yogurt are as follows:
Rich in important nutrients
High in protein
Benefits in digestive health
Strengthen the immune system
Benefit the health of the heart
Promote weight management
Advantages Full-Fat Plain Yogurt Has Over Low-Fat Yogurt
Plain yogurt not only tastes better but has enhanced nutritional value as compared to low-fat yogurt.
Full-fat yogurt tends to have less sugar
Full-fat plain yogurt is less likely to spike your blood sugar level
It curbs your appetite for longer
It tastes much better
How to Choose a Healthy Yogurt Brand?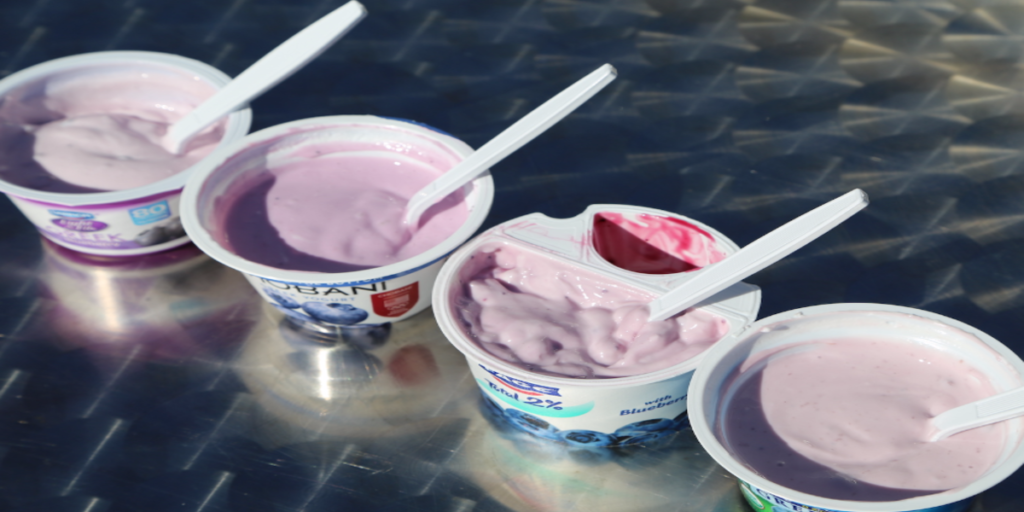 Yogurt is good for improving gut health and lowering blood pressure, but yogurt brands can vary widely in their health benefits. It is delicious and nutritious.
Eating 1 cup of yogurt helps you to get the right amount of calcium with other vital nutrients. Yogurt is known to reduce the risk of heart disease and also aid weight management.
To choose a healthy yogurt brand, focus on the following things.
Pay attention to ingredients
Cap the sugar intake
Look at the fat content
Pump up the protein
Along with these factors, some other things one can ensure while choosing the right yogurt for good health are as follows.
Choose plain and unsweetened varieties of yogurt as they have minimal ingredients, resulting in no added sugar. To add nutritional value, you can add nuts, seeds, and fruits of your choice.
The full-fat yogurt contains more calories but is nutrient-rich and satisfies hunger and taste. You can choose from low-fat or full-fat yogurt according to the requirement, whether you want more calories or fewer calories.
Look for active and live cultures in your yogurt to ensure you can fix health-promoting probiotics.
Final Words
Yogurt is rich in nutrients and may boost your health when consumed regularly. It also helps to reduce the risk of some diseases while benefiting digestive health and weight management. Full-fat yogurt is the top choice for maximum nutrient value.
Why do you eat yogurt? Is it for nutrient value or just for taste? Whatever the reason, yogurt is a healthy way to get nutrients in every serving. You must know about various full-fat yogurts to have all the health benefits. Do you have any more doubts about full-fat yogurts or their health benefits?
If you do, comment down. We will be very happy to help you with all the answers.