10 Amazing Board Games for 2 Year Olds to Level Up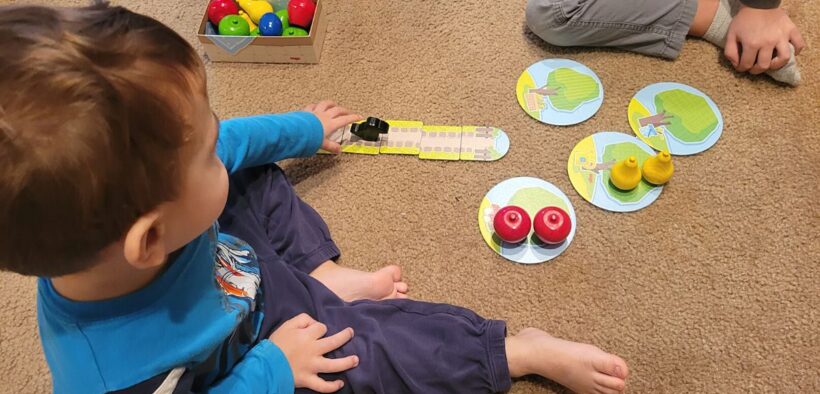 You are never too early to introduce your child to board games. According to a recent study, 91% of the families enjoyed a positive mood, while 96% felt more connected when playing board games. Board games for 2-year-olds are simply fantastic to learn and enjoy simultaneously.
Board games ensure a fun, engaging, and interesting way for kids to learn new things and interact with others. Such games ignite their imagination while helping them learn social skills within no time. Thus, finding the right board games for 2-year-olds is extremely crucial for better and faster learning.
Fortunately, there are a plethora of board games available for 2-year-olds that are instantly adaptable. Thus, no matter what your child likes and enjoys, there is certainly an engaging board game available! Here are some board games for 2-year-olds that they will surely love and enjoy!
Board Games for 2-Year-Olds to Learn and Play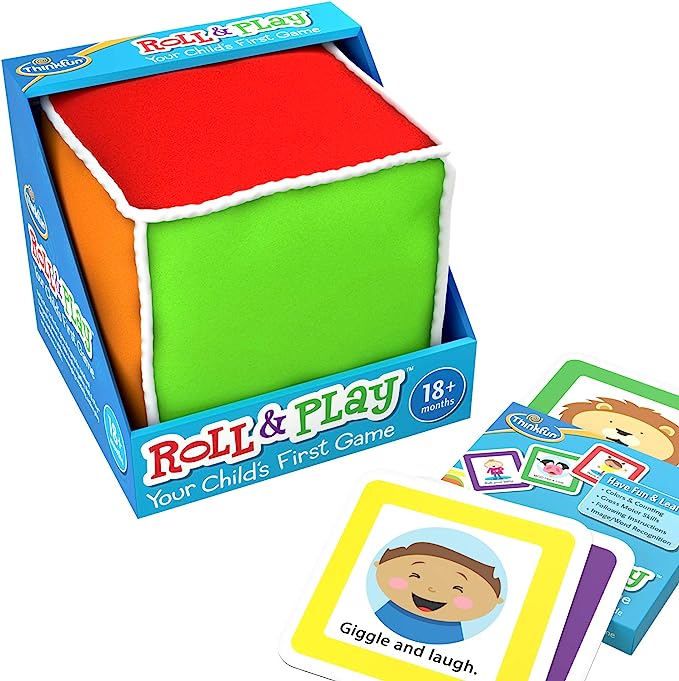 If you are looking for a simple, fun, engaging, and entertaining game for 2-year-olds, this can be the best choice. The game is super exciting and helps your kid to remain super energetic during the game. It is an easy-to-learn game with precise and clear instructions to avoid any hassles and confusion for your child.
One of the best attractions of this game is it helps develop critical skills in your child. It encourages creativity, innovation, active play, and an uninterrupted learning experience for the child. Your child can learn so many new skills within no time with this super amazing and cool game.
You get a big cube to roll and then select a card matching its color to simply follow the instructions. There are 6 different categories and a total of 48 different cards to keep your child entertained with some fun activities. It is one of the perfect games for 2 year olds as the activities will channel their energies into moving, playing, and other activities.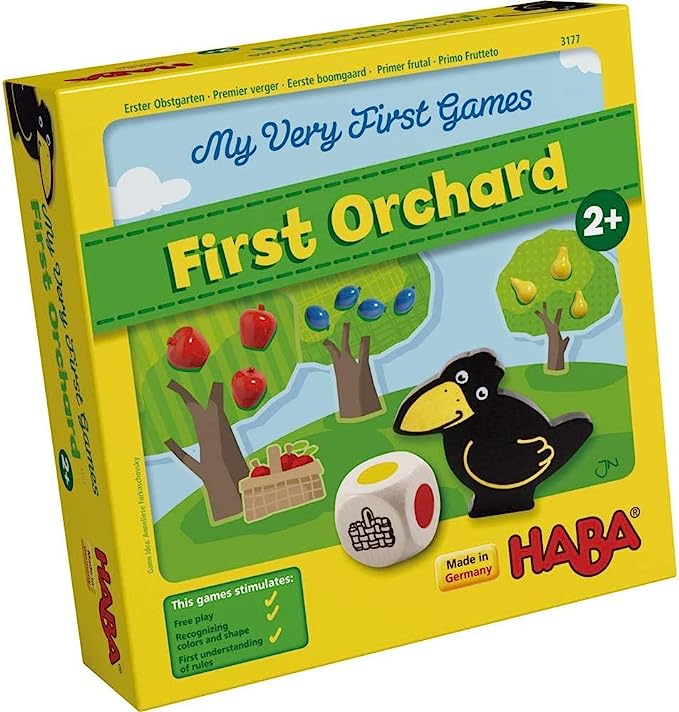 This game is a popular choice for a 2-year-old as it helps them learn about teamwork. You work in teams to collect fruits before the raven reaches the end path. The game is pretty simple and can be easily understood by a 2-year-old to enjoy it thoroughly without any hassles.
The game comes with large pieces that are easy to handle for toddlers and 2-year-olds. This game helps kids to learn color matching, social skills, and teamwork. You either win this game together or lose it together; there is no in-between.
This game is also helpful for your child to learn about directions. It makes a durable choice as you can completely trust the game to ensure the development of the best skills in your child right from an early age. Your child will surely love learning these new skills in the most creative way possible.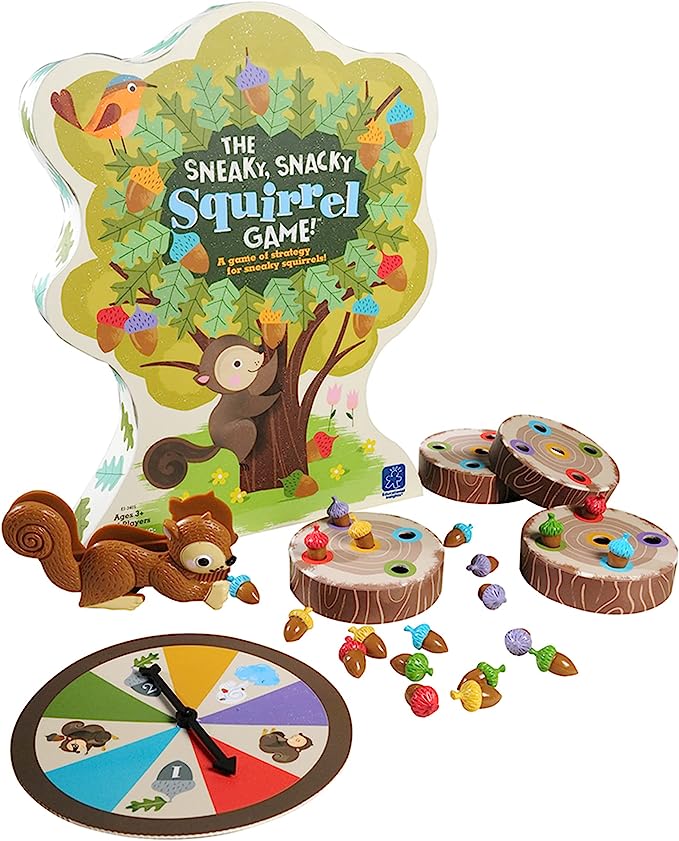 If your kid is always high with energy and likes learning new skills, this game would make the perfect choice. The game helps your child to learn about the importance of togetherness in the most unique way possible. It also benefits the child with learning and social skills like winning, sharing, and, most importantly, losing gracefully.
Matching colors, learning matching skills, strategic thinking, hand-eye coordination, and improved concentration are some of the other key learnings for your child. Thus, it can be said that this is one of the most engaging games for 2 year olds to learn as much as your child wants.
The game comes with super simple instructions that can be easily understood without any hassles. Moreover, it ensures maximum clarity for every player so they learn just the right skills from the game. Lastly, the cute squeezing squirrel is one of the best attractions in the game.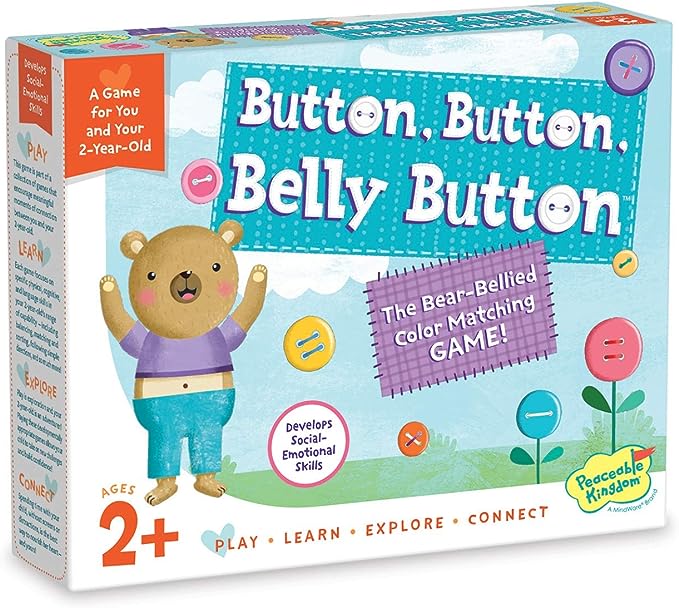 There is this thing about belly buttons that the kids simply love. This color-matching belly button game is one of the best games that you can introduce to your child. This game helps your child to identify colors and learn spatial recognition skills.
Your child will also learn the importance of taking turns and learning new vocabulary with this game. The game also helps you to develop a strong connection with your children by matching the same belly buttons. Thus, this game brings a lot of opportunities, not just to learn new skills but also to have those special moments with your loving family.
All the rules and instructions mentioned in the game are simple to understand to ensure a hassle-free, enjoyable time. You can rely on the game to let your child develop social skills, enjoy cognitive benefits, and improve their emotional well-being. The game keeps the excitement level up for an engaging learning session for your child.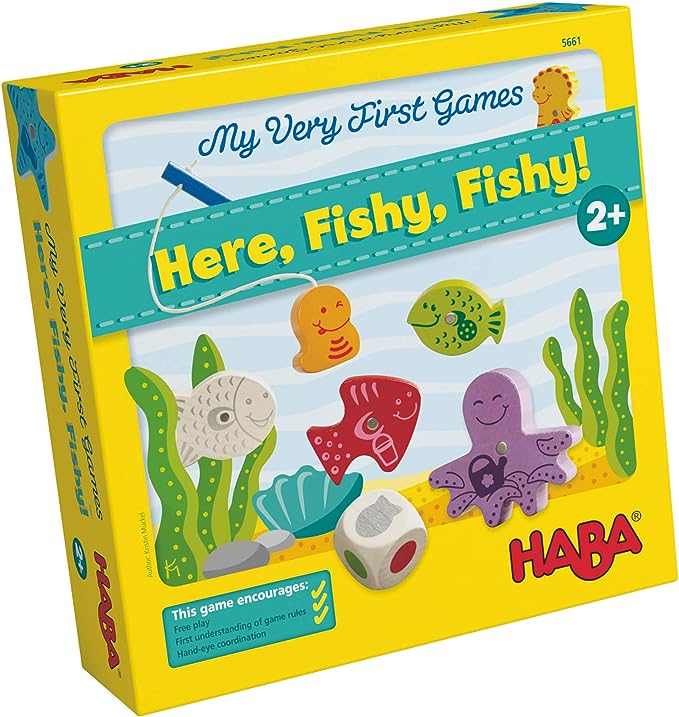 If you have an over-energetic child who cannot sit in one place, you can engage him with this amazing board game. This is one of the most popular games for 2 year olds as it ensures keeping your child engaged and busy with mindful playing. This game helps your child to bring sea animals to life in the most imaginative way possible.
Well, as the name suggests, your kid will have to hook the fish with the corresponding color. For every successful attempt, your kid gets a puzzle piece for the board. As soon as all the pieces are collected, the puzzle is solved, and your kid wins the game.
Every round of the game ends quickly; thus, your child always has time for doing his/her other interesting activities. Though the rules are simple to understand, if your child faces any problem, you can engage him just with fishing. Improved concentration skills and perfect eye-hand coordination are some of the benefits of this game.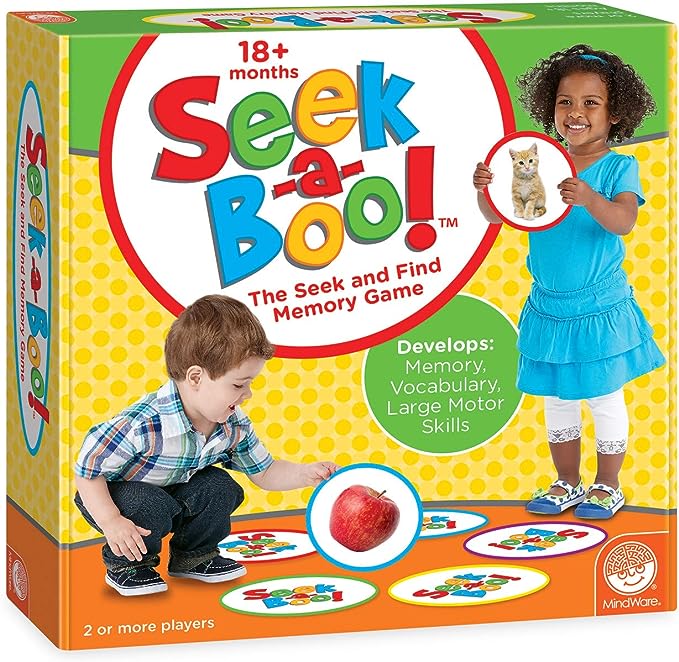 This is one of the few games that will surely keep your child laughing and running to find the required cards. You can use these cards to help your child learn about food items, animals, colors, etc., depending on the learning stage. Thus, this game provides ample learning opportunities for your child with maximum entertainment.
One interesting fact about this game is that it can either be played individually or in a group without any problems. Moreover, the rules are simple and clearly defined to avoid any complications for the child. However, you should be careful with the cards as they bend easily; it is suggested to laminate them for maximum durability.
This game will help your child to learn vocabulary, team playing, and motor skills and improve their memory. This interactive game lets your child learn new skills creatively and imaginatively with maximum ease. Lastly, you can use this either as a memory game or a matching game, depending on your child's mood and learning skills.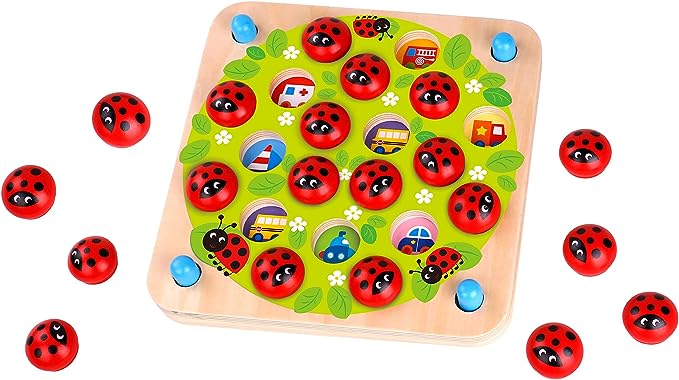 If your child is not yet familiar with cards but still enjoys board games, this will be one of the most appealing and interesting games for 2 year olds. The game lets your child enjoy a memory game without feeling frustrated or angry. It comes with a board, 20 wooden ladybugs, and 5 double-sided puzzle cards to ensure a playful and enjoyable time for your child.
The game uses wooden ladybugs instead of cards to make the time more interesting and engaging. Simply flip the ladybug to find the underneath picture and match them accurately. Yes, it is simple for your child to play this game without any problems.
This game will not only improve your child's memory but also help them to learn matching skills. You can also introduce your child to healthy competition using this game and accept losing gracefully. The high-quality ladybugs are meant to last long with maximum durability to be perfect for those tiny little hands.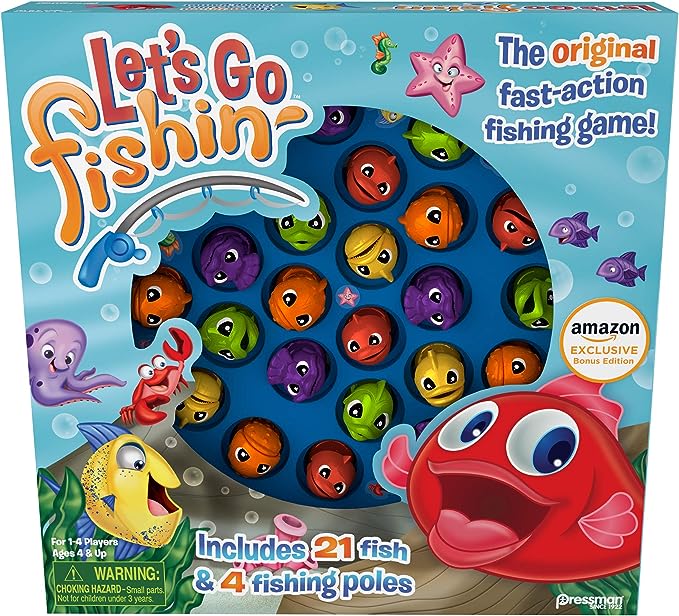 This is another fishing game for maximum entertainment and engagement for your child. The game helps your child to learn eye-hand coordination along with improving their responsive speed. It comes with 21 fish and 4 fishing poles to ensure different opportunities for multiple players.
Your child will be excited and delighted about the fish in the rotating pool that opens and closes their mouth. Your child should quickly fish the target to collect as many fish as possible without any hassles. It also includes some lucky duck cards to encourage more learning and enthusiasm in your child.
The rules and instructions of this game are pretty simple to understand for the children. However, you should ensure to initially guide your child to enjoy a strong connection and family time. The game can be played by multiple players at a time to enjoy a cheerful and delightful time with your loved ones.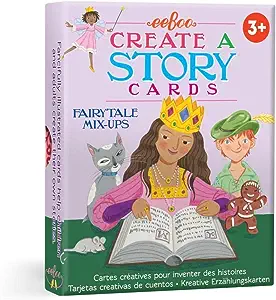 Every child loves storytelling, isn't it? Why not make an interesting game, from story-telling, to encourage your child's creativity and imagination? This is one of the most fantastic and superb games for 2 year olds to use their creativity for learning new skills and vocabulary.
The game comes with 36 flashcards for interactive and imaginative play time for your child. Let your child make endless combinations of flashcards to create new and fresh stories revolving around the fairytale characters, locations, and props. Let your child create and enjoy his/her own fascinating fairytale with the power of their own imagination.
It helps the child learn new words and vocabulary with its story-telling feature; this encourages communication and understanding skills. The game can be trusted to cultivate communication, social skills, imaginative skills, and learning abilities. It can be rightly said that this game perfectly combines fun, innovation, and education for the proper growth and development of your child.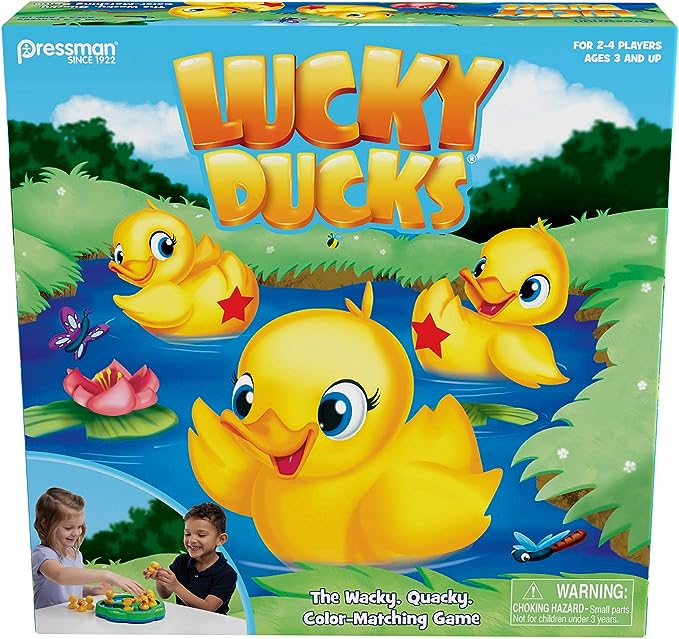 Last but not least, this is a modern version of the traditional matching game that offers a playful time to your child. The simple instructions and format of this game ensure independent playtime for the kid without any complications. The game is specially designed for easy handling and playing for little hands.
The game is suitable to let your child learn development skills like matching, identifying colors, and memory improvement. It also motivates the child to learn about ducks with utmost engagement and entertainment. This is one of the simplest games that ensure maximum learning and skill development opportunities for your child.
If your child cannot match the ducks, he/she can simply enjoy throwing the ducks in the water and watching them swim in circular motions. All you need to do is simply press a button to let all the ducks swim hassle-free. Your child can also simply play with the ducks without either matching them or making them swim.
Benefits of Board Games for 2-Year-Olds
Interestingly, board games for 2 year olds aren't just for playing, but these games have many interesting benefits as well.
As your 2-year-old is always learning and growing, these board games can help them develop new skills within no time. Your kid will learn so many different skills without you even knowing, all thanks to these interesting board games.
It can be said that these board games for 2 year olds are nothing less than their first teachers to path their interests, likings, and attention. These games also help in analyzing and ensuring the true potential of your child at an early stage to direct it in the most creative way possible.
Just a small playing session with your kid can help them learn about – color matching, planning, critical thinking, hand-eye coordination, teamwork, winning and losing, and communication skills, along with improving their memory, attention, and concentration.
Tips to Introduce Your Child to Board Games
If you are planning to introduce board games to your 2-year-old, these tips will be really helpful for you. It is important to rightly guide your child to these board games to ensure they learn all the right and positive skills.
Rather than just casually introducing board games for 2-year-olds, you should follow these simple tips:
Understand the likings, habits, and preferences of your child.
Do a test run with a couple of board games.
Introduce quick board games to utilize their short attention span fully.
Always prioritize fun in every board game.
Play along with your child to keep up their interest and motivation for the board games.
Simplify the rules for them; avoid or skip anything complicated for them, as it can ruin the overall fun.
Repeat yourself as many times as needed.
Try playing the board games with teams to encourage the participation of your child.
Lastly, just go with the flow. Understand and follow what makes your child happily learn new skills rather than following the obvious instructions.
Board games for 2-year-olds can open endless opportunities for learning and developing new skills only when chosen correctly. Make sure to give a compatible board game to your 2-year-old to double their learning capability. Lastly, always choose a board game that provides the maximum enjoyment, fun, and relaxed time to your child.
Final Thoughts
If you want your child to learn new skills in the most fun and interesting way, these board games for 2 year olds are the best choices. These games not only keep your child engaged and entertained but also encourage them to develop useful skills within no time.
If you are still confused about picking the right board games for 2-year-olds, write to us in the comment section. We will surely assist you in finding the most suitable and compatible board game for your child.
Let's give your child an enjoyable, playful time. Happy Plating!
Frequently Asked Questions
Are Board Games Actually Recommended for 2-Year-Olds?
Yes, board games for 2-year-olds are highly recommended as these games connect their learning with something interesting and creative by redirecting their attention. Moreover, these games keep your child active and energetic; after all, you surely don't want your child not to play at all.
Which Board Games to Avoid for 2-Year-Olds?
When choosing board games for 2-year-olds, it is important to be extra careful and attentive. Avoid picking games that have abusive or violent content to prevent any negative experiences for your child. Also, avoid picking games that have complicated instructions, as this can distract the interest of your child.
Do These Board Games Help a Child Learn to Lose?
Yes, these board games are quite beneficial to let your child learn to lose gracefully without creating a scene. Moreover, you can teach your son the importance of teamwork and leadership to easily accept losing without holding any grudges. With the right board games, you can even help your child control their anger issues.