Top 10 Loving and Adorable Mothers Day Poem for Kids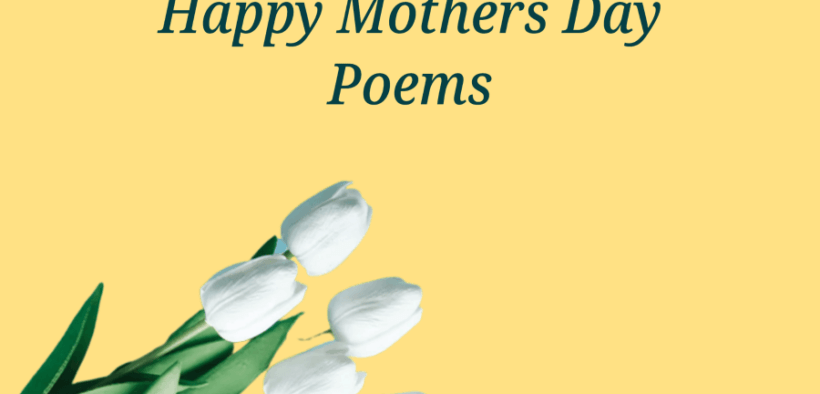 We all love our mothers, don't we? Mothers are the symbol of love, sacrifice, affection, and the purest emotion. There are no boundaries for a mother's love; thus, even we shouldn't keep boundaries to express our love to our mothers. Sharing your love and feelings with a special mothers day poem is always a special gesture.
While there are many ways to express your love for your mother, like making her breakfast in bed or making a special mothers Day card; it is always special to write your heartfelt feelings in a poem. Believe us. Your mother will love each and every word of your poem to its core.
Besides expressing your love for your mother, a mothers day poem also celebrates the unbreakable special bond between a child and mother. The top 10 special mothers Day poems are a great way to teach your kid the importance of mothers in our lives.
Adorable Mother's Day Poems 
A dedicated mothers day poem is one of the best ways to express your gratitude to your mother creatively. These poems are also great to thank our mothers for the unconditional love, support, and affection they shower on us.
If you want your kids to learn new vocabulary and express their feelings using a creative poem, we are here with some adorable poem ideas. Let us explore some great poem pieces:
Poem 1 – Mother by Sarah Malin
Your arms were always open
When I needed a hug.
Your heart understood
When I needed a friend.
Your gentle eyes were stern
When I needed a lesson.
Your strength and love has guided me
and gave me wings to fly.
There is no love greater than a mother's love, and this poem beautifully depicts that, isn't it? The poem so beautifully connects with the emotions of a mother and her child.
Poem 2 – My Miracle Mother by Joanna Fuchs
Mom, I look at you
And see a walking miracle.
Your unfailing love without limit,
Your ability to soothe my every hurt,
The way you are on duty, unselfishly,
Every hour, every day,
Makes me so grateful
That I am yours, and you are mine.
With open arms and open heart
With enduring patience and inner strength,
You gave so much to me,
Sometimes at your expense.
You are my teacher,
My comforter, my encourager,
Appreciating all, forgiving all.
Sometimes I took you for granted, Mom,
But I don't know, and I never will again.
I know that everything that I am today,
Relates to you and your loving care.
I gaze in wonder.
As I watch you being you
My miracle, my mother.
Let all your worries and stress vanish by reciting this very emotional and amazingly written mothers day poem to display your never-ending love for your mother.
Poem 3 – Motherhood by Helen Steiner Rice
The dearest gift that heaven holds,
The very finest, too.
Were made into one pattern
That was perfect, sweet, and true;
The angels smiled, well-pleased and said:
Compared to all the others,
This pattern is so wonderful
Let's use it just for Mothers!'
And through the years, a Mother
Has been all that's sweet and good
For there's one bit of God and love,
In all true Motherhood.
If you want your mother to know how special she is in your life, this poem would make the perfect choice. Every word written in this poem is a reflection of a child's feelings for his/her mother; nothing can be purer than this.
Poem 4 – Nobody's Like You, Mom by Joanna Fuchs
Nobody's quite like you, Mom.
You're special in every way.
You cheer me up, you fill my cup
With tenderness, come what may.
Nobody loves me like you, Mom
No matter what I do,
Good or bad, happy or sad,
You support me; You always come through.
Nobody's equal to you, Mom.
With you in my life, I'm blessed.
I love you so, and I want you to know
I think you're the very best!
Every mother is unique and special in her own way. What can be more fantastic than celebrating the uniqueness of every mother? Use this poem to let her know how special, unique, and amazing she is in her own personality. She will totally love it!
Poem 5 – A Mother's Love by Michael O. Adesanya
There are times only when a Mother's love
Can understand our tears,
Can soothe our disappointments
And calm all our fears.
There are times when only a Mother's love
Can share the joy we feel
When something we've dreamed about
Quite suddenly is real.
There are times when only a Mother's love
Can help on life's way,
And inspire in us the confidence
We need from day to day.
For a Mother's heart and a Mother's faith
And a Mother's steadfast love
Were fashioned by the Angels
And sent from God above.
Remember the times when you were crying sadly? It was your mother's love that comforted and supported you. This poem holds a special place for all those hard and difficult moments of life which are made easy with the mother's unconditional love and affection.
Poem 6 – Mother's Eyes by Mary D.B. Hull
What are the songs the mother sings?
Of birds and flowers and pretty things;
Baby lies in her arms and spies
All his world in the mother's eyes.
What are the tales the mother tells?
Of gems and jewels and silver bells;
Baby lies in her arms and spies
All his wealth in the mother's eyes.
What are the thoughts in the mother's mind?
Of the gentle and savior, loving and kind;
Baby lies in her arms and spies
All his heaven in the mother's eyes.
Your mother doesn't need expensive gifts or show-offs; just show her that you really love and care for her. Nothing can be a better gift for any mother than making her feel special by showering some extra care for her needs.
Poem 7 – Mother O' Mine by Rudyard Kipling
If I were hanged on the highest hill,
Mother o' mine, O Mother o' mine!
I know whose love would follow me still,
Mother o'mine, O mother o'mine!
If I were drowned in the deepest sea,
Mother o' mine, O Mother o' mine!
I know whose tears would come down to me,
Mother o' mine, O Mother o' mine!
If I were damned of body and soul,
I know whose prayers would make me whole,
Mother o' mine, O Mother o' mine!
Even if you are miles away from your mother, her love and blessings will always follow in your footsteps. Express your gratitude and affection to this by using this super sensitive and heartfelt mothers day poem.
Poem 8 – Mommy by Gail M. Russellburg
Mommy, I love you,
More than you see.
You have always been there
When I needed you to be.
I know I don't show
How great my love is,
But I need you to know
All the love of you I have to give.
I wish there was more
For you I could do,
But all I can say
Is how much I love you.
It is deeper than the oceans,
Higher than the sun.
I could shout it forever
And still not be done.
Your smile is keepsake.
I keep close to my heart
That I open up and treasure
When we are apart.
You are never old enough to say 'I Love You' to your mother. Believe us, your mother will always get delighted and the happiest hearing these words from you. Make your love confession for your mother a little more creative with this mothers day poem.
Poem 9 – Mom's Special Day by Marena
Mom, today's your special day,
And you need to take a rest.
I'll do everything for you
To make it the best.
Mom, you're sweet.
And you mean the world to me.
You do every little thing.
Cheerfully
You're too loving and kind
To do so much work.
I'll always help out
Instead of being a jerk.
You don't need expensive gifts, luxuries, and lots of money to make your mother feel special. Just a simple wish will do wonders. However, you can always go a step ahead by personalizing a poem to overjoy her on her special day. It is her special day; leave no stone unturned to make it a little more special.
Poem 10 – My Handprint by Anon
Here is my handprint,
Five fingers in all,
Outside, they are short,
But the middle is tall.
You will find them on Windows,
You can find them on the wall,
They will make a big mess,
For something so small.
One day I will grow,
And leave them no more,
My handprints will be missed,
Of that, I am sure.
So here is one now,
That you can't wipe away,
My present to you,
This Mother's Day.
Your mother carries you for 9 months in her womb and forever in her heart. She carries all your special moments with her throughout her life. Tell her you are always around her with this very sensitive and beautiful Mother's day poem.
Love needs no words or language to be felt or understood. When it comes to our mothers, it becomes more special. Use any of these special mothers day poem ideas to let her know that you love her above everyone else.
Exciting Advantages of Mother's Day Poem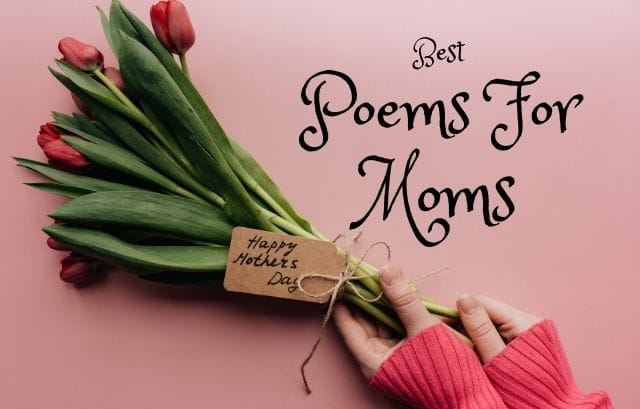 While nothing in this world can perfectly display and portray a mother's love, these small gestures are a great way to have some special moments. A mothers Day poem doesn't limit your child from expressing their feelings but also has many potential advantages. Yes, your child can actually learn a lot from these poems.
Are you curious to know how these mothers Day poem ideas can actually be helpful for your kids? Well, here are some of the exciting benefits:
These mothers Day poems are great for teaching your child new words to enhance their vocabulary. It also enhances their learning skills by motivating them to be creative and innovative.
As your child recites its mothers Day poem, it also boosts their confidence to say their thoughts out loud. It increases their confidence to say every word in its correct pronunciation without hesitation. With these poems, you are preparing your child to face the world at an early age.
Mother's Day poems are also a great way to develop and sharpen your child's logical and analytical thinking skills. You open the gates of endless opportunities and possibilities to allow your child to be what they want and how they want.
According to the experts, enhancing the vocabulary and motivating your child to learn new words in these mothers Day poems help in their brain development. These learning activities ensure keeping your child's brain active and concentrated for the maximum time to facilitate its growth without any complications.
Thanks to these poems, you are encouraging creative thinking in your child at a very early age. This helps them in their present age and prepares them for the coming years to display their talents without any fears or embarrassment.
Last but not least, involving your child busy with such creative ideas to write a special mothers Day poem; keeps them far away from negative thoughts and impacts. These things keep your children far-far away from any negative influences like TVs, mobile phones, the Internet, etc., and thus, ensure positive growth and development.
The special mothers Day poem that you thought just highlights the child-mother lovely bond is actually teaching your kid so many great things. Isn't it amazing? Let your child be as creative and innovative as they want while they write/learn these special mothers Day poems. You are actually helping your child to have a better and bright future.
Final Thoughts
Make your mother feel more special and happy with one of these mothers day poem ideas. Let her know that she means the world to you and that the importance she has in your life can never be replaced. Personalize your poem and see her smiling with her heart.
Now, it is your turn to reciprocate the love and affection that your mother showers on you; ensure to make it super special. Which mothers day poem did you like the best?
Also, if you have any other interesting ideas about mothers Day poems, do share them with us in the comment section.