A Comprehensive Review of Yoto Mini in 2023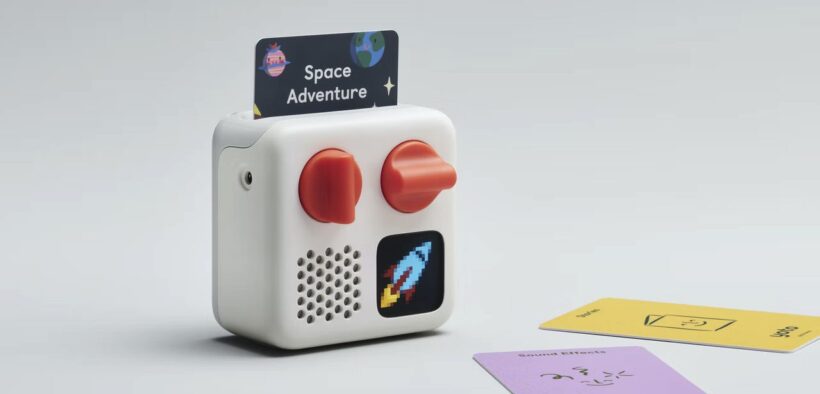 The Yoto Mini is the newer and latest version of the speaker box for kids by Yoto. This is the toy speaker that has made its way to all parents' lists of things they want to buy for their kids. But is it really worth the hype? The cute little audio player does look very attractive and fun, but is it really as good as everyone is claiming it to be? In this article, we take a look at the features, pros, and cons of the Yoto Mini and help you decide whether your kids will love the Yoto Mini or not.
Continue reading to find out everything about this speaker that will help you make this decision.
What is Yoto Mini?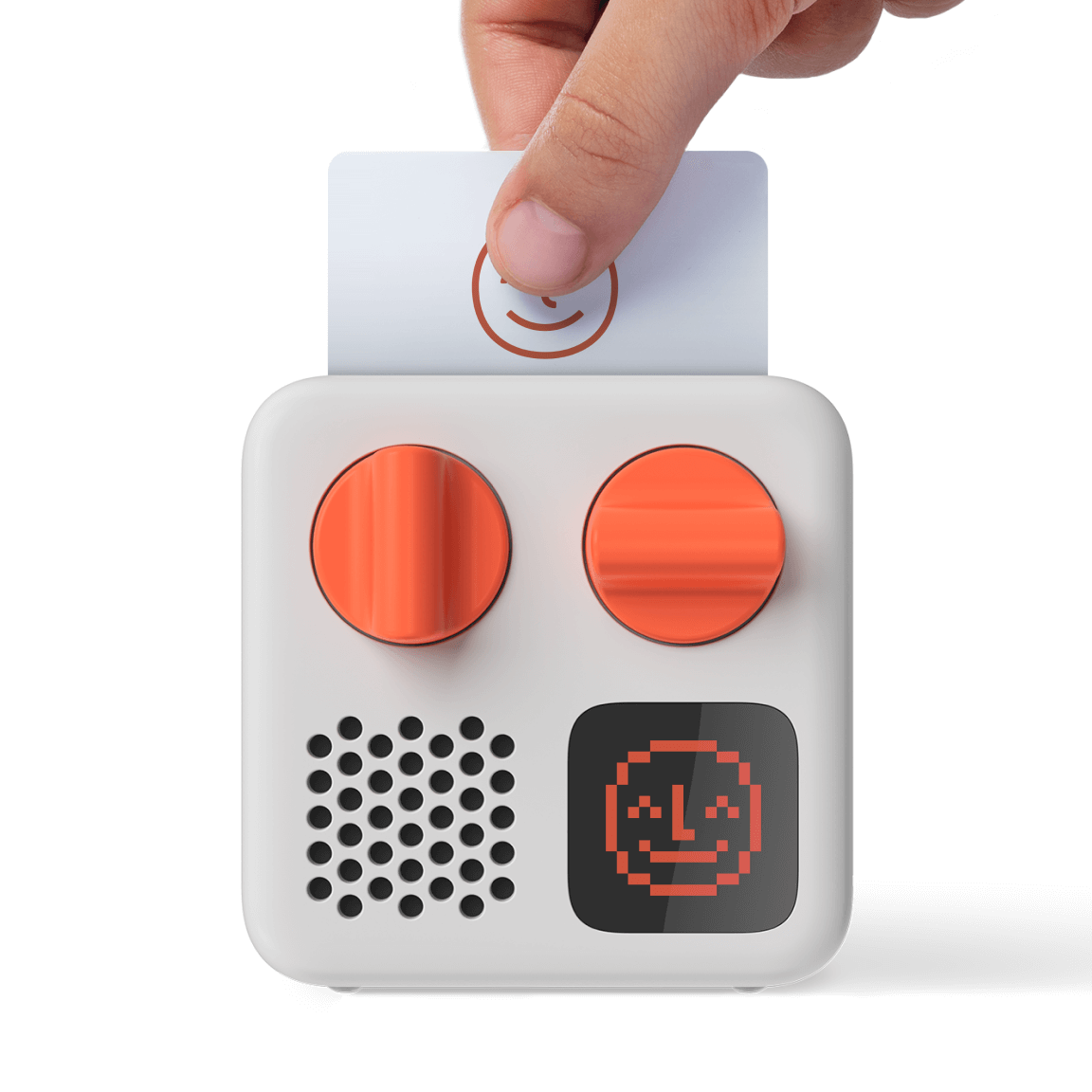 Yoto Mini is the perfect companion for your kids' adventure. This smaller version of the original Yoto is a children's audio player that gives your kids independence but very carefully. It is compact, good to take everywhere, and has a lot of content to offer. Your kids can use it to play music, listen to stories and educational content. The good news is, when you give it to your kids, you won't have to worry at all. We say this because while it connects your kid to a world of content, it does not have any feature that would over-stimulate your kid.
The Yoto mini has too many features like Bluetooth, a clock, and a square screen with pixel graphics. It has no connectivity to the internet or camera. All of these features make this Yoto Mini a distraction-free audio content provider. Moreover, on days when your kids can't use speakers at some point, they can plug in the headphones, which makes it travel-friendly.
The Key Features of The Yoto Mini include the Following
Pixel display that engages and interacts with your child.
Upto 20 hours of use-time on one charge
It plays sleep sounds, white noise, and a lot of other content
It can be charged with USB-C Fast charge cable
It has a 3.5mm jack to connect headphones
Bluetooth connectivity available for headphones
The ok-to-wake clock that helps in sleep training
It has settings to play and change the audio
It can be used as a speaker
How Does it Work?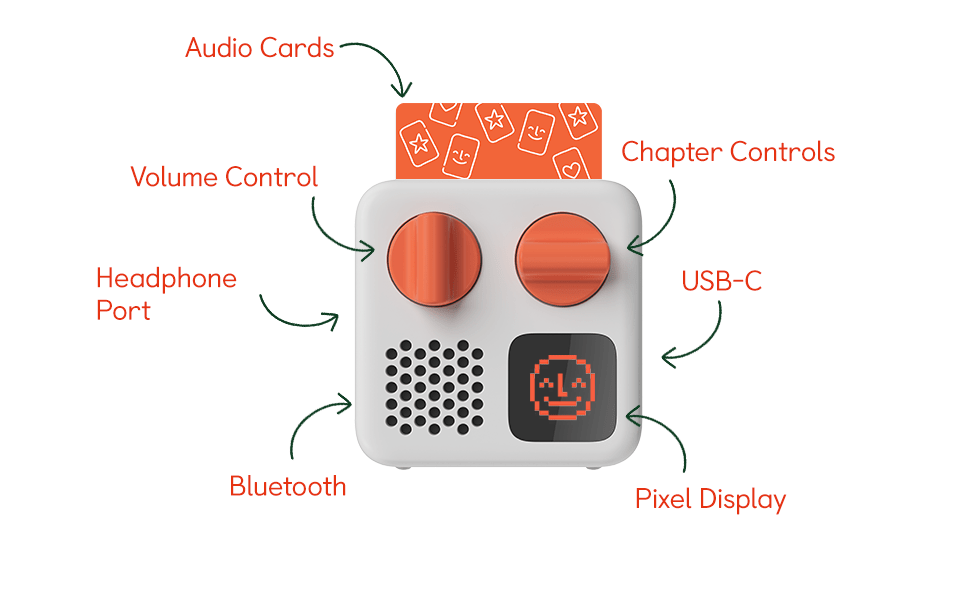 Using the Yoto mini is a cakewalk not just for you but also for your kids. It is easy to operate this little device. You just get story cards to put in the card slot. These cards look very much like credit cards, and as soon as they are put in the device, they can start telling the stories. If your kids want to stop listening, they just have to pull out that card.
When they re-insert it, it will start exactly where you stopped it. With that, there are two other knobs on the cube machine. One is used to control the voice, and with the other, you can move to the next track.
It can also be controlled with an app called the Yoto app, which is available on both the play store and apple store. This app gives the parent control over the content and settings. It lets you know what stories or podcasts your child is listening to and change it if you need it.
Is it Worth Buying? What Do We Think?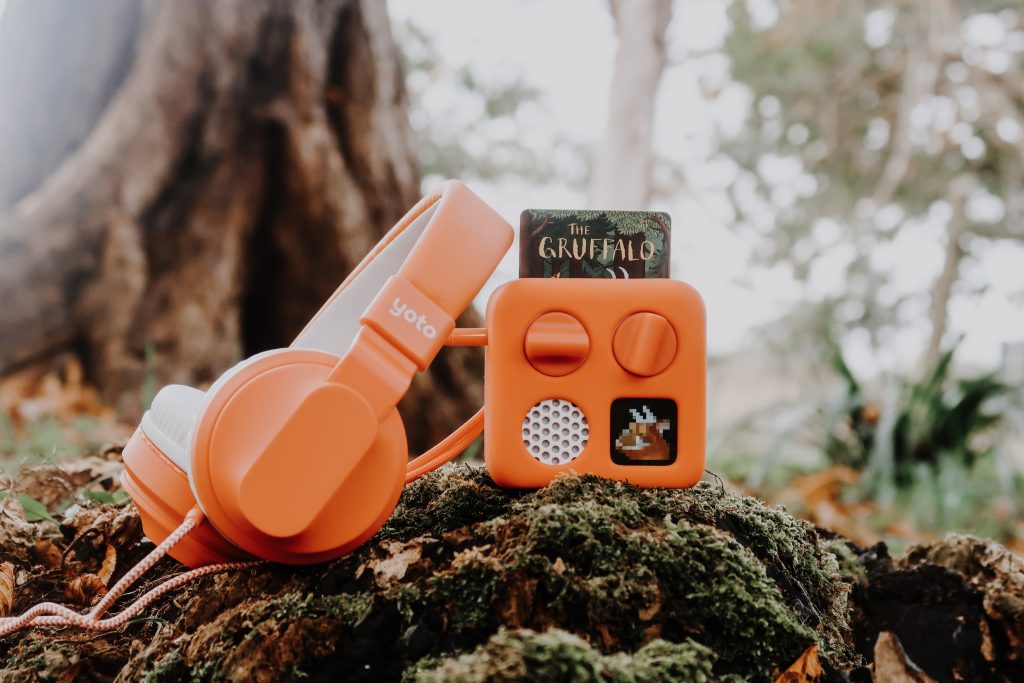 Honestly, Yoto mini is one of those made-for-kids things that you will find yourself going back to again and again. Not just us, but about 533 users on Amazon say so too. We assure you it is all for good reasons.
It is extremely cool and educational, making it your child's best friend without leaving you worried. It has impressive sound quality and is very functional. A very durable and well-made product, you can leave this with your child even unsupervised, and you won't have to worry too much about it.
The Yoto mini does cut back on some features of the original Yoto, like a night light, but given that many people didn't even use it that much, the Yoto mini makes to be a great in-budget choice. With that said, it's not like the Yoto only cuts back; it adds too many features too.
For instance, since this is a smaller, more compact version, it makes up to be very travel friendly. You can connect your headphones to it, and it is extremely durable.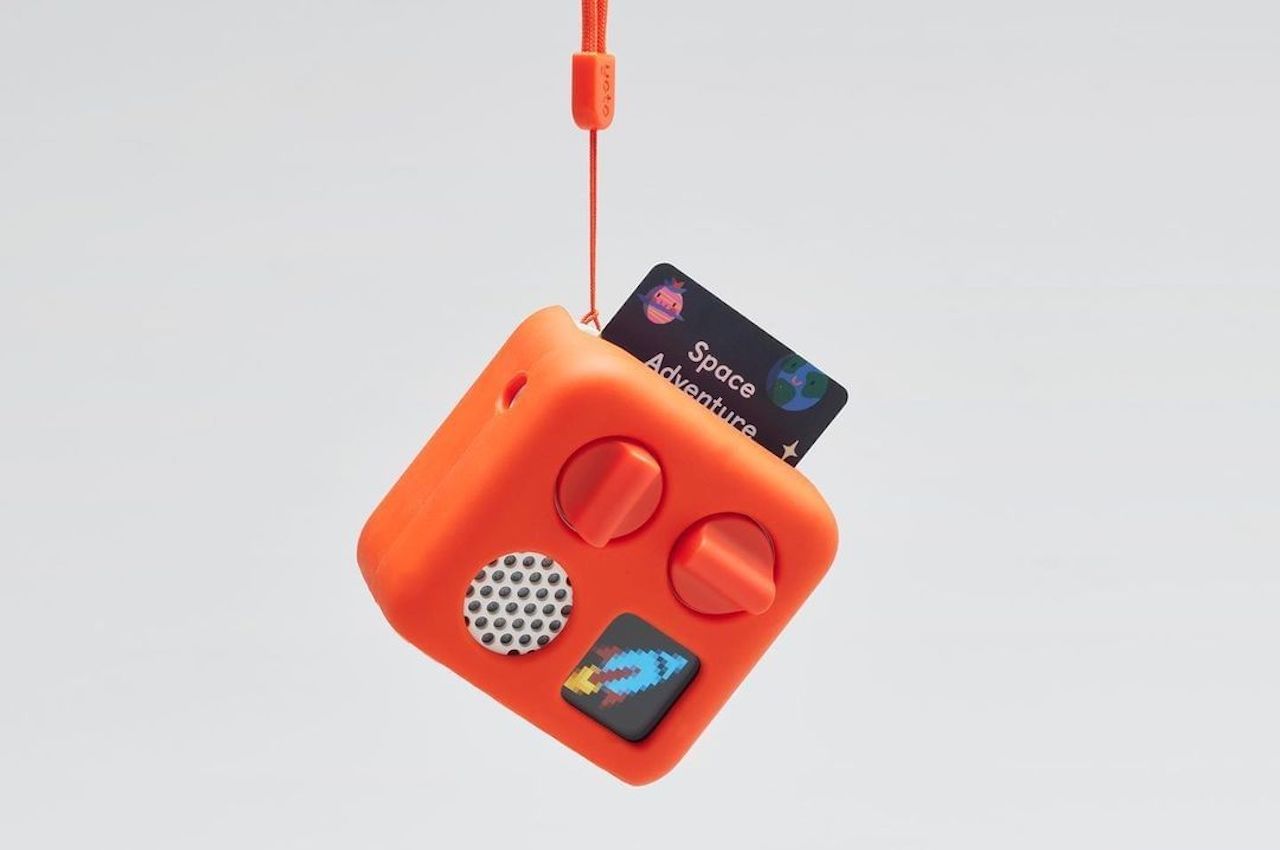 Pros of Yoto Mini
Ad-free: When you are looking to engage your child in something, advertisements are your biggest enemies. Not only the parents but the kids hate it too. This led to them getting impatient, screaming, and shouting. Thankfully, Yoto Mini has no such concept. There is no advertisement in this. It is all free.
Size: The size of the Yoto Mini is very adorable. It is compact, light, and your child can carry it wherever they want very easily.
Wide range stories: There are almost 400 titles available with the Yoto Mini. It has something for everyone and has too many genres, including fiction, non-fiction, science, superheroes, and everything else. If you want your child to sleep listening to a mythological podcast, not a problem, Yoto Mini has it.
Audio: The Yoto Mini might be tiny in size, but it is very powerful. It is loud and easy to listen. If you want more sound, you can connect a Bluetooth speaker for more sound.
The Yoto Club: Worth every penny you will spend, Yoto Club is a subscription model that gives you two new Yoto cards every month. Each card has 6 hours worth of content, and you will be very thankful for these new additions every month that will keep your child engaged.
Battery Life: The Yoto Mini has great battery life. You can charge it with the fast charger that comes with the audio speaker, and once charged, it will play for up to 20 hours.
User Friendly: This audio speaker is extremely user-friendly. In fact, any child as young as 3 years will be able to operate it. The buttons on the box are just the right size. They are large enough for little fingers to operate and not large enough that they will take over the whole construction. The pixel screen does show what the kid is playing, making it easier for them to identify what they want.
Portable: Since this is a wireless speaker box that can be taken everywhere, it is great for travel. You can also plug in headphones to this, and it will not disturb anyone while also keeping your child engaged and busy.
Cons of Yoto Mini
While there are not too many cons of the Yoto Mini, the only con is that the Yoto story card is considerably higher pricedthan normal books. It is also a little difficult to keep very little children to hold their attention. Other than that, there aren't too many cons with this game. So, Overall it takes to be a great purchase for your kids.
Yoto Mini V/S Yoto: What Should You Buy?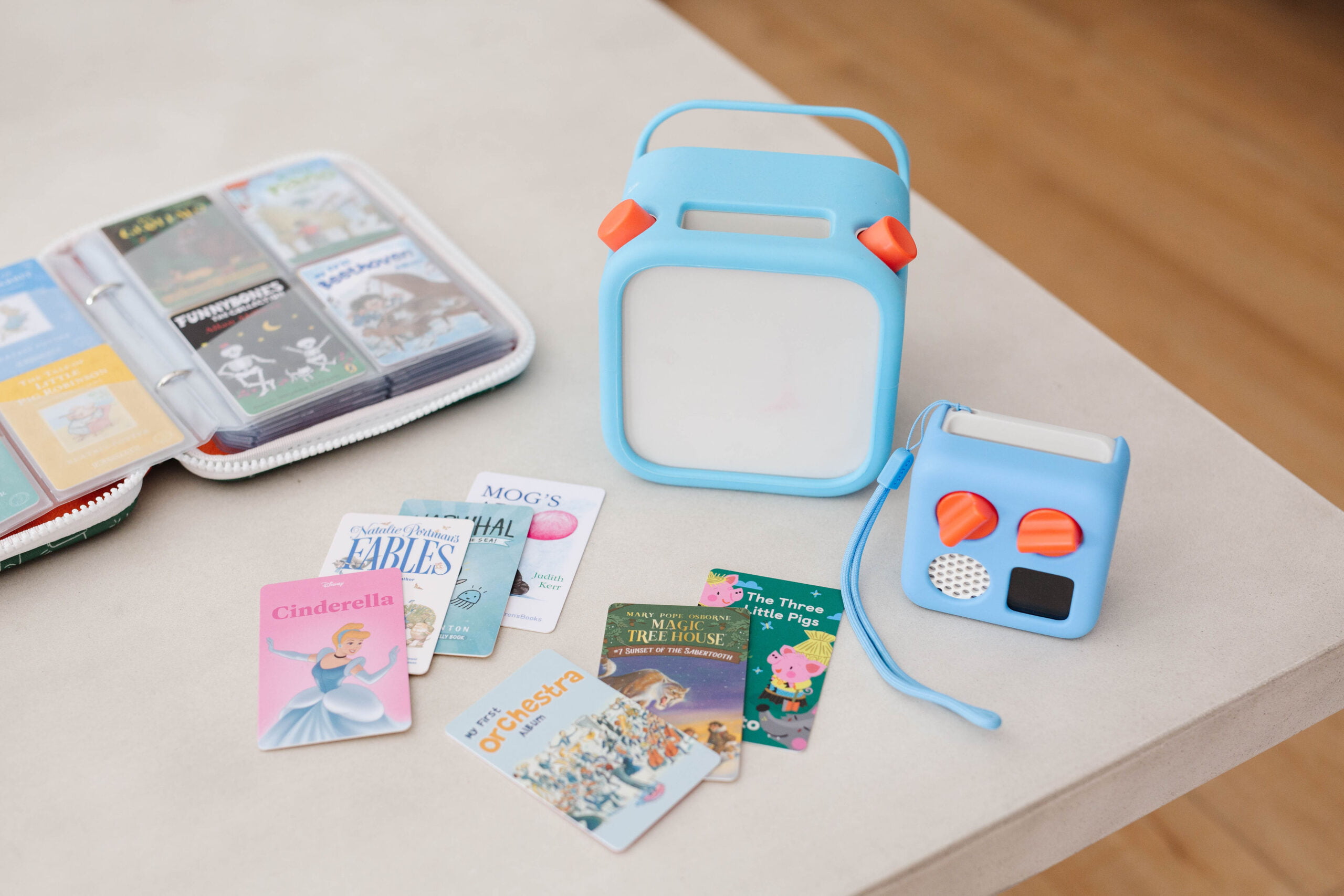 The Yoto mini is just a smaller version of Yoto, but there are some key differences between the two of them. In this section, we compare the two and conclude which is a better buy.
Size: The first thing to consider is the screen size. The Yoto Player has a bigger screen and a nightlight function that is very appealing to most people. However, Yoto Mini does not have this feature. The screen size is very small, and only pixelated versions are seen on it.
The Charge: Another thing is that the Yoto Player comes with a docking station that is easy for kids to use. However, the Yoto Mini has plug charging which can be a little difficult for tiny hands.
The Price: There is a considerable difference in price between the two speakers.
How to Make the Decision?
The decision of what Yoto you should buy depends on whether or not you need the nightlight or not. This is one of the biggest features that you will miss in the Yoto Mini. If you do not need this too much, Yoto Mini makes to be a great choice. Another thing to consider is that the Yoto mini is way cheaper than the original Yoto. Moreover, it is easier to travel and be on the move with Yoto Mini than that of the original Yoto. So, depending on what your needs are, you can make the decision.
Are Their Other Alternatives to the Yoto Mini?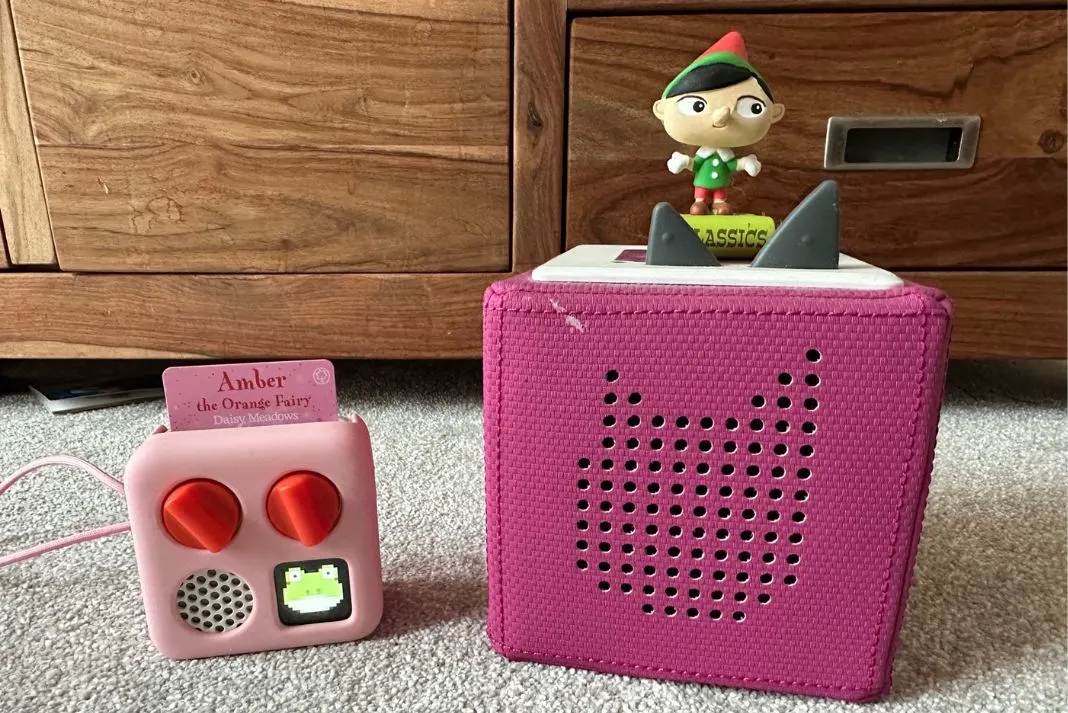 Yes, there is an alternative to the Yoto Mini is the Toniebox. Toniebox is also a portable speaker box for kids. However, there are a few differences between the two devices. Unlike the Yoto, Toniebox uses figurines to play audio and does not have a screen. It is much bigger in comparison to the Yoto Mini and is quite cuddly.
When making a choice between the Yoto Mini or the Toniebox, the choice just comes down to what you prefer more, the cards or the figurines? Another thing to consider is whether you like the option of the screen or not.
While both these devices have their own features and cons, most parents believe that Yoto Mini has an edge when compared to the Toniebox. With that said, what works for someone else might not work the best for you, so the last decision should always be yours when making a purchase like this.
Final Verdict
The Yoto Mini is a perfect toy for your kids that will keep your child engaged while making sure that they are not getting exposed to unnecessary content. It is great on budget, innovative, and very creative. It does not need a lot of input or resources to operate and gives your kids knowledge while making sure they are not overly stimulated.
While there are a few options available in the market, like the Yoto Mini, the Yoto Mini still sits in the number one position. The only drawback to this is that the screen is much smaller, and the story cards do not come included in the box. But it is the same with any other audio box too. So, it won't be a lot of issues.
In our opinion, getting the Yoto Mini really is a great purchase that you can go ahead with.
Frequently Asked Questions
Does the Yoto Mini need to Be Connected to Wi-Fi?
A. You do not have to keep your Yoto Mini connected to wifi at all times. You will only have to connect your device to the WiFi when you use it for the time. This includes setting up the Yoto Mini and also using the card for the first time. This is because it will help the content to get loaded on the device once it is connected. Post this. You will be able to play anything on the speaker without the WiFi.
For What Age Group is the Yoto Mini for?
The Yoto Mini is perfect for kids aged between 3- 12 years and above. Not only that, many parents have found the Yoto Mini very good for toddlers too. You can play white noise for them and watch them drift to sleep very peacefully.
How Does the Product Make Your Life Easier?
The Yoto Mini makes everyones' life very easy. For kids, it keeps them engaged, and for parents, this makes their lives easier by keeping their kids out of the way. That gives the parents time to take care of other tasks that they might have.