7 Best Childrens Leash You Can Buy Online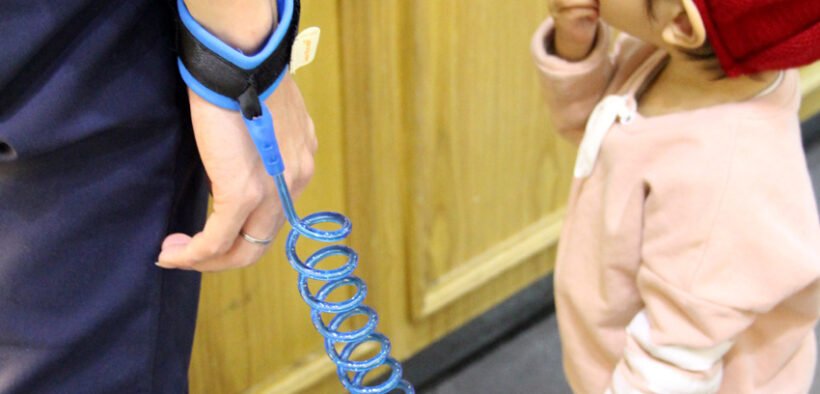 There is a lot of judgment that new parent face when raising their children. It seems like everyone now is an expert on what a good parent is like. What you should know is no matter what you do, there will always be something you fall short of, something that people will raise their fingers at.
If you have more kids, you know that you need to adapt your parenting style to the nature of your kids. Sometimes, that means that you consider getting children leashes to ensure they are safe and within your reach.
We know tethering your children to a leash might raise some eyebrows and can be frowned upon. But, if you have an especially naughty toddler who runs away any chance they get, getting a children's leash might be important.
We will guide you through a list of the best child leashes for you.
Is it Advised to Use Children's Leashes?
When it comes to leashing your children, the American Academy of Pediatrics advises against using it. However, research on the safety of kid's harnesses is rather scarce. These security harnesses or leashes have also not had any history of product recalls because of safety concerns. There are not any injury reports with the US Consumer Product Safety Commission either.
While there are no reported injuries by safety harnesses or safety leashes, it is recommended that until absolutely required, their use be avoided. They do not count as good or appropriate close child supervision.
There are risks of entanglement and choking, which is why they need to be used with utmost caution.
If your children have a tendency to wander off the minute, you take your eyes off them. Then, you can consider getting a children's leash to ensure the safety of your kid. So, leashing your children is for special cases and should otherwise be avoided. With that in mind, let's proceed.
Now, let's get to the list.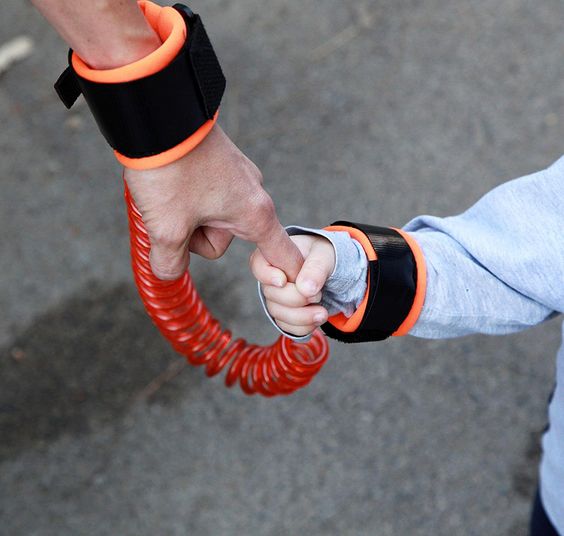 This anti-lost wristband is designed to ensure that your kids stay by your side at all times. This children's leash is perfect if you want to take your active kids to a mall or a crowded place. The lock on it is secure, and your kids won't be able to pick on it to free themselves. Only you can unlock it safely once you are out of the crowded place.
These come in a set of two; the blue one will give an extension of around 8.2 feet, and the orange one will lend an extension of 4.92 feet.
This one comes with a built-in reflective tape for better safety in the dark. Besides that, it also has a 360-degree swivel clip to allow free movement. These leashes will maintain safety while not restricting your child too much.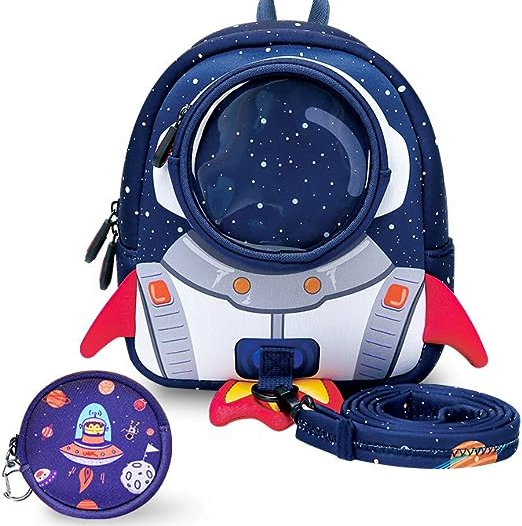 Your kids might be more interested in getting leashed if that leash doesn't look like a restricting device but looks more like a fun backpack.
Backpack leashes are a safer option; kids can have sensitive skin that irritates with a wristband leash. A leashed backpack looks better, is more fun for your kid, and will not cause any skin rashes. It is also more supportive.
This Yisibo kid's backpack comes with a detachable tether. You can attach the tether when needed and remove it when your kids are in a safe environment. Once the leash is removed, what is left is a cool backpack.
This backpack also comes with a strap buckle on the chest to provide better safety. The shoulder straps are padded, so there is not too much pressure on the shoulders.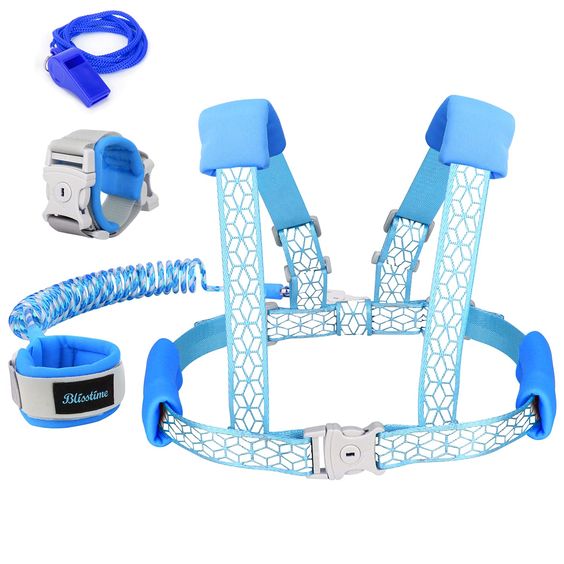 Suppose you want a more secure leash with better support but are not interested in a backpack style. You can go with Blisstime's reflective toddler leash.
This leash has reflective shoulder straps, which makes it more safe during the night. The chain is attached to a bracelet on your wrist, so your hand is free to do other chores. The chain can stretch to about 6.6 ft, so there is room for movement. If you have sensitive skin, do not worry; the wrist strap is made of soft, anti-pricking velcro, which will feel smooth on your skin and avert any risk of rashes.
The shoulder straps and the wrist strap are both adjustable. It comes in two beautiful colors, so you can choose it according to the preferences of your kids.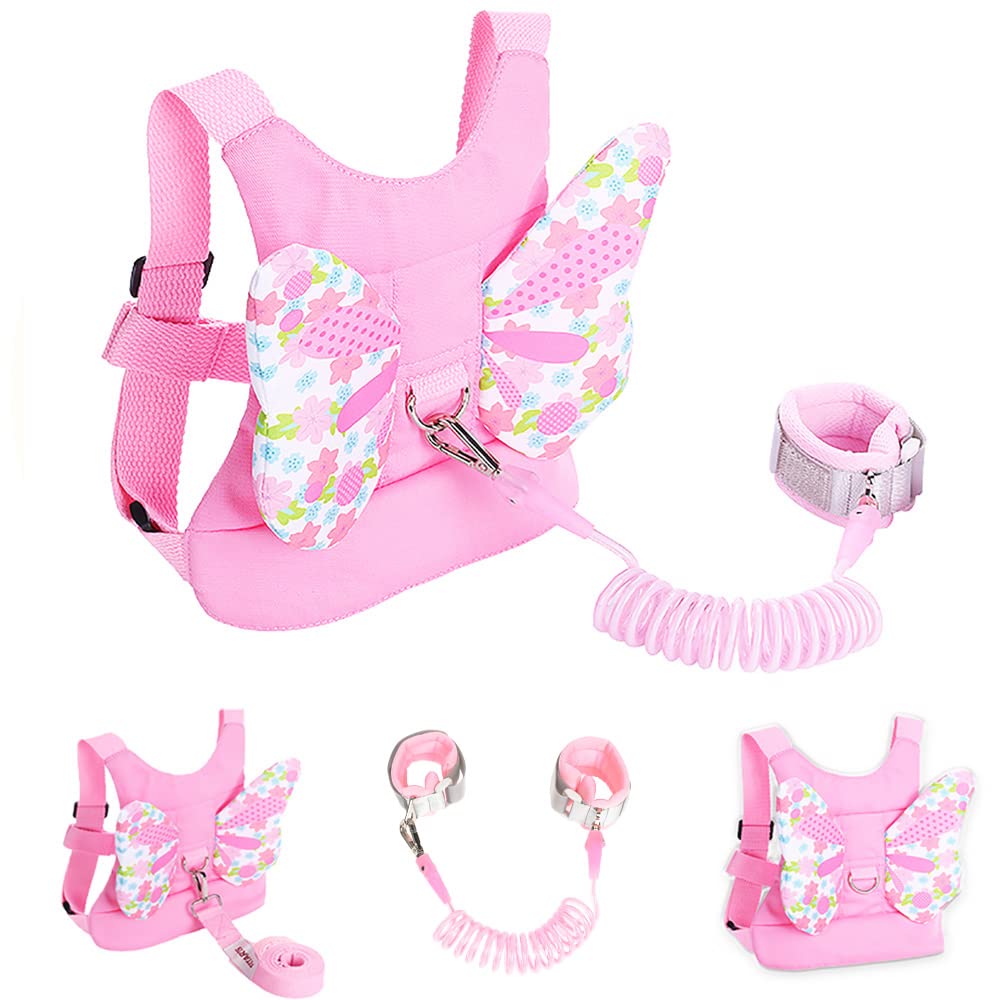 Leashes are not a favorite with the kids, and it is unlikely that your child will be willing to try one on. You cannot reason with them about matters of safety at that age. So, it comes in handy if your children actually find a leash pretty or more like an accessory than a leash.
This angle wing leash would help cheer up the kids. They will also look oh-so-cute in them. They come in two beautiful colors so your kids can have their pick.
The safety tether is removable, which makes it easy to use and store. The shoulder straps are well-padded and adjustable. The fabric is soft and breathable, so your child is not in any form of discomfort wearing it.
This backpack is fit for kids from 1 to 5 years of age.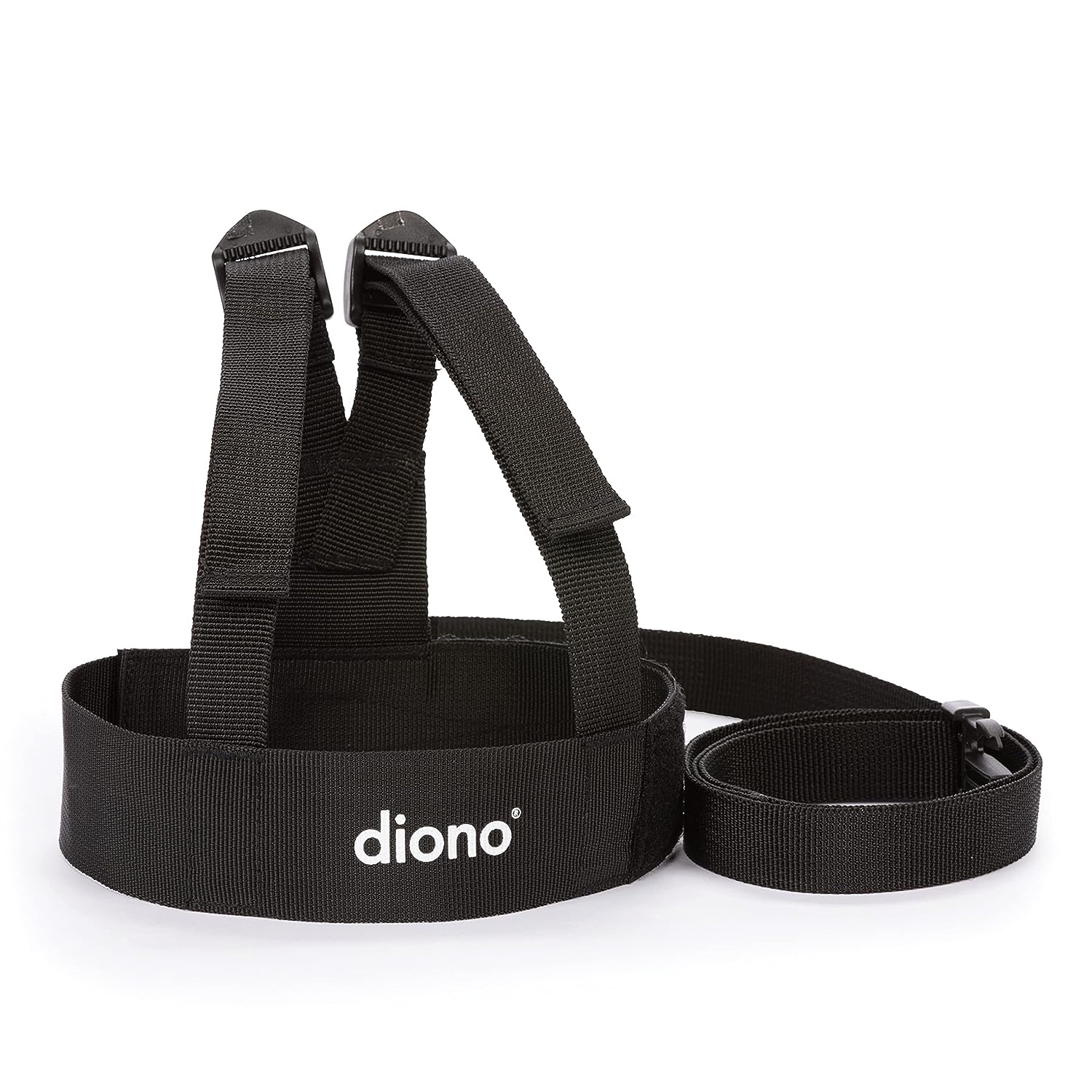 There are a lot of types of security harnesses available in the market for kids. All these choices, at times, can make your head spin. Sometimes, simple and functional things are all you need to go for. This sure step children's leash by Diono is just the perfect choice. It is durable, washable, and functionally reliant.
The design is simple but effective. It has a minimalist look to it. It is made of soft and comfortable fabric that will ensure that your child is comfortable. The straps are supportive and adjustable, and the children will not feel too restricted. The four-foot-long strap allows ample movement for your children while keeping them safe.
This security strap is ideal for children from 1 to 4 years of age.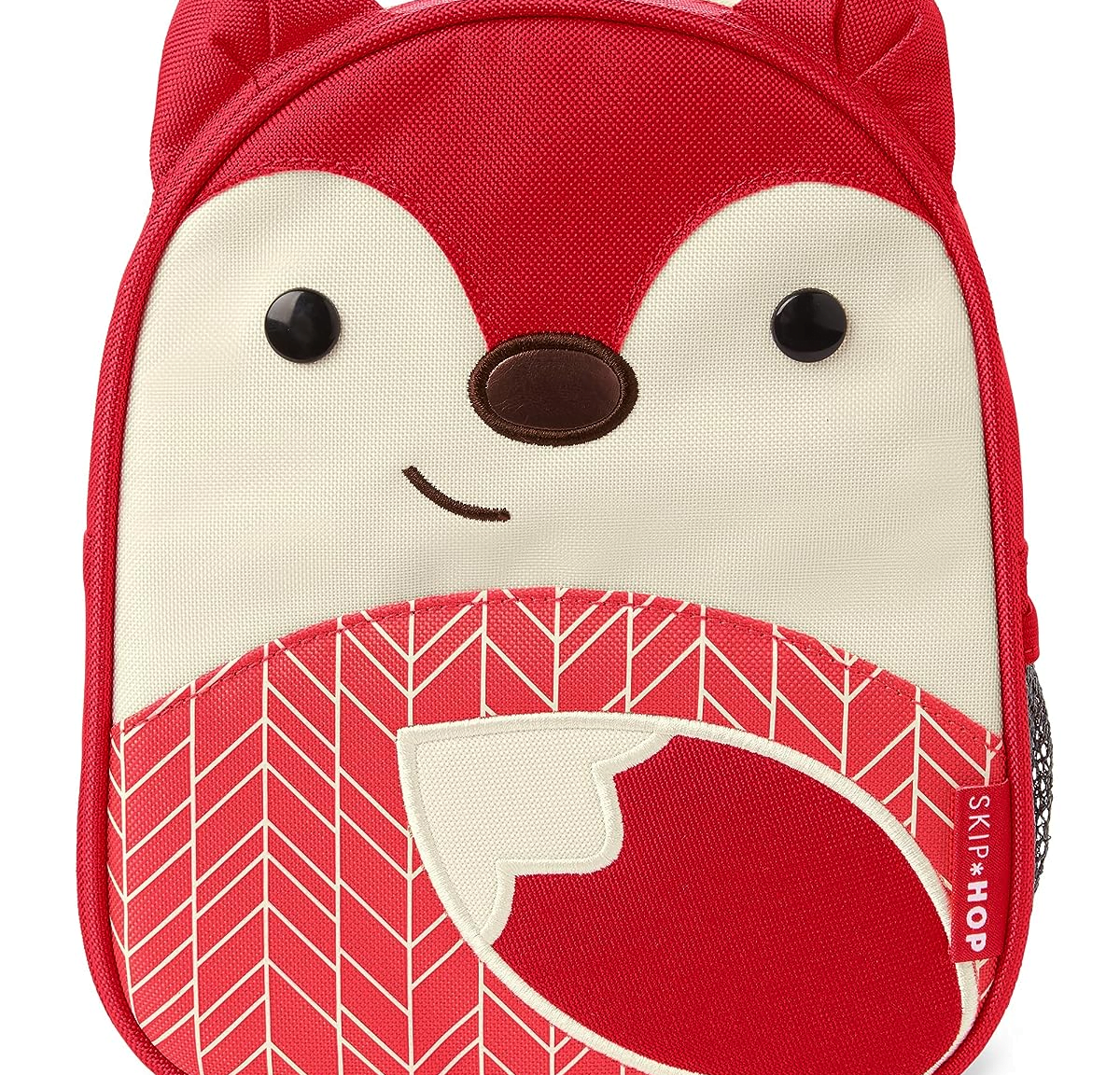 If your kid is not going for the minimalist type leash, add some fun with this toddler backpack leash. This toddler backpack leash comes in various kinds of designs and colors. All of them will delight your child.
The tether is detachable and can be easily attached when the need arises. This is a perfect traveling backpack for your little one. They can carry their essentials in it, and in crowded places, you can easily attach the leash to ensure your kid is always around you. The tether is attached at the bottom of this cute backpack to ensure better stability for the child. The backpack is waterproof, which is always a plus point. The straps are padded for comfortable wearing.
The backpack is made out of a soft, synthetic material called neoprene. It comes in various designs, but we love this red backpack, which will be great for girls and boys both.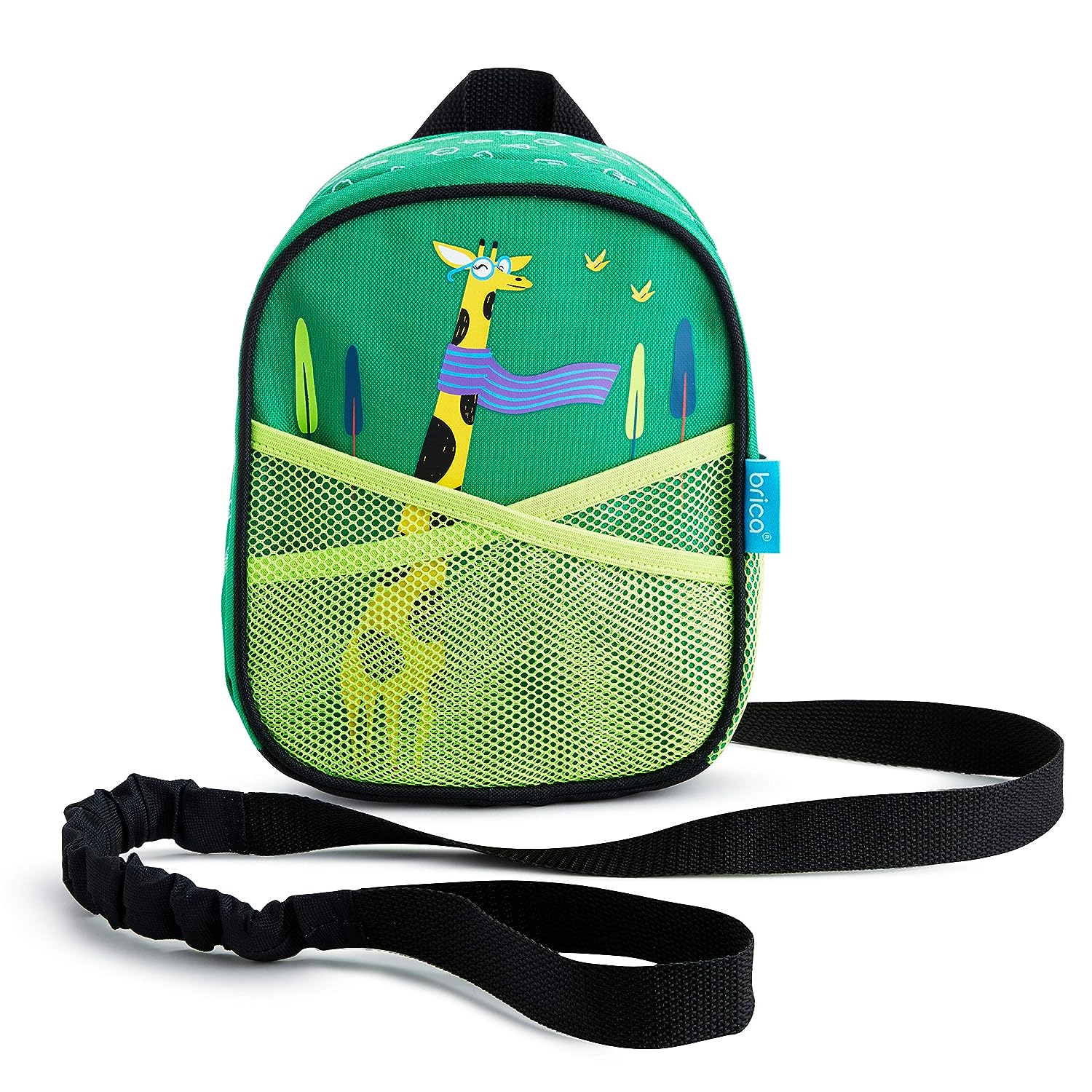 Here is another fun backpack harness that your kids will love; it's cute and fun. This wonderful backpack comes with a shock-absorbing tether that prioritizes safety and comfort. The safety tether is removable and built to last for years.
The tether is attached to the backpack at the bottom with the help of a swivel switch; this allows for comfortable movement for the child. For enhanced safety at night, there are reflective panels on the backpack.
Besides that, the backpack features two mesh pockets, one on the front and one on the side, and an easily adjustable clip on the chest.
This backpack will be a hit with your children and save you some trouble shopping and traveling with them.
Safety Tips for Using Child Leashes
When using a safety tether or children's leash, it is important to keep some precautions and safety tips in mind.
Keep It Away from Children's Reach when Not Using it: It is important to be vigilant in storing the children's leash away from the kids when you are not using it. This is, after all, a leash, and children can harm themselves when playing around with it. The dangers of entangling themselves and falling are always there. But, in worse cases, they can seriously harm themselves by accidentally asphyxiating themselves. So, it is strongly recommended that you store it away from their reach.
Ensure that the Leash is Not Too Tight: You may not realize it, but you can tighten the leash to the extent that it causes great discomfort to your child. You might have tightened the leash because your child was slipping away from it, which is certainly what you don't want. But, be careful not to fasten it too tightly, and listen to your children if they complain about it. Tie your leash just right so that your child can move around comfortably while not getting out of it. Too tight a leash can cause chafing and irritation to the skin. It might also cause a rash because of restrictive blood flow.
Test the Leash at Home: Your kids can have a little trouble trying to adjust to the leash. Even you, as a parent, will need some time to know how to handle your kids on a leash. You do not want the leash to get entangled and result in a fall. It is a good idea to practice a little at home to get your kids to practice their movement while on a leash. A little practice at home will save you a lot of trouble and judgment outside.
TIP: to get your kids to try on the leash and practice, you can make a little game out of it. Make it a challenge for them, and they might enjoy it. It will also help your kids to avoid developing an aversion to the leash.
Listen to Your Kids: This is an important point to keep in mind and one most parents do not take that seriously. It is very important to listen to your kids when they complain bout any discomfort they feel while on a leash. You cannot leash them against their will. That would result in more temper tantrums. Ideally, you would want them to choose the kind of leash they are most comfortable in. Whether they complain of physical discomfort or social embarrassment, listen to them and try not to leash them against their wishes.
Reasons to Go for Children's Leash
In spite of all the controversy around using children's leash, there are a few reasons why it might be useful to you.
If you have multiple kids, taking one kid to a supermarket by yourself is a challenge in itself. Taking a couple of them can be a little more than troublesome. It is hard to keep track of them all the time, and you might lose sight of them. After all, you don't have a 360 vision. Children's leash can be a savior in these situations. You can keep your kids close while you do your daily chores.
An especially active child: Do you have a young runner? Active children are healthy children. However, in public places, they can get lost or get in trouble if they run around. You don't want to lose them or have them run into a busy road. Children's leash can help you keep your child close and not lose them.
When crowded places, Crowded places can be a nightmare for parents with kids. Places like amusement parks or large gatherings carry the risk of you losing your children. No parent wants to deal with that panic. There are also risks around areas that are close to pools or elevated places. In these cases, a children's leash will be your best friend to keep your kids safe and in your line your sight.
Some Cons to Using Children's Leash
Leashing your children a lot might not be great for them. It might affect them negatively psychologically. If your child hates the leash, do not pressure them into wearing it.
Choose the leash carefully. A hand strap leash could cause rashes on the skin as it rubs against it.
Do not pull too hard or too briskly against the leash. You may unintentionally trip your child.
If you are not careful, your child can get entangled in the leash, and in worse cases, it can lead to strangulation.
Leashing your toddlers can cause them some social embarrassment. You, as a parent, will also face some judgment, but I'm sure as a parent, this will not be anything new for you.
Conclusion
Children's leash will always remain a controversial topic, but parents sometimes have to make the choice of getting one for the safety of their kids. We understand the reluctance to get one, but in crowded spaces with an active child or a couple of active children, a children's leash might save you a lot of trouble.
The list above gives a wide range of choices, from bag pack leashes to get your child excited to minimalist shoulder tether. You should make a choice according to your needs.
You can also go for something simple like an anti-lost wristband. All of these have some value or the other to offer. However, what they all do is ensure your child stays within a safe distance of you.
We hope you have made your choice by now and feel a little better about the safety of your active toddlers in public spaces.