15 Most Fascinating Robot Dinosaur Toys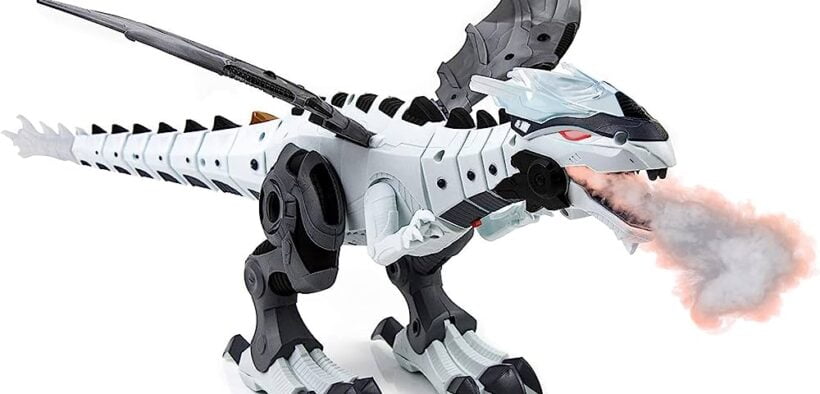 Let's admit it! Kids' toys are just getting better, but nothing can replace the charisma and charm of a robot dinosaur. There is something simply so engaging and fascinating about the robot dinosaurs that makes them irresistible.
Remember the time when you were playing with your dinosaur toy? Well, it is time to bring that magic back to your kid now!
Traditional dinosaur toys have always entertained kids, and now the robot dinosaurs are adding to the magic. Fun to play with, educational, and the perfect companion to trigger creativity, the robot dinosaur is a complete package.
If you are looking for the most perfect and amazing robot dinosaur, you are at the right place. Rundown some best robot dinosaur toys that are carefully picked to enlighten your toy paradise.
List Of Best Robot Dinosaur Toys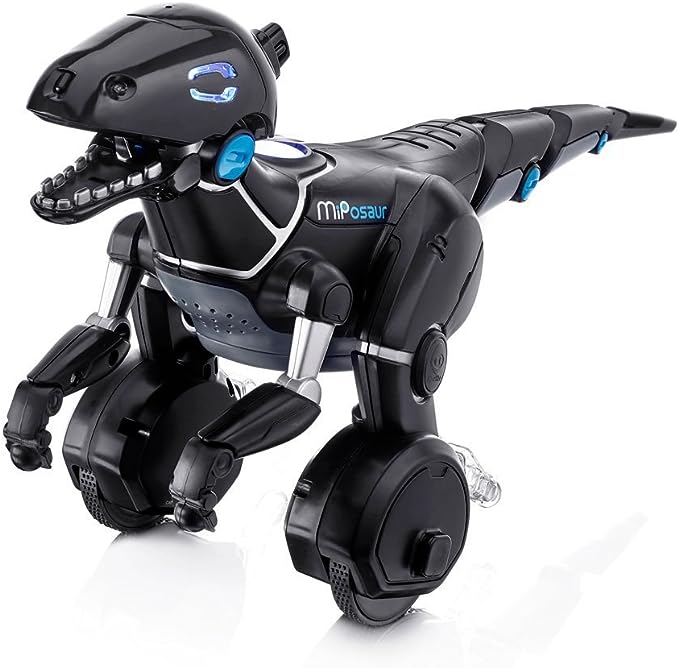 Talking about the most stylish and good-looking robot dinosaur toy, the WowWee Miposaur has no comparison. With its sleek black body, silver teeth, and pierced eyes, this robot dinosaur is most likely to impress everyone.
The major attraction of this robot dinosaur is its interactions, which are made using hand gestures, trackball, and apps. This evolving intelligent robot dinosaur uses hand gesture hand recognition. Thanks to the unique dual-wheel balancing, the dinosaur is always on the run.
You can also use the trackball to activate its dance, feed, and chase modes without any hassles. It requires no assembly and can easily be connected to Bluetooth-enabled devices. Overall, it can be seen as the epitome of a perfect robot dinosaur to play with.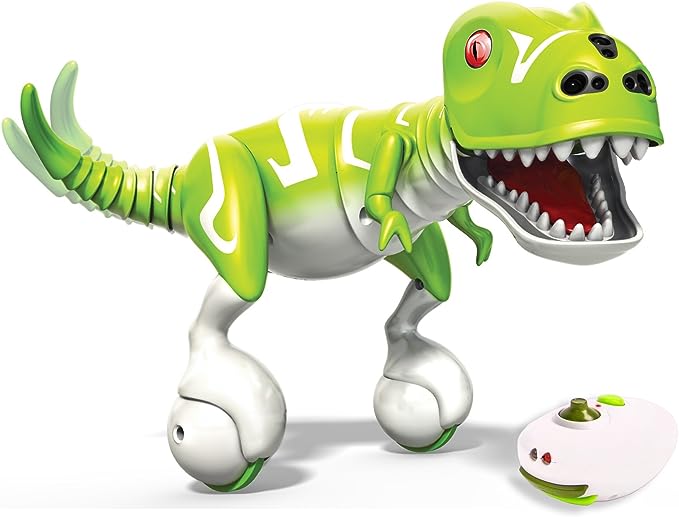 Designed to give you an amazing and incredibly fun time for your kid, this Zoomer dinosaur is the perfect toy. This dinosaur can be relied on to overcome your boredom, as your kid can tame this cute-looking dinosaur. If you are looking for that perfect dinosaur for some thrilling action, choose nothing over this little guy.
It uses True Balance technology to roam anywhere really quickly. It can easily move forward and backward, along with spinning around. Thanks to technology, it can freely roam without any hassles or risks.
The major attraction of this dinosaur is its color-changing eyes that reflect its mood. Blue eyes mean he is watching you, purple eyes mean he is learning, and red eyes mean he is totally angry and mad. Pat on its back and see this little dinosaur giving you his cute smile as well.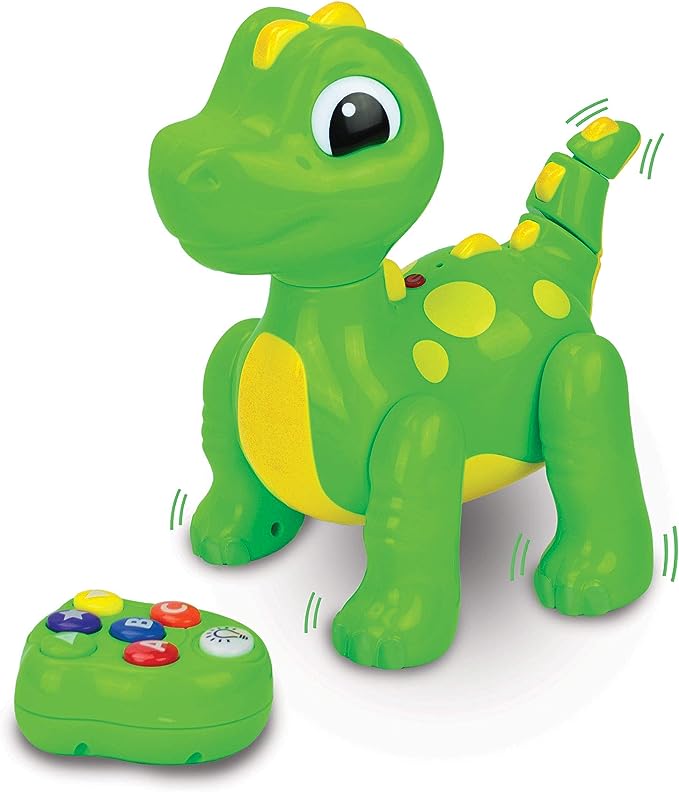 Looking for a fun way to let your kid learn, function, and have fun? Well, this robot dinosaur would make the best choice. It is a remote-controlled dinosaur that very easily interacts with your child to keep them entertained. Moreover, you can make this dinosaur dance and answer your questions using a remote control.
This interactive dinosaur is the perfect companion for your kid to learn and explore new skills ahead of the traditional ways. It comes with uniform support to ensure stable and safe movement here and there.
You can also make the dinosaur dance to your tunes to have an enjoyable time with your child. Last but not least, it comes with an auto-shut option and is thoroughly tested for safety.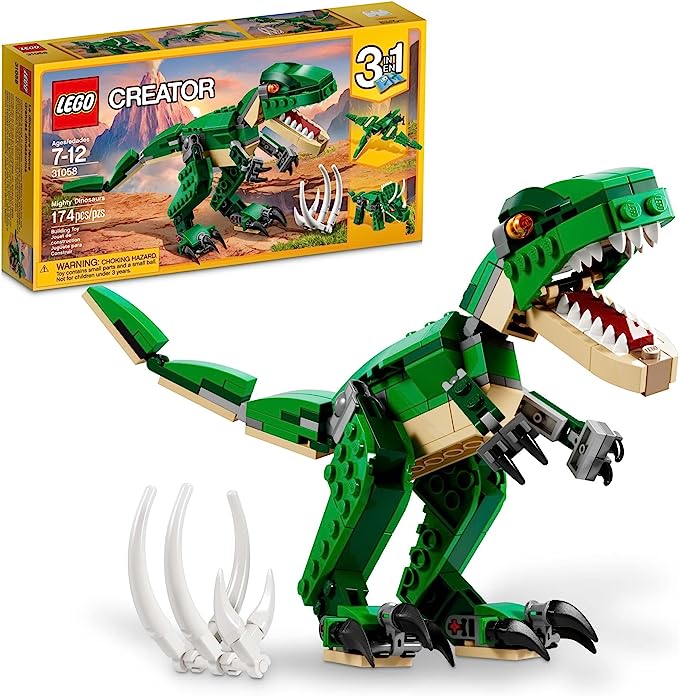 If your kid is a fan of rough and tough action toys, this robot dinosaur will make the best choice for them. It is specially built with an aggressive image with its bright orange eyes, posable joints, and large claws. It also makes an impression with its widely opened mouth having pointed teeth.
This real-looking dinosaur would make a wonderful gift for your kid to be entertained for hours without any hassles. It can easily be transformed into a Triceratops or a Pterodactyl without any complications; however, it requires initial assembling.
This robot dinosaur is designed to last for the maximum time without any damage. It is the perfect companion for your kid to enjoy endless hours of imaginative play and learning.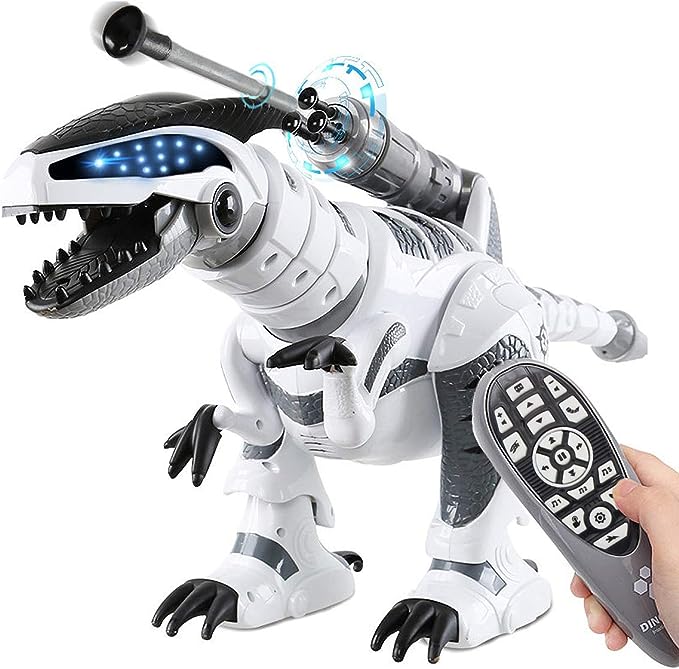 There can be no better choice than the Fistone RC robot dinosaur if you are looking for a smart and best weapon-launching dinosaur. It is specially designed with a highly-equipped mechanical body that makes a lasting impression. The gray body, pierced eyes, and weapon launcher on the back make this robot dinosaur one of a kind.
This dinosaur can be operated in 2 modes – Play mode to dance, enjoy, blink eyes, etc., and in Combat mode to fight, scream, isolate its target, and fire bullets. You can easily activate any of the modes using a battery-operated remote control.
It stays active for up to 30 to 40 minutes with a single recharge; thus, your child can enjoy a long, continuous playing time with this dynamic robot dinosaur.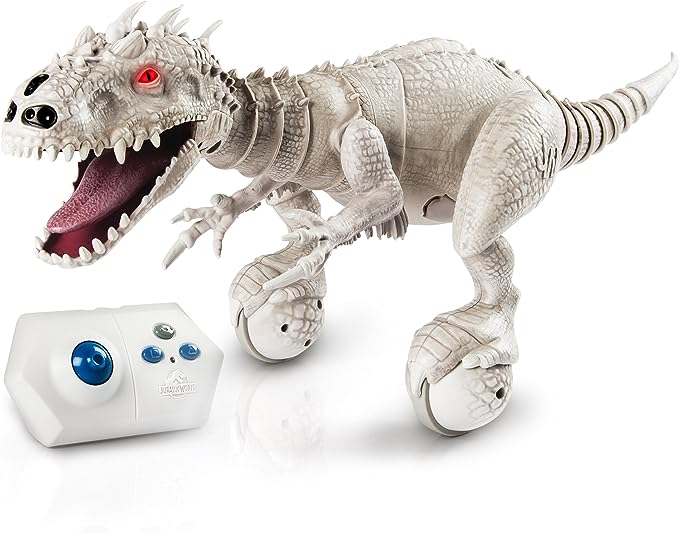 This is one of the best robot dinosaurs that is no less than a real-looking dinosaur of the Jurassic Park collection. Honestly, it is quite a fearsome dinosaur that instantly catches attention. You can enjoy the adventure of Jurassic Park with this incredible dinosaur without any complications.
It uses True Balance technology to explore and hunt its surroundings in a safe and uniform movement. It also ensures the maximum safety for your kids to let them play with it for hours without any worries. You can easily control its movements using a remote control.
Its distinguished advantage is its IR nose sensors that can detect your hands' movements to make it a more realistic experience. Lastly, his realistic roar is enough to make his enemies run for their lives.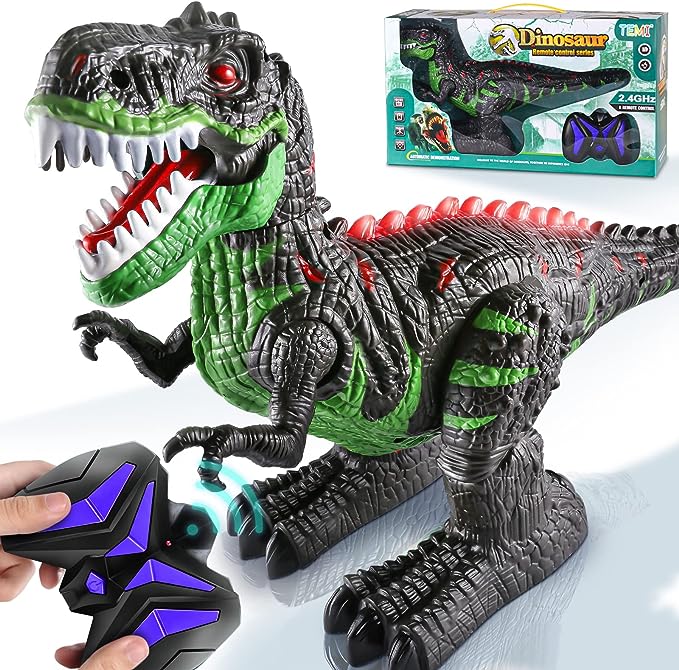 What can be better than a robot dinosaur that offers high performance with its 8 channels RC functioning? This dino can move forward, backward, left, and right, shake his head, and easily perform a 360-degree stunt rotation. It also attracts with its flashing lights and realistic sound effects.
One of the best advantages of this robot dinosaur is its automatic functioning. As you press the automated presentation feature, it automatically performs all the desired actions without any hassles. You can easily use the remote buttons of the dino to switch on the flashing lights and enjoy its different roars.
Lastly, it comes with long-lasting 40 minutes of continuous play time in a single recharge of 2 hours. It is absolutely safe for the kids as it is designed with high-quality plastic and undergoes several CPSIA and ASTM F963 tests.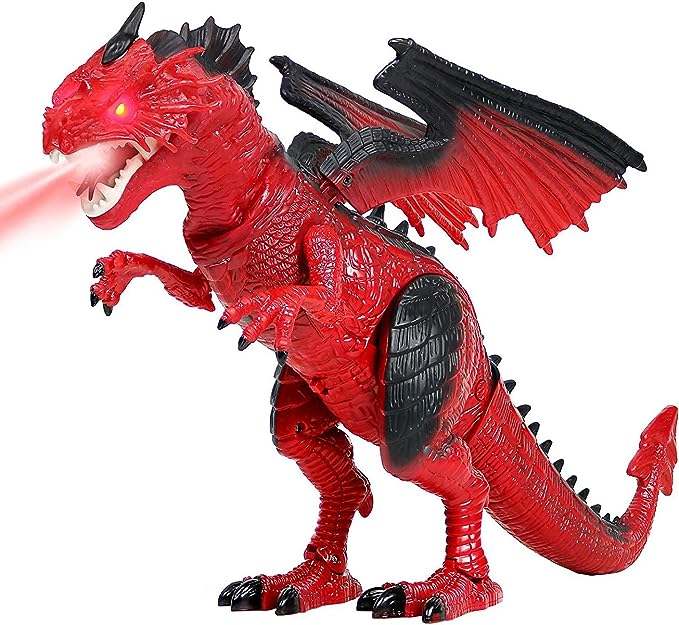 This amazing robot dinosaur will make an excellent gift for your child if he loves rough and tough games. As the name suggests, it is a fire dragon that can be easily operated with remote control. One of the most significant impressions of this dino is when it walks, roars, shakes, and opens its wings.
The realistic lights and sounds also add to its beauty, which leaves a lasting impression. All its functions can easily be operated using remote buttons. Get the most splendid experience by enjoying its claws, teeth, and realistic scales. It comes in a kid-safe design and is made with high-quality plastic to let your child enjoy his playtime without any worries.
Lastly, it has a uniform base and uniformity that makes all its actions more realistic. The realistic dragon noises and light-up eyes are really the charming features of this robot dinosaur.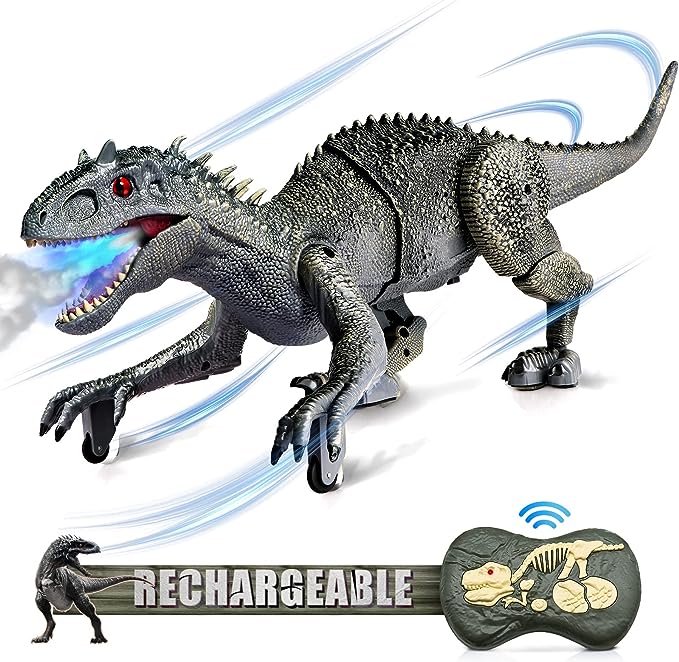 How about having a dinosaur that is realistic and cool for the entire family to enjoy? Well, this Hot Bee-designed robot dinosaur is one of its kind that makes a classic choice for everyone. The beauty of its design and appearance is simply hard to resist.
It is a sound-activated dinosaur that ensures to keep your child captivated with its beauty and function for the longest time possible. Its smooth walking and roaring always surprise your child to be amazed by this beauty.
Besides offering fun playtime, this robot dinosaur also helps your kid to be more creative and focused. Its smooth and safe walking and movements can easily be cherished without any worries. Lastly, simply add some water on top of its head, press the button, and have amazing fun.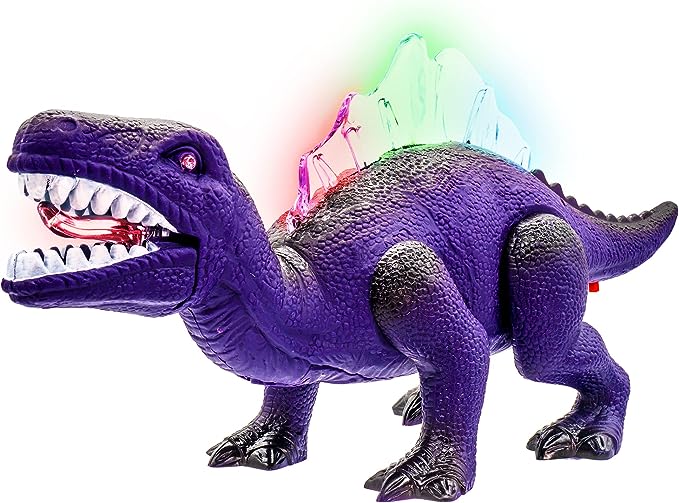 Are robot dinosaurs only for boys? Says who? If you are looking for something for your little girl, this can be the perfect choice. It simply amazes your child with its fierce looks and glowing spikes, and believe us. It looks no less than realistic.
To enjoy its amazing functioning, simply unleash the Spinosaurus and enjoy its walking and roaring. As it lights up in different colors and vibrations, it also sparkles the imagination of your kid to engage with their creativity.
It is designed with high-quality material to keep it safe and non-toxic for your kid. It is absolutely easy to use and makes a wonderful gift for a toddler. As it comes without volume control, you should be a little careful with the roaring sound.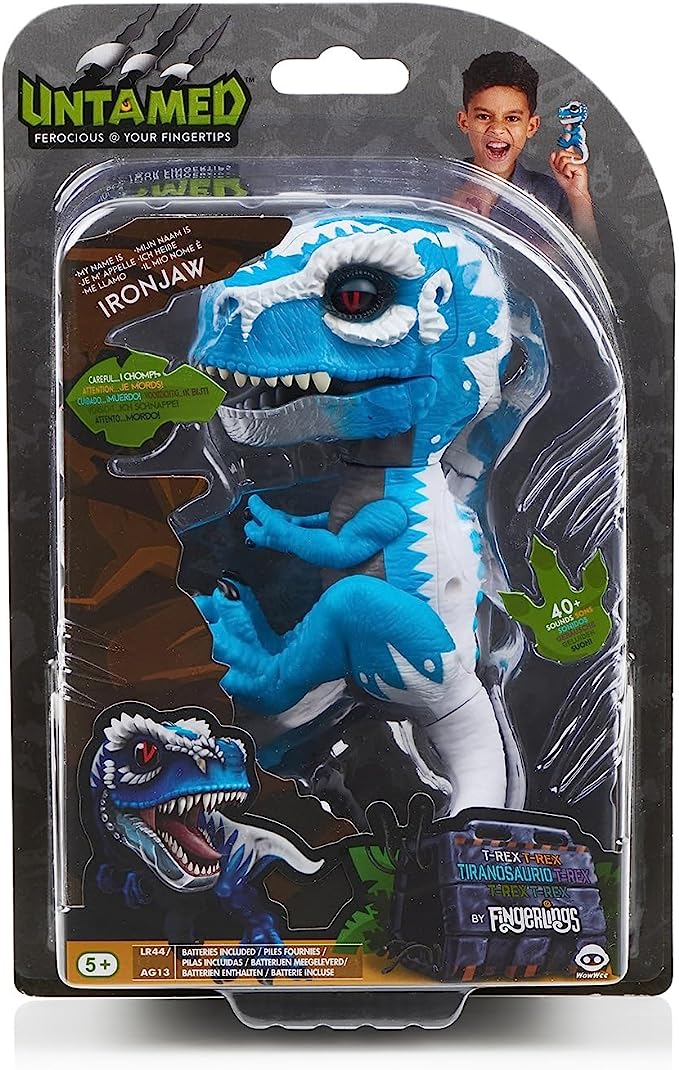 Still looking for the cutest robot dinosaur toy? Well, end your search with this beautiful and cute robot dinosaur that is likely to make you fall in love. It is an interactive, cute-looking, and long-lasting robot dinosaur that will surely be your child's best friend.
What makes this robot dinosaur so popular and amazing? Well, it can easily hold your child's finger, either tamed or untamed. As a result, your child always has a constant companion to enjoy and have fun. To keep your child engaged, it responds to motion, sounds, and touches.
Besides this, you can also make your dinosaur roar just by riling it up and then calming it by resting it. The dino undergoes every possible test to maintain enough safety for the kid with its non-toxic build and creative design.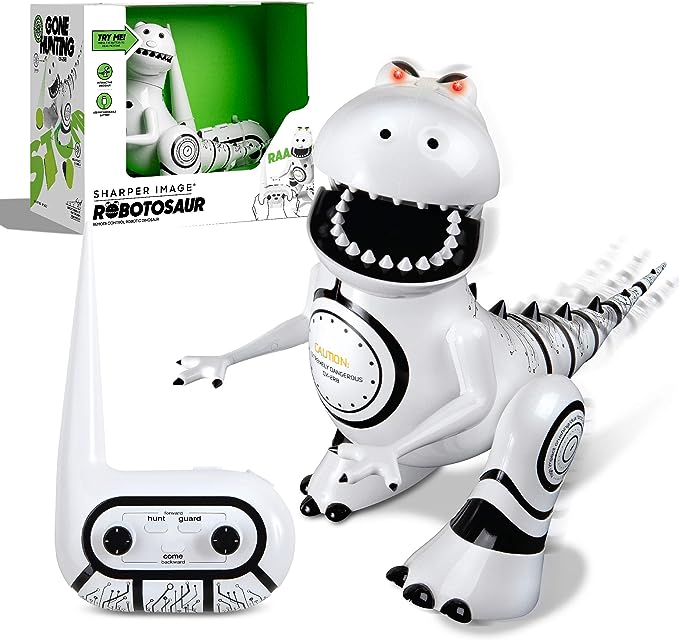 If you are looking for a robot dinosaur to make your kid learn and develop his/her skills, nothing can be better than this. It is an interactive dinosaur that provides ample opportunities for your kid to be as creative as he wants.
The most distinguishing feature of this robot is that it combines the latest robotic design and T-Rex cool factor. Your child can very easily interact with the dinosaur and make it roar, growl, yawn, snore, etc., and have fun. This wireless robot dinosaur is specially designed to follow your commands with just the use of remote control.
The in-built mood sensors and color-changing lights of this dinosaur are another engaging and appealing feature. Lastly, it comes with a guard mode that ensures that your child is safe against all intruders.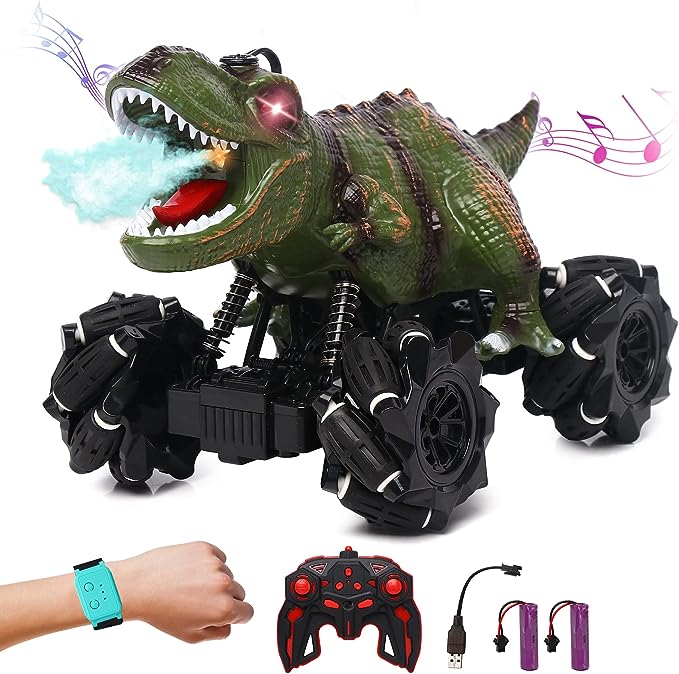 A dinosaur monster truck is always the best choice! If you are also looking for one such great dinosaur monster truck to keep your kid entertained and engaged, this should be your first choice. It can easily be controlled using a gravity-sensing watch and a 2.4G remote control.
It is a multifunctional dinosaur that can be moved forward, backward, left, and right along with a 360-degree spin. Its flashy LED lights, mist spray, and music are other attractive features. It can be used continuously for a maximum of 80 minutes with a single recharge.
Lastly, the robot dinosaur is designed with great safety measures to let your child enjoy all its amazing functions without any hassles. It is also tested with CPC and CPSIA USA toy standards for its long-lasting and safe use.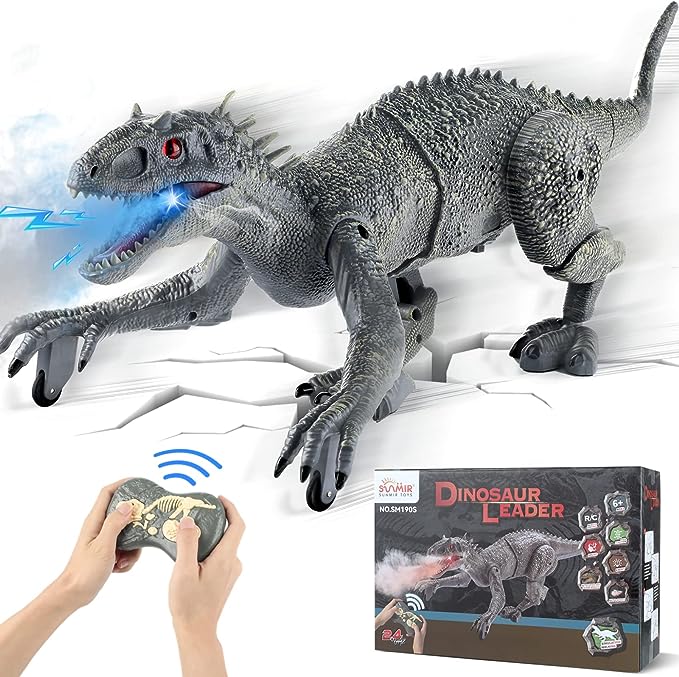 This is the most amazing dinosaur that you can gift your kid, as it is quite similar to the original ones. It stands distinguished from the other toys as it can raise its legs using flexible joints. Thanks to this, it imitates the real dinosaur to give enough thrills to your kid.
Besides this, the dinosaur is also best known for its realistic growling, roaring, and walking with LED lights. It comes with a remote control to allow your kid easy access to all its features and functions. It can also be used in the automated demonstration button to learn about all its attractive features.
It makes an impressive, lasting impression with its realistic eyes, fins, and teeth designed with a simulation scale. The breath-mist can also be used with its mouth open without any hassles. Lastly, it is designed with ABS plastic, which is absolutely safe and friendly for kids.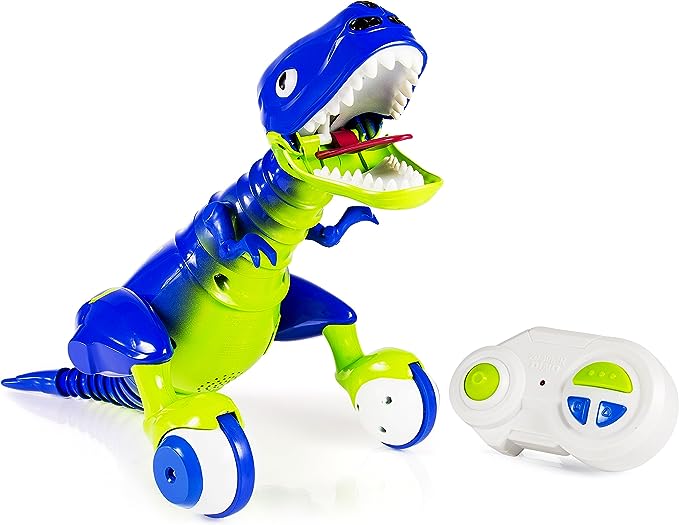 Last but not least, you can have this simple yet impactful robot dinosaur for your kid to play and enjoy. Amidst all the large and loud dinosaur designs, this comes quite subtle and impactful, making it a wonderful choice for a newborn.
This robot dinosaur moves on its 2 uniform wheels with maximum stability to explore its surroundings. Its life-like movements with the tail and head also make a decent, lasting impression on your child. It makes the best companion to play in autonomous attacks with the utmost safety and entertainment.
It can easily be controlled with a remote control to enjoy all its simple and engaging movements. Special care is taken to keep this dinosaur absolutely safe for the kids. It is designed with high-quality material and is also tested for its high performance and stability.
Why are Robot Dinosaurs so Amazing?
The robot dinosaur is not just a toy, but it's an emotion, especially for boys. They are awesome not just for the playful time but for their uniqueness. It is also fascinating to understand that the robot dinosaurs have something special that makes them so amazing. Curious to know?
Yes, they are, whether you realize it or not. The robot dinosaurs are helpful in learning the significant history and the importance of time. Moreover, you can also use some specially designed dinosaurs to give your child an idea of their survival.
It's not just your child playing with a robot dinosaur, but it helps enhance their creativity. With robot dinosaurs, your kids can do multiple functions (to make them move forward, backward, left, right, etc.), resulting in better learning. Moreover, if the robot dinosaur requires assembling, it can add to the fun of innovative creation.
Final Thoughts
The robot dinosaur makes a wonderful companion for your kid to combine their imagination and innovation with their playful, fun time. Well, it is absolutely a wonderful experience to see your child learn the significance of history in such a fascinating way.
The robot dinosaurs are obviously fun. Just imagine playing with a robotic dinosaur that can actually imitate the original ones! Your child can use his/her imagination to create different scenarios of enjoying the robot dinosaur. Their different imagination and perspective are all part of the fun experience.
Which of the robots mentioned above dinosaurs is your favorite? Let us know in the comment section.
Also, write to us in the comments regarding any concerns or doubts about the robot dinosaur.