20 Bluey Birthday Party Ideas Kids to Make Your Kid Fall in Love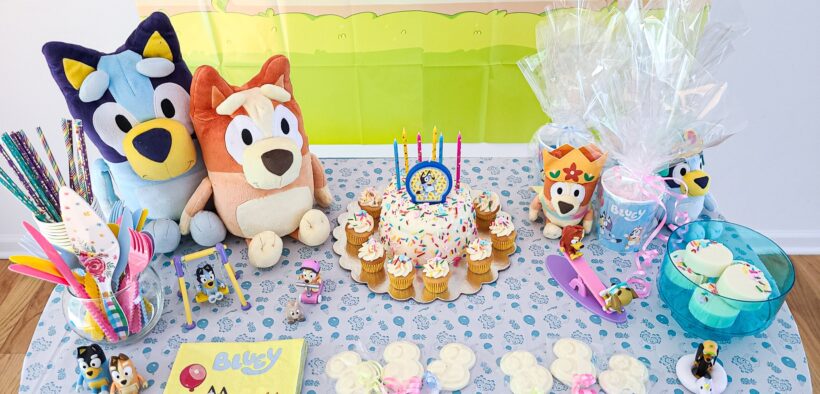 It's time to bring Bluey home! If your child's birthday is around the corner and they are obsessed with the Heeler pup family and their pals, it is a great idea to throw your little one a party that they will remember forever and, trust us, will thank you for.
The better news here is you won't even have to take a trip to Australia to bring these cute TV characters home. With these 20 Bluey Birthday Party ideas, you will get party-ready, Bluey style.
So, as the little blue pup would say, "What's up, party people?!" Let's throw a Bluey Birthday Party!"
Where to Start?
If you are planning to throw a Bluey birthday party, you would know at least a little about the Heeler family and the main character, Bluey. However, just in case you need a little brush-up, we are here for you.
Bluey is an Australian cartoon that sees a family of four pups- Bluey, her sister Bingo, and their mom and dad. Bluey is the oldest daughter in the family and is very imaginative and creative, and loves to play. She is fun, silly, and very kind to everyone in the family and all his friends. Each episode is based on a phrase and has many memorable scenes along with games.
These are all the things that you can include in your party. This article will give you 20 best ideas that are great for throwing a great Bluey Birthday Party.
Ideas for a Bluey Birthday Party
You can throw an amazing Bluey Birthday party by using some very fun and beautiful Bluey theme decorations. You can include the characters and the color theme in your food and even come up with games that you can play with little kids based on this cartoon show. Remember, your theme will be dog-centric.
The color scheme should be blue, orange, yellow, and other very bright colors, and the games, just like the ones Bluey would play.
So, let's get started.
The Bluey Birthday Party Invites
The first thing to do in order to throw a Wack-a-doo Bluey Birthday Party is to let your friends and guests know that you are throwing one. Now, there is no better way to invite than to send out Bluey-themed invitations. The good news is you will find multiple options if you search for them online.
1. Postcard Birthday Invites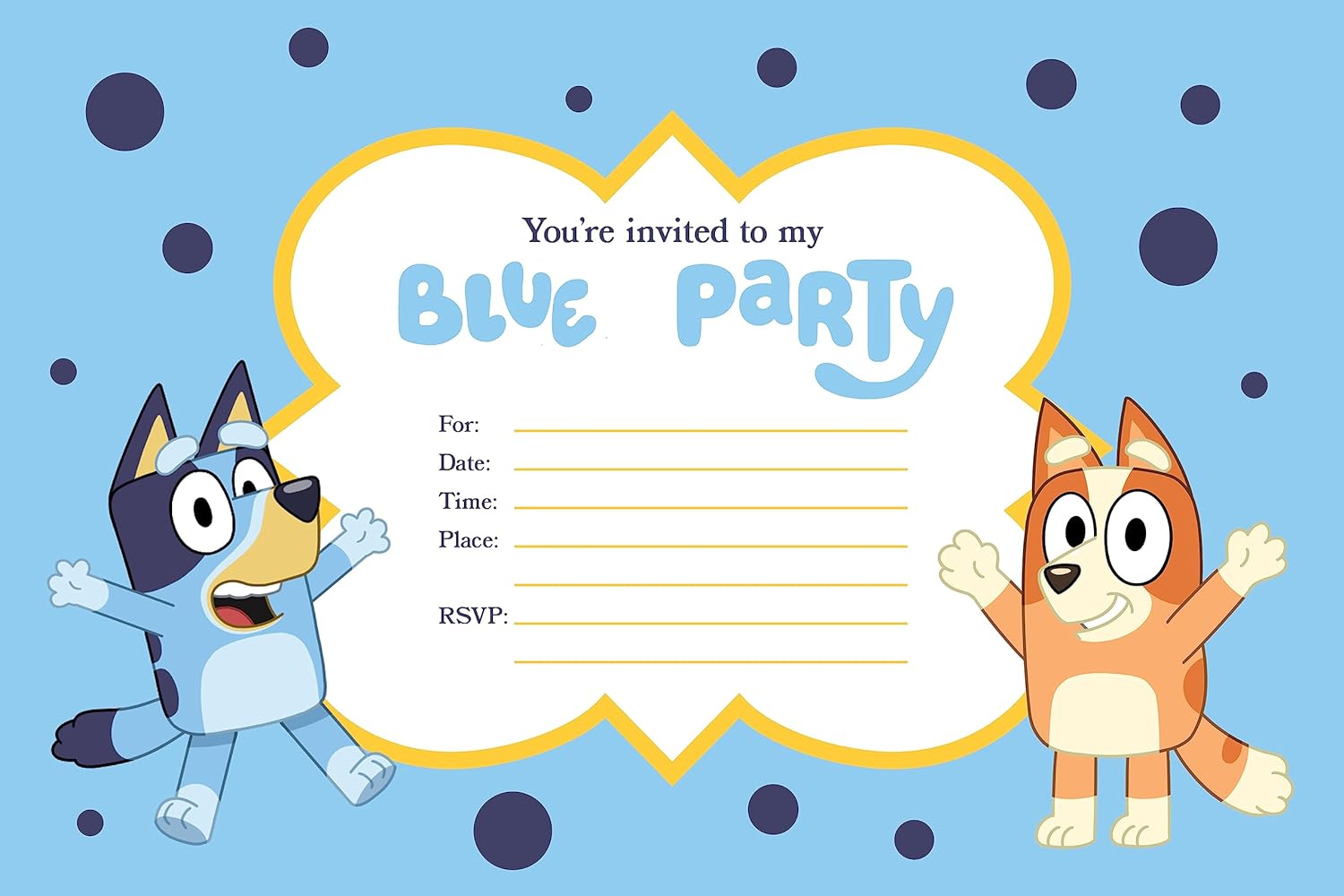 This Natural Behavior Bluey Birthday invites, and envelopes are just perfect. They are 6×4 inches postcard style invites that are printed on high-quality cardstock that makes them perfect. They have both the characters Bluey and Bingo printed on them, and all you have to do is fill in the details and send them out. They are very fun and easy to use.
2. DIY Birthday Invites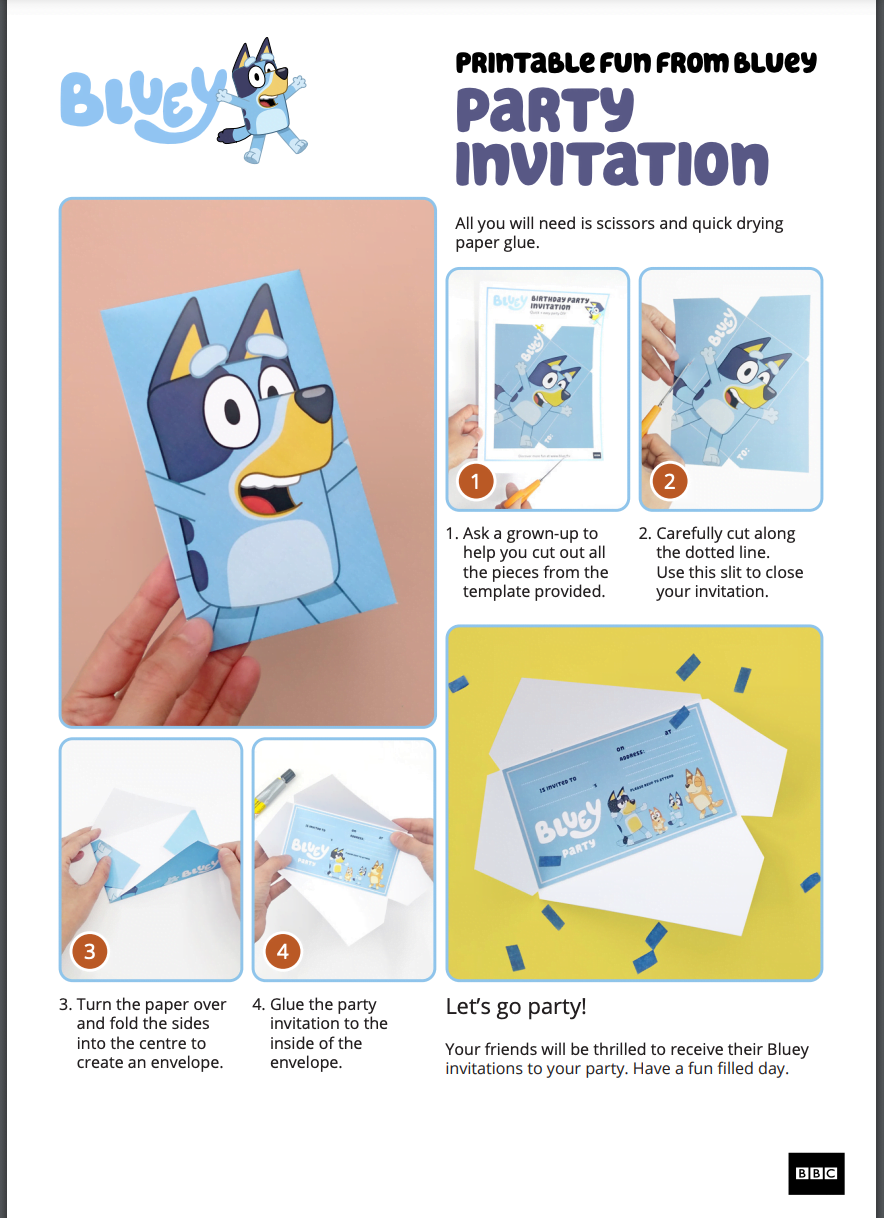 If you want to put some extra effort into making these invites yourself, the official Bluey website has a ready template that you just have to print, cut and send. You will find the instructions to get along with this theme and make your cards very easily. It will take a little more time to do so, but since they are DIY, you will save a lot of money.
The Bluey Birthday Party Decoration
The next thing to take care of is, getting the decorations right. When you have sent such amazing invites, it's important to keep the theme going, even in the decorations. It is very easy to find decorations that go perfectly with your theme.
3. The Bluey Birthday Decor Backdrop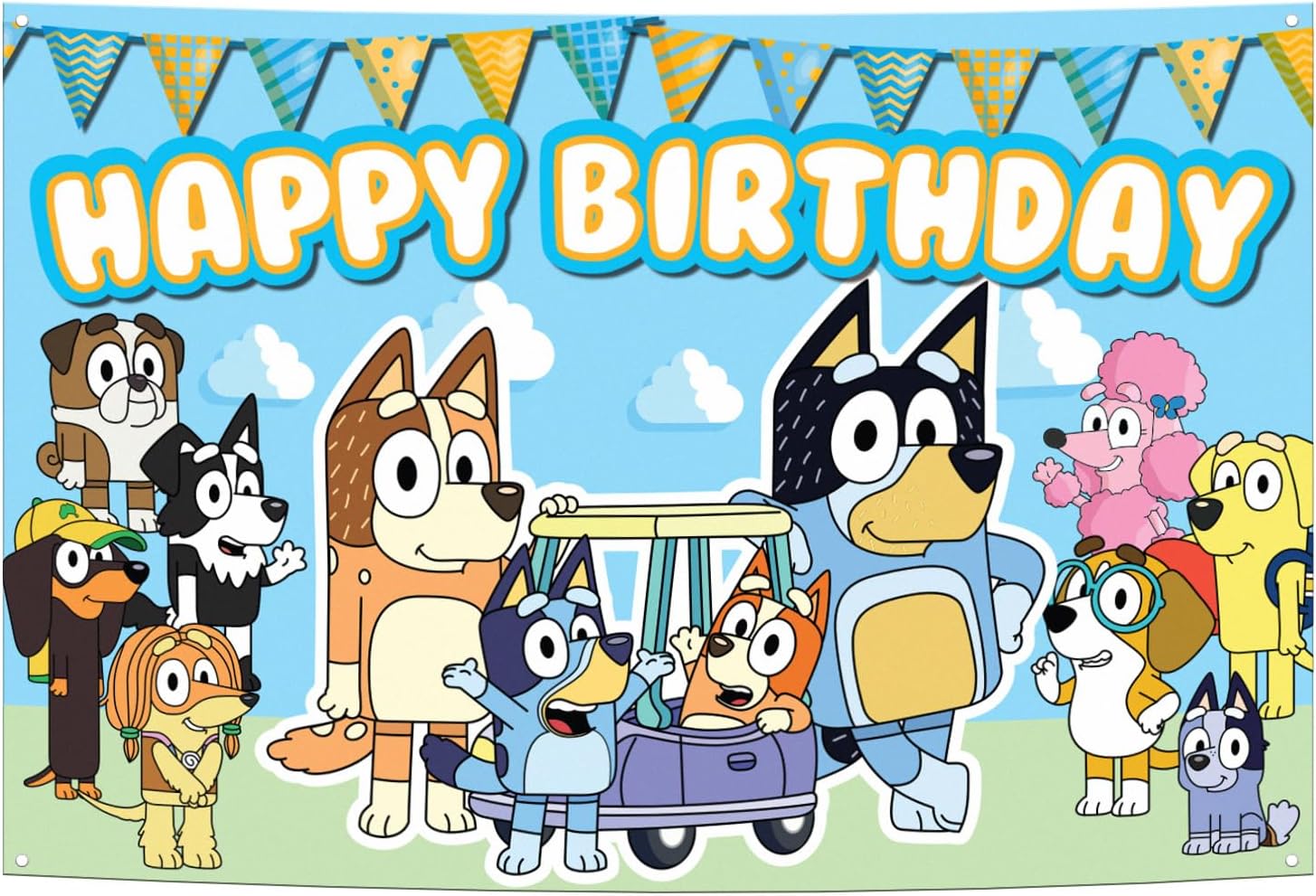 A backdrop is one of the most important decor elements in your party. This is what your guests will see as soon as they enter, and it will bring the whole theme together. You can check out this Melodic Loft Bluey Birthday Decor Backdrop.
The backdrop features not just Bluey and Bingo but all other characters of the cartoon too. This backdrop is made out of thick, durable material that is long-lasting. They have pre-installed grommet holes that make it easy to hang up, and you will have a lot of fun with them.
4. A Baloon Garland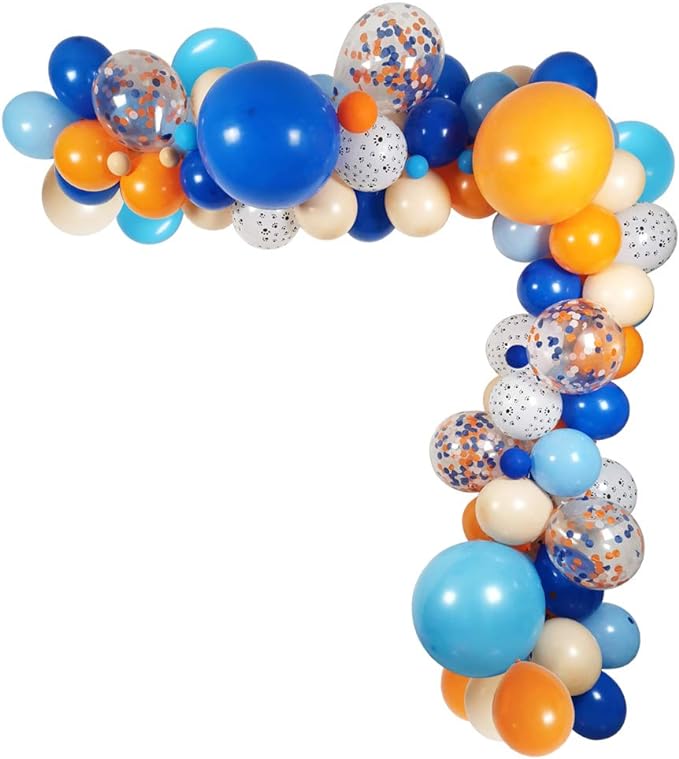 The next very important element in Bluey Birthday Party decor is the balloons. Balloons are anyway great addition to any birthday party. They are fun and elemental and make great decor elements. You can welcome your guests with this Bluey Balloon Garland on your front door and get them in the party mood instantly.
This garland has 115 balloons, all in the Bluey color scheme. Some are solids in color, some have fun glue dots, and others have beautiful prints. It will elevate the look of the party almost instantly. However, if putting balloons on the entry is a little too much, you can always put them up around the treats table.
5. Bluey Balloons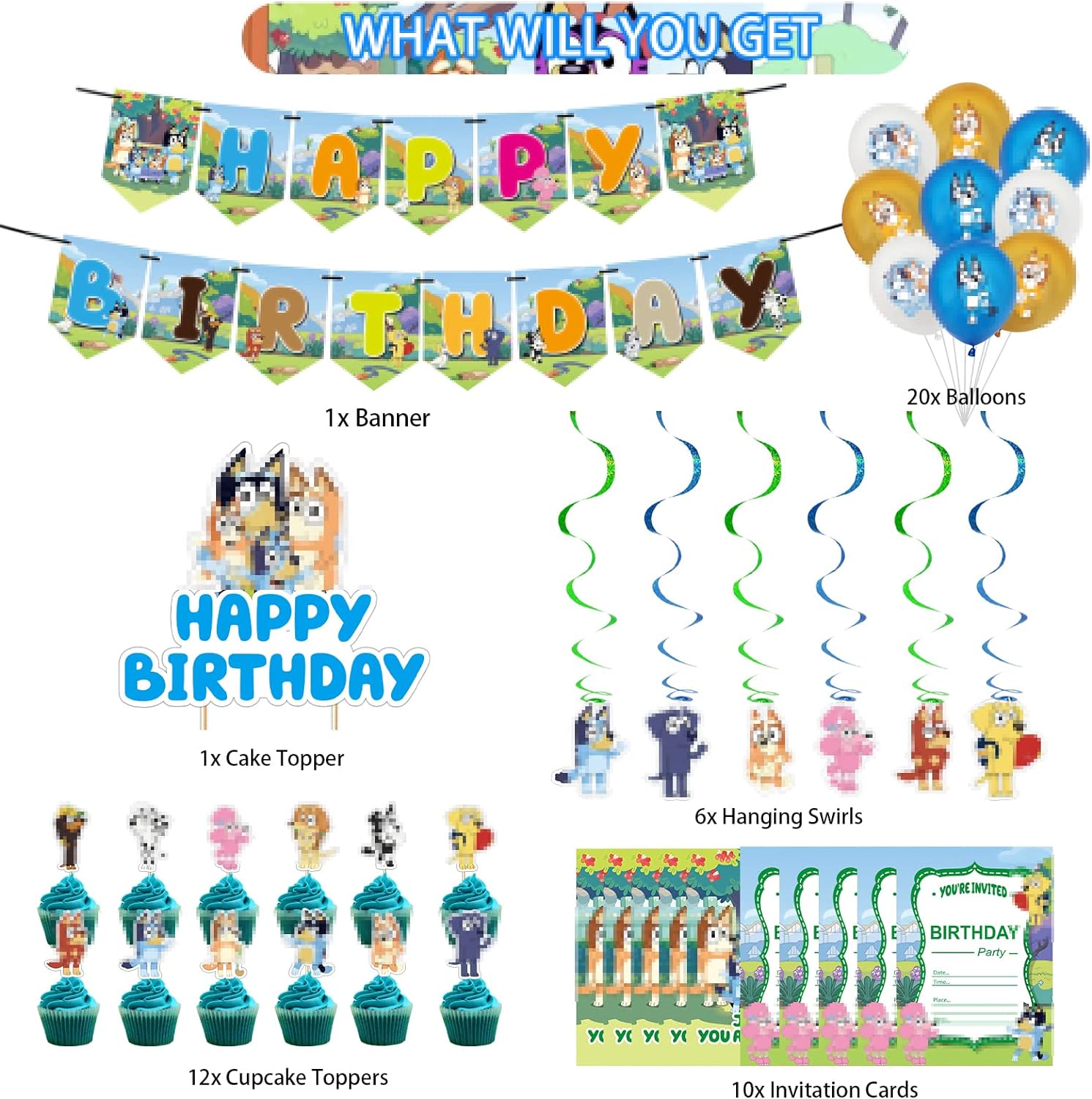 You can never have too many balloons. Along with the garland, you will need more balloons and party decor to bring the whole theme together. For this, these Bluey balloons are just perfect. They are easy and fun and make the theme of the party clear. These decor balloons come in foil for both Bluey and Bingo balloons. You just need to blow them up and set them.
6. Bluey Party Supplies Pack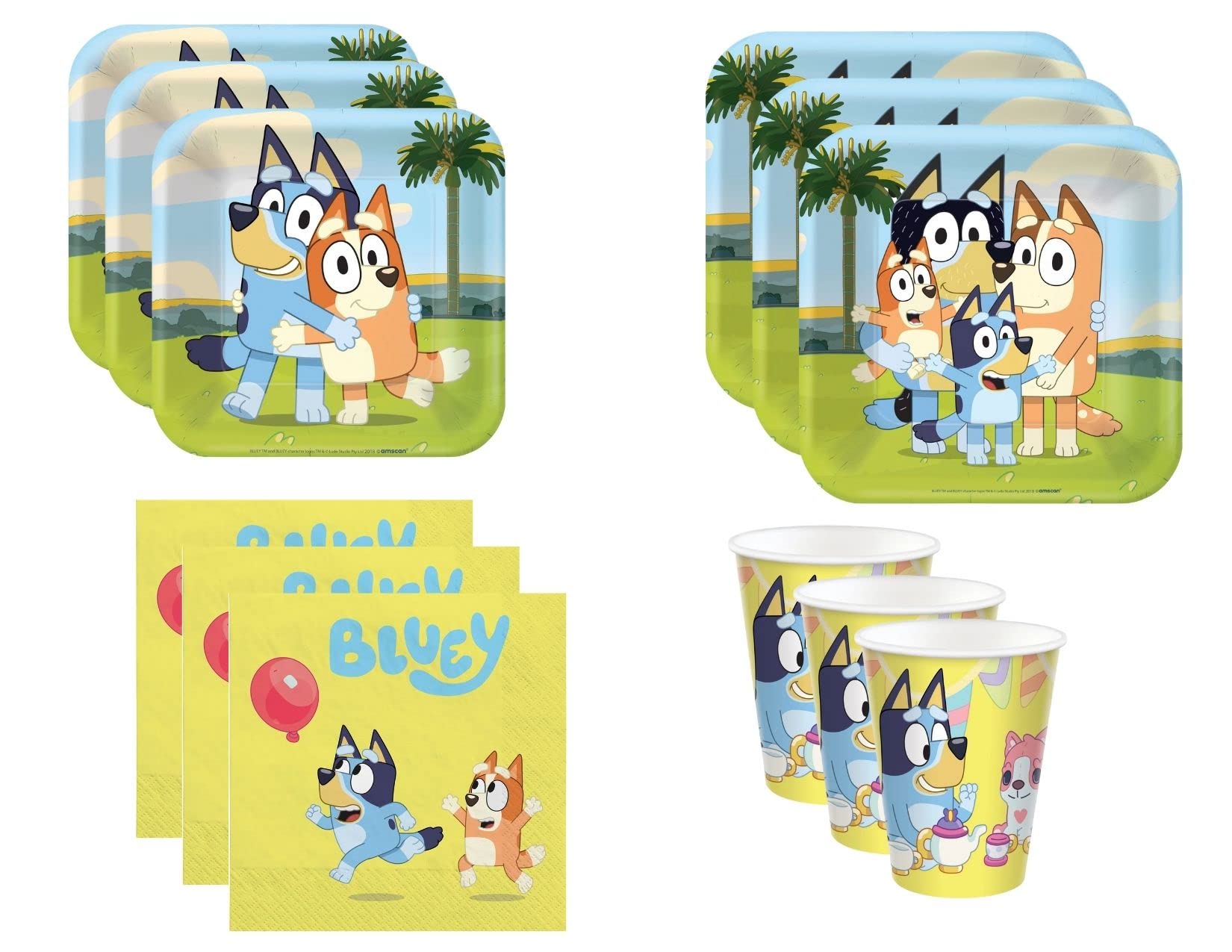 Throwing a Bluey-themed Birthday Party couldn't get easier. These Bluey party supplies are your one-stop for all things Bluey. You get a cute Happy Birthday banner, cupcake toppers, a cake topper, different latex balloons, and six hangings of different characters from the cartoon. It is fun, easy to put up, and has just the right theme.
7. The Bluey Tableware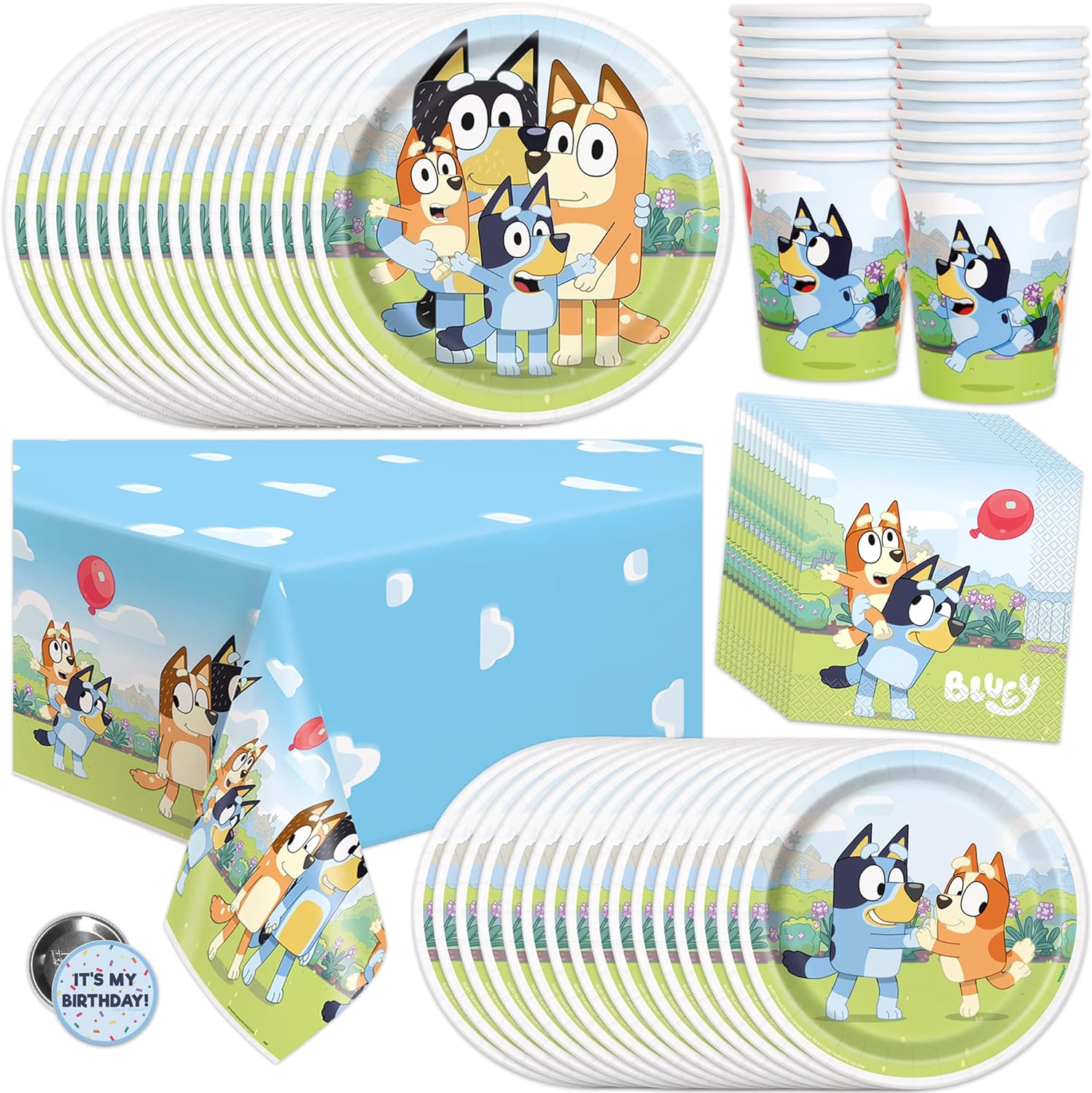 It's either go Bluey or go plain. We suggest you go with Bluey if you really want to commit to the theme. You can also incorporate the theme into your tableware and make the food serving really fun. It just gets really easy to do so with this party supply pack by Unique Store. It has all the tableware you would need to serve the yummiest food. Featuring Bluey, Bingo, Bandit, and Chilli, you get disposable dinnerware, a Bluey tablecloth, and napkins in this pack. They are all made of high quality and will make a great accessory for the party.
The Bluey Birthday Party Food
No party is complete without some yummy food. While you can serve whatever you like, it would be great if you could include some Bluey-themed food items in your menu. Not just food, it is a fun idea to make your cake based on the theme too. Here are some options that you can explore.
8. What's On The Menu?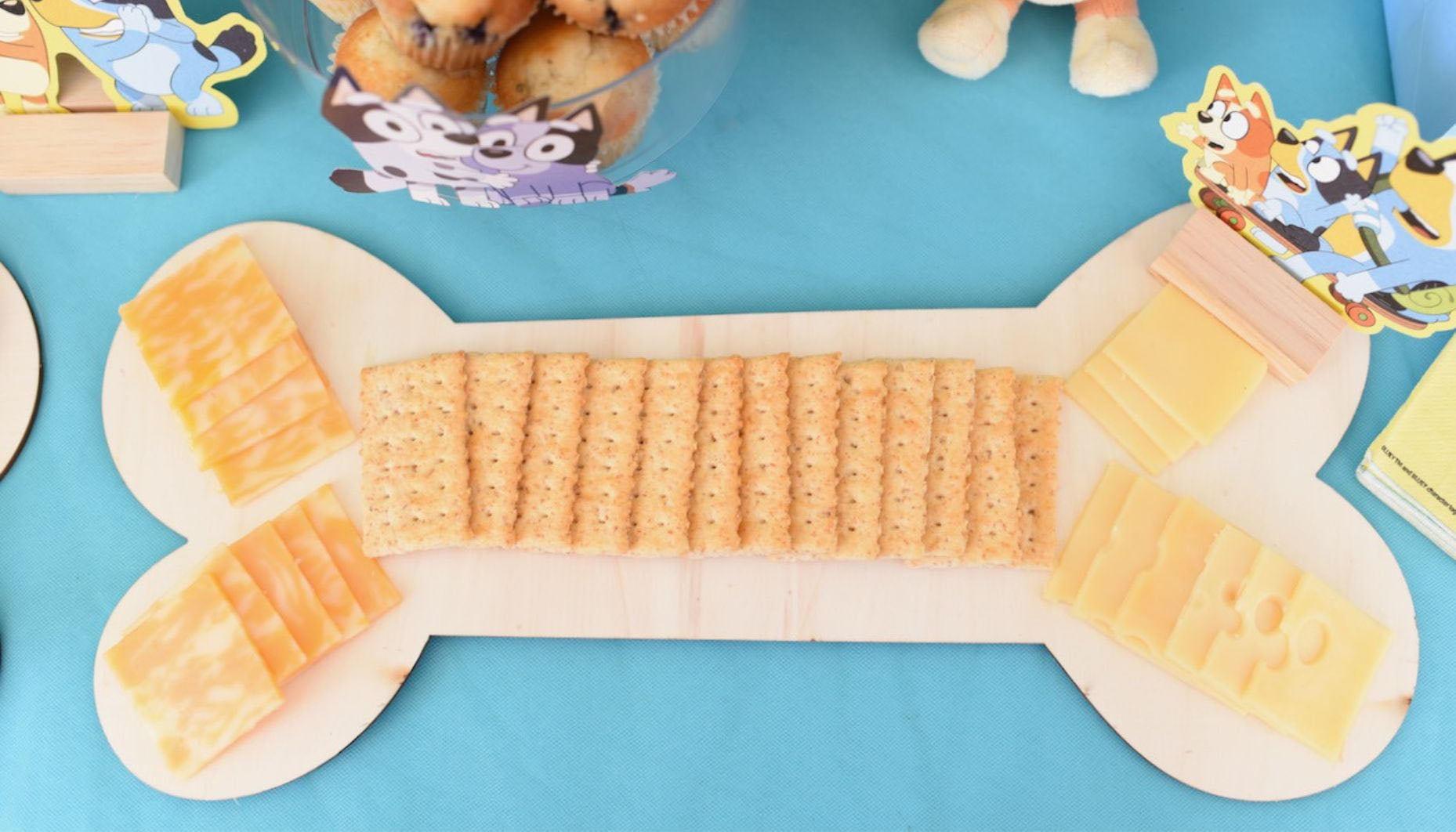 That Bluey and Bingo Love: Over the several episodes of the cartoon, Bluey and Bingo make it clear that there are food items that they like and dislike. You can very easily add them to your food menu. For instance, you can very easily add items like these-
The Bluey and Bingo's Cheese and Crackers: All you have to do is, arrange some cheese slices and crackers on a platter, and you have the dish.
Sandwiches: You can also add the cheese and jam sandwiches which are Bluey's favorite, and Peanut Butter and Banana sandwiches, which are Bingo's favorite.
Bum Worms: These are basically gummy worms. But make sure you name them Bum Worms for all your Bluey fans. So, there are a lot of options when it comes to this one.
Bingo's Fairy Bread: It is very easy to make this; you just need three things, white bread, butter, and rainbow nonpareils sprinkles, and you are good to go.
Pizza: While Bluey and Bingo love mud pizza, traditional pizzas would be a good idea for your food menu.
9. The Cake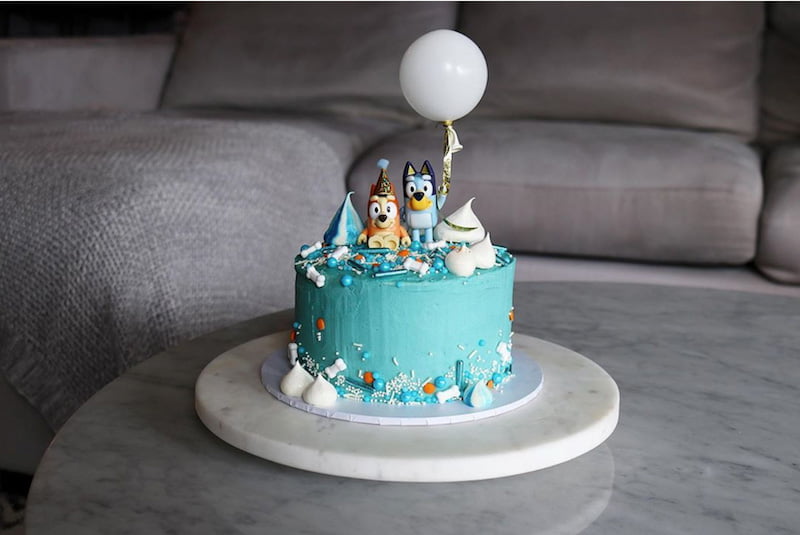 The center of attention at any birthday party is a cake. It is very important that you remain especially careful when it comes to a Bluey Birthday Party cake. There are many options available when it comes to this, so make sure you do good research before you get THE CAKE for your little one. You can get a Bluey initial cake or one that is based on your child's favorite episode.
10. Cake Toppers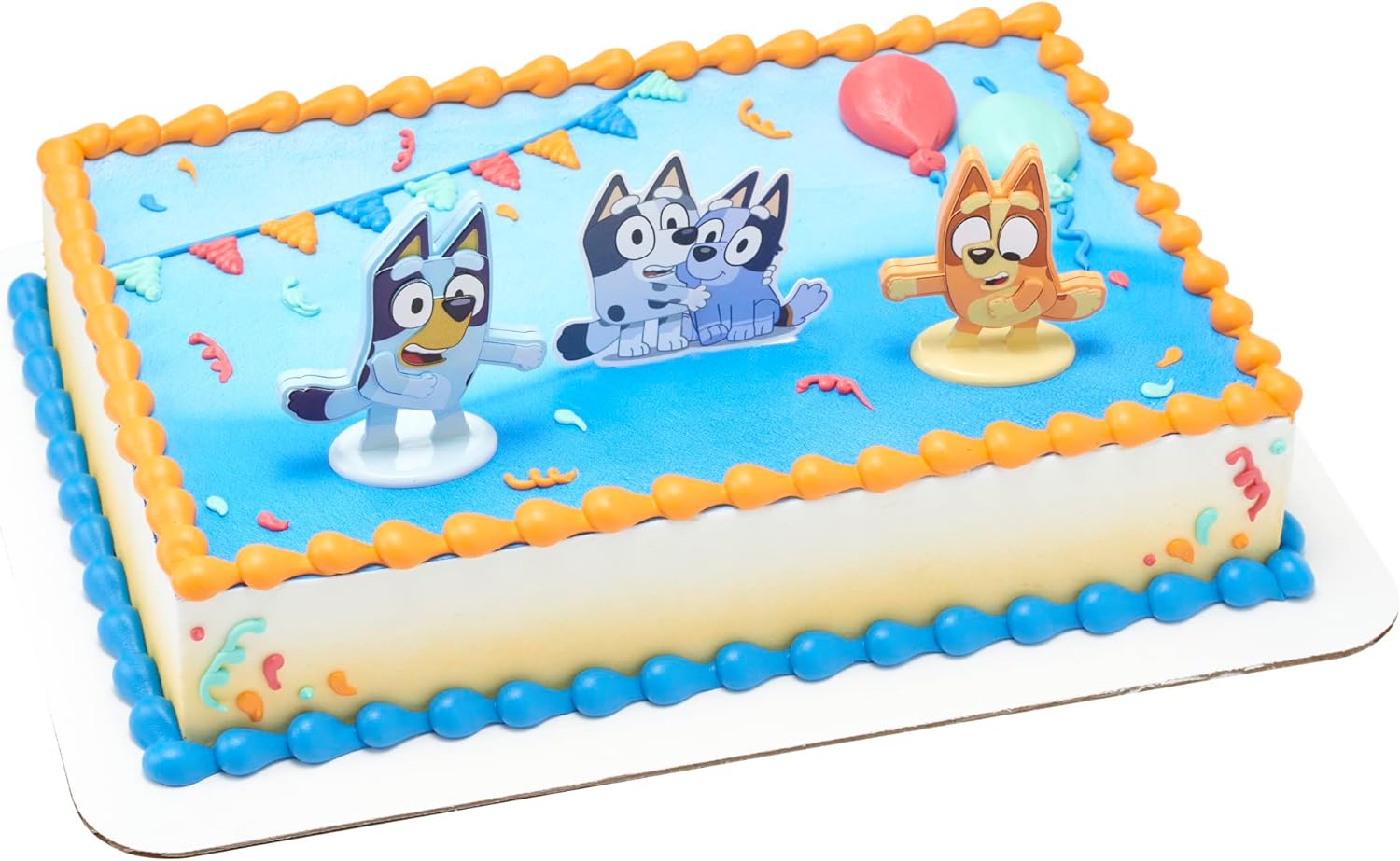 Now that we are still on the topic of cakes, it is important that you do not forget cake and cupcake toppers. You can get custom cupcakes for the Bluey Birthday Party, but it is also important to put a theme-based cake topper. You can get a cake topper, along with several cupcake toppers that will make your food table look Wack-a-doo indeed.
The Bluey Birthday Party Games
When your guests come over for the party, they are coming to have a good time. The party will be lively if you plan some games in advance. This way, your guests will be entertained, and the little kids running around will have something to do. You can very easily play some Bluey themed-games and make the party a success.
11. Keepy Uppy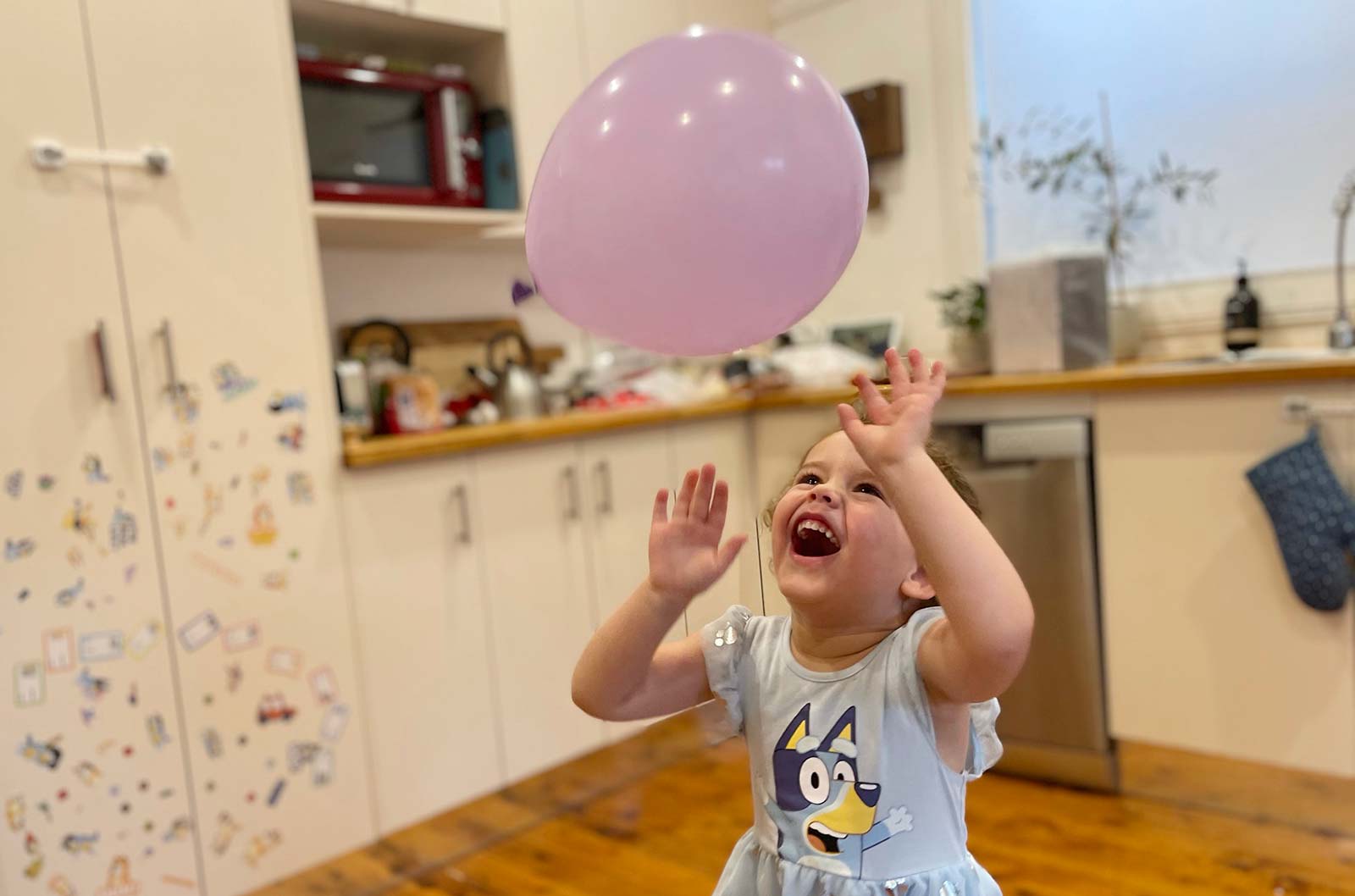 Go all Bluey and play her game, the Keepy Uppy. It is a very easy game, and all you will need is a red balloon. You can also use a Bluey-themed balloon for this game to amp things up a bit.
How To Play?
Just toss the red balloon in the air, and the game is to keep the balloon afloat. In Bluey's words- "Don't let it touch the ground."
12. Obstacle Course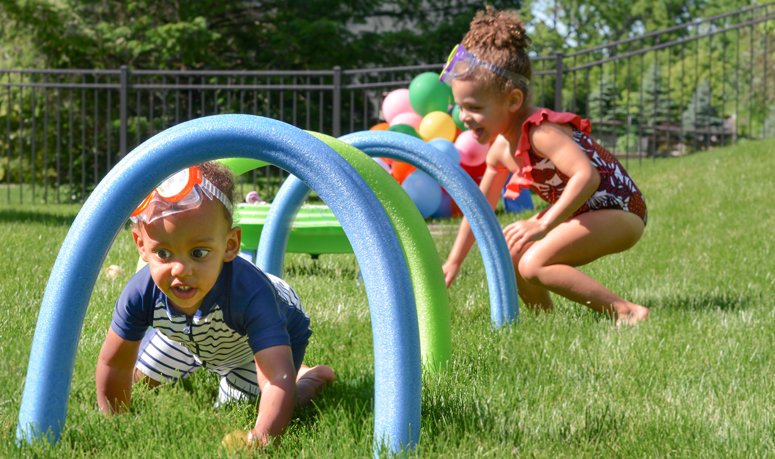 Straight out of the cartoon, the obstacle course is a great game to play with the kids at the party. For reference: In one of the episodes of Bluey, Mom sets up an obstacle course in their Backyard and then asks Bluey how fast she can run. To this, Bluey replies that she can run as fast as a greyhound. This is what you have to do.
Set up an obstacle course in your backyard. Use things like pool noodles, hula hoops, buckets, and hats, and ask your kids to jump over or crawl under several things. The challenge for the kids will be to complete the game "as fast as a greyhound."
13. Pass The Parcel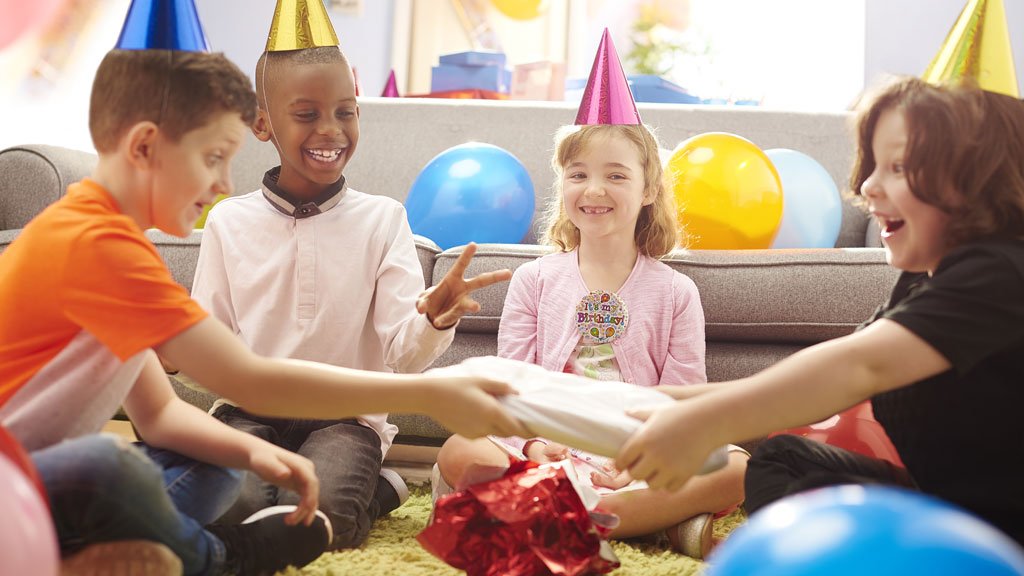 In season 3 of Bluey, a game called Pass the Parcel is introduced, which is a very fun game to play at the Bluey Birthday party. There are two versions of playing this game. You will know about both of them here.
Type 1: The Regular Way
In this version of the game, you wrap a toy in wrapping paper. Then you place an additional small toy or a piece of candy on top of each layer and continue wrapping. You continue doing this till you have an equal number of gifts to that of kids. Then, all the kids sit in a circle and pass the parcel around when the music starts. Whenever the music stops, whoever is holding the parcel gets to unwrap the first layer of the parcel. They get to keep the gift, and this way, all kids get one gift, and everyone is happy.
Type 2: Lucky's Dad Verison
The other version is Lucky's Dad's version. In this, you only keep one gift and keep wrapping it again and again, making empty layers. The gift is then passed around just like in a regular way. The only difference is that only one kid will get the gift, and all the players will only know about it as the game moves forward.
14. Bluey Coloring Game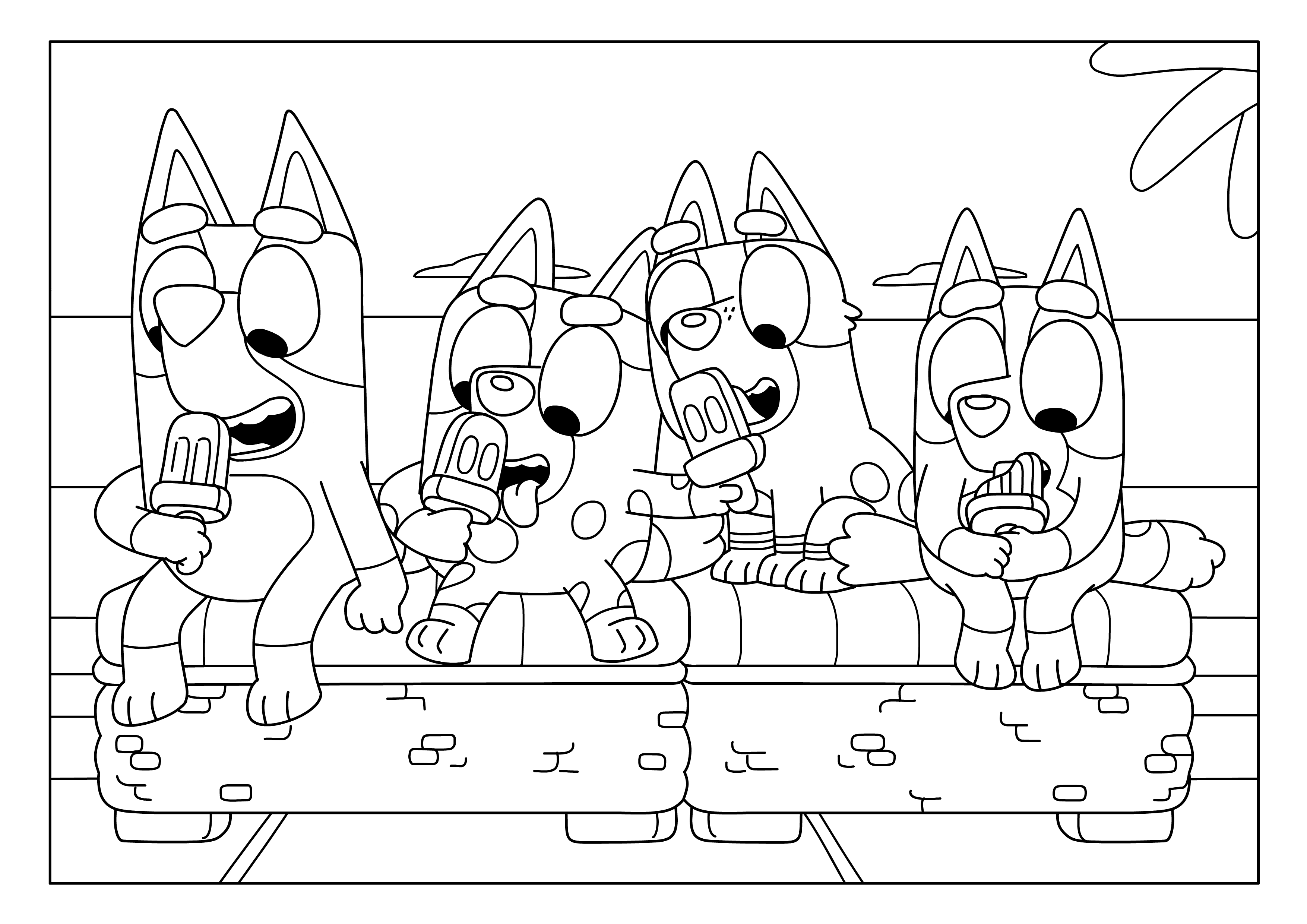 You can get some printables of Bluey coloring pages and set up a coloring table. Add some colors like pencil colors or crayons, and let the kids create masterpieces at the party. They can either take it with them, or you would get something to save and remember these sweet moments later on.
15. Host a Screening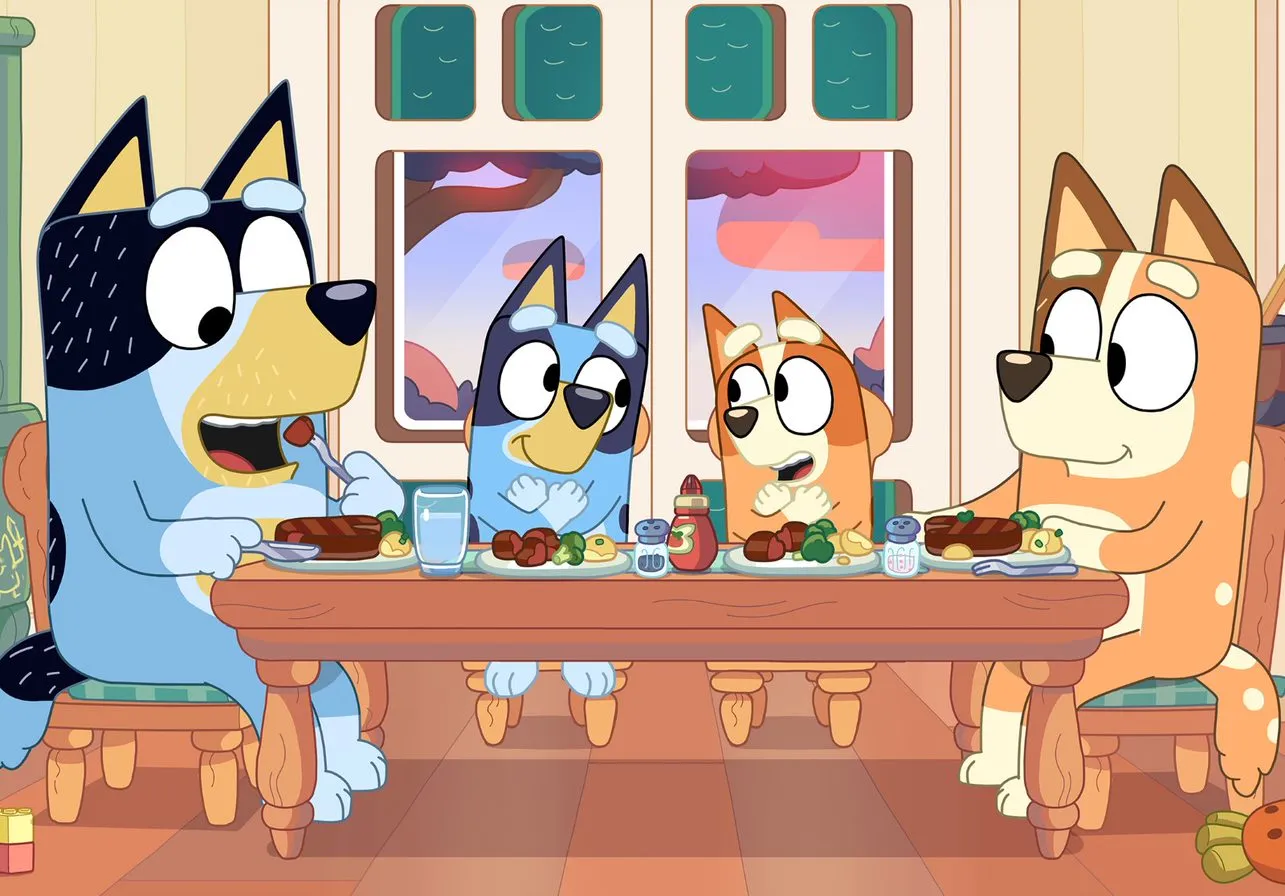 If you do not want to do a lot and still have your guests have fun, you can arrange for a Bluey screening. You just have to get a projector and let the kids watch a few episodes of their favorite cartoon Bluey as they eat.
The Bluey Birthday Party: Party Favors
The last thing in any successful party is a party souvenir that your guests get to take home with them. There are many options for party favors. We have some options that you can check out.
16. Bluey Bags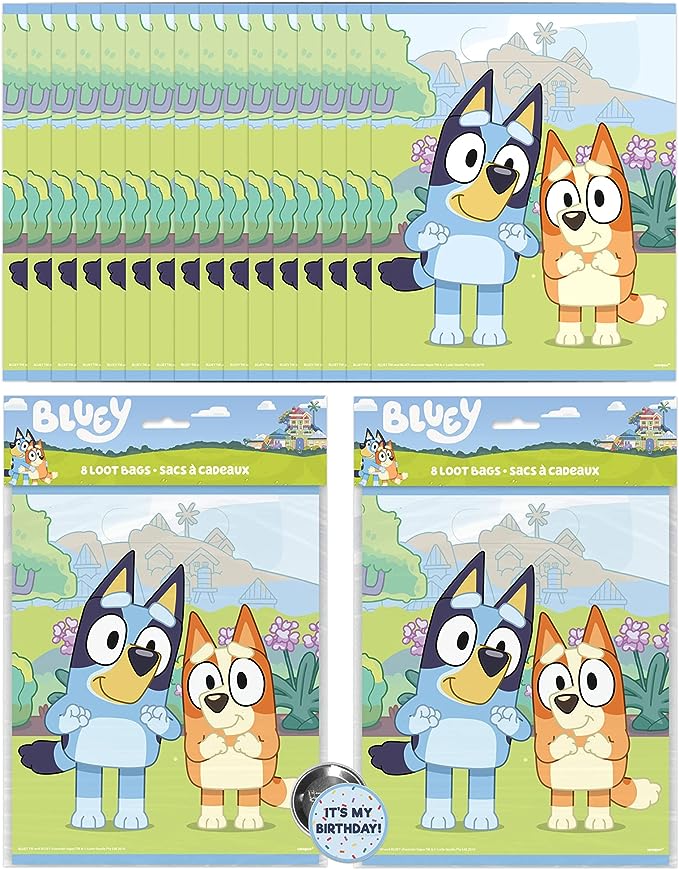 Bluey Birthday Party bags are practical and fun ways to show your guests how thankful you are for them coming to the celebration. You can fill these bags with more Bluey party favors. This particular bag from Unique Store on Amazon is a 7.25-inch wide and 8.25-inch tall bag. It is sturdy and will hold ample stuff for the party.
17. Bluey Figurines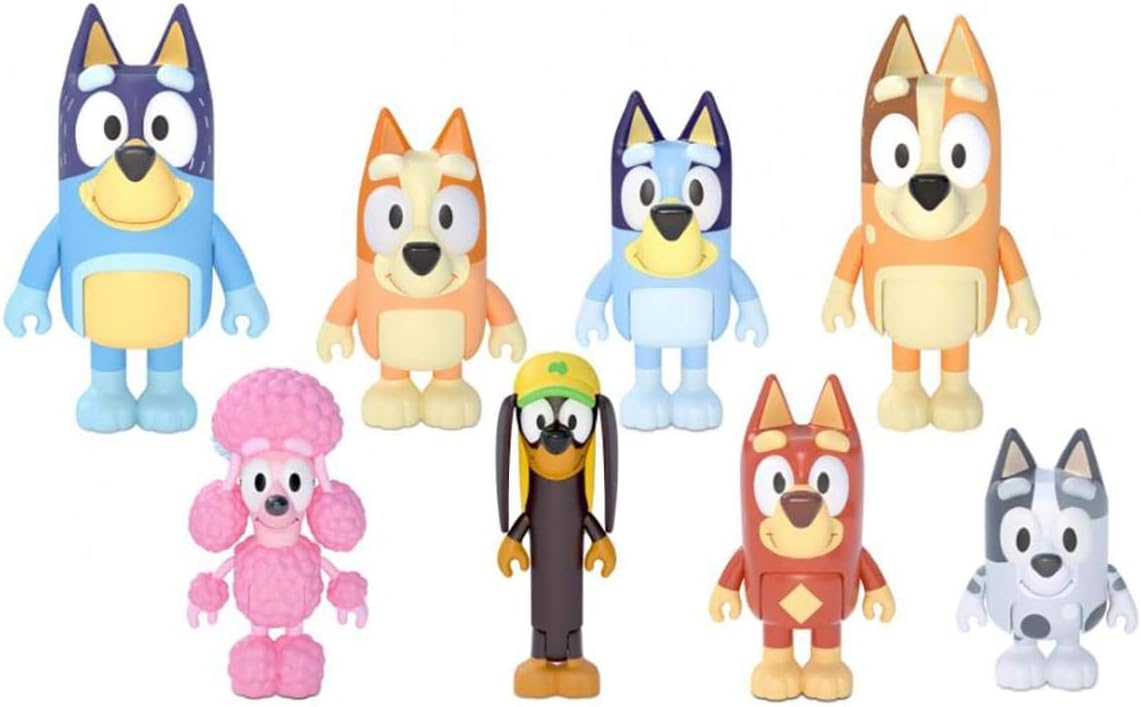 Bluey figurines will make up to be a great party favor that your kids will love taking home. They are easily available in the market or online and have different characters covered. This one by Bluey store is an 8-pack family figurine that has several characters,
18. Bluey Mini Notepads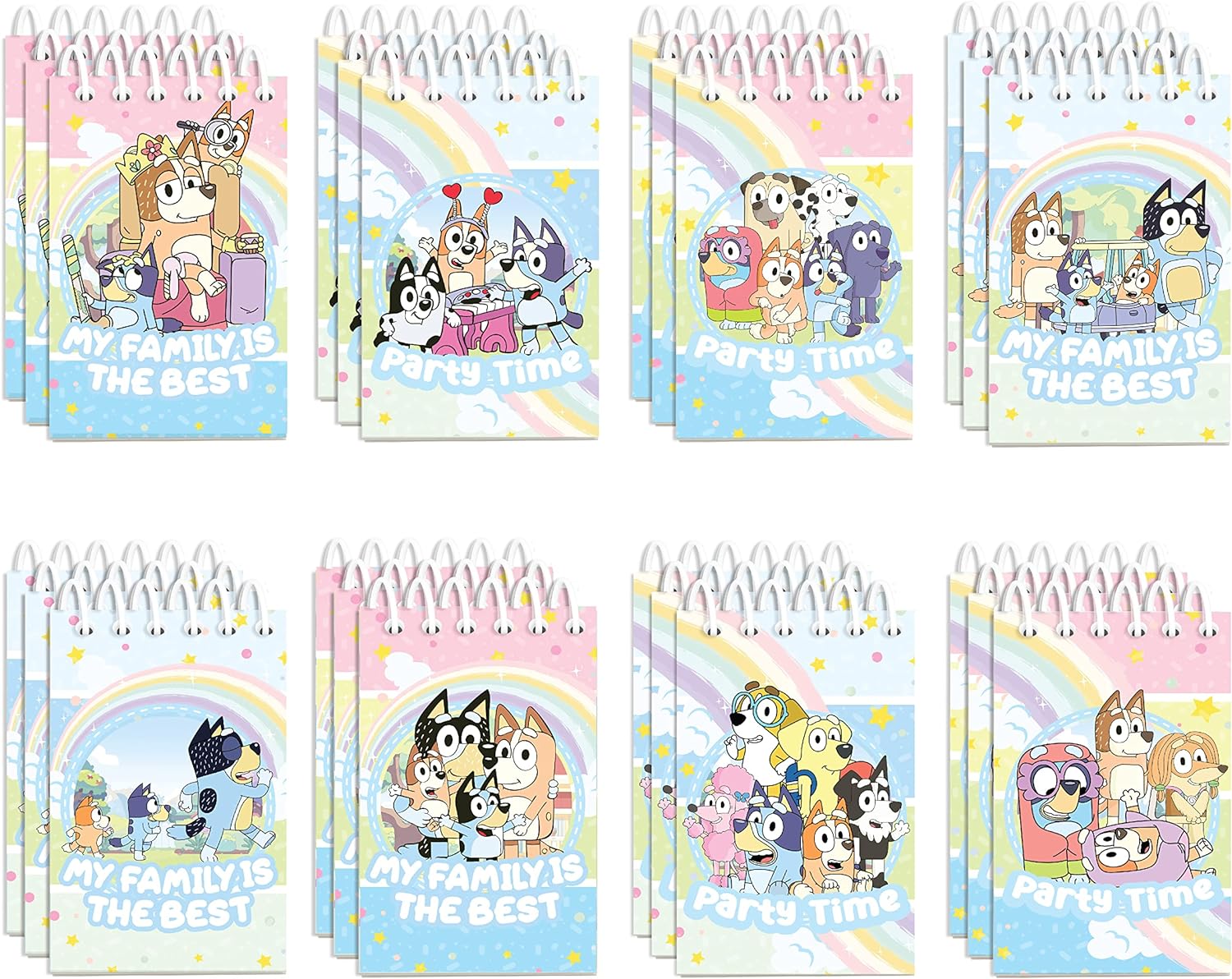 Notepads are also great party favors. You can pick Bluey-themed mini notepads that are extremely cute. They are perfect to impress the kids, and honestly, they will carry these everywhere. These notepads by Jijijum store are high quality and durable. They certainly cross all the boxes.
19. Bluey Dance Mode Bubble Machine And Microphone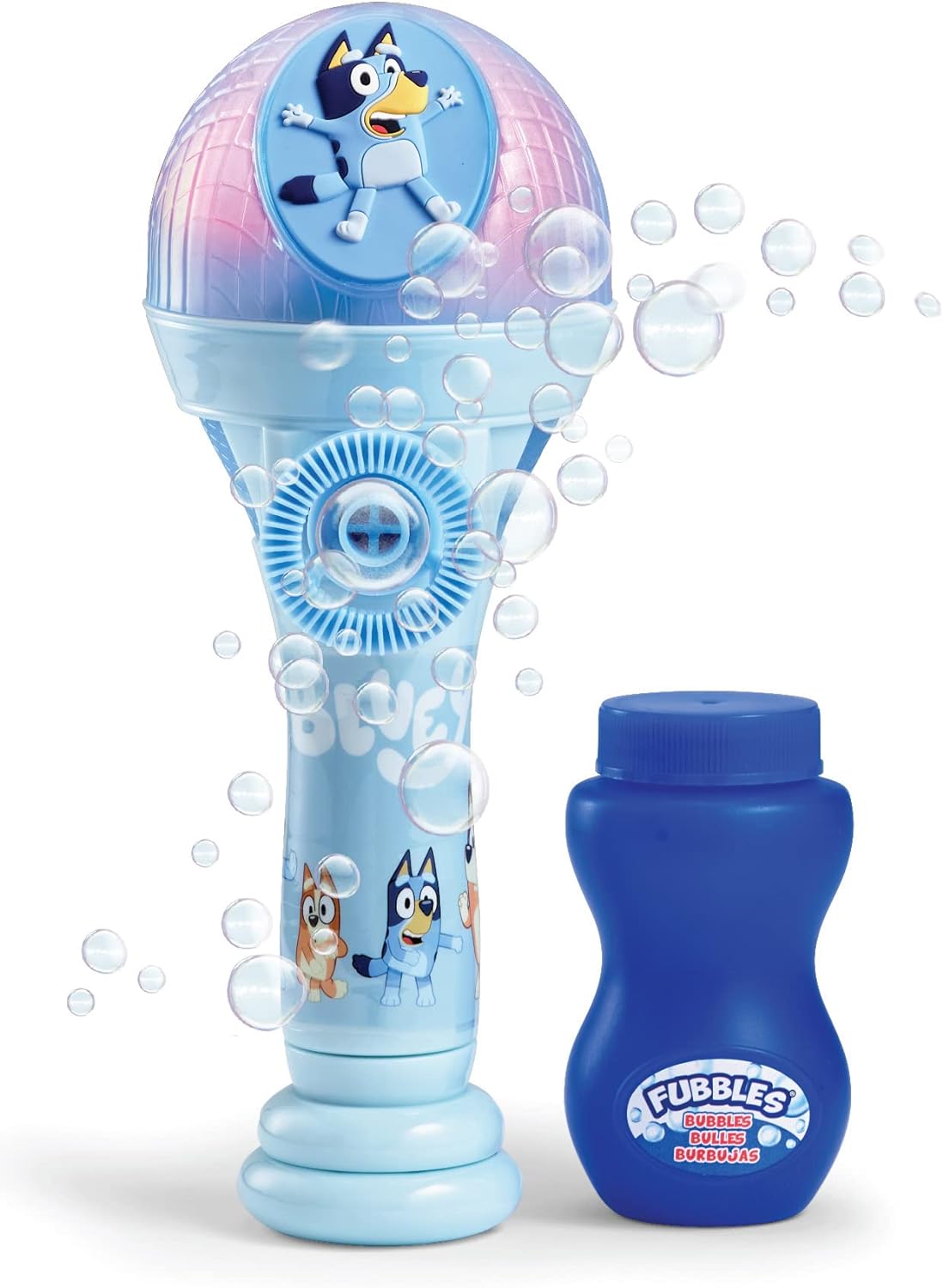 A very fun party favor is this Bluey Dance Mode Bubble Machine and toy microphone, which will be all guests' favorite thing ever. Staying true to the theme, this toy is fun. Designed especially for kids, this toy is a bubble machine as well as a microphone. Whenever the child sings into it, it magically blows bubbles and lights up. It is fun, and all the kids will love it.
20. Bluey Stickers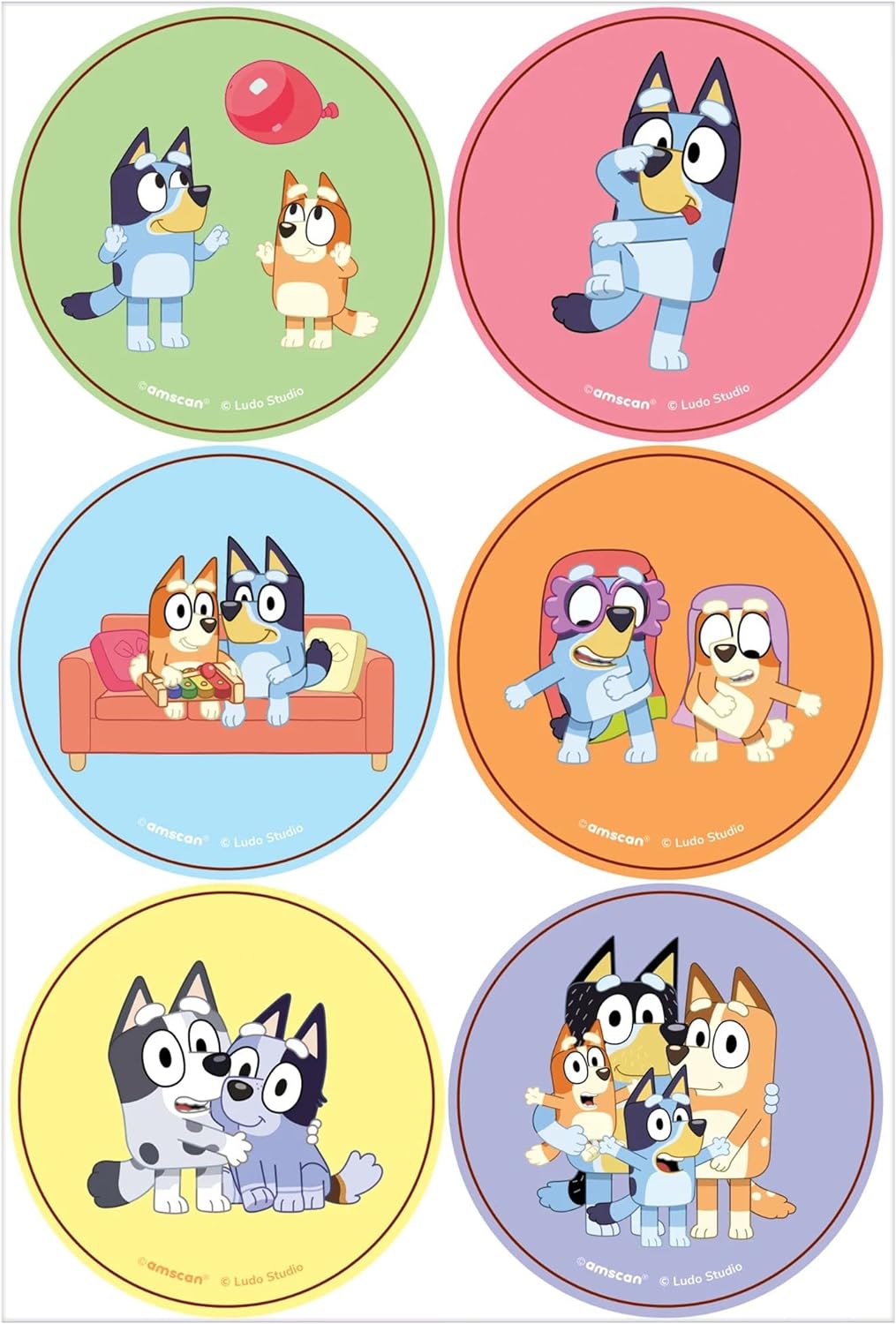 The last party favor on our list is Bluey stickers. They are budget-friendly and, honestly, very versatile. Your guests will be able to put these stickers on different things they own and remember how much fun they had at your party. They are great for most surfaces and easily available.
Conclusion
With these 20 Bluey Birthday Party Ideas, throwing a themed birthday party is very easy. Your kids will love this party, and they will enjoy it. This guide will help you cover all aspects of the party and get everything run very smoothly.
From decoration to party favors, everything is covered here, so now, with all of these ideas, make sure you throw a birthday party worth remembering for your little one. Make sure they giggle just like Bluey and Bingo do when their Dad plays with them. With that said, remember this is a celebration.
So, don't forget to have FUN!