15 Toys for 18 Month Old to Make Play Time Engaging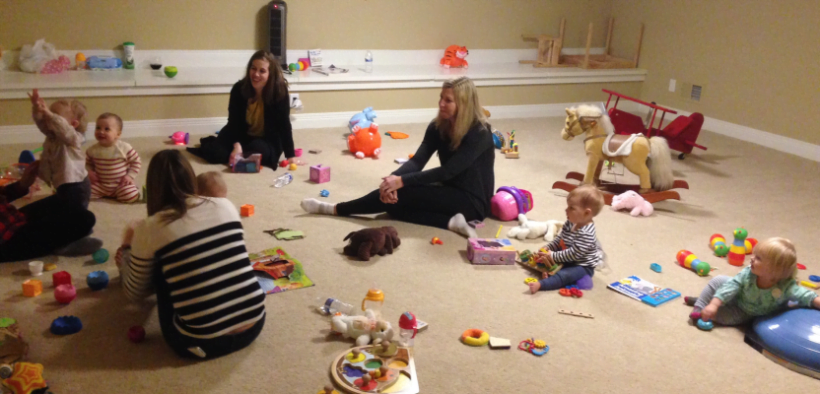 Are you looking for the best toys for 18 month old to help support their development and learning? Toys are an important part of your toddler's development. Your 18-month-old is mastering new skills every day, so you must buy a toy that sparks joy, helps them meet their milestone, and entertains them.
Chunky pieces of stackers and puzzles can help build your little one's hand-eye coordination and grip strength. At 18 months, your little one is interested in engaging in pretend play, so that you can give them toys like a kitchen set or doll. A ball or a musical toy can also be the best choice to help your child develop their fine motor skill.
Avoid balls, marbles, coins, and balls that are 1.75 inches or less in diameter because they can get stuck in your toddler's throat and make breathing difficult.
When buying toys for your kids, ensure they don't have sharp edges and parts that could pinch their fingers.
Toys for 18-Month-Olds to Foster Their Creativity
We have listed down the 15 best toys for 18 month old that can help them learn new things and explore their interests.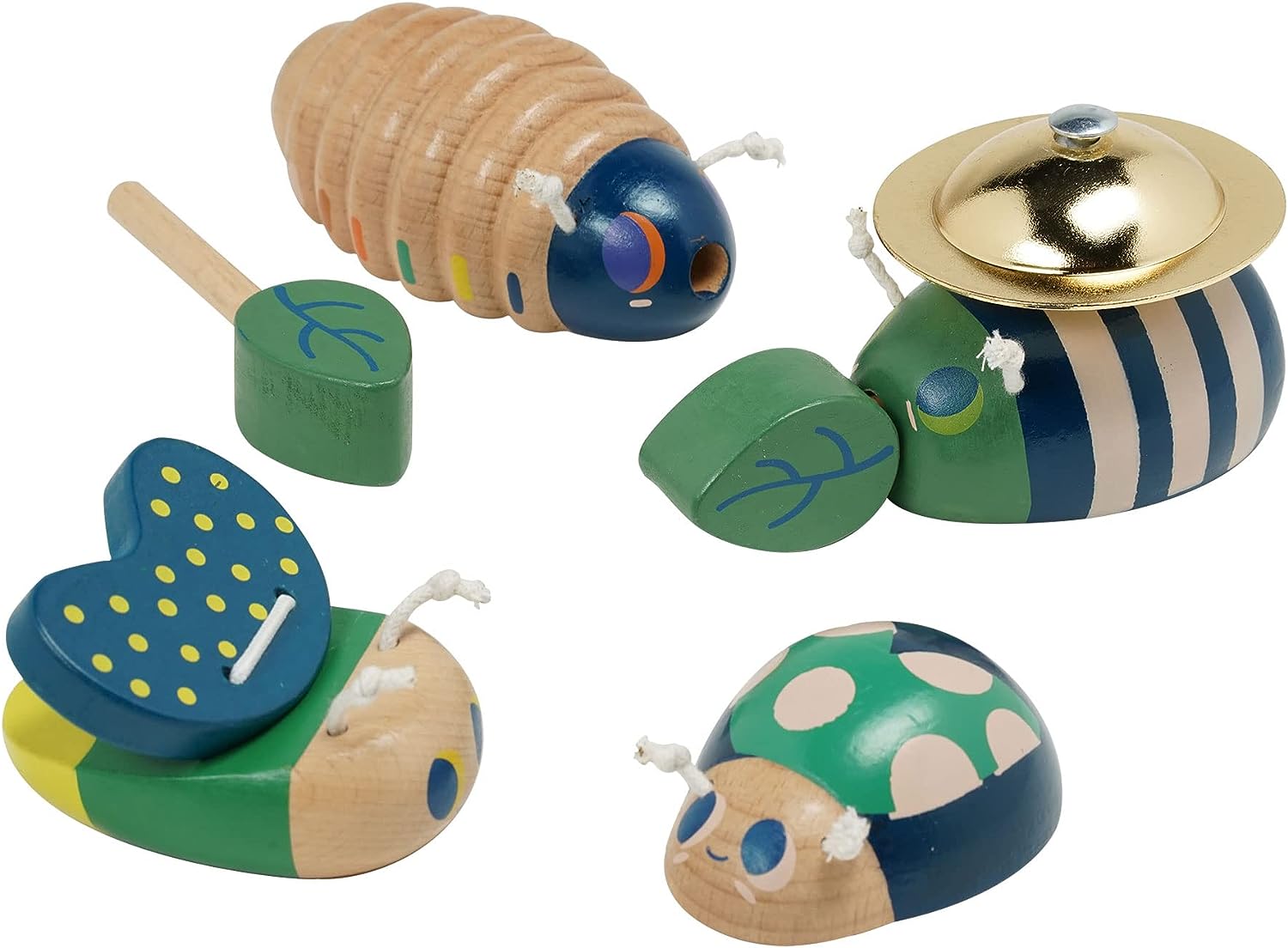 Are you looking for a toy that will support your child's development and entertain them for hours? If yes, Manhattan Toy Folklore Bug Quartet can be your go-to choice! The set includes a ladybug rattle, a firefly clacker, a cymbal bug with leaf-shaped mallets, and a caterpillar noisemaker.
The firefly's wooden wings spring back with every flick by bungee cords, and with every shake, the ladybug rattles. The toy's bright colors will fascinate the little ones, and the interesting musical note will keep them off-screen.
Each insect toy features baby-friendly painted patterns, rope antennae, and non-toxic clear finishes making them safe for kids.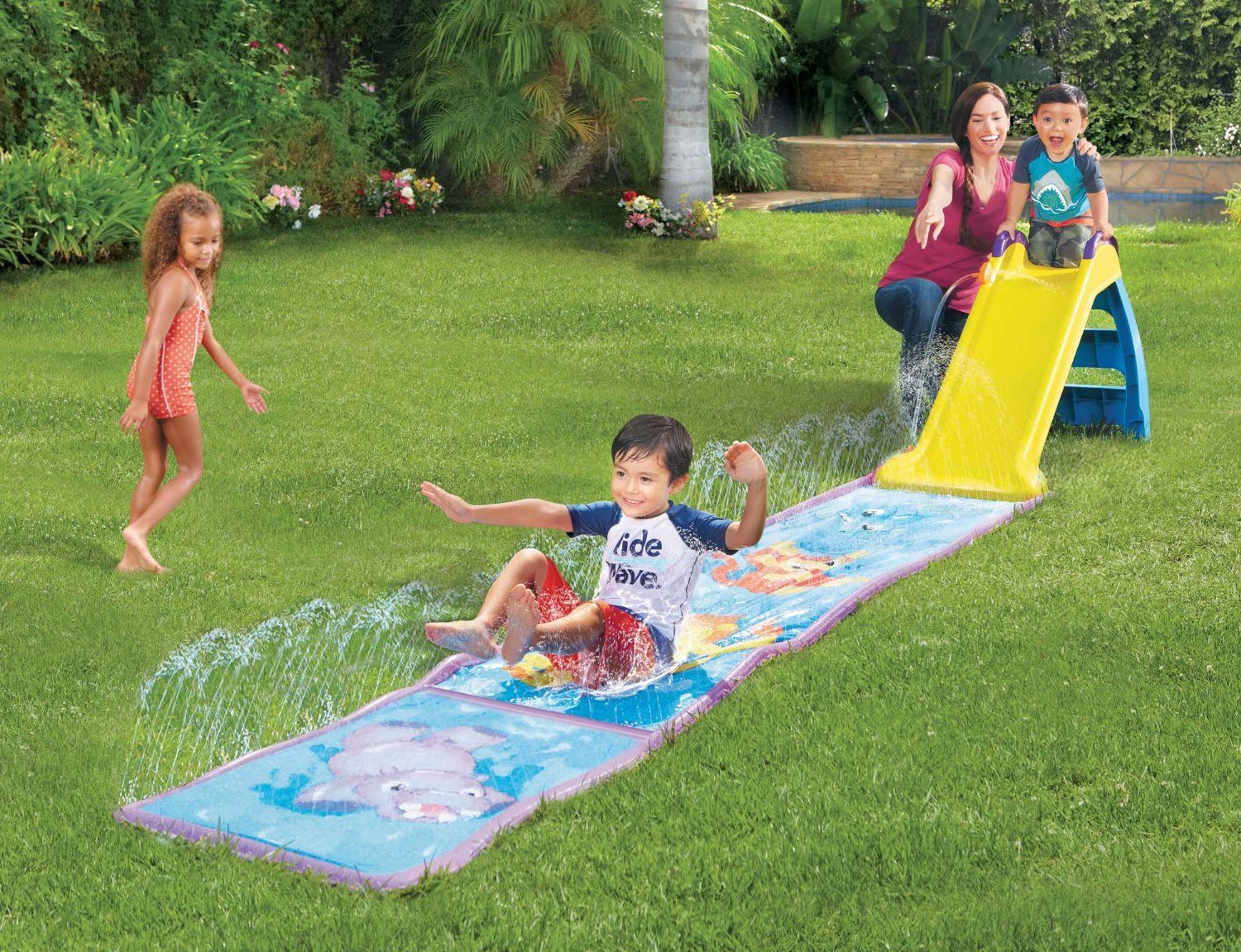 Little Tikes First Slip And Slide is one of the best toys for 18 month old to keep them active throughout the year. This bright plastic slide promotes coordination, balance, and fitness and can be folded and unfolded in a few seconds. The slide is long and prevents your kid's feet from hitting the ground.
The firm foam construction of the slide means there are no sharp areas that can hurt your little one who's learning to climb. The platform of the climber is low to make it easier for your little one to climb.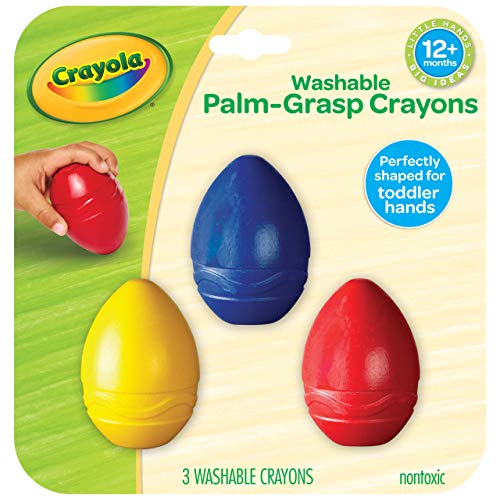 Coloring can be a wonderful workout for your kid's arm and hand. Improve your toddler's hand development with the help of Crayola My First Palm Grip Crayons. Featured in this set are 6 crayons in orange, yellow, red, purple, blue, and green colors. The crayons have been designed with a unique egg shape to help your kid comfortably hold and scribble them. You'll be amazed to see the masterpieces your 18-month-old will create using these crayons. The crayons can not only be used for painting but also as educational block toys to enhance the creativity of your babies.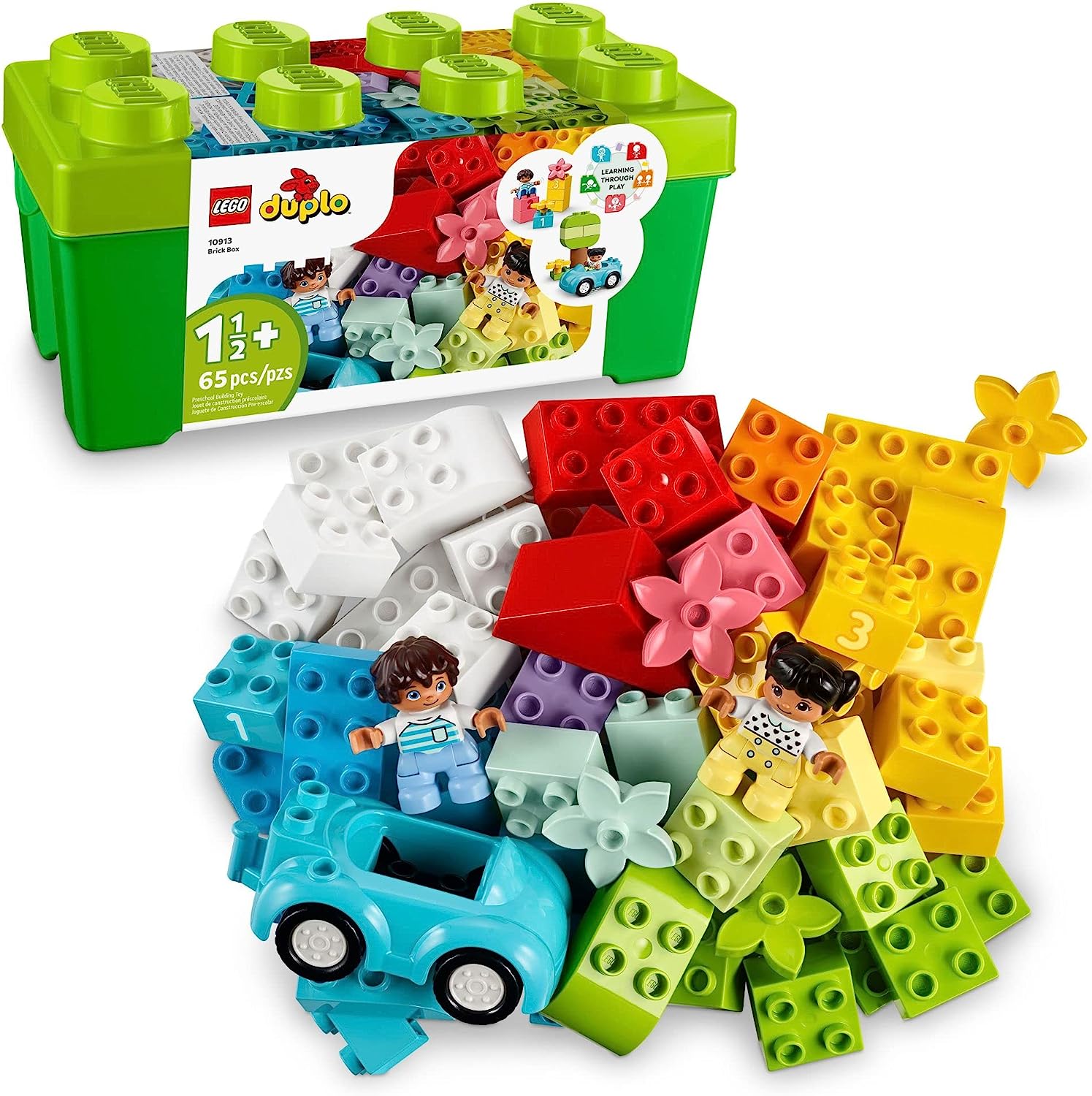 Do you want your toddler to become a creative builder? The act of creating something out of the box out of tiny plastic bricks can be exciting and soothing. LEGO DUPLO Classic Brick Box Building Set can stimulate your child's mind by encouraging them to create new things.
The set comes with 65 bricks in rainbow colors and a few accessories, like flowers, windows, and Lego people figures. Kids can use the bricks and Lego pieces to build a small toy house, a street with a toy car, a flower archway, and a bakery shop.
Unlike the classic Lego bricks, the Lego Duplo brick box set is large in size and doesn't pose a choking hazard.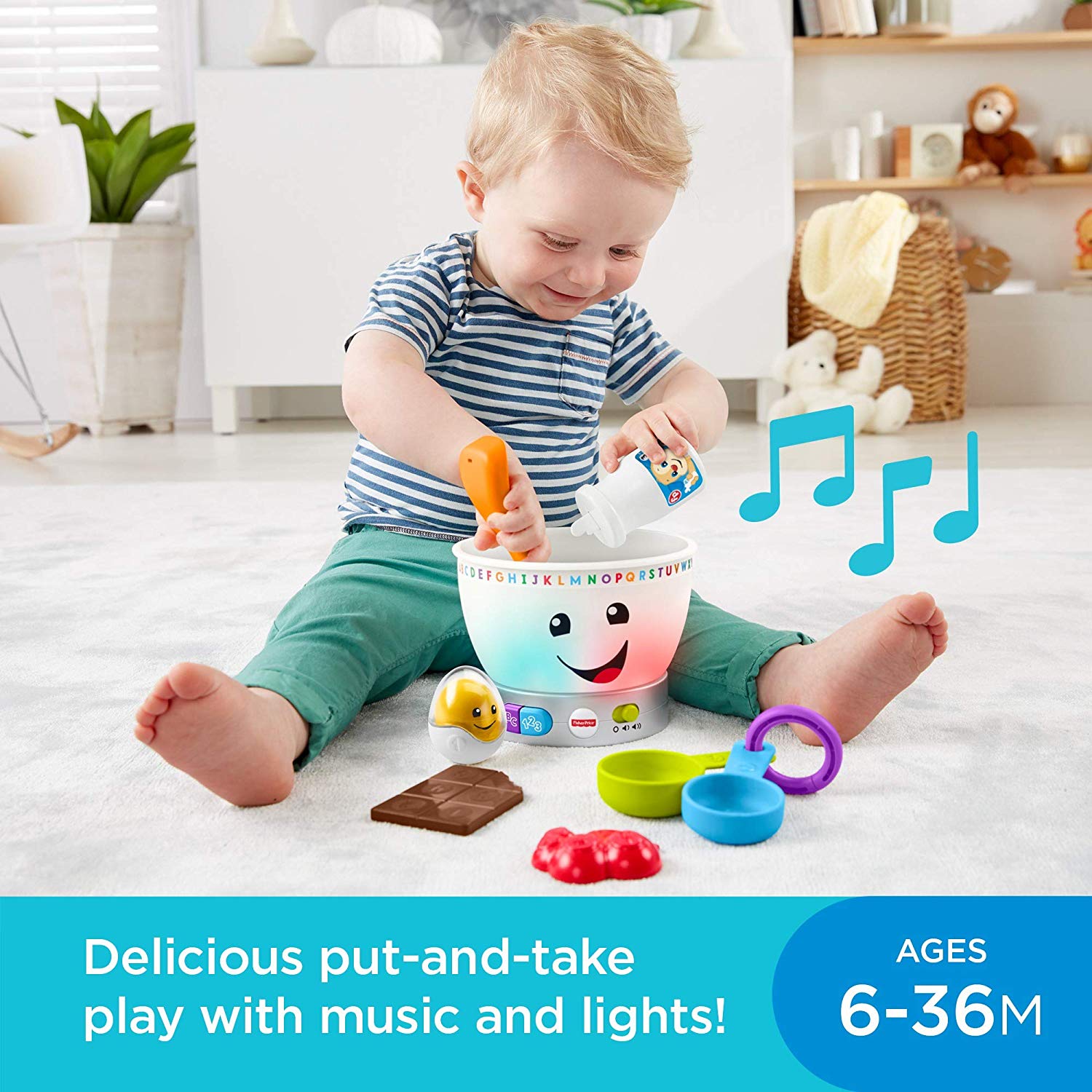 Fisher-Price laugh and learn mixing bowl can help your little chef learn new alphabets while cooking. This musical mixing bowl will reward your little baker every time they put ingredients inside and take them out with music, sounds, colorful lights, and learning phrases.
It comes with six removable play pieces, including a milk bottle, a rattle egg, a set of 2 measuring cups, a BPA-free teeth-able chocolate bar, pretend cherries, and a spoon for "stirring" Moving, and grasping the play pieces in and out will help strengthen your kid's hand-eye coordination and pressing the buttons to activate the songs will help them learn new alphabets.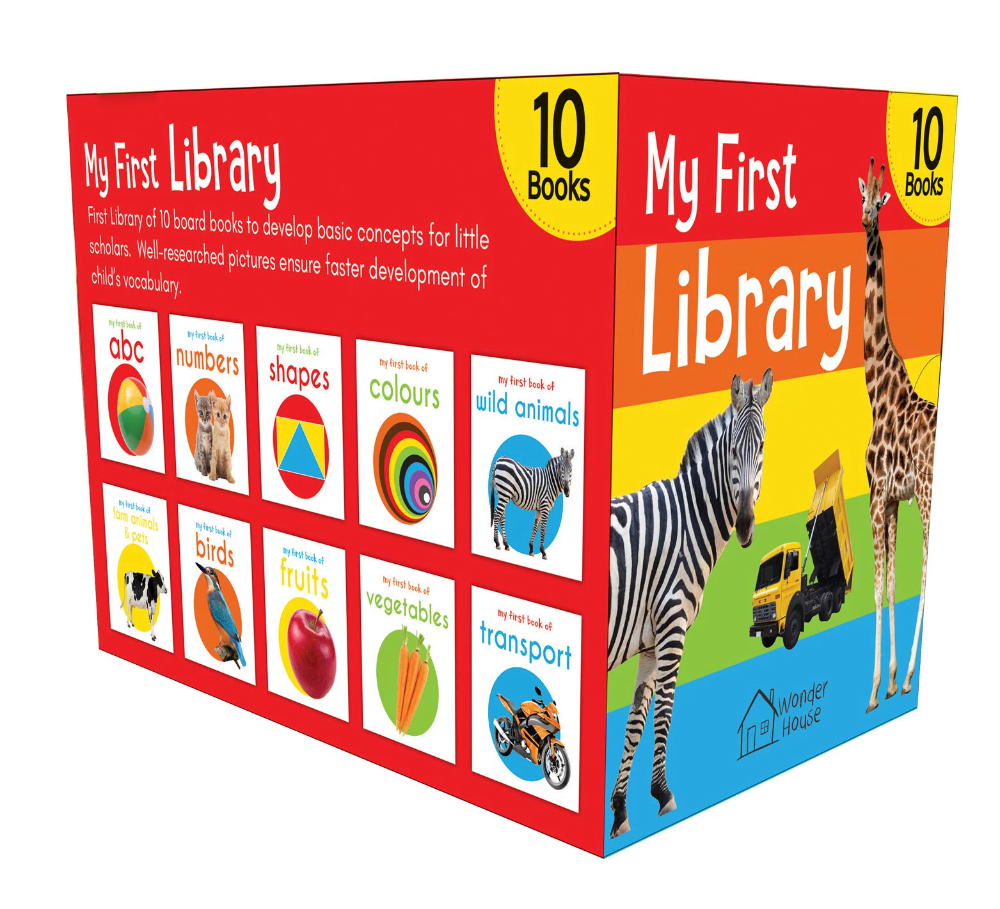 It is never too early to start reading for your little one. Reading baby books out loud can strengthen parent-child bonds and get your toddler started on literacy skills. So buy the My First Library: Box Set of 10 Board Books for Kids to teach your child about animal sounds, fruits, and colors. The collection includes ten well-researched board books that introduce various everyday objects and learning topics to your toddler.
The topics include – ABC, Colors, Wild Animals, Numbers, Shapes, Farm Animals and Fruits, Vegetables, Pets, Birds and Transport. The pictures are very bright, and the topics included in the board book are suitable for 18-month-old kids.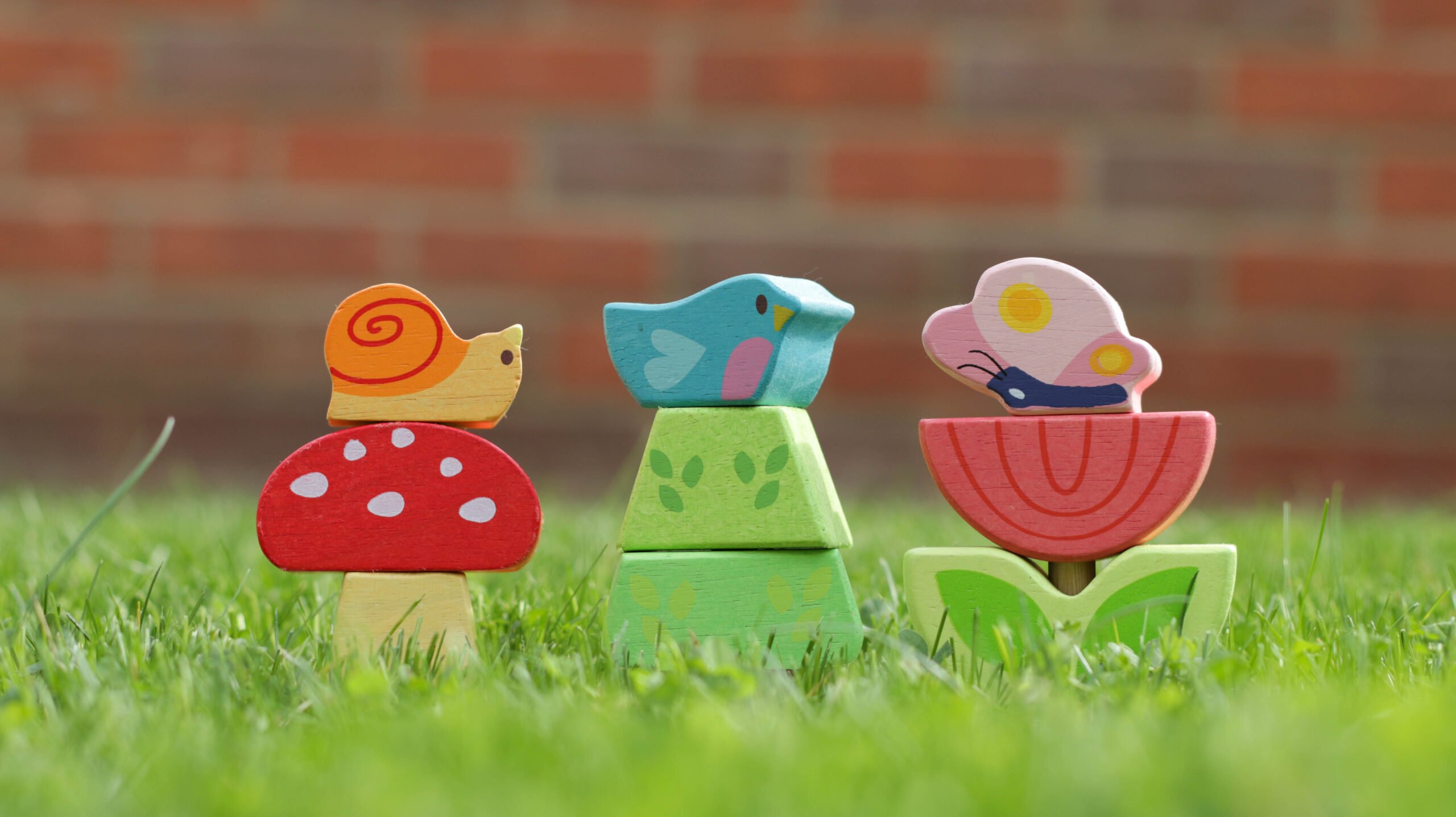 When it comes to buying a fun toy for your 18-month old, you can't go wrong with the Stacking Garden Friends Wooden Stacking and Balancing Toy. It is one of the best toys for 18 month old that has been designed in Great Britain and challenges kids to develop their problem-solving skills.
The set includes 10 wooden forest animals, a flower, a wheelbarrow, a shrub, a plant pot, plus a free travel bag. As the kids stick the animals on the tree, they will try to find out where they belong. This will be entertaining, educational, and challenging for the little ones.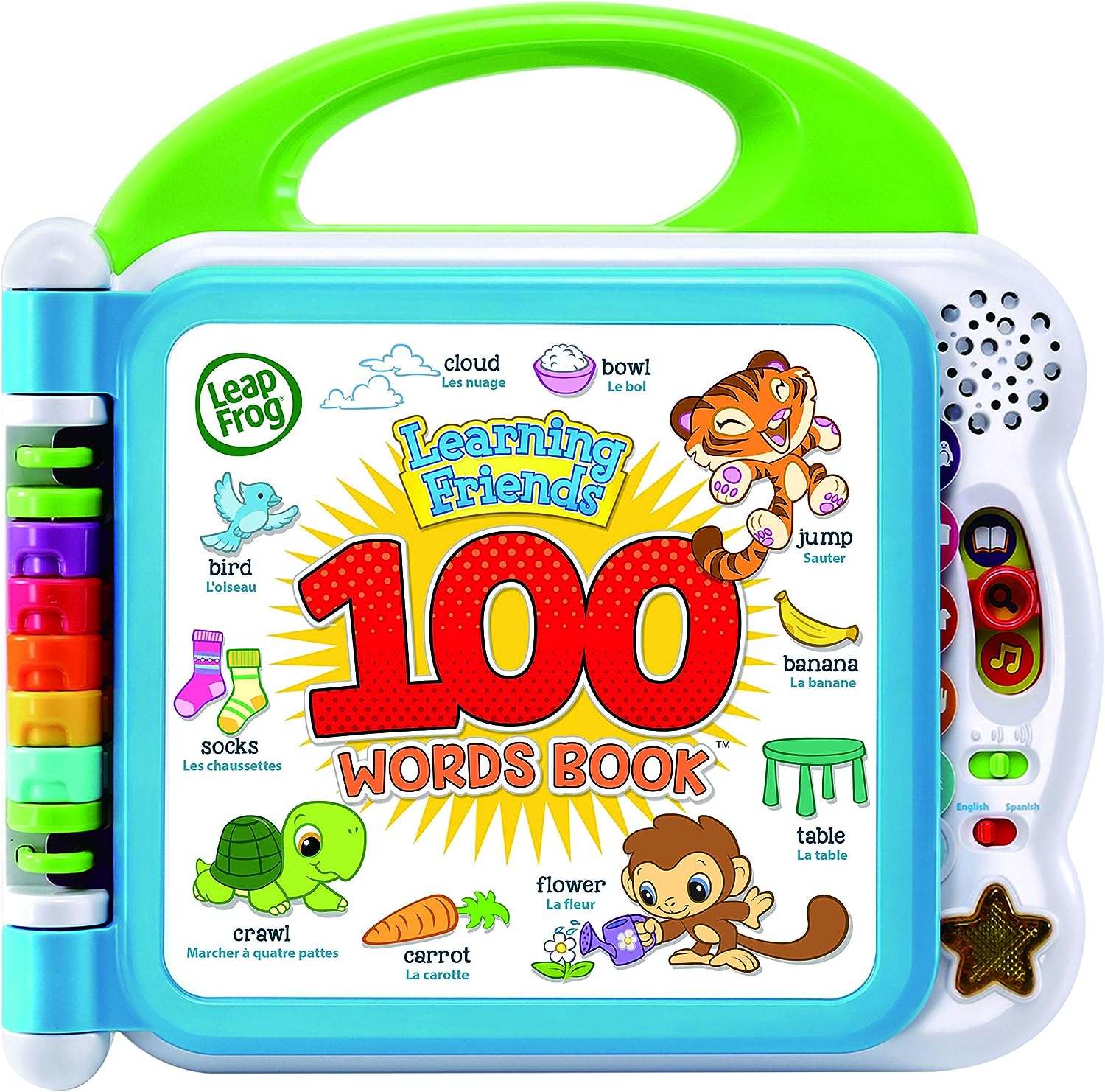 LeapFrog Learning Friends 100 Words Book can be a wonderful gift for your toddler as it can help them learn a new language. It features hundred age-appropriate vocabulary words in Spanish and English. This baby activity book has word categories like food, mealtime, pets, animals, opposites, colors, activities, outside, and more.
Explore the colorful pages of this book and touch the beautiful pictures to hear the animals say basic words along with exciting sound effects.
The best thing is that your kid doesn't need to push the pictures hard to make them speak so they can play and learn without your assistance.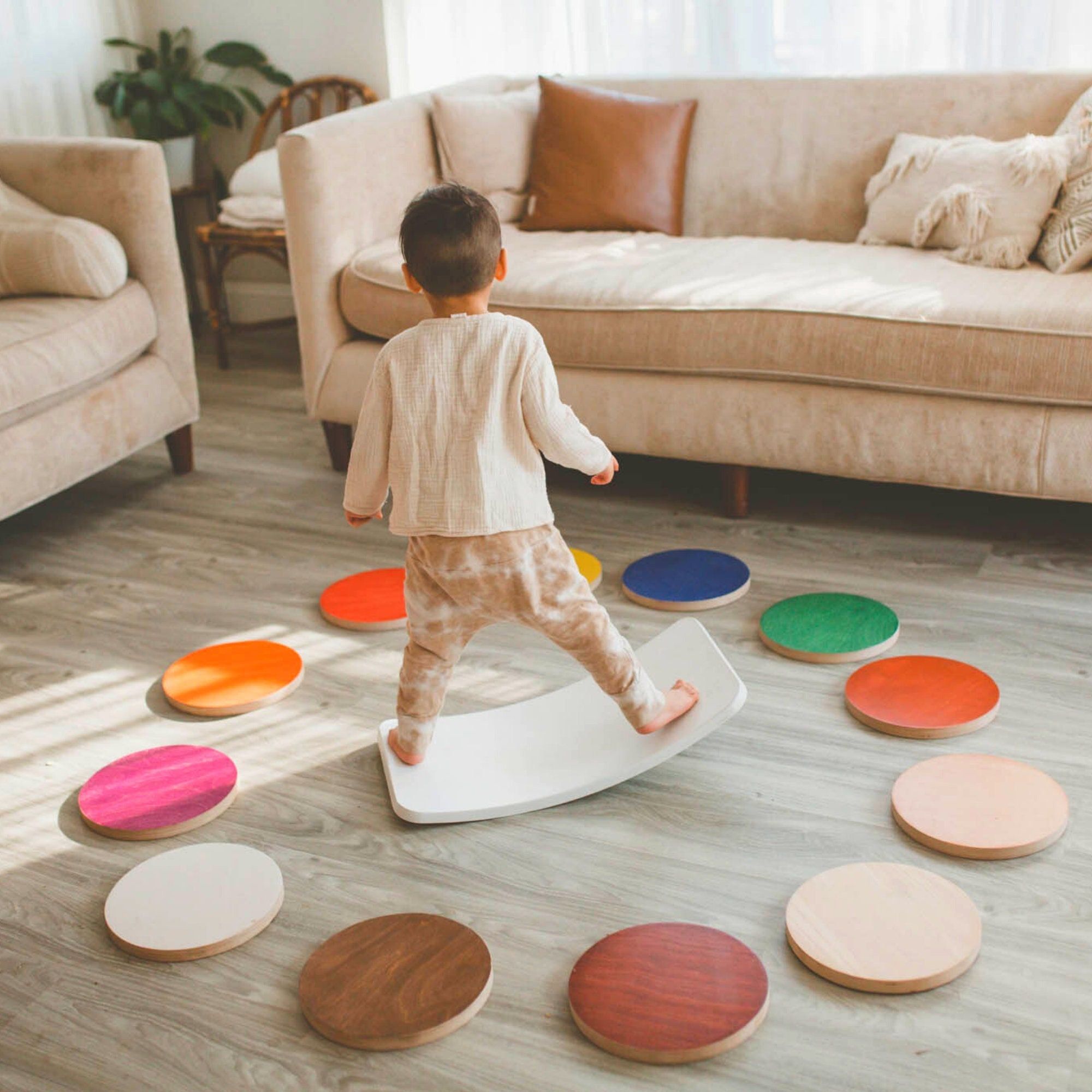 Do you want to inspire your little ones to jump, balance, and stretch their body? Then why not purchase Montessori Wooden Stepping Stones and boost your kid's physical activity?
These handcrafted wooden stepping stones develop kids' body coordination and balance skills. Your toddlers can walk, climb, jump, or stand on the wooden stepping stones making their playtime more enjoyable. There are 6 steps per set, and can be stacked for easy storage.
The bright colors of the stepping stones help kids figure out different colors. They are lightweight and stackable and can be used both indoors and outdoors.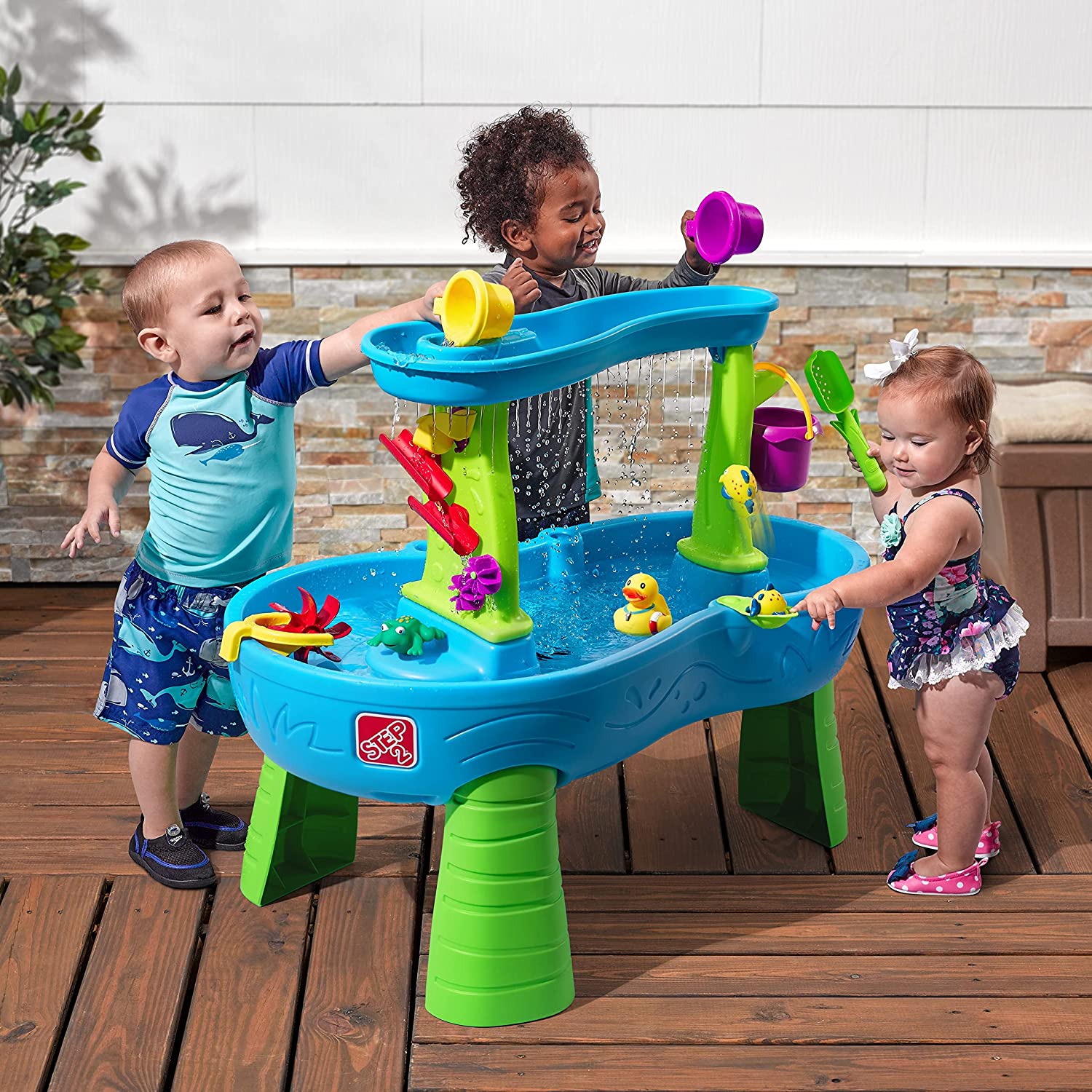 A water table is a perfect alternative to a pool, and your toddler will love splashing around it for hours. Set up the Step2 Rain Showers Splash Pond Water Table when the weather gets warm and allow your kids to have wild outdoor fun on your deck or in your yard. Scoop up water from the pond into the large bucket and pour it into the top waterfall tray.
This will create a rainfall effect as the water splashes into the pond! Playing with this water table can also help your little one practice fine motor and gross coordination and understand STEM concepts.
This two-tier water table comes with thirteen accessories and is easy to clean.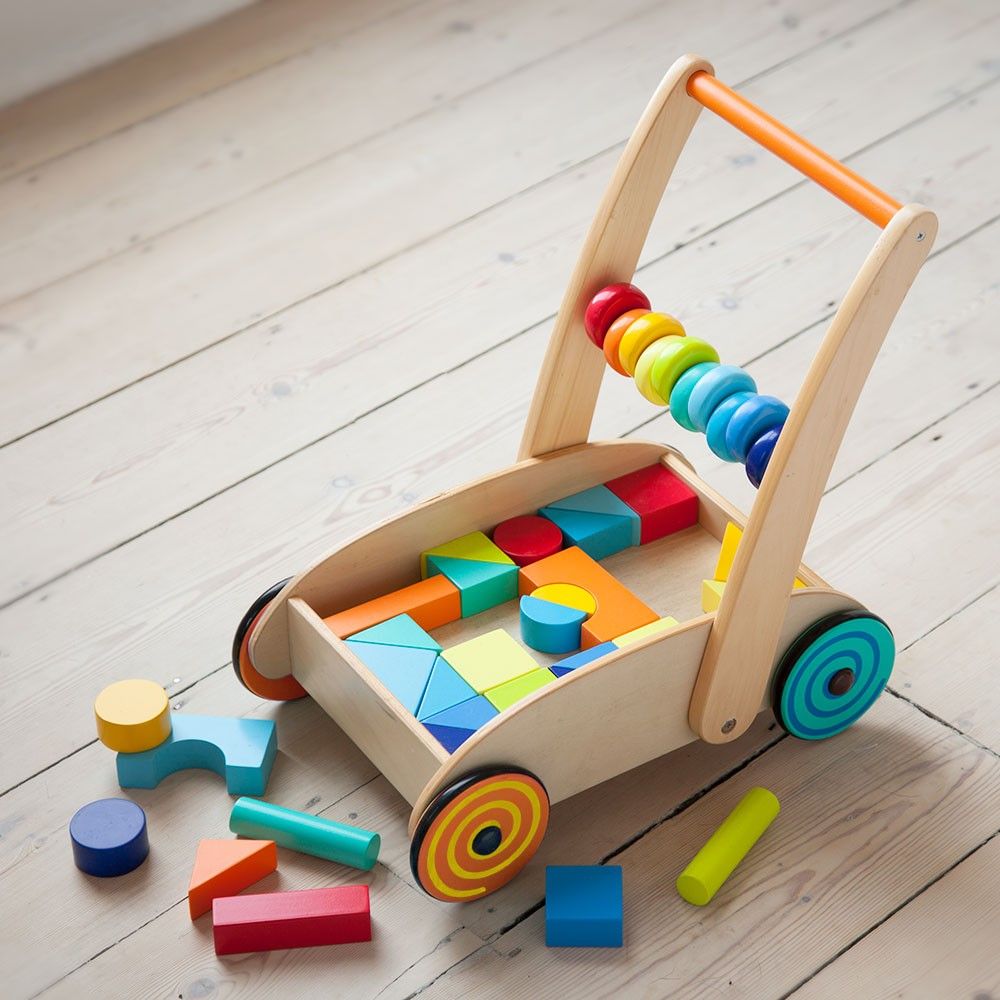 Watching your bundle of joy walk for the first time is a feeling that can't be expressed in words. Help your kid reach this milestone with the help of the Tender Leaf Toys Baby Block Walker. This baby walker helps to develop strength and balance and encourages creative play in your kids. It comes with twenty-nine garden-themed wooden blocks for creative construction and endless fun.
The best feature of this push toy is its wide legs, which make it easier for toddlers who are learning to walk. Sliding and sliding won't be an issue as it comes with an easy-to-grasp handle.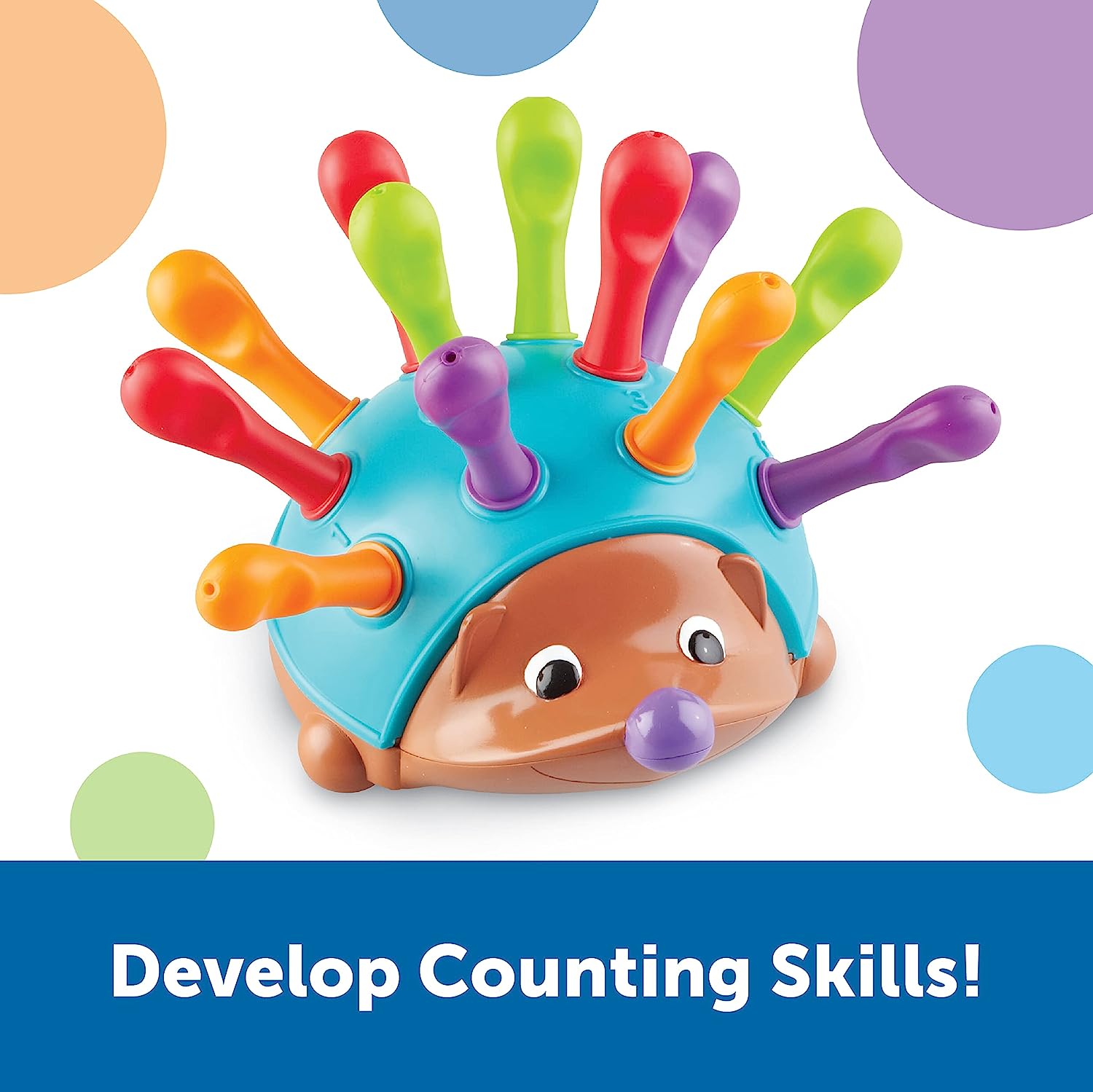 Learning Resources Spike the Fine Motor Hedgehog is a thoughtfully crafted toy that can expand and grow your toddler's developing mind in a constructive way. This toddler learning toy comes with peg-shaped pieces that need to be fitted to the back of the hedgehog. With the help of this toy, your kid can build color recognition, counting, and sorting skills.
Your little one will become familiar with coordination by sticking the quills on the hedgehog's back and learn to grip items by picking up Spike's colorful quills. The toy is of the appropriate size to help your toddler hold it easily.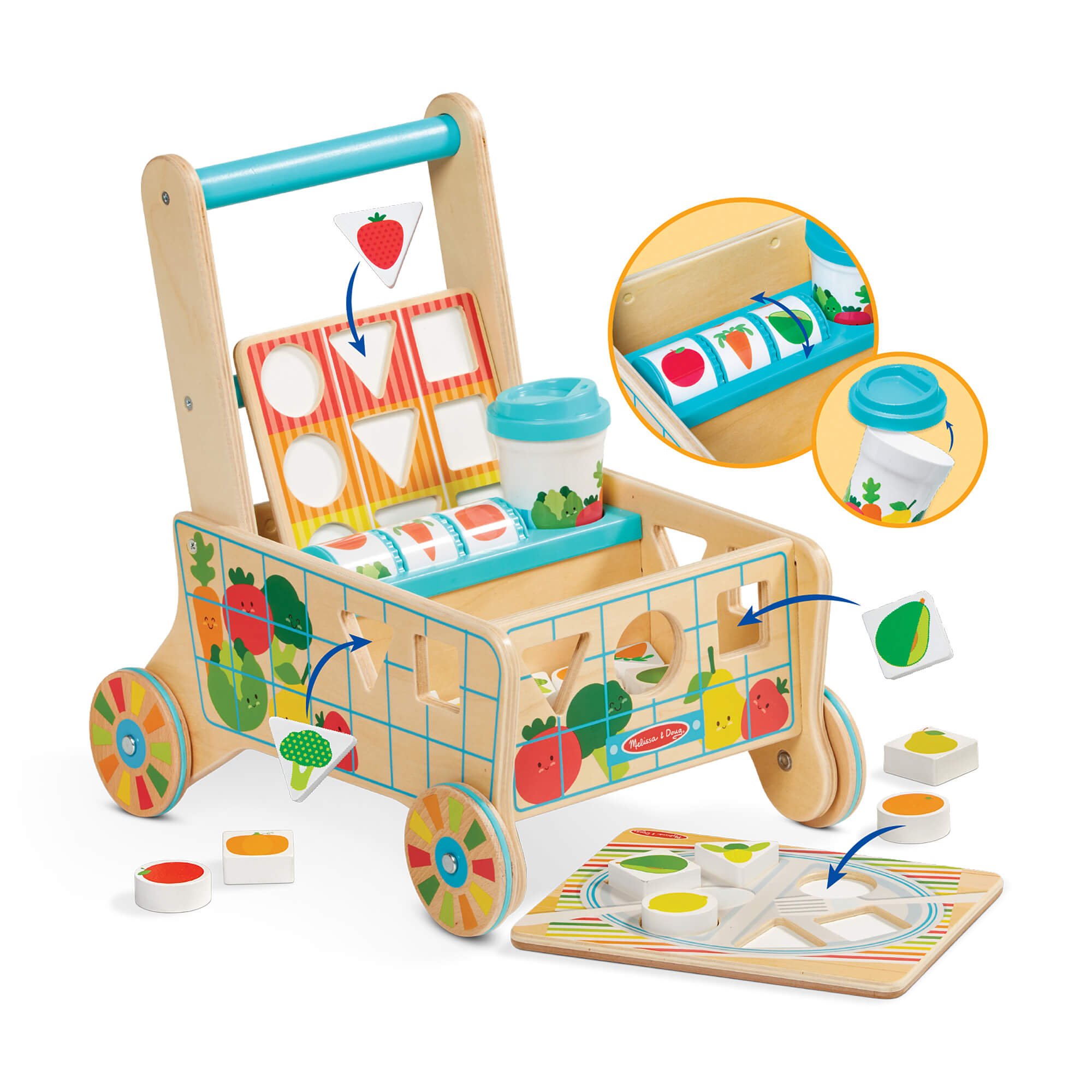 This sturdy wooden grocery cart toy can be a great gift for 18-month-old kids. This 16-piece set includes 2 wooden chunky puzzle boards, a wooden cart with a cup holder and a built-in matching game roller drum, a play coffee cup with lid, and 12 wooden chunky puzzle pieces. The grocery cart has a lightweight design allowing your child to maneuver it easily.
Your toddler can sort colorful wooden food shapes through holes in the cart's side and place them in two wooden puzzle boards in the cart.
There is also a coffee cup with a removable lid that easily fits in the cart's cup holder. As kids grow, they can also use the cart as a push toy to inspire imaginative play.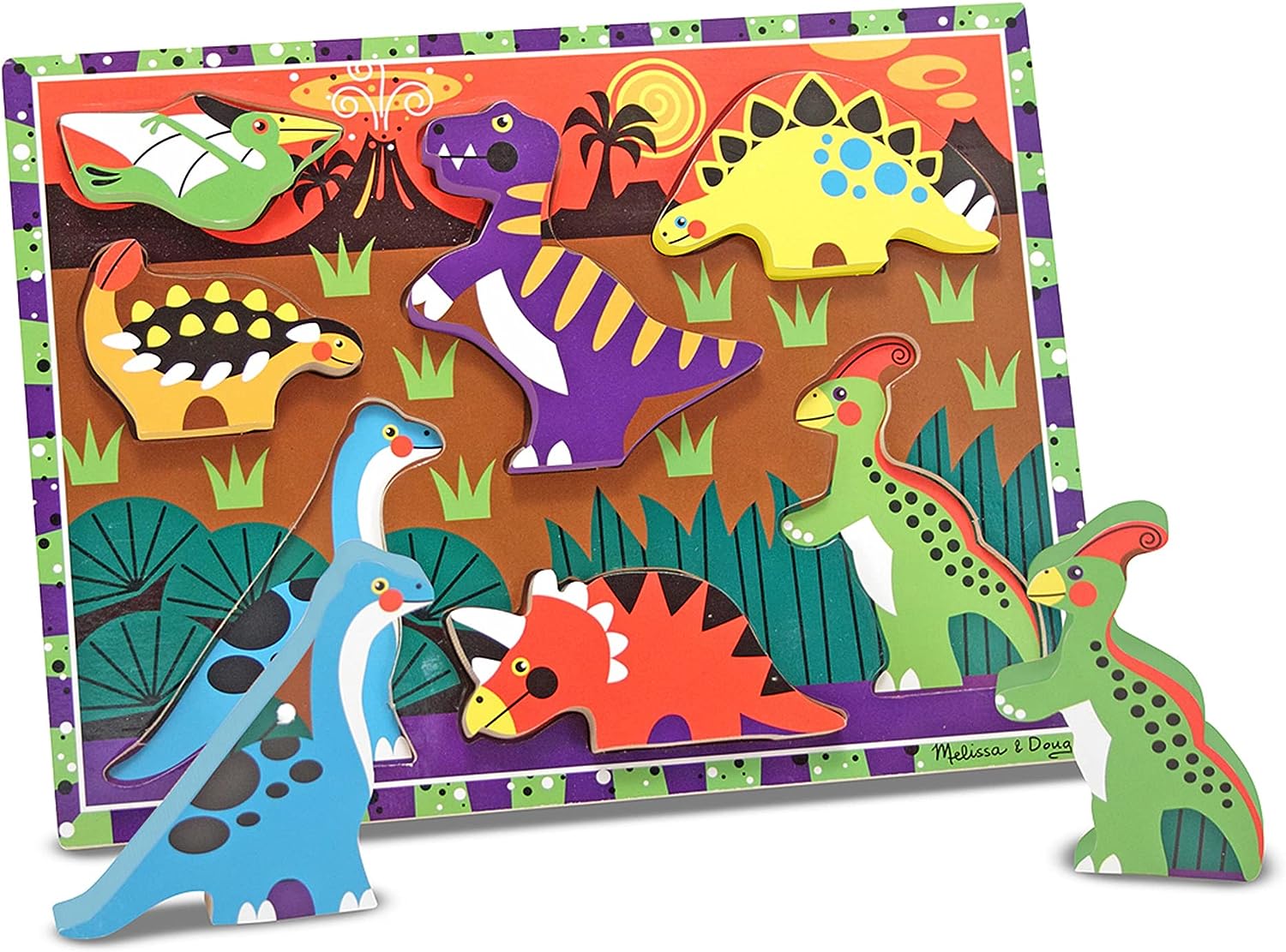 By adding a wooden puzzle to your child's toy collection, you can help your little one develop new skills. Melissa & Doug Dinosaur Wooden Chunky Puzzle is one such wonderful toy that features seven different dinosaurs- pteranodon, T-Rex, triceratops, ankylosaurus, apatosaurus, stegosaurus, and Hadrosaurus.
With its colorful and bright design, this wooden chunky puzzle is sure to capture your kid's attention. Each of the seven pieces comes with a full-color matching picture underneath as a guide for your toddler as they work to solve the puzzle.
The pieces have non-toxic paint and smooth edges for a safe play experience.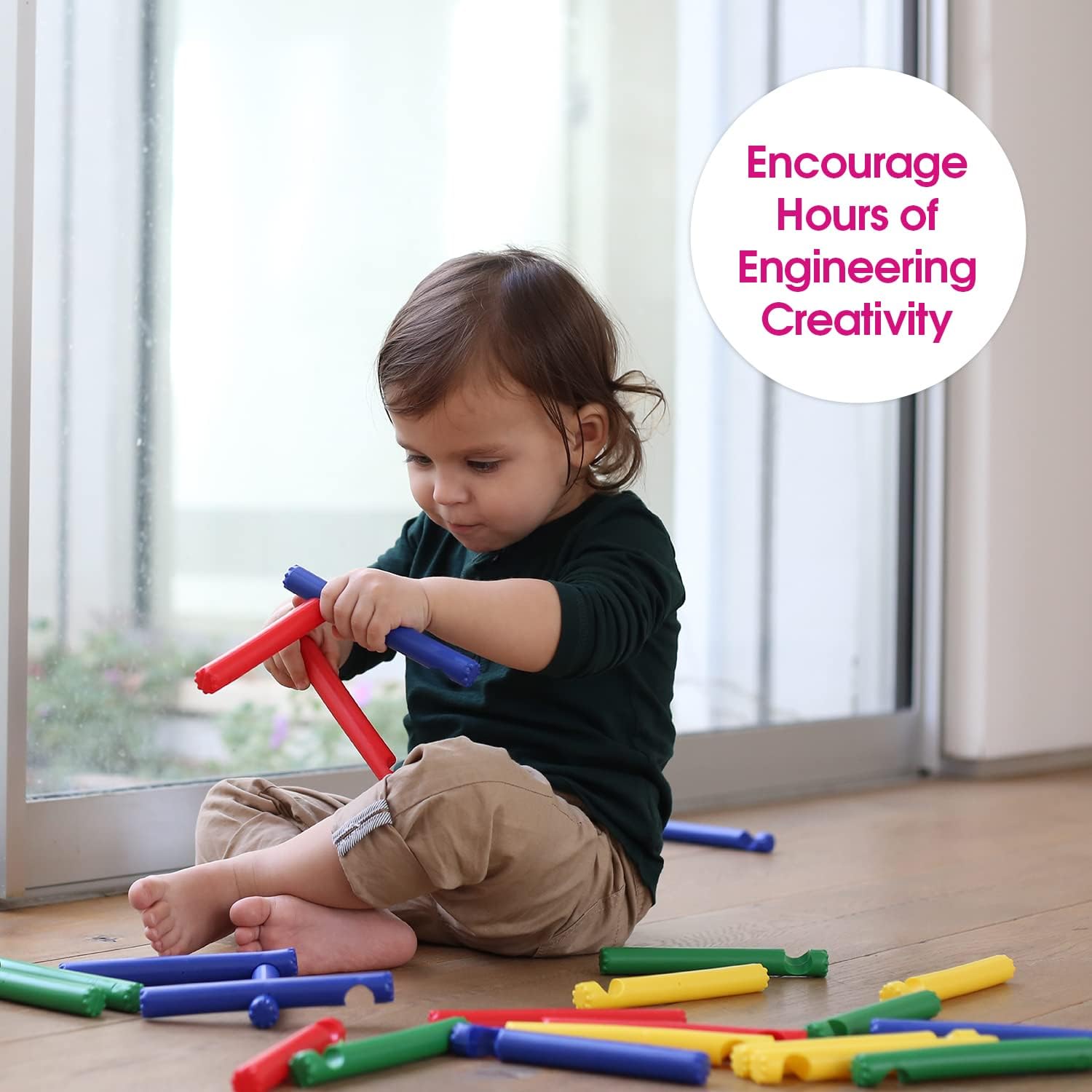 Edushape Sensory Snappy Sticks Baby is one of the best toys for 18 month old to help them build their reasoning and logic skills. The set comes in easy-to-wrap packaging, making it easy to store. It has 32 sensory snappy sticks in different textures, shapes, contrasts, and colors. The nubby texture of the snappy sticks is very therapeutic and can help your kids explore new things.
Snappy sticks can be transformed into buildings, animals, and anything else that your kids can imagine. As your kids create different objects with these snappy sticks, you'll be amazed to see their creativity.
Conclusion
Toys play a huge role in your kid's growth and development. But shopping for toys for your little one can be challenging because of the plenty of options available in the market. Some toys facilitate at-home education, while others build their cognitive and motor skills. When shopping for the best toys for 18 month old, ensure that it becomes an enriching part of their playtime. Buy toys with educational value, as they will benefit your toddler in the long run.
Also, since toddlers' preferences keep changing and they might not love things that they like today, don't spend too much money on one toy. If you want more assistance in buying the best toys for your kid, you can check out the options mentioned above.
All these toys are entertaining, safe and will become your kid's favorite.
Frequently Asked Questions
What Should You Keep in Mind While Buying the Best Toys for 18 Month Old?
While buying the best toys for 18 month old, ensure that it is safe for your kids and can help them learn new things. Avoid toys that are 1.75 inches or less in diameter because they can get stuck in your toddler's throat and make breathing difficult.
What Kind of Toys Can Be the Best for an 18-Month-Old?
An 18-month-old toddler is polishing their fine motor and cognitive skills. You can buy books with colorful pictures to help your little one make text-to-print connections or toys that can aid your kids in using their hands more skillfully.