28 Essential Age-Appropriate Chores List for Kids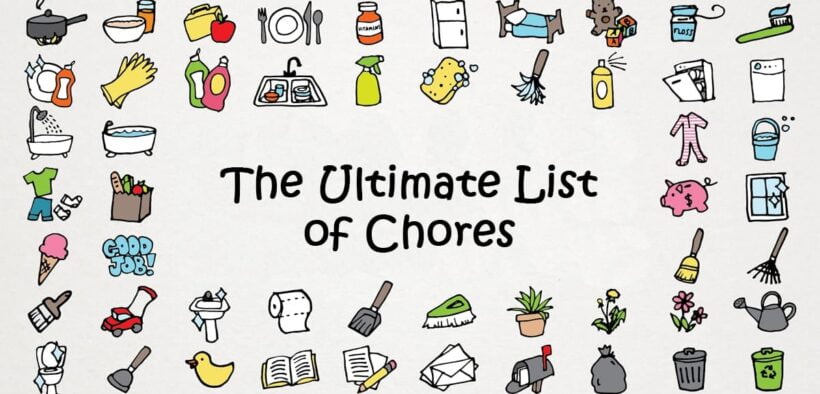 Do you think your 5-year-old can do certain chores? Well, the answer to this question can be a little difficult. We all know that toddlers are not meant to do responsible tasks. But we do try to train the kids from the initial years of their lives.
So, the next arises: What are the age-appropriate chores that can be expected to be done by these tiny toddlers? You can prepare your child to do wonders later in life by teaching them to deal with little tasks.
Certain values like doing your own work, becoming independent, and self-fulfillment can be learned by allowing these kids to do age-appropriate chores. We can find many chores that are perfect for your kids and their development.
In this article, you can find the ultimate list of age-appropriate chores ideal for your little ones. Stick with us to discover some amazing suggestions for your toddlers.
Things to Keep in Mind Before Making Age-Appropriate Chores List for Kids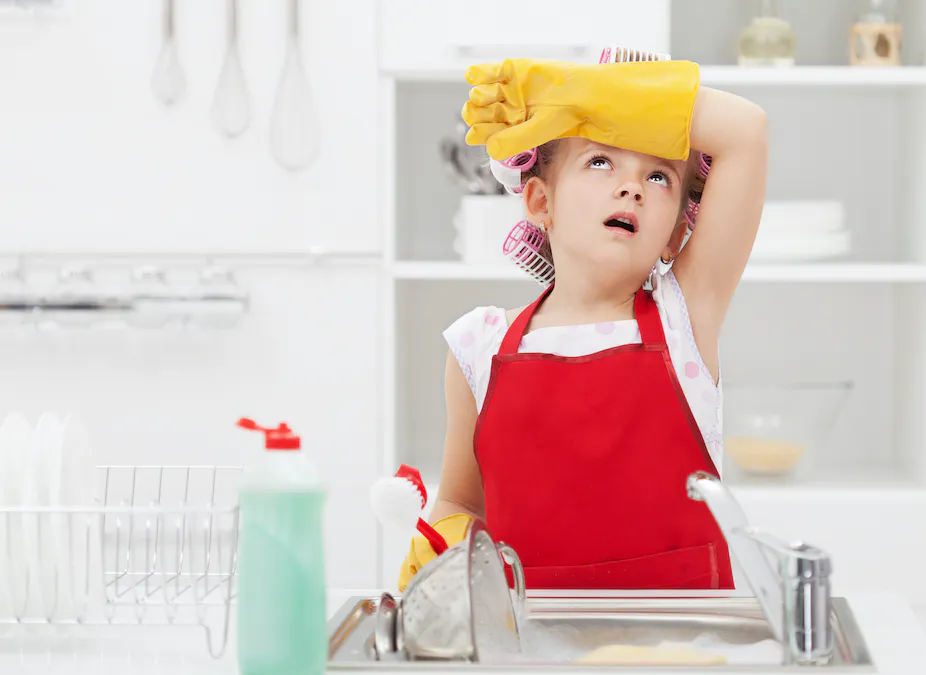 It is understood to become excited as your child is stepping into the new world, and you want to make them self-sufficient. But in that excitement, we do not want you to miss out on certain important things that need to be taken care of while making the list of the age-appropriate chores.
Here, we have mentioned some important things for you to keep in mind before you prepare the list.
Sometimes, we as adults think that it is too early for our kids to indulge in doing work or any basic household chore, but that can hamper the development of your kids. So it is suggested to not start too late and ask your kids to do small tasks to train their brains.
When making your kids do the tasks, it is advised to not give them complicated tasks. Instruct them with proper clarity if you want the desired results. Make proper charts that include task details and paste the schedule to keep everything in sight.
Also, it is very important to not seek perfection. It is suggested to ask your kids to do work and motivate them to do their best, but never make them feel that they need to strive for perfection. These kinds of expectations can bring the morale down among kids.
Never ever forget to treat your kids with little rewards or, even better, show them polite gestures like a sweet thank you note can do wonders to motivate them. You can expect your kids to do more tasks willingly once they are done with the assigned tasks after such polite gestures.
Chores for Children of Ages 2 and 3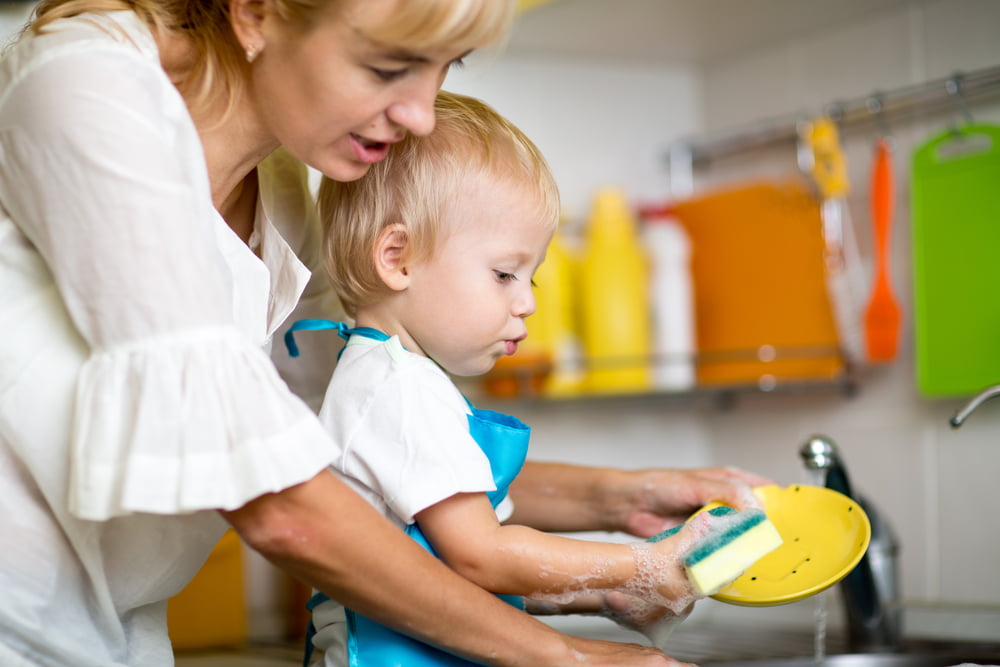 If your toddler is active and carries the audacity to learn more, then you can utilize that eagerness to do something productive. Children are born with the tendency to imitate their elders. They learn skills, methods, and multiple ways to do tasks through their environment. Therefore, it is suggested to behave in a certain way when you want your kids around. You can even teach your kids to do particular tasks by printing a task reminder chart so that they are always reminded to complete those tasks. This can help them to lead a life full of discipline and can make their later life simple.
Some of the tasks are as follows.
You can ask the kids to make the bed once they wake up and start their day.
They can pick up their toys and clean the mess after playing.
If you own a pet, develop a habit in your kids of feeding the pet. It will actually help them a lot in the long term.
Ask your kid to wear socks and put on their favorite cartoon-themed music. And you both can do the dusting by keeping the task fun.
Another small task is to ask your kid to put the dirty clothes in the laundry basket.
Keeping the dirty dishes in the dishwasher can also be done by kids at a young age.
Chores for Children of Ages 4 and 5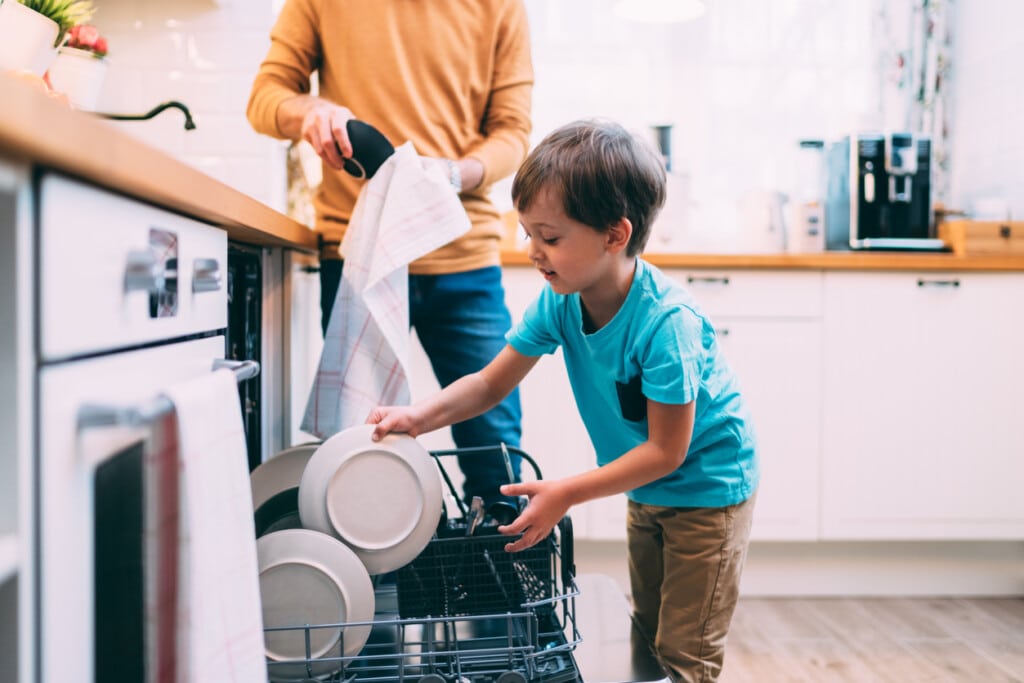 By the age of 4 and 5, your children are big enough to do a little complex tasks. So you can introduce some chores they can do responsibly. Train your kids with a daily chore chart to help them develop easy and simple habits. And if you want to spice up the things and make them motivated to complete the work, then offer some rewards. Let's be honest. We all love a little treat for everything we do. So, to keep the process of doing chores interesting, keep certain tasty treats for your kids.
Some of the tasks for children of ages 4 and 5 are as follows.
Become a helping hand in cooking and preparing meals.
Washing some dishes that are easy and comfortable for the kids.
Doing some gardening on Sunday afternoon with elders.
Watering the plants can also be a fun and soulful activity for kids.
You can even ask the kids to clean the room with you.
Assign them the task of putting milk or milk products in the fridge and other grocery items inside the kitchen cabinets.
Chores for Children of Ages 6 and 8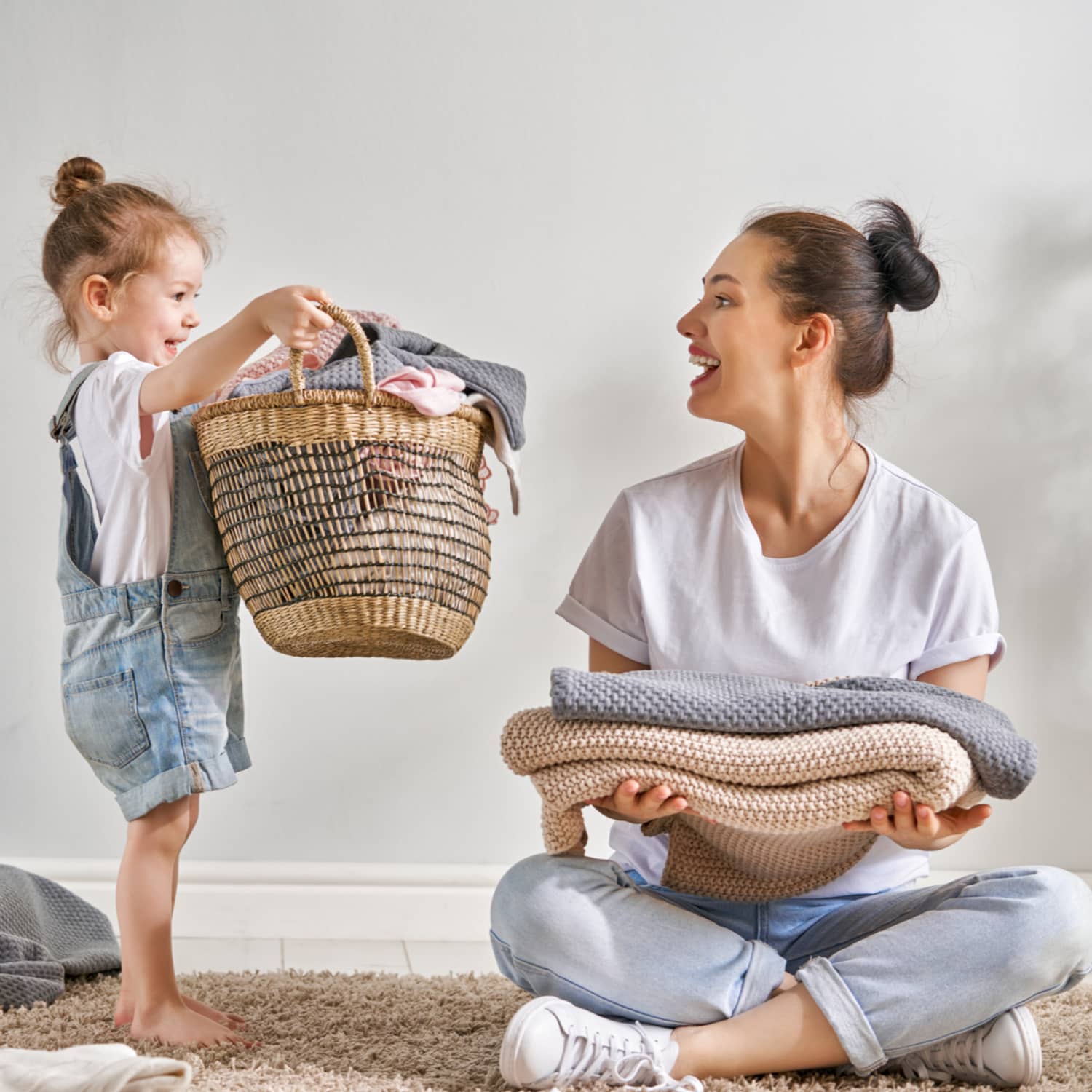 When your children start going to school, their enthusiasm for work or doing household chores gets low compared to the initial stages of childhood. So, it is very crucial for us to keep them engaged and motivate them to indulge in chores that will help to sustain life. Your guidance can help your kids lead a self-sufficient life where they can take care of essential responsibilities.
Some of the age-appropriate chores are as follows.
Looking after the younger siblings or taking care of the pets.
Folding and putting away the laundry under guidance.
Cleaning the garden, like putting away the dry leaves from the garden.
Ask the kids to prepare their own breakfast or snacks.
The kids can also help with some vacuuming, mopping, and sweeping.
Chores for Children of Ages 9 to 12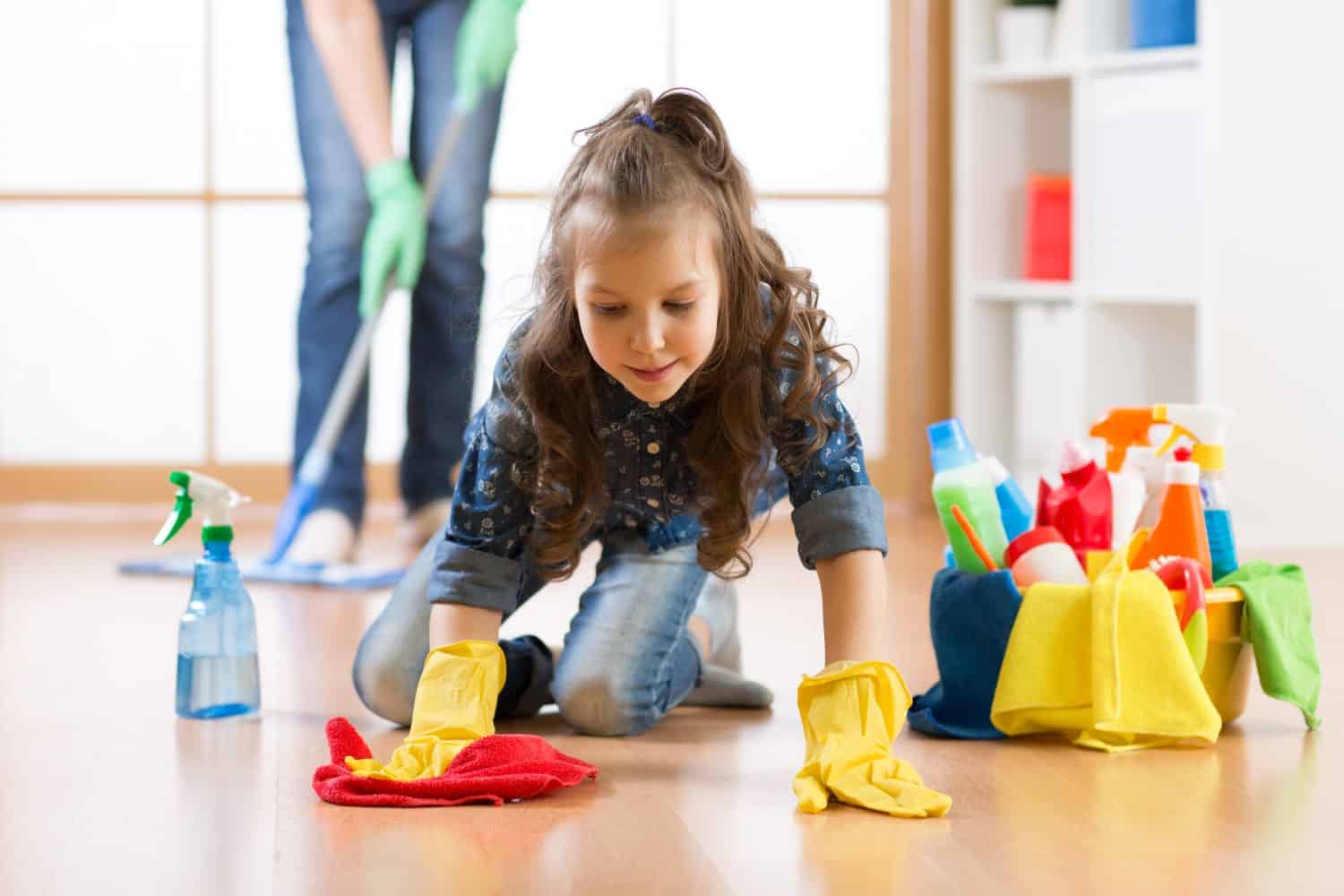 Now that the children are quite big, we can expect a good amount of work to be done by them. A schedule can also be made to expect a systematic workflow. Create a schedule, and ask them to complete the tasks at particular periods. There is a high chance that you may encounter a denial from the side of your kids, but then you need to stick to your plan and ask your kids to follow it to enjoy desirable results in the end.
Some age-appropriate chores are listed below.
Indulge your kids to wash the car with you on your day off.
Prepare simple meals or enjoy a good baking session with your kids.
Assign them the task of taking the garbage out.
Send your kids for a walk with a pet to make your kid a little more responsible.
Ask your kids to care for or babysit younger siblings when you are not home.
Chores for Children of Ages 13 to 18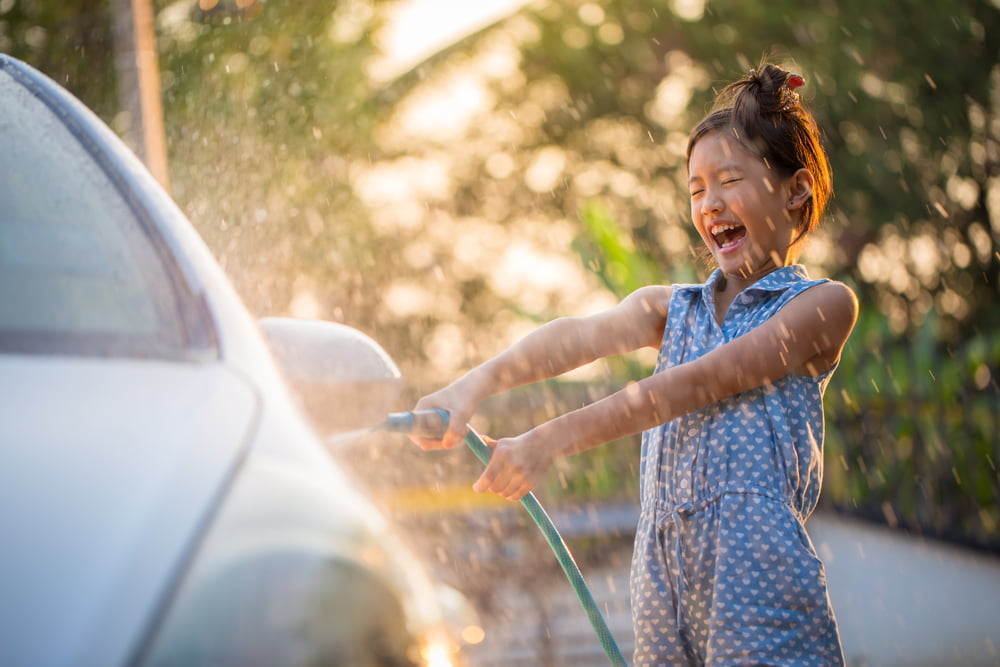 Okay, so finally, your kids have reached an age when you can rely on your kids for responsible tasks. After all, they are going to step into their teenage years, and it is expected to be a little more responsible for them. You can assign them tasks, share duties, and ask for equal cooperation in all the household chores. Remember you are preparing them for adulthood, and these teenage years are very crucial for their development to make them responsible adults.
Have a look at some of the important age-appropriate chores you can expect your teenagers to do.
Ask your kids to iron clothes and fold them in their free time.
Doing cleaning tasks such as removing dirt from bathrooms, showers, and basins.
Ask kids to change curtains, remove dust, replace cushion covers, and do many more such little chores.
They are even able to change bulbs easily by now.
Bringing groceries from the nearby supermarket.
Washing utensils and windows on Sundays or on the day off.
Summing Up!
In the end, it is safe to say that your children are growing buds, and you need to nurture them properly in order to make them wise, skillful, and self-sufficient individuals. We have tried our best to create a helpful yet effective list of age-appropriate chores for your toddlers.
Whether your child is in the early stages of development or stepping into the responsible teenage years, we have mentioned chores suitable for every developmental year.
Take these years as an opportunity or golden period to train your kids to become the best version of themselves. And prepare them well for the coming years of their life.
Also, do not forget to comment down below and let us know your favorite age-appropriate chores from the article.
Frequently Asked Questions
How Many Chores Should a Child Have?
There is no hard-and-fast rule about how many chores are appropriate for your child. Kids in elementary school should be expected to do 10 to 20 minutes of helping around the house each day. You can expect a little more on the weekends and in the summer.
Why are Chores Important for Children?
Doing chores helps children learn about what they need to do to care for themselves, their homes, and their families. They learn skills that they can use in their adult lives, like preparing meals, cleaning, organizing, and gardening.