Top 10 April 2024 Calendar Templates [Printable]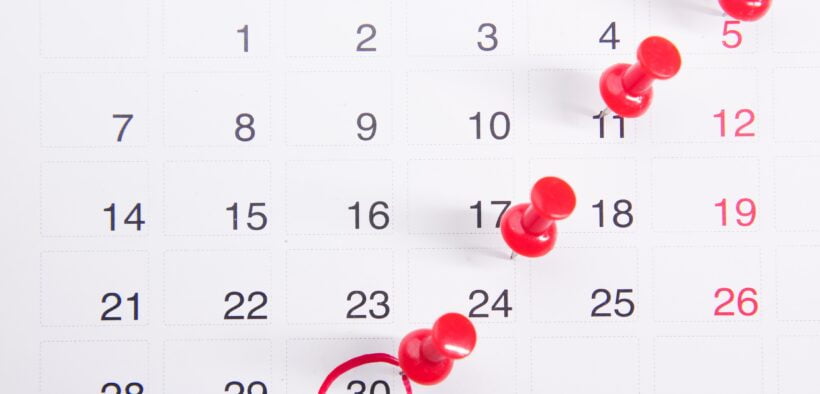 Are you looking for a printable April 2024 calendar to plan your schedule? 
Such print-outs allow you to plan your daily, weekly, and monthly tasks easily. Not being able to plan your work can cause a lot of chaos and confusion. This results in pending work, stress, and an unpleasant life. With the help of this calendar, you can create a peaceful and well-structured routine.
The beautifully designed calendars in our home are a fantastic way to keep note of the dates. The desk and extra large wall calendars remember special dates and occasions. However, they don't help create a proper plan for the month. You need a printable template for the month to form an extensive work plan. 
This article shares ten unique designs for the April 2024 Calendar. It also teaches how to make the best out of this template for a productive life. 
1. A Simple Black & White Calendar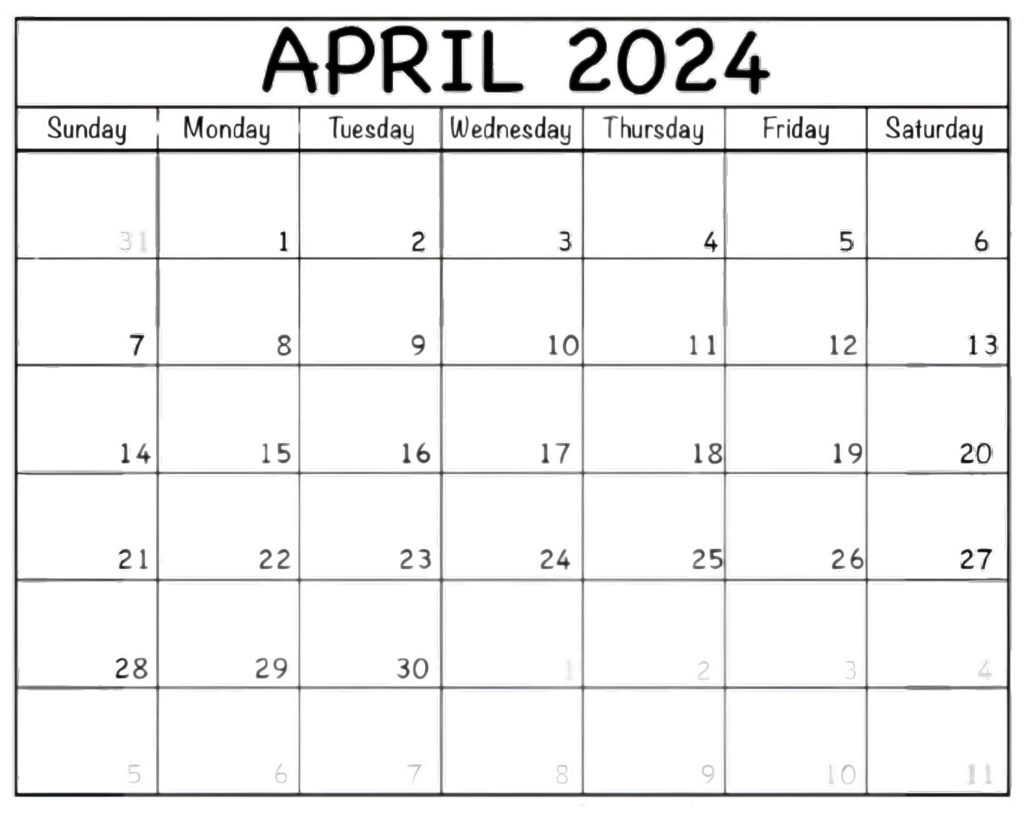 This simplistic April 2024 calendar is perfect for a professional set-up. The black and white shade in every part of the printable makes it perfect for bringing sincere and disciplined energy. It will help in decluttering your mind and simplifying the collection of ideas. You can easily prioritize the tasks depending on their importance and allocate a specific date for every work.
That's the best thing about printable calendars. They allow you to have a look at the dates and days at the same time. Having a piece of paper in front of you makes it easier for you to plan. 
If you are an entrepreneur with a team under you, this is the best habit to pass on. Gift your team members a template to plan for the upcoming month. It will help them clarify how to implement the work by breaking them into small daily tasks.
The best part about the printable calendar is that you can stick the whole calendar to your notice board or personal table. Every day, it will remind you about the implementation tasks. 
Get this black and white calendar printed for your personal and professional use. Please include it in your team activity and help your employees optimize their daily routines. Pave a path for collective growth through planning.
2. Easter Eggs Playful Calendar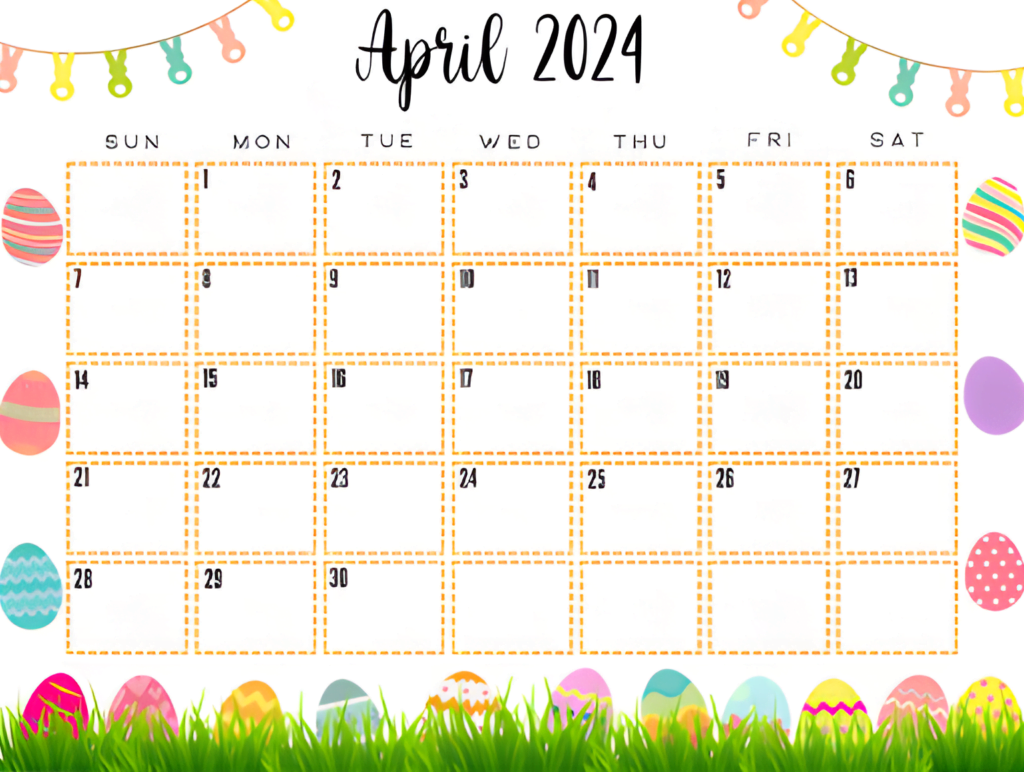 If lavender is your favorite color, this is the best April 2024 calendar for your planning. The easter theme and decor reflect the festive vibes. Perfect for planning household tasks, sharing responsibilities, and having a clear idea about the month's tasks. Printable templates allow you to create and execute your plans without using any electrical device.
Let's assume that you do not want to use a phone, tablet, laptop, or computer in the planning process. Then, having a printable calendar will assist you in making the plan on paper. 
A lot of times, it happens that when you intend to plan the month, you pick up your phone. However, instead of planning, much time gets wasted scrolling through other applications.
To avoid such distractions and waste of time, use a printable calendar. Once you plan your week or month, you can place it at your work desk. Stick them to the board with push pins or place them on your table.  
Get ready to create a wonderful list of tasks with this gracefully designed calendar. Print as many pages as you like and keep creating until you arrive at the perfect monthly schedule.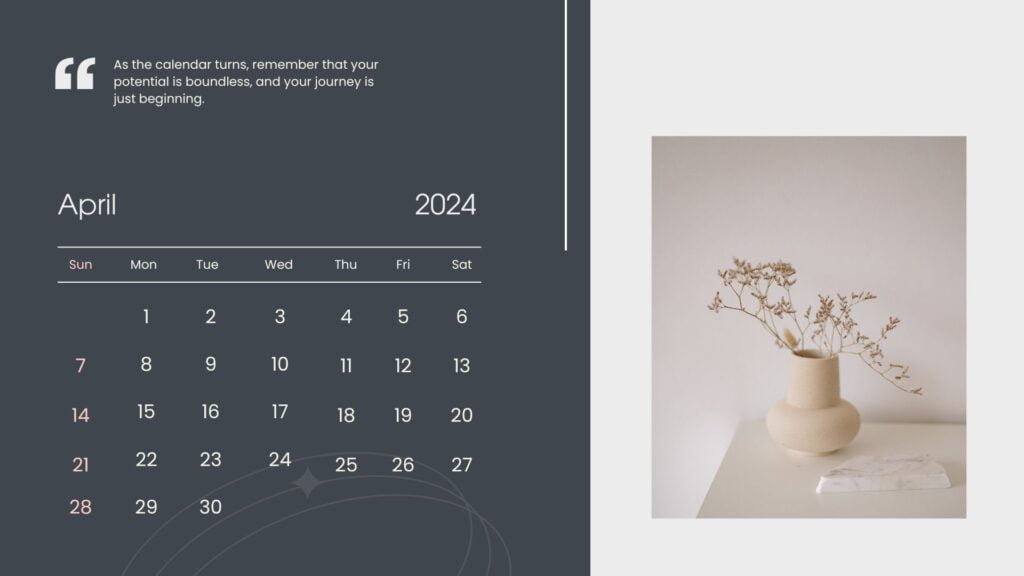 This is a professional April 2024 calendar template with minimal color and design. It also has the specific days marked out to let you plan properly. The holidays during these days will make it easier for you to plan the bank-related activities on the days before or after. Public holidays play an important role when you are planning your work.
The whole schedule can get messed up if you plan an important meeting or outside work during a public holiday. So, it is best to mark the holidays before you set out to plan the month. 
Also, you can make more than one schedule to evaluate the best possible solution. Sometimes, the first schedule does not look the best. However, when you make a few more, it helps in identifying the best one at last. So, do not hesitate to print multiple sheets of the template and start brainstorming about the possibilities.
After creating multiple versions of your timetable, place them next to each other on a large table and find the best possible version. 
When you have different options in front of you, it is also possible to match and integrate the best parts of all the schedules. It will help you create an optimum schedule for the coming month.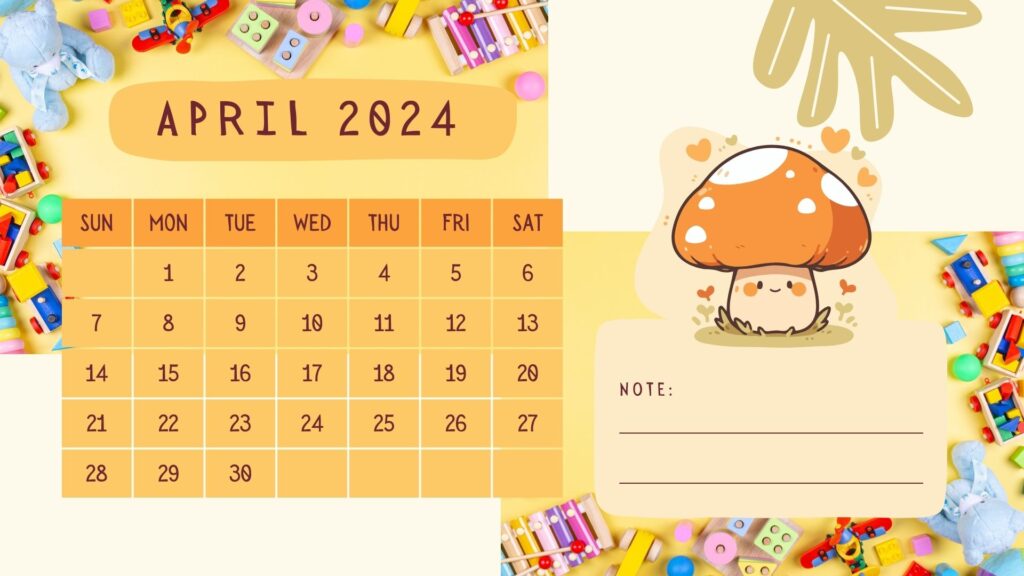 The colorful easter theme April 2024 calendar is perfect for your teenagers who are learning the planning process. At this age, they are so occupied with learning new things. The biggest challenge is to make your teenager fall in love with the calendar.
Only then will he/she begin the process of creating weekly and monthly plans. With the use of social media platforms and technology, it can be difficult for them to understand this process of manually planning the month. 
Start by telling them the importance of planning your week or month. Help them understand the vitality of having a to-do list at the beginning of the day. If they are not ready to begin monthly planning, let them do it for a single day.
Slowly, you can motivate them to go for planning for a few days. Once they become comfortable with this, push them to plan for a week. You will observe that within some days, they will start making their monthly schedule.  
Getting into the habit of planning is a long-term process. Let your little ones begin this journey with you at a young age. It will help them gain a perspective on this aspect of life. You can also make the calendar more creative by adding a few stickers and designs they love.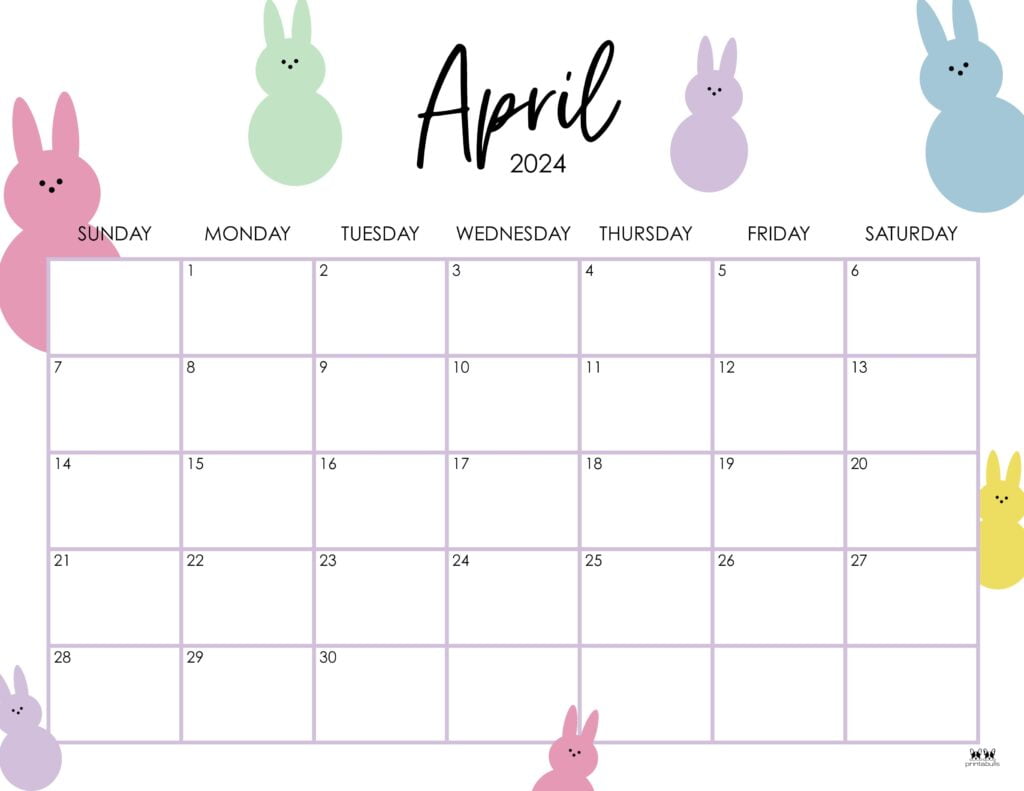 Bunny designed the April 2024 calendar to remind you of the festival coming up in that specific month. Colorful designs on the templates add joyful energy while planning. Everybody has different work approaches and priorities.
Whether it is about household work or the professional aspect, sometimes, you might be working on the same project for the whole year, whereas sometimes, the project lasts for only a single month. 
When it comes to household duties, you can make your furniture or a DIY structure that requires planning. On the professional front, you might be working with a client for a single month. Planning all such tasks requires a single-month printout of this template. Instead of buying a planner for the whole month, it is better to get this printout and create a plan as per your needs. 
With a comfortable pen, jot down all your actions on the specific date for that month and begin your work. This makes the printable templates the most convenient. You don't have to print the whole year. Such templates are also helpful when you are growing plants from seeds or vegetables at home.
It helps in monitoring the whole germination process and watering schedule. Use a single calendar in multiple ways to manage personal and professional life.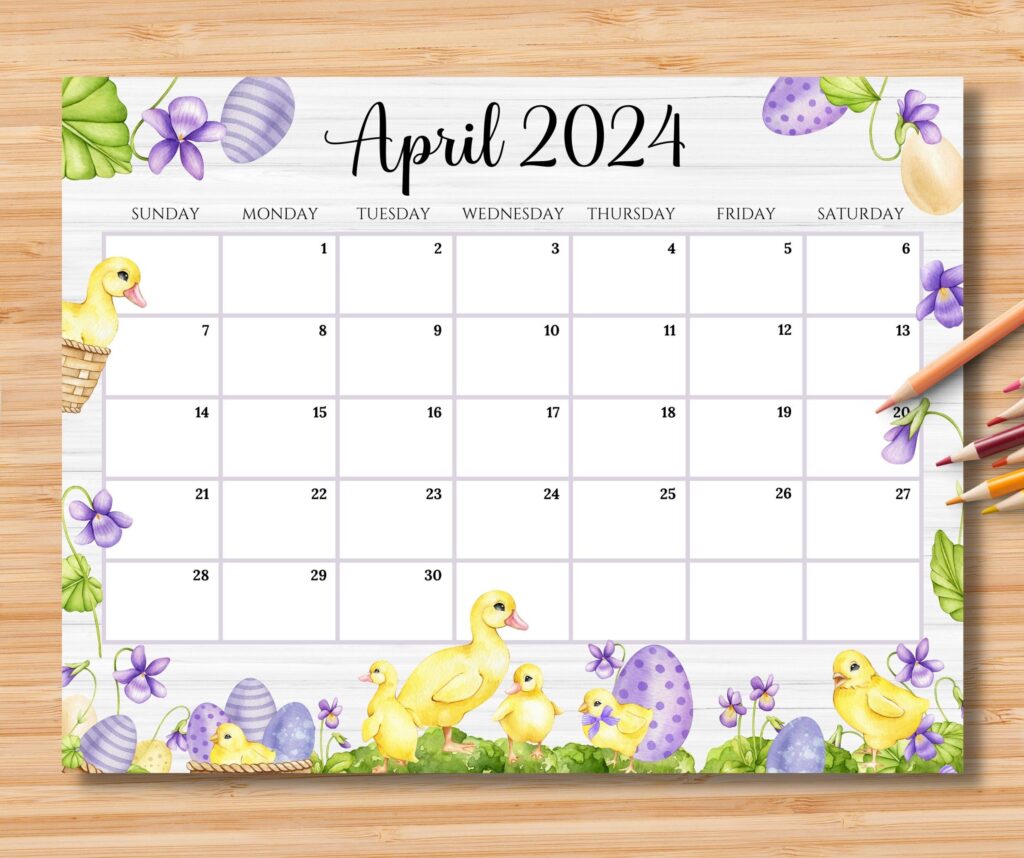 This Easter-themed April 2024 calendar brings bright and playful vibes with it. Begin your little ones' planning journey with this calendar. This is the perfect design calendar for kids between 8 to 12 years. The design, color, and shapes will attract them to the printout. 
In this printable template, motivate them to plan their small routine activities like playtime, nap time, and study time. Initially, they might hesitate and avoid doing it. Give them some time to understand how to do it and why. See the joy on their faces once they start ticking off the items from their list.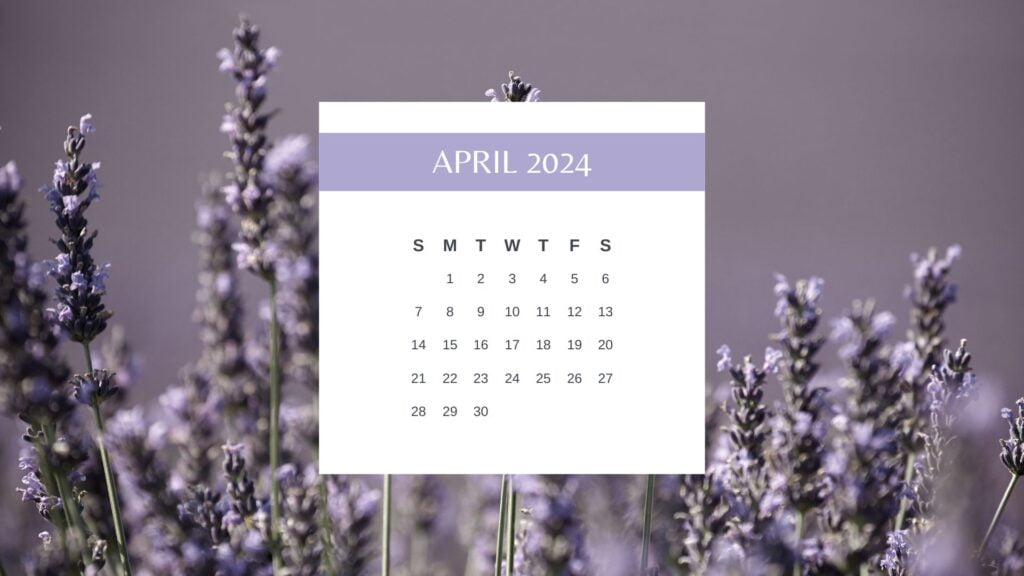 The Lavender Floral Design April 2024 calendar is perfect for planning your development activities for the month. Select a goal that you wish to accomplish this month and break it down into small steps. It can be about building your meditation habit or doing yoga. 
Create a task for every day and assign a time and day to them. This colorful template will give you a refreshing vibe as you check your daily tasks. Such printable calendars help you in keeping your planning personal. Keep the page with you and disclose it only if you wish to.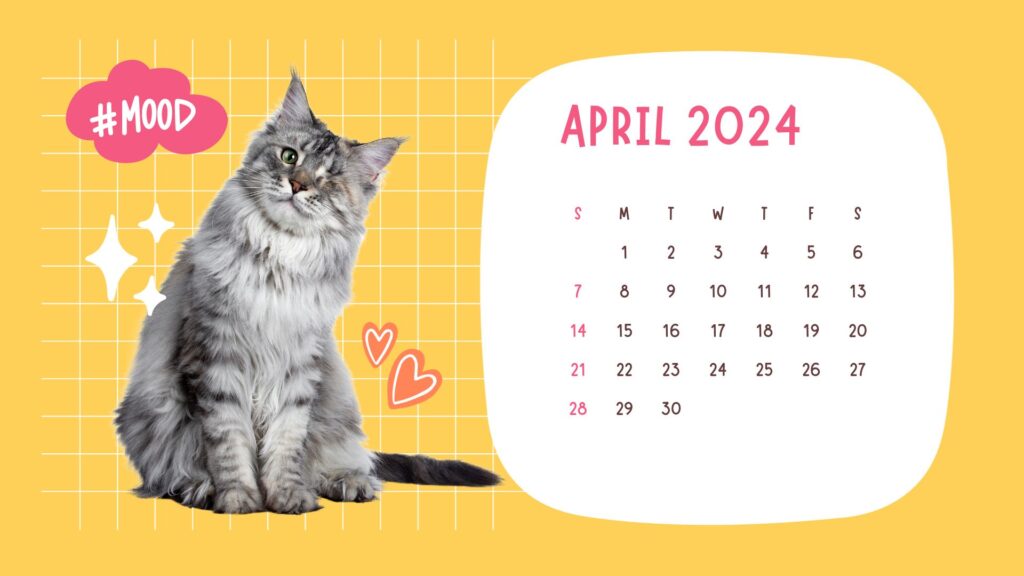 The cheetah symbolizes power, speed, and grace. This April 2024 calendar with a stunning print of this graceful animal gives you the power to speed up your growth. Use this printable calendar to achieve your goals with proper planning. Hold your calendar every day and get inspired to take action. 
Printable calendars give you a daily visual aid to stay motivated. Digital calendars on small screens do not remain around you 24/7. A calendar on your notice board or study table will inspire you much more than a planner on your phone. Try it out by printing this amazing calendar.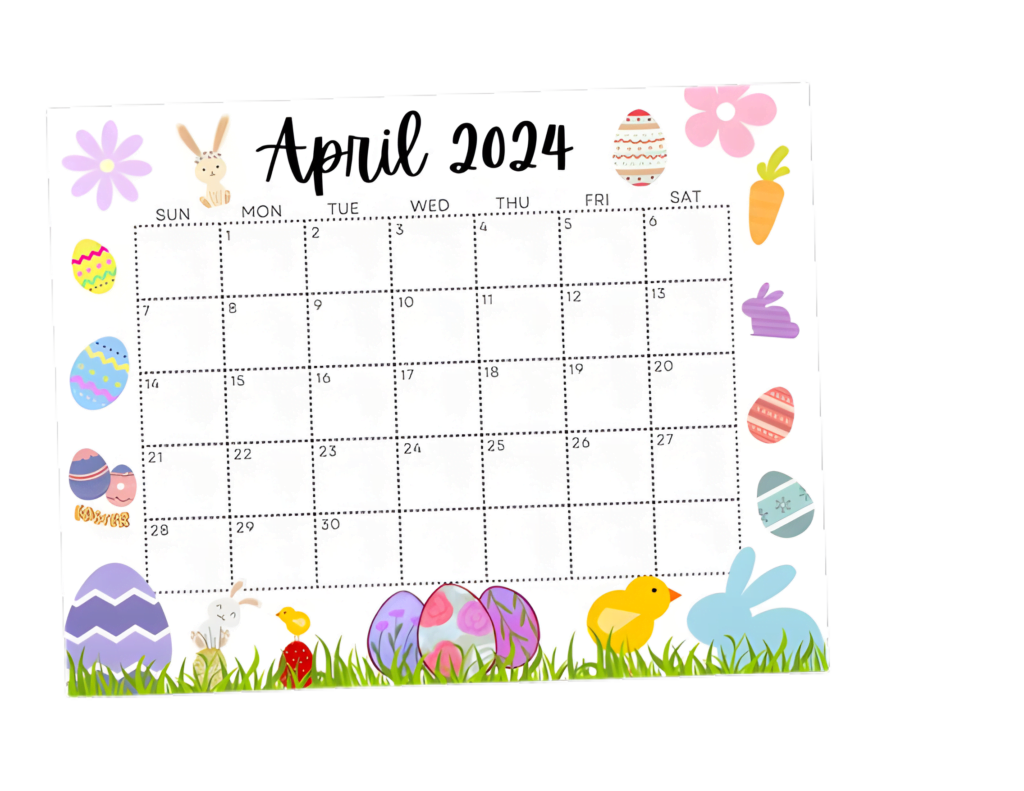 Are you a minimalist looking for a beautiful calendar with subtle designs on every corner? Then this printable is the best for you. It reflects a bright and simple vibe with colorful eggs for the easter theme and a white background. Create your routine on this printable for April 2024.
Sometimes, long-term planning can be difficult. In such a situation, start by planning for a week. If you are dealing with a task that needs to be organized in small chunks, go for weekly planning. Building habits and other general activities normally require weekly planning.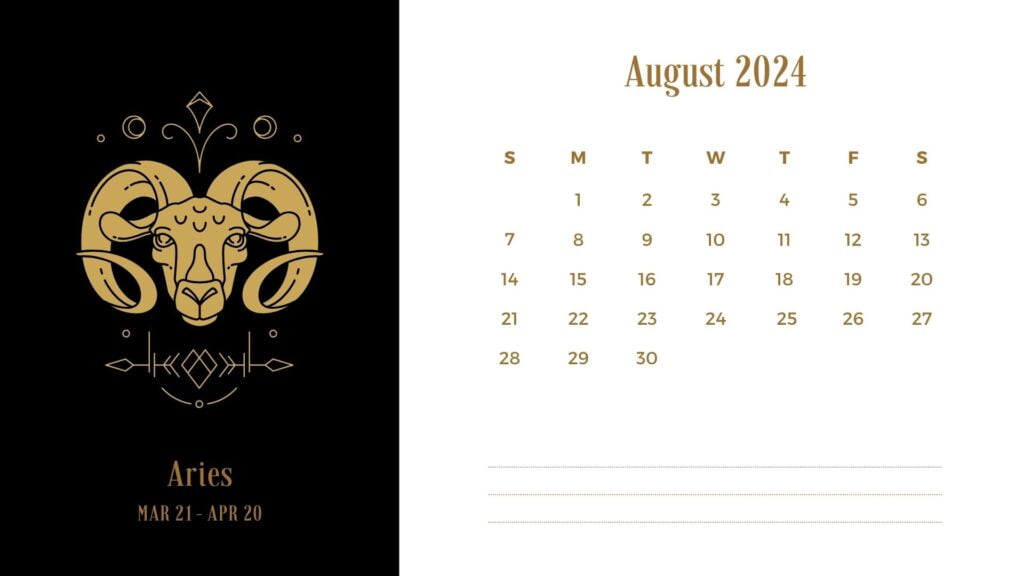 This golden and white theme printable calendar comes with beautiful star prints. This magical print will help you get through your routine swiftly. Begin your journey towards a disciplined life with this monthly printable. Stick it to your mirror and wake up every day to your goals. 
Determine the most suitable format before you plan. Do you want the planning to be separated by the time and hours, or just a to-do list will do? Ask this question before sitting down to create a routine for the next month. It will help in creating a schedule that is easier to understand and implement.
Where Can You Use April 2024 Calendar Printable Templates? 
These calendar templates are multi-purpose. They can serve you in more than one area of your life. Here are the 5 main areas of your life that can be simplified with the help of a calendar. 
A household has many tasks, including meal planning, cleaning, decluttering, yard work, gardening, home maintenance, birthday celebrations, and other daily household chores. Plan your week or month of tasks with the help of this calendar template. Assign the tasks to each family member and write their name on the calendar. Divide the tasks throughout the week so that you don't waste your time planning the tasks daily. 
Finances include multiple aspects like paying bills, making monthly investments, budgeting, and looking after the school fees of your kids. This calendar helps in remembering the most important dates of the month when you have to make payments. It helps you make timely payments, maintains dignity, and saves you from penalties. Keep your wallet healthy and expenses in control by budgeting the finances.     
The calendar is also of great use for a working professional and a student. For a working professional, it helps in planning work, meetings, office holidays, and vacations. Students use it for planning study, assignments, examinations, volunteering, and school holidays. These are some of the best ways to put your printable template to use.  
It is very necessary to keep a check on your health along with your work life. Some of the aspects that can be monitored with a calendar are weight, water intake, exercise routine, healthy food intake, blood pressure, medicine, and workout time. Don't forget to take care of your physical health in a busier work life. 
The last and most important aspect of our lives includes personal development. The aspect includes developing your skills, character, and mental abilities. If you are building a habit or already have a habit, this planner helps you monitor its regularity. Reading, journaling, meditating, relaxation, painting, or any other creative activity can be on your planner as a part of your daily routine.  
Don't limit the use of these printable templates to a single aspect of your life. The unique designs shared above serve a different purpose. They can be used for different areas of your life. Select an appropriate design for your specific purpose and begin your journey of growth. 
Storage Ideas for Your Printed Calendar
Once you prepare the calendar, it will be used every day for a month. It is crucial to store it in a way that it remains intact for a month. Use a plastic sheet protector to cover the paper. This will save it from getting wet in case you spill water or any beverage. If you do not have a noticeboard, affix it to a door or cupboard. Stick it with tape that does not harm the surface of your furniture. 
Place your calendar in a space that is visible regularly. Every day, when you begin your work, have a look at the calendar to stay motivated and inspired. Select a location where you work, study, or cook. Depending upon the theme of the calendar, select an appropriate location. Once you have placed the calendar, keep reviewing it every few days to see if the implementation is done properly. 
Are You Ready to Live an Organized Life? 
April 2024 calendar is here to inspire you! Taking a step towards planning is one of the best things a human being can do. However, it is a universal fact that not all planning ends in execution. Carrying flexibility is equally important when you are on this planning journey.
There might be days when the tasks listed on the planner could not be completed and postponed to the next day. Accepting the delay and showing up with more discipline the next day is a good way to approach such situations. 
Select a calendar that best suits your purpose and theme of planning. If you have kids, include them in the planning process. It's great to learn such a skill in the early years. They will not get overwhelmed by life when dealing with multiple aspects. Keep a separate calendar for crucial tasks to be completed.
Once you are done with the project or a task, discard the calendar to avoid any kind of confusion.