Quick and Easy Salt Dough Recipe for Kids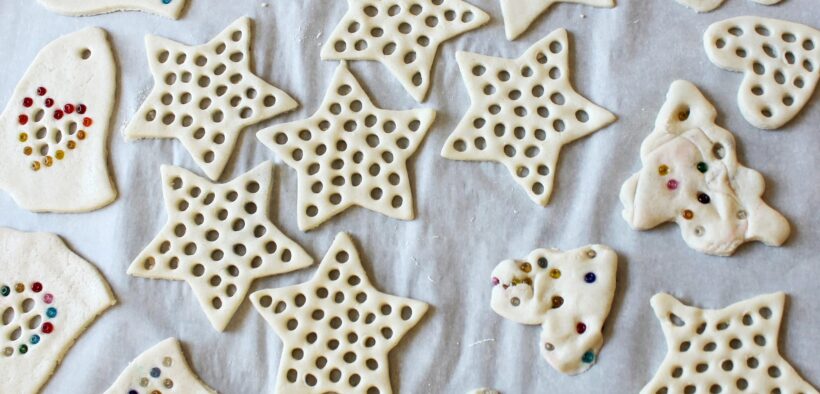 Making salt dough with your kids is a fun family activity that helps teach them important management and other skills. It teaches kids to be comfortable with cooking in the kitchen and helps them master important kitchen skills. The easy salt dough recipe is like play dough but can be baked to store permanently.
The salt dough can be mixed with food coloring before modeling or with acrylic paints after baking properly. It is a fun activity for kids and great for making ornaments and keepsakes.
Today, we will discuss all salt dough recipes and various innovative ideas to store them permanently. Keep reading for a thorough understanding.
What is Salt Dough?
Salt dough is nothing special; it is just homemade play dough but can be stored permanently. It is very simple to make with 3 basic steps. Kids use the salt dough as play dough and enjoy playing with it using their creativity. Once they are done playing, they can be hardened into ornaments or can make memorable hand-print crafts.
You can help your kid cut the dough into different shapes by adding designs. To add colors, you can use paint or food coloring. Playing and experimenting with the salt dough can be fun and a family bonding activity to do on holidays or weekends.
How is a Salt Dough Recipe Beneficial for Kids?
The salt dough recipe can prove to be helpful for kids in many different ways. Touching, smelling, and playing with salt dough make kids comfortable with them. Salt dough helps kids learn basic kitchen skills and practice using butter knives for cutting the dough.
Making salt dough with kids is messy, and there are some tips to manage the mess. Place a mat below your child's place, and wear aprons while mixing the salt dough. Be prepared for some flour to fly around while kids play with it.
Making the Salt Dough Recipe
The salt dough recipe is very easy to make and requires minimalist ingredients. With just three ingredients and some very basic steps, you can make the salt dough by molding it into different ornaments later.
You can have a Christmas tree built and decorate it with name initials and glitter pens and paints. Use this salt dough recipe to make lasting treasures like ornaments, print impressions, and so many more.
Ingredients Required for the Salt Dough Recipe
This salt dough recipe prepares 1 ball of salt dough with a cooking time of around 3 hours. All the preparations for this salt dough recipe are around 10-15 minutes. It is just a 3-ingredients recipe with all the ingredients needed to be mentioned below.
All you need for the salt dough recipe is
Simple Step Process for Salt Dough Recipe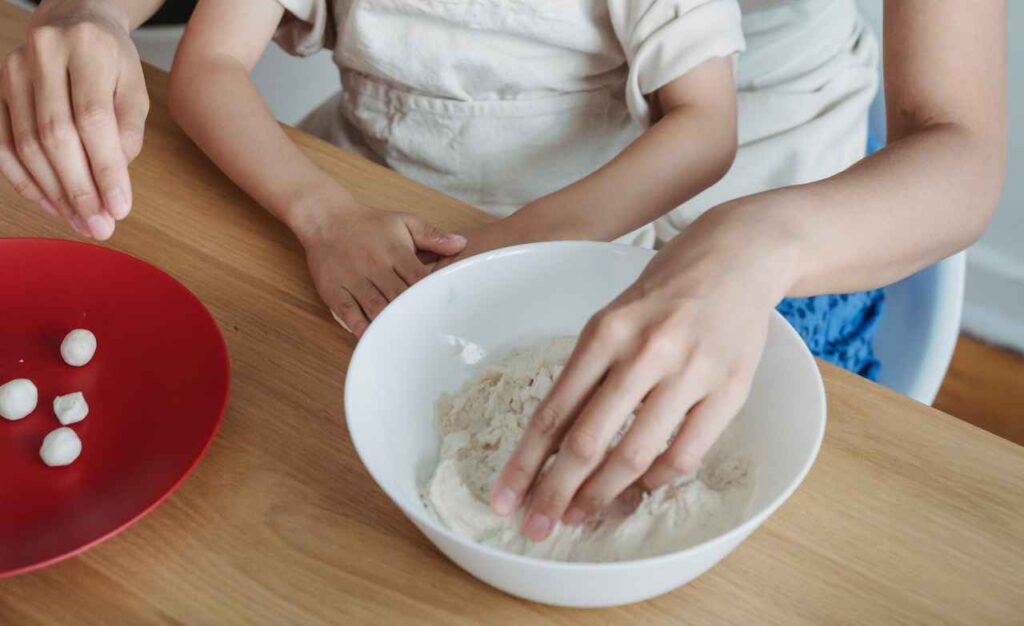 Preparing salt dough recipes is quite fun and a great family activity. To make salt dough with your kids, there are very basic steps to follow.
Mix all three ingredients in a big bowl so it is easy to mix them. Keep mixing all the ingredients until the dough is formed.
Now, kneel the dough to make it smooth.
Flatten the salt dough to a good thickness of around ½ inch.
Divide the dough into different sections for your kids to play with, cut, give shapes, and add their handprints. Let them do what they want to do. This way, they will learn basic kitchen skills.
Bake at 121*C for about 2 hours. If the dough is hard, then it can take longer to fully bake and dry out. Also, if the dough is thin, then it will bake soon.
Leave it to dry out completely, and then paint it.
There is an alternative to baking salt dough, let it air dry. Depending on the thickness of the dough, it can take a few days to even weeks to fully dry out.
You can never go wrong with the salt dough recipe. If the dough mixture is sticky, then add some flour to make proper dough.
Amazing Salt Dough Recipe Ideas
Salt dough can be used in many amazing ways. It is commonly used to make homemade Christmas and holiday ornaments. You and your kids can make hand-prints and footprint impressions to store them as souvenirs or gifts for your loved ones.
1. Christmas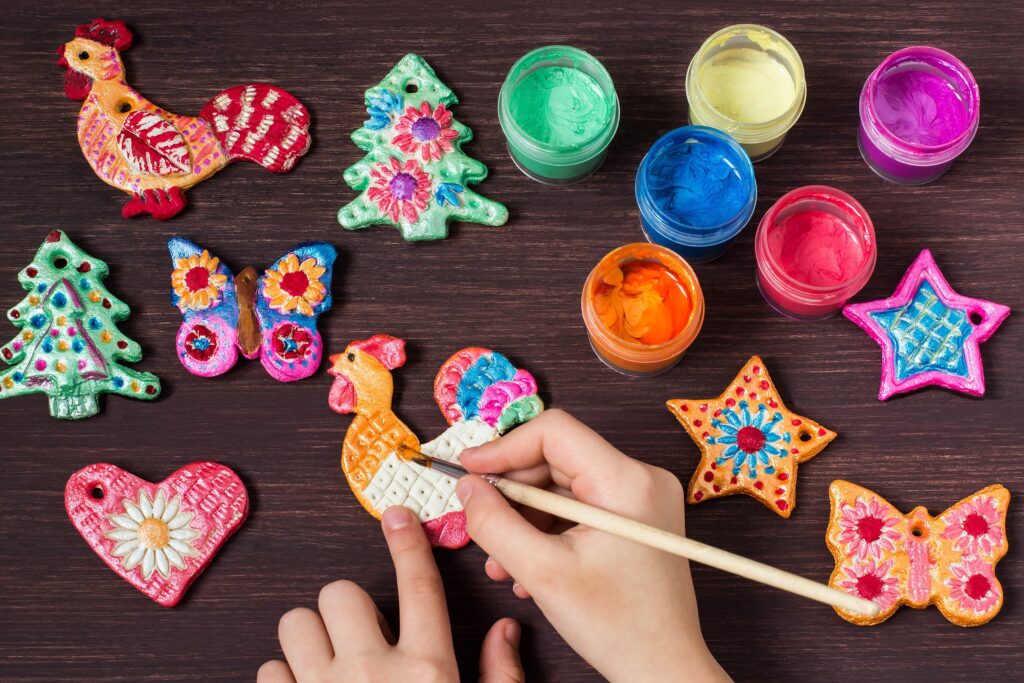 The salt dough Christmas recipe is the best for the new daily keepsake. Mold the dough in the shape of a Christmas tree or other Christmas props like colorful caps and tiny other accessories. Paint and decorate the way you wish to make it special for the time of the year.
2. Tree Shapes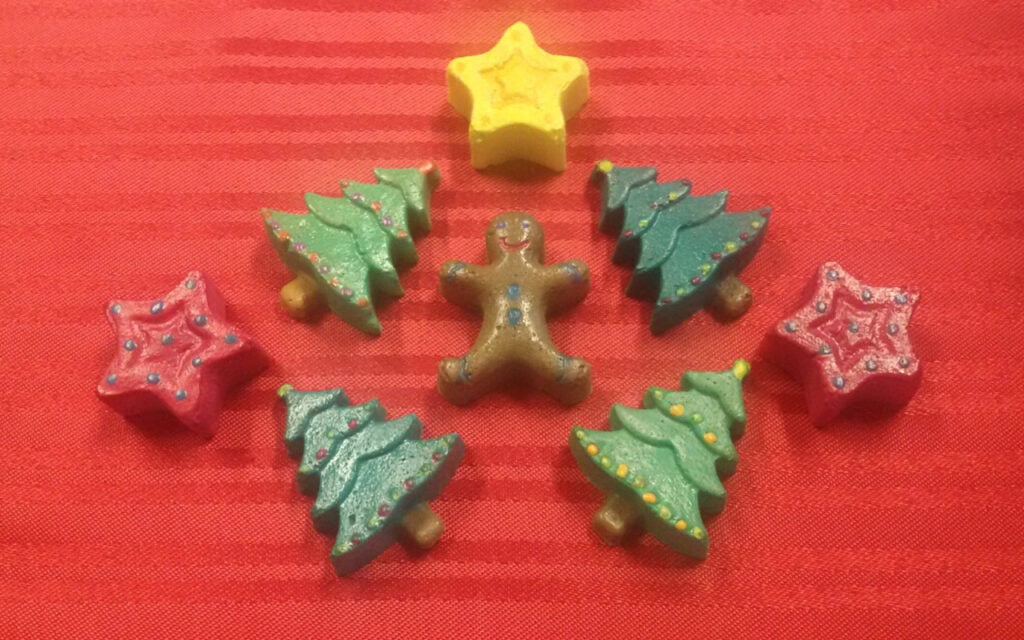 Cut out the salt dough in the shape of a big tree and leave it for a longer time to bake, around 4-6 hours. Paint them green to add extra definition. Let your younger tots decorate it with star stickers, pom poms, and other such decorative accessories.
3. Name on the Tree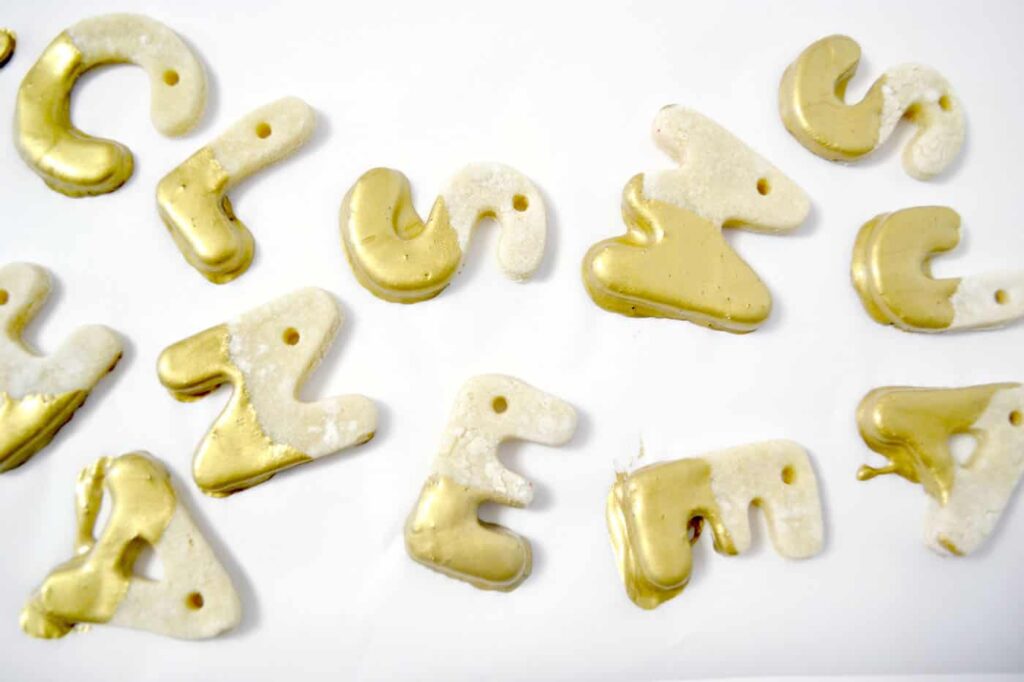 Salt dough recipes are fun family activities. For spending some family time together, add your names to the decorations using glitter and colored pens.
There are many such decorative salt dough recipe ideas to decorate that are very easy and fun to make with your kids and spend some quality family time with.
So, what are you waiting for? Plan this weekend with your kids and make some memories and keepsakes to be cherished later.
Helpful Tips for Salt Dough Recipe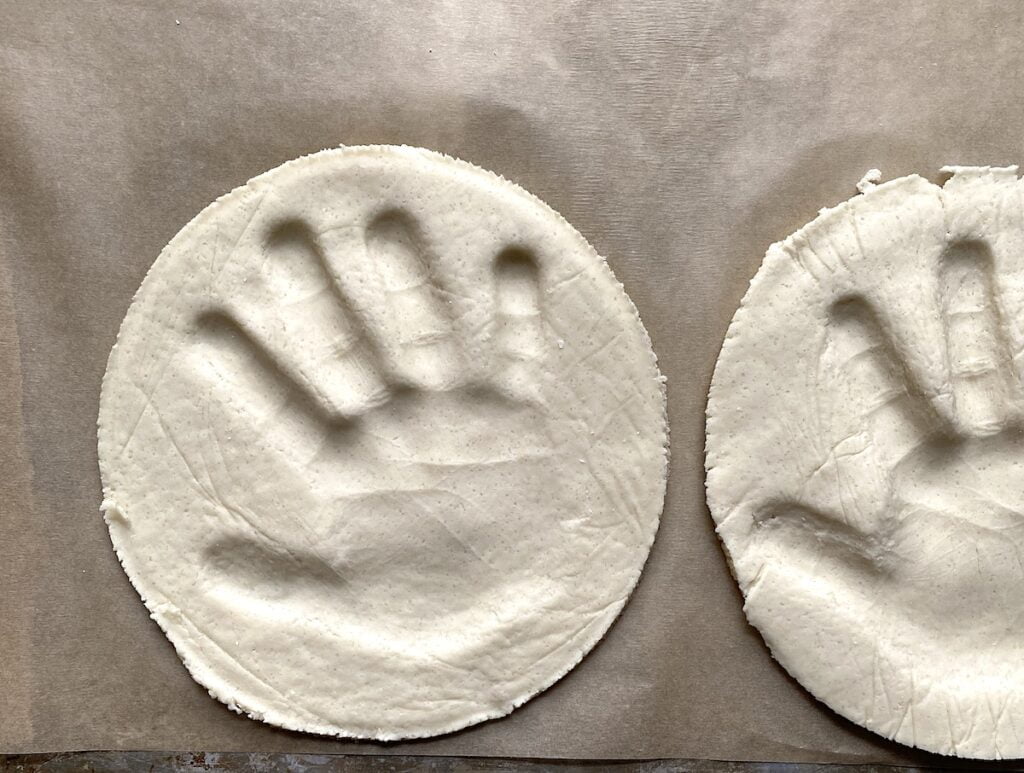 Some very easy and helpful tips for salt dough recipes are as follows.
Simple designs are best, as the dough isn't strong until it is baked properly. The bigger and fatter the dough design is, the more time it will take to bake and dry out.
A very useful tip to avoid using extra flour for spreading the dough is the use of silicon baking sheets. This saves extra clean up of the kitchen. Silicone sheets are a quick way to bake without the baking parchment.
If you are planning to make cupcakes, then just pop the dough into the cupcake mold tray. Now, bake them, and the dough will automatically sit firmly on the paper cases. Once baking is done, it is ready for painting with pretend icing, sprinkles, or cherries.
Let's look at the salt dough recipe tips for coloring, drying out, sealing, and storing the salt dough. The following tips help with the proper preparation, storage, and decoration of the salt dough.
For coloring the salt dough: There are two ways of adding colors to the salt dough. You can color the salt dough before preparing the salt dough crafts by adding paints, food colors, and natural spices to the salt dough mix. Add the color to the water before mixing it with flour. Secondly, you can wait for salt dough creations to dry out and then paint them using acrylic paint.
For drying out the salt dough: The ultimate best way to dry out salt dough is to bake it in the oven at low temperatures. The salt dough can take several hours to dry out based on the thickness of the article. Turning out the salt dough models helps the drying process speed up.
To have an even quicker drying process, you can dry out the salt dough in a microwave. Another way of drying the salt dough is to leave it in a warm room for drying, and it can take several days.
For sealing the salt dough: Seal the salt dough properly on both sides from the front and back sides. Sealing helps to keep the salt doubt craft last longer as it prevents any moisture from ruining the salt dough. Use a sealer glue to finish the varnish and preserve the salt dough. One can also use a spray sealer to preserve the salt dough crafts.
For storing the salt dough: When it comes to storing the salt dough, it is important to avoid heat and humidity. Store the salt dough in a warm, dry room. If any moisture gets into the salt dough, it will get soggy and ruined. If you have made salt dough ornaments, store them in containers to avoid moisture getting into them. Wrap the salt dough creations using a kitchen roll or tissue paper to protect them.
Wrapping Up
Making salt dough crafts is easy and creates some beautiful gifts and ornaments. Salt dough recipes can be fun for kids and are a great family activity to do together. The salt dough recipe is very easy and effective for salt dough creations with kids of all ages.
Hopefully, the salt dough recipe and creative ideas will help you spend some quality time with your kids. Do you have any questions about salt dough recipes? Comment down all your queries, and we will be very happy to help you with the answers.
Keep innovating with salt dough recipes with your kids, and enjoy your family time.