5 Delicious Pancake Recipes for Baby-Led Weaning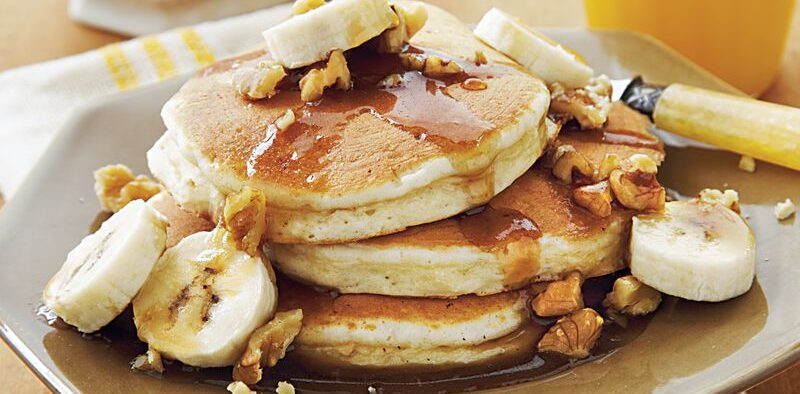 Pancakes make everything better, they say. It holds true for you and your baby as well. If you are looking to introduce baby-led weaning for your kids, pancakes are a great option. They are quick to make and easy to eat.
They put all your worries to rest and are something that even your child will love. As icing on the cake… Or should we say, topping on the pancake, there are many new BLW pancake recipes available out there that make this task just very easy.
Read on to find out all great blw pancake recipes and tip tricks that will make the task of Baby-Led Weaning very simple.
Why are Pancakes Good for Baby-Led Weaning?
Pancakes are one of the most liked food items by kids. However, if you are feeling a little skeptical about introducing Baby-Led Weaning pancakes to your little one, we have all the reasons why you should not hesitate.
First things one, pancakes are moist, which makes it easier for kids with soft, young guns to break them down and swallow.
Secondly, pancakes are really versatile. Depending on what ingredients you want your kid to eat or based on their preference, you can very easily change the recipe.
They are quick to make. For a busy parent, it is easy to make these blw pancakes.
They make up to be great finger food which makes it easier for those tiny hands to hold. This way, your munchkin is in command of how much they want to eat and how they want to eat.
Finally, They are good for kids of all ages.
Now that we know how great it is to add blw pancakes to your kids' weaning journey, it is time we look at some very easy recipes and dive into other tips and tricks regarding Baby-Led Weaning.
How to Prepare Pancakes for Your Baby?
Before we dive into the various blw pancake recipes, it is important to know that there are various ways that you can use order to make those delicious easy-to-eat pancakes for your baby. Here is a little something about it.
1. Mixing Bowl Method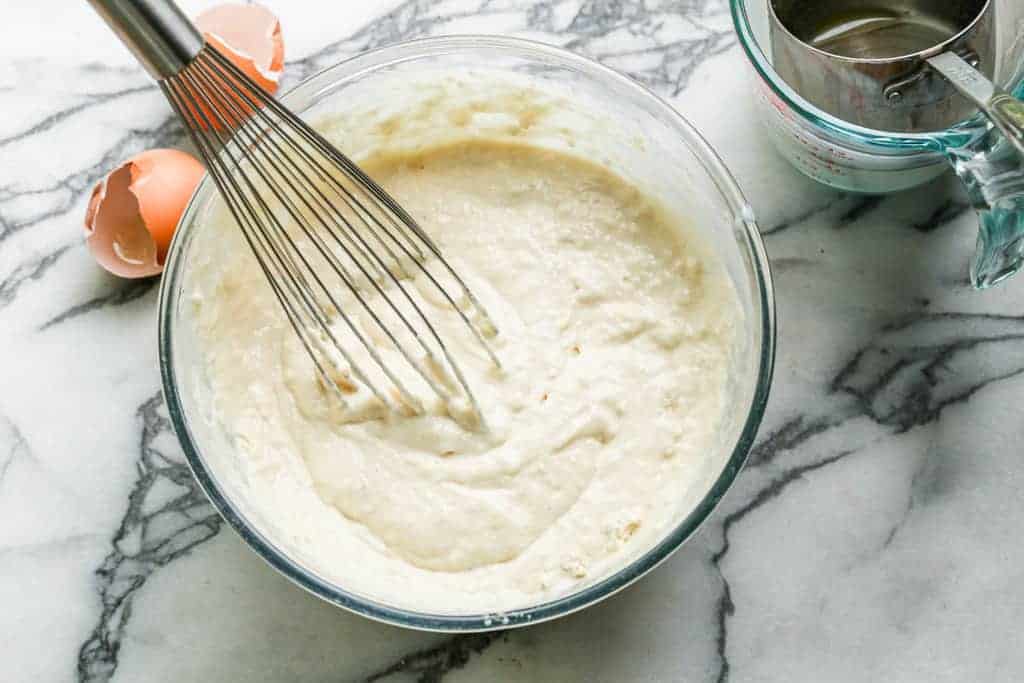 The first one on our list is the Mixing Bowl Method. It is the traditional way of making pancakes and uses a bowl and a whisk to make the batter. For this, you just have to combine all the ingredients needed in your pancake (which will differ from pancake to pancake) and mix them together.
However, you have to make sure that you mix all the dry ingredients in one bowl and all the wet ingredients in another bowl before you mix them together. Once they are combined individually, it is time to mix them together. Generally, we pour all the dry ingredients into the wet ones combine them, and fold them together. After this, your batter will be ready to use.
2. Blender Method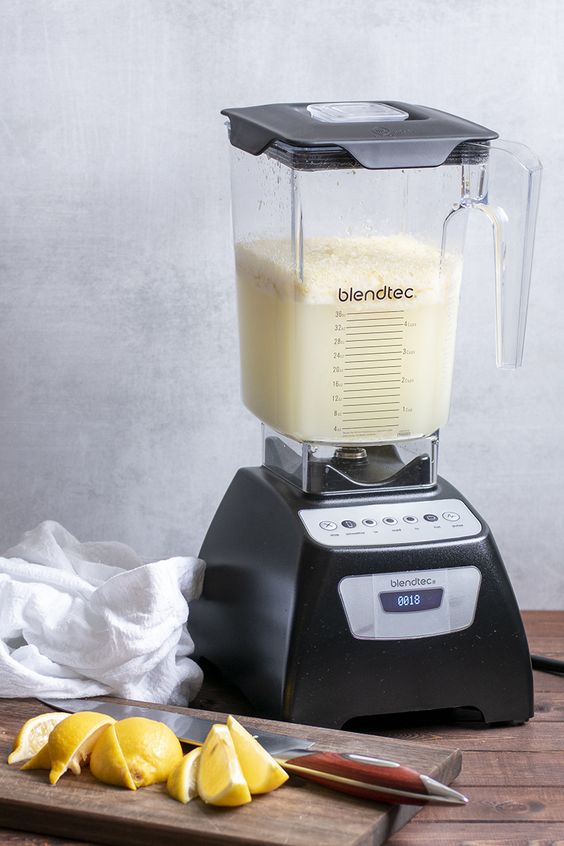 A very quick method of making pancake batter, the blender method is great for all the parents who are on the clock and are trying to juggle between too many things together. Not only does this method take less time, but it also uses very few dishes. All you have to do is put all the ingredients of your pancake recipe in a blender and blend it until it is well combined.
Then, you just have to cook the pancakes. This is a very simple way and makes it easier to include chewable fruits in your pancakes. For instance, if you want to add strawberries to your Baby-Led Weaning pancakes but are scared that your baby might not be able to chew them, you can just blend them in the batter and use it. It will puree the fruit and make it easier for your child to eat.
3. Muffin Pan Method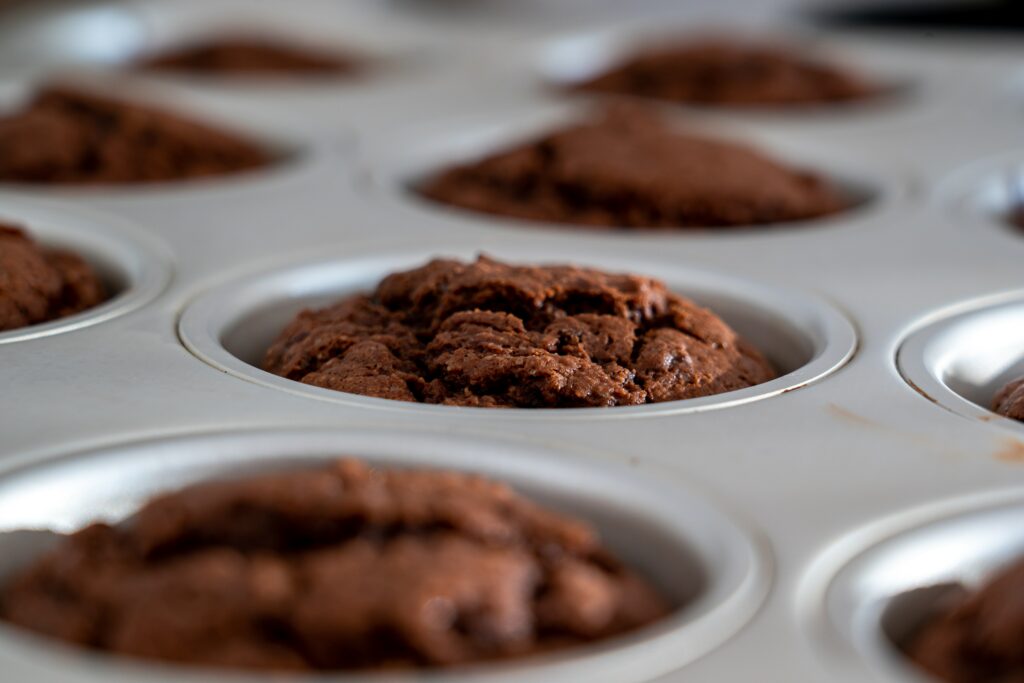 The third and last way on our list of making blw pancakes is the Muffin Pan Method. This method helps you make all your pancakes of the same size, and you won't have to spend time flipping them. Just like in the mixing bowl method, you make your batter and then pour the batter into muffin tins along with butter or oil and put them in a preheated oven at 350 °F. for 15 minutes. It will take about 7-10 minutes, and your muffin pancakes will be ready.
Recipes for Baby-Led Weaning Pancakes
No matter what method you choose to make your pancakes, you need good easy recipes to make the pancakes that your little one will become a fan of. In this section, we explore 5 such easy-to-make recipes blw recipes that are great for all mornings.
1. Oatmeal Banana Pancake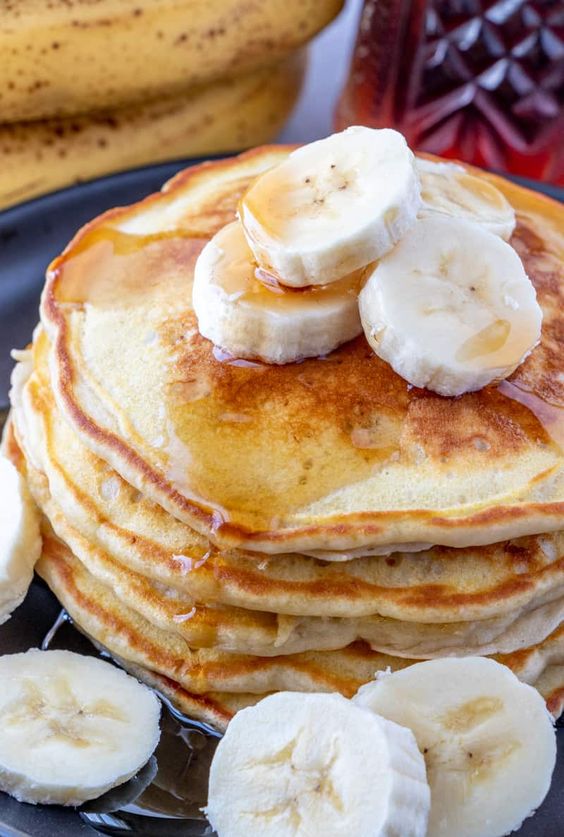 A quick and baby-approved recipe is this Oatmeal Banana Pancake recipe. It combines the goodness of all the best ingredients for your baby and is very easy to make.
Ingredients You Will Need
1 medium Ripe Banana
¼ cup Rolled Oats
1 Eggs
¼ tsp Cinnamon
¼ tsp Vanilla
½ tsp Baking Powder
Butter/Oil (as required for greasing)
What to Do?
Mix all your ingredients into a smooth batter.
Take small amounts of batter in a spoon or ladle and make small circles on a greased pan.
Make sure you cook them on low heat. Once you start seeing bubbles on the pancake surface, flip the pancakes and let the other side get cooked.
Once done, you will find beautiful, soft, golden pancakes that are great for your baby.
Substitutes
Just in case you do not have a particular ingredient or do not want to add that ingredient to your Baby-Led Weaning pancakes, you can very easily substitute it.
You can very easily replace eggs with milk. You can also use flax egg if you want a dairy-free option.
You can replace oats with all-purpose flour or whole wheat flour.
Cinnamon/vanilla: You can skip these two ingredients altogether. They are optional. However, if you do have them at hand, you can add them. They add a lot of flavor to your pancakes.
Baking Powder: Baking powder is also an optional ingredient. It just helps make the pancakes fluffier. So, you can skip it if you want.
2. Blw Banana and Spinach Pancakes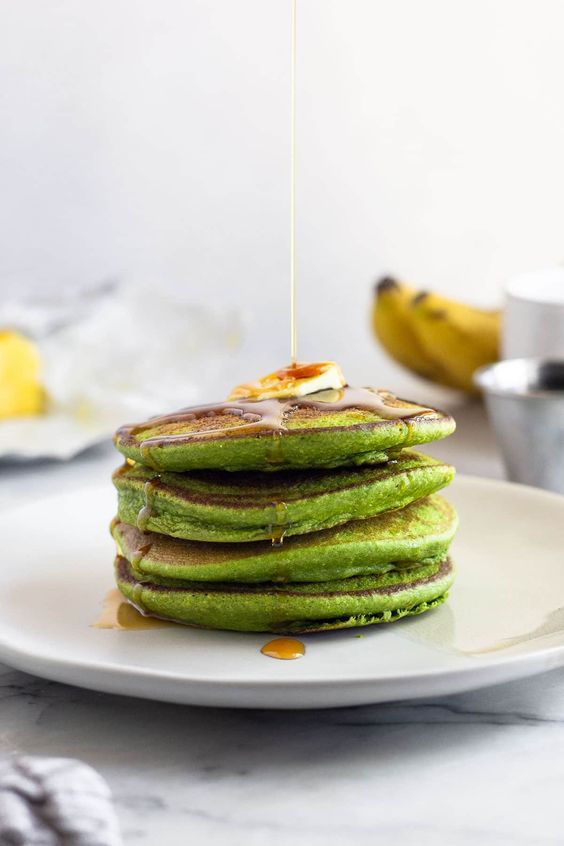 Perfect for a baby, these pancakes are full of nutrition and make great finger food.
Ingredients
120 gms plain flour
1 egg
1 banana
Handful of spinach
150 milk
Oil or butter for greasing
What to Do?
Add the milk and spinach to a blender and continue blending till it is a thin paste.
Mash a ripe banana in a bowl with a fork till it is completely mushed
Now add flour, the milk-spinach paste, and the egg in it. Whisk till it forms a paste. Add more milk if necessary.
Use a spoon or a ladle to take the batter. Make small rounds of it on a greased pan with oil or butter.
Flip the blw pancake when it starts to show bubbles on one side.
Let the other side cook till it's golden brown. Serve after cooling.
Substitute
You can substitute plain flour with either rolled oats or all-purpose flour.
Eggs can be substituted with milk.
If you do not want dairy in these pancakes, you can substitute egg and milk with vegan products like soy milk or almond milk. You can also use formula or breast milk to make this pancake.
3. Blw Apple and Oats Pancake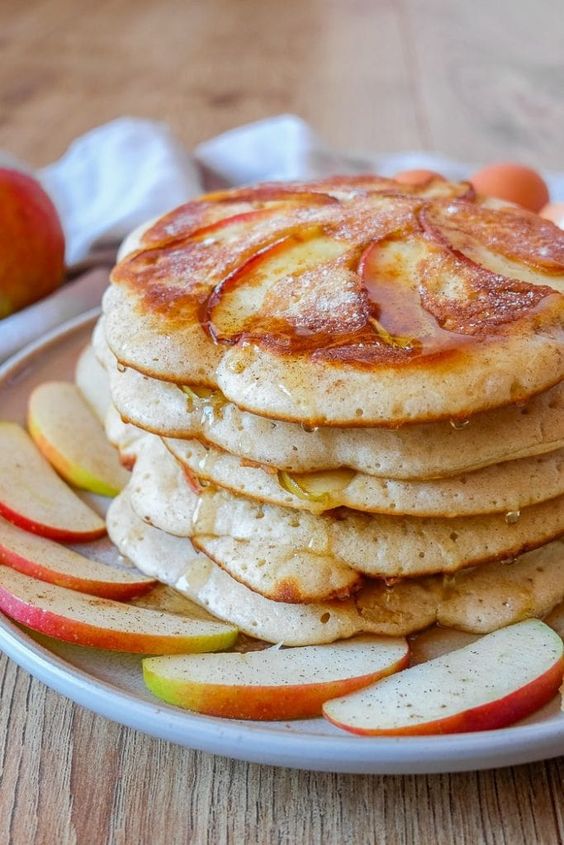 Most kids' favorite pancakes, these pancakes are delicious and very easy to make. Moreover, they are very healthy and full of nutrition.
Ingredients You Will Need
What to Do?
Put oats in a food processor and let it be there till it is fine. However, if you are using a blender, you can skip this step.
Add all other ingredients and blend until it is all smooth
Take a spoonful of this batter and spread it on a greased pan at low-medium heat.
Let the pancakes cook. Flip the pancakes when you start seeing some bubbles.
Let the other side cook too.
Take it off the pan and let it cool. Serve.
Substitutes
Milk: You can use dairy-free milk, formula, or even breast milk.
Maple Syrup: You can leave out maple syrup if you don't want it. If your kids are more than one year old, you can also add a little honey.
Rolled oats: You can use quick-cook oats instead.
Apple Puree: You can use apple sauce
Vanilla: You can add vanilla instead of cinnamon
Baking powder: Baking powder can be easily substituted with baking soda.
4. Apple & Banana Pancakes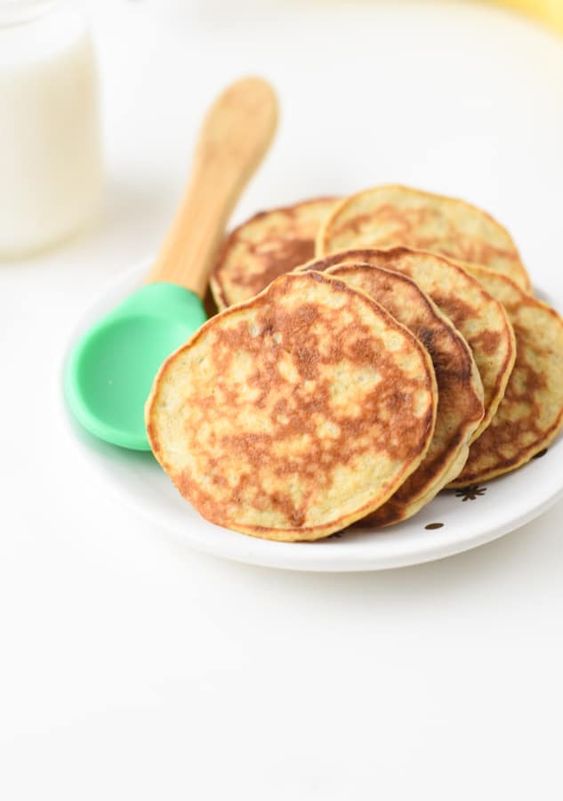 Extremely tasty and extremely fruitful, this pancake has the goodness of very tasty fresh fruits that are also very easy to include in this recipe.
What Do You Need?
1 ripe banana, mashed
1 apple grated and squeezed of all the excess juice
1 egg
¼ teaspoon cinnamon
2 tablespoons flour
Butter and oil as needed
What to Do?
Take a bowl, and mix the flour and cinnamon in it.
Take another bowl, beat the eggs, and add banana and apple to it.
Now, mix both these mixtures together, and it will make a thick batter.
Put a spoonful of this batter on a low-flame heated greased pan.
Let it cook. Flip it when you start seeing bubbles
Let the other side cook too
Take it off, and let it cool before serving.
5. Chocolate Peanut Butter Banana Pancakes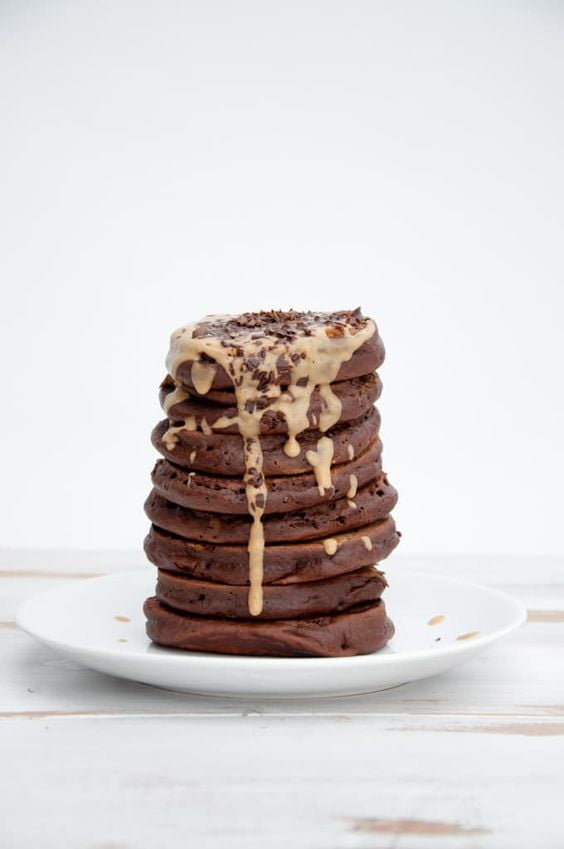 There is rarely any child who dislikes chocolate. There is no better food than something that your child will enjoy. The Chocolate Peanut Butter Banana Pancakes are just that.
Ingredients
What to do?
Put all the ingredients in a blender and blend them until it is a smooth paste.
Heat a pan on medium to low heat and grease the pan with butter or oil.
Take a spoonful of the batter and make small circles with it on the pan.
Let it cook. Flip when you start seeing the bubbles.
Let the other side cook till golden brown.
Take them off the pan and let them cool before serving.
How to Serve Your Pancakes?
Pancakes are really great. Period. However, it is important to know when to start feeding your child Baby-Led Weaning pancakes. Most babies start getting ready for blw around the age of 6 months. However, there are different ways to serve your child pancakes at different ages to make sure they are easy to eat and consume.
At the age of 6-9 months, serve pancakes by cutting them into finger strips. They are easy for small hands to hold, and they will be able to eat them very easily.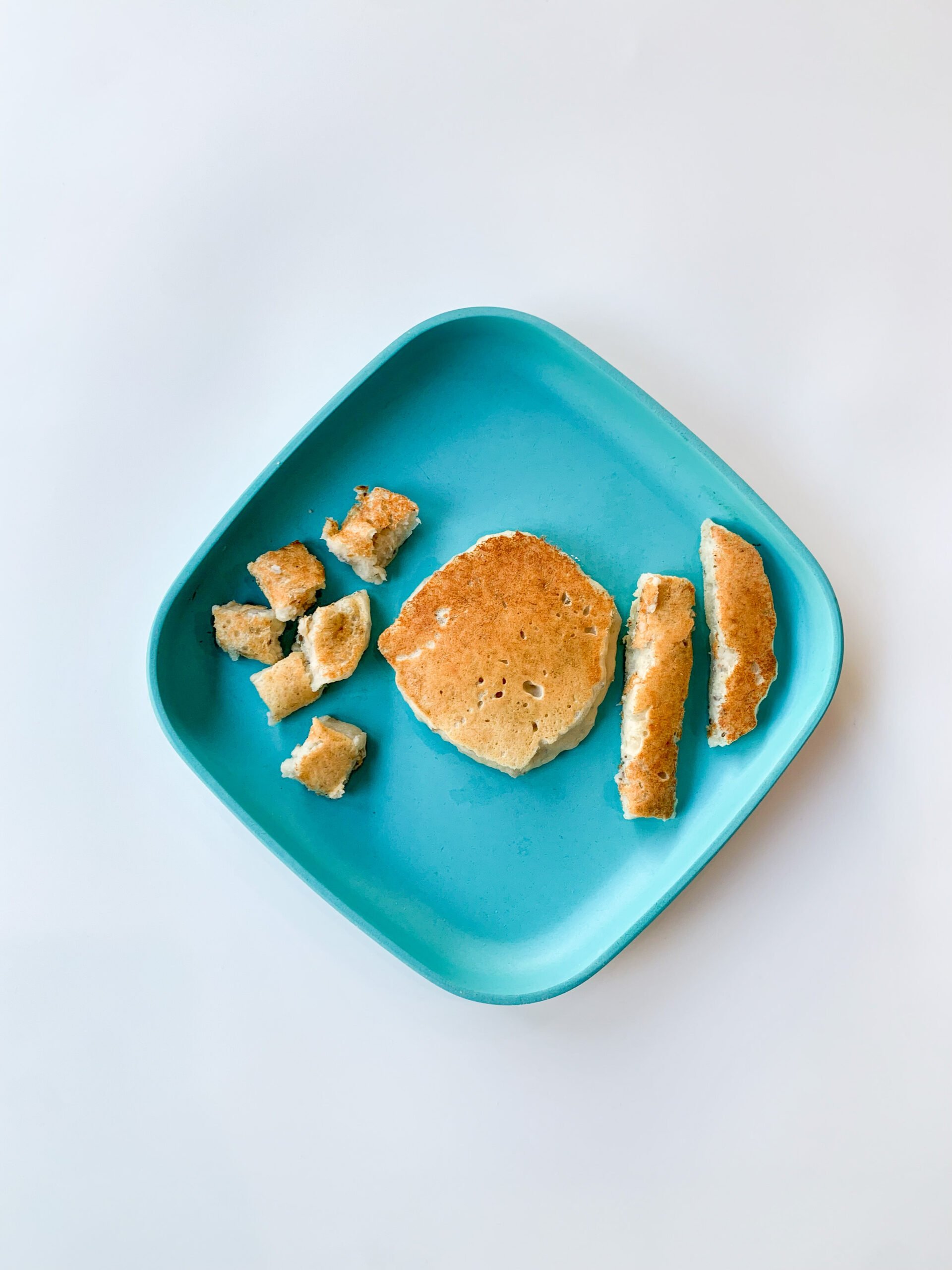 As your child starts to grow, around the age of 10 months, your little one must be able to pick smaller food pieces. So, you can chop the Baby-Led Weaning pancakes into smaller pieces and teach your baby how to use a fork or spoon to eat these pieces. A great way to teach is to show how to do it.
How to Store Your Baby-Led Weaning Pancakes?
Another great thing about blw pancakes is that you can store and reheat them whenever you want. In a Fridge, you can keep the pancakes in airtight containers for about 3 days. If you are planning to keep your blw pancakes in a freezer, you can place them one above the other, separate them with parchment paper, and then keep them in an airtight container. Defrost them before eating.
You can very easily reheat these pancakes whenever you want. In an oven, you will have to reheat them at 180°C / 350°F for 5-10 minutes. In a toaster, you need to put it in for 1 minute to let it defrost. You can also defrost your frozen pancakes in a microwave. On the defrost setting, heat your pancake for 15 seconds.
Things You Should Keep in Mind when Serving Blw Pancakes?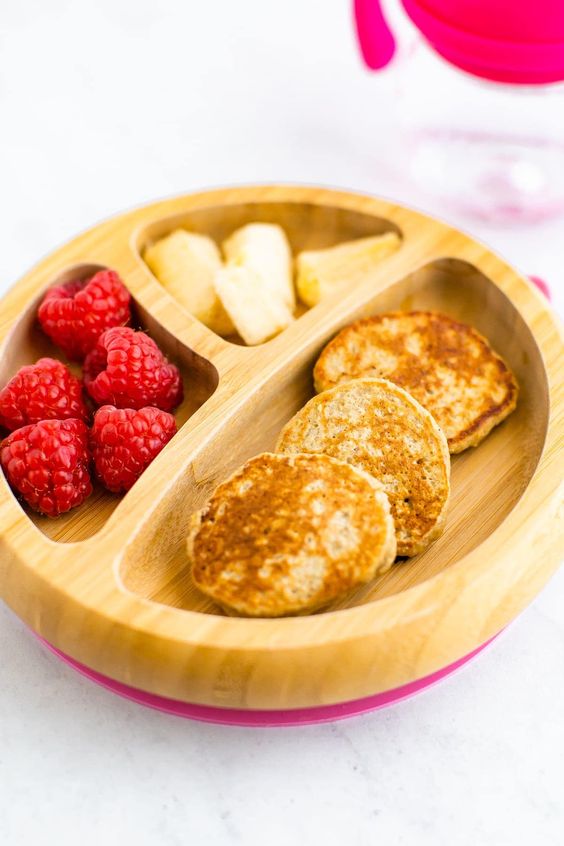 We have said it before, and we will say it again, pancakes are great for Baby-Led Weaning. However, just like any other food item, they also have some hazards that you might have to keep in mind before giving it to your child. A few of those things are-
Does Your Child Have Any Allergies?
A traditional pancake generally has three ingredients. These are eggs, flour, and milk which can also be allergens. So, before you introduce them to your child altogether, make sure you test them on your kids individually. This will help you understand what works best for your child. With that said, if your child is allergic to any of these ingredients, that does not mean they will miss out on all the fun. These ingredients can be easily substituted, as mentioned in the recipes above.
Are Pancakes a Choking Hazard?
Just like any other food item, your kid can also choke on a pancake if they are not served and eaten properly. You can take precautions to ensure that your child is safe.
Only offer pancakes of appropriate sizes.
Ensure that your baby is sitting in the right position at the time of eating. Make sure the baby is supported in a high chair and a footrest.
Keep an eye on the little munchkin at all times.
Are There Any Toppings You Should Avoid?
Not everything that adults eat is supposed to be eaten by little babies. So, there is a list of foods that you must avoid.
Salt and very salty foods like bacon
Sugar or sugar syrups
Honey
Whole nuts or dry fruits
With that said, there are a few food items that you must add to your babies' pancakes. You can either add them to the batter or top your blw pancakes with these.
Remember, most of the food items added to the blw pancakes are extremely nutritious. For instance,
Milk has protein, vitamin D, calcium, and vitamin B12. Eggs are full of protein, iron, vitamin B, selenium, and vitamin A.
Whole grain flour and oats are full of fiber, vitamin B, iron, and zinc.
Peanut Butter is a great source of healthy fats and iron.
Bananas are great antioxidants, fiber, potassium, and vitamin B6.
So, there isn't any wrong or right when it comes to ingredients in blw pancakes. You just have to figure out which ingredients work the best for you.
Conclusion
You can put all your blw food problems to rest, one pancake at a time. Baby-Led Weaning pancakes are great food items for your tiny ones.
They are easy to make, and there are millions of recipes available when it comes to them. Not only in the making, they are also easy to eat for your baby. Moreover, they are very nutritious and make to be a very healthy option.
Since they are served cold to little babies, they are also great on-the-go food. So, without worrying too much, you can give your baby blw pancakes. With that said, it is also important to ensure that you serve these pancakes the right way and supervise them it wherever necessary.
When it comes to blw, remember patience is the key. Now, don't wait up. Get your pans heating.