Mini Crib vs Crib: Which is the Best Choice for Your Baby?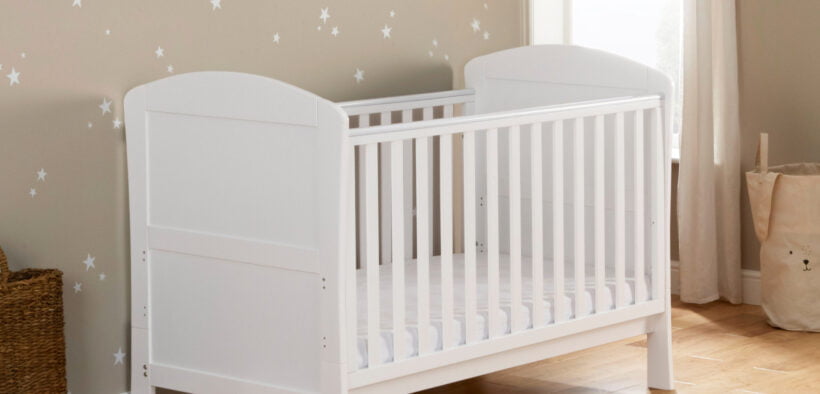 Stuck between choosing a crib and a mini crib for your little one? It is a common junction where most parents get stuck. There are a lot of things to decide on and choose from before your baby's arrival. One such thing is choosing the best napping space for the baby. While you get busy choosing what might fit your baby the best, you are likely to stumble between choosing a crib or a mini crib.
A mini crib is nothing but a crib, but smaller. In comparison, a standard crib will have a standard dimension to follow along with additional accessories. While both kinds of cribs serve the expected need well, both have their own benefits and flaws.
In this article, we are going to see the size differences between a crib and a mini crib, their pros and cons, and more!
Mini Cribs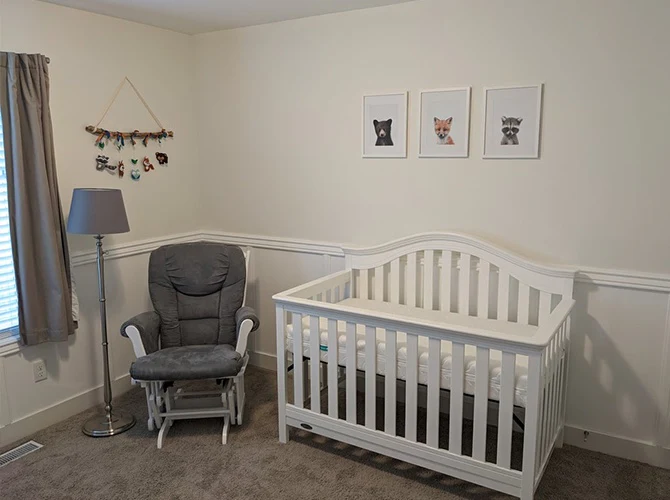 As the name implies, mini cribs look like normal cribs but are smaller. When you are getting a crib, you are supposed to adhere to some size constraints due to legal requirements. But this is not applicable to mini-cribs. You can find them in a variety of sizes and colors. What makes mini cribs more convenient than cribs is that they demand less space and are easier to handle. The usual dimensions of a mini crib will be around 36–43 inches in length and 24-28 inches in width.
While looking for mini cribs, you can even find options with wheels, allowing you to easily shift them from one place to another. This makes mini cribs an ideal choice for smaller bedrooms and nurseries. Sometimes, you might not have enough space to accommodate a normal crib in your bedroom. During such situations, going for a mini crib sounds like a better option, and you can always keep your little one closer to the bed for quick access. If you are still confused about what a mini-crib is, here is an option to refer to from Amazon.com:
Cribs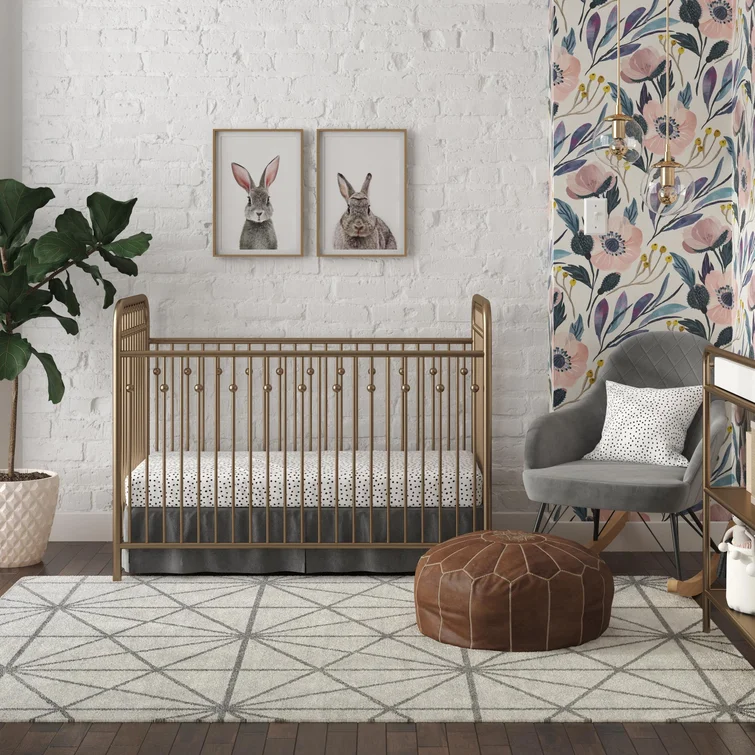 Cribs are sleeping beds for babies that are larger than mini cribs but small enough to fit in your room. While shopping for normal-sized cribs, you are expected to follow some legal requirements when it comes to their size. The size of your crib must be approximately 28 inches wide and 53 inches long. Because of this strictness in the size of the crib, it won't be an issue to get the right mattress for the baby. Hence, most nurseries go for normal-sized cribs.
Normal-sized cribs are ideal for parents who are looking for a baby bed with good durability. It is also recommended for people who are expecting their second child in the future, as cribs can last for multiple years without any issues. To check how a standard-sized crib looks, click here.
Mini Crib vs. Crib: Pros and Cons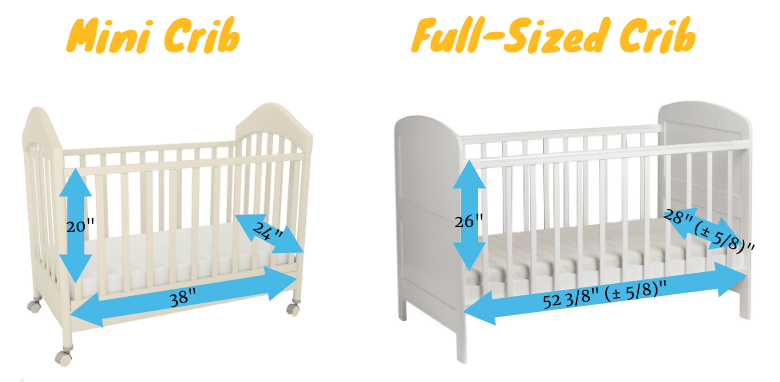 As you are now aware of the basic differences between a mini crib and a crib, let us now get into the detailed comparison:
The key difference between a mini crib and a normal crib is their size. But it is not good to decide which one you should buy just by comparing the sizes. Know about all the benefits a mini crib can offer your home and your little one, along with its flip sides.
Pros of a Mini Crib
Suits your budget: If you are running on a budget, getting a mini crib will be the best choice. As a mini crib is less expensive and still fulfills all the basic needs expected from a crib, it is considered a budget-friendly option.
Size: The size of the baby's napping area is an obvious concern for all parents. Some might not have enough room to comfortably place a crib. At this point, a mini-crib actually becomes a savior. As they are very compact compared to a crib, you can easily fit them inside your home.
Portability: If you ask parents who own a normal-sized crib, you will understand how hard it is to move it from one place to another. This makes the mini crib score another point against the normal-sized crib. Mini cribs are easier to move from one place to another. You can even find foldable mini cribs that allow you to carry them around on the go!
Easier to Assemble: No parent has said that assembling a mini crib is a headache. As they come in smaller sizes and customized options, it is very easy to assemble and disassemble them.
Cons of a Mini Crib
Mattress Size: As mini-cribs follow no standard size, it might be a headache to find a fitting mattress. Usually, when buying a mini-crib, you go with what suits your requirements. But you might not easily find a custom mattress that fits the mini-crib size.
Less Durable and Sturdy: You can't expect a mini-crib to be as durable and sturdy as a standard crib. As most mini cribs come with wheels attached, sturdiness is out of the question. Mini cribs are not expected to handle heavy duty and have a lower quality build compared to normal cribs. This naturally makes them less durable.
Can't fit toddlers forever: Your babies can easily outgrow the mini crib. During the first year, infants will have a dramatic change in size. A mini crib can't act as a forever sleeping space for your dear one because of the same reason. It is highly unlikely that you will find a mini-crib with expandable options.
Cheaper but not better: One of the reasons why mini cribs are a lot more popular than normal cribs is because they cost less. But are they really cheap? We don't think so. Keeping their quality in mind, most mini crib prices vary only slightly from those of a standard crib.
Pros of a Crib
Durability: If you are looking for a durable sleeping option for your baby, go for the standard crib. They easily last for a longer time, which is optimal if you are planning for a baby in the future.
Bigger in Size: Normal cribs always adhere to legal size requirements. This automatically makes ample room for your little one in the crib. Also, you can easily find a mattress that fits a crib.
Comfort: Your baby will never outgrow a normal crib easily. Hence, a baby can sleep for years in the crib without any discomfort.
Safety: Crib manufacturers must strictly follow a lot of safety rules. These rules keep updating over the years. Even though mini cribs follow basic safety rules, standard cribs are much safer and of better quality.
Cons of a Crib
Portability: A normal crib will be heavier than a mini crib and won't always have wheels. This will make it hard to carry it from one room to another. Most of the time, it is better to have one fixed place for the crib.
Tough to Store It: Unlike mini cribs, a crib can't be folded and kept aside. Because of this, you can't store the crib away when not in use.
Expensive: Cribs are more expensive than mini cribs. But all the benefits they bring along make it mostly worth the splurge.
Large Size: As cribs follow a standard size rule, they won't be compact. Though this sounds like a good thing, it won't be under exceptional conditions. If you are expecting twins and want two cribs side by side, mini cribs can better suit your needs, as normal cribs can take up a lot of space.
Mini Crib vs. Crib: Which is the Best?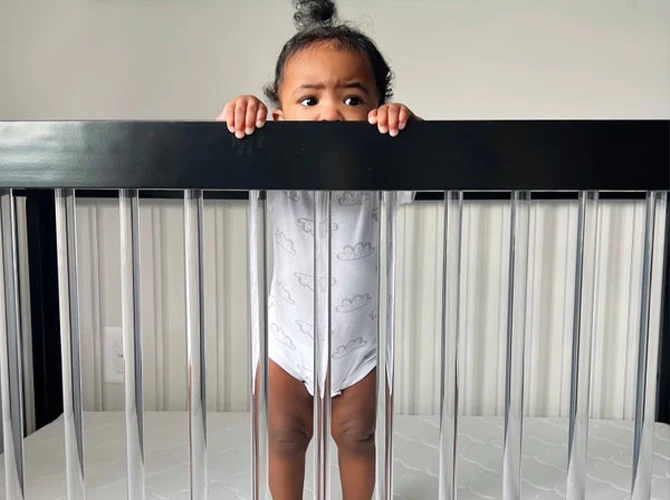 As we weighed the pros and cons of both mini cribs and cribs, it is time to find an answer to the bigger question: Mini crib vs. crib. Which is the best among both?
Even though, as far as customization is concerned, a mini crib sounds like a better option. You will have the liberty to choose from a variety of materials, colors, and sizes. But being said that, it doesn't mean you can find varieties in standard crib options.
When it comes to style and additional accessories, standard cribs have flexible options to consider as well. The only catch is that you can't move them around that easily. Cribs can hold a baby weighing 50 pounds, or 20,68 kg.
Mini cribs are the best when it comes to portability. You can easily switch their places and even carry them around if needed. An ideal choice for parents with smaller rooms. But your baby won't stay in the crib for more than six months, as he or she may easily outgrow the mini-crib's size. A mini crib will have a weight limit of approximately 45 pounds, or 20,41 kg.
The best way to make a wise choice will be to connect with other parents and check the reviews. This will help you know what worked for them and what didn't. After all, it is a given that you will keep planning until your precious little one arrives.
Hence, be patient and research well to make the right choice. There can be some flexible products available that might suit your multiple needs. This wave crib by Nestig is a mini crib that can be converted to a standard crib and even a toddler bed!
Final Word
While discussing mini crib vs crib, there isn't one correct choice to make. By the end of weighing one of these against the other, it all comes down to your personal preferences. Keep in mind that a standard crib comes in a size of 58 inches in length and 28 inches in width. A miniature crib's dimension can be anything less than this. Weigh in various criteria, such as your home, the size of the room, your budget, and the expected longevity of the crib you need.
Answers to all these questions should possibly point your way toward the right choice. Mini cribs can be a great option to save budget and space, but they are way too small when compared to standard cribs and are less versatile in nature. We hope this article helped you learn more about both kinds of cribs.
Good luck with your parenting, and I hope you find just the right crib for your baby!
Frequently Asked Questions
How Long Can a Mini Crib Be Used?
The answer to this question depends on how fast your baby grows. The size of a mini crib is small, and hence you can't accommodate a toddler for more than 8–10 months. The moment your baby starts to outgrow its size, you will have to shift him or her to a new sleeping bed.
How Thick Should a Mini Crib Mattress Be?
Mini crib mattresses should fit perfectly inside the crib. Hence, finding the right one must be a challenge. To let your little one sleep comfortably, make sure that the mattress has a minimum thickness of 6 inches.